2024: Adult Use Marijuana in Florida
In 2024, we may finally see adult use marijuana in Florida. This week, Smart & Safe Florida, a non-profit political organization, filed its ballot initiative, "Adult Personal Use of Marijuana", with the  Division of Elections to legalize adult use marijuana in Florida. Make it Legal Florida already unsuccessfully tried to get adult use on the ballot for this year. Notably, this current initiative is backed by Trulieve, the largest cannabis operator in the state. In any event, adult use marijuana in Florida by ballot initiative must first make it past the Florida Supreme Court.
Unlike many states, Florida initiative sponsors can submit petition signatures at any time. After 25% of required signatures have been collected and sponsors submit a ballot title and summary to the Secretary of State, the Secretary of State then submits the proposal to Florida Attorney General. The Florida AG then petitions the State Supreme Court for an advisory opinion on "the measure's compliance with the single-subject rule, the appropriateness of the title and summary, and whether or not the measure 'is facially valid under the United States Constitution.'" The single-subject rule means that the initiative can only address one subject, topic, or issue. And the Court's review of the title and summary hinges on whether the initiative is "printed in clear and unambiguous language" pursuant to Florida law (the "Clarity Requirement").
The "Make it Legal Florida" fail
The "Adult Use of Marijuana" ballot initiative sponsored by Make it Legal Florida would have allowed people 21 and up to "possess, use, purchase, display, and transport up to 2.5 ounces of marijuana and marijuana accessories for personal use for any reason." On its review, the Supreme Court struck down the initiative based on the Clarity Requirement, alone; it found that the summary of the initiative was misleading to voters and inaccurate in that it would lead voters to believe that federal cannabis laws would no longer apply, among other issues. We've seen a lot of this type of thing around the country, unfortunately. See: Cannabis Ballot Measures Are a Sucker's Game.
A second bite at the apple
Smart & Safe seems to have learned from Make it Legal Florida in that the main goal appears to just get the initiative language past the Supreme Court (and on to the ballot) by utilizing as little language as possible to form the Constitutional Amendment.
The initiative for adult use marijuana in Florida is only four pages long. Here is the summary:
Allows adults 21 years or older to possess, purchase, or use marijuana products and marijuana accessories for non-medical personal consumption by smoking, ingestion, or otherwise; allows Medical Marijuana Treatment Centers, and other state licensed entities, to acquire, cultivate, process, manufacture, sell, and distribute such products and accessories. Applies to Florida law; does not change, or immunize violations of, federal law. Establishes possession limits for personal use. Allows consistent legislation. Defines terms. Provides effective date.
The initiative makes clear that only Florida civil and criminal penalties would not apply if the law passes, and that the initiative does not change current federal laws. Further, Medical Marijuana Treatment Centers (MMTCs) (the only entities that can make and sell cannabis products) would also be the ones to make and dispense adult use products (unless the state decides to license other entities, too). That's pretty much it.
What happens next
Smart & Safe first needs to net enough signatures to get the initiative to the Secretary of State. Of course, this initiative is receiving mixed reactions from the industry. It seems that Floridians badly want adult use cannabis in a regulated fashion. The only way to do that, though, may be through an initiative like this that has, overall, very little detail and that preserves the currently monopoly held by MMTCs. This type of program would barely open the door for industry expansion.
In the end, while Smart & Safe may end up passing muster with the Secretary of State and satisfying the Supreme Court on any challenge, voters may or may not get behind the future of adult use marijuana in Florida with such an abbreviated law. That's especially with the Florida primary elections on the horizon. We will keep you posted.
New York's Social Equity Fund Limited Partnership Agreement
During a little advertised Cannabis Control Board (CCB) meeting, the CCB announced and approved a Limited Partnership Agreement for New York's Social Equity Fund. As a brief refresher, the Social Equity Fund was mandated by the Marijuana Regulation and Taxation Act (MRTA). On January 5, 2022, Governor Kathy Hochul announced that the fund would be, well, funded with $200 million of investments funds, $50 million of which would be invested by New York State from revenue deposited in the Cannabis Revenue Fund (from tax revenue).
As we detailed in our post on the Social Equity Fund, its purpose and mechanics, the Social Equity Fund will finance the Conditional Adult-Use Retail Dispensaries for which the Office of Cannabis Management (OCM) is currently accepting applications.
As was announced in June 2022, the Social Equity Fund will be managed by Social Equity Impact Ventures. So what is the purpose of the Limited Partnership Agreement? It formalizes the legal relationship between the Dormitory Authority of the State of New York (DASNY), which has been responsible for the government portion of the Social Equity Fund, and Social Equity Impact Ventures GP I, LLC.
A few interesting tidbits from the resolution approving the limited partnership agreement:
The resolution specifically references New York's $50m "investment in a private debt or equity fund," which only highlights New York's target goal of itself committing $50m towards funding CAURD licensees.
Social Equity Impact Ventures GP I, LLC is identified as the general partner, which means that Social Equity Impact Ventures GP I, LLC will have operation control over the Social Equity Fund (presumably subject to numerous checks and balances; and
The resolution specifically addresses that the purpose of the Social Equity Fund is to "fund the capital costs associated with establishing" CAURD licenses.
The approval of a limited partnership agreement is noteworthy only in that it is a clear indication that the OCM intends to move quickly upon the CAURD application window closing on September 26, 2022.
Is The Cannabis Industry Really Dead? 10 Industry Experts Weigh In on the Current State of Affairs in the Marijuana Industry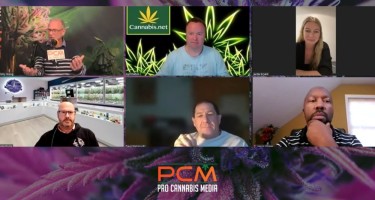 (Click here to watch the full show, now!)
Join Jimmy Young of Pro Cannabis Media as he delves into the name viral series of articles by Curt Dalton of Cannabis.net entitled, "The Marijuana Industry is Dead".  While a comparison to Prince's statement "the internet is dead" back in 2006, the foreboding warning is now ringing true to many in the cannabis industry.  Curt Dalton, former co-host of Weed Talk News, comes back and joins Jimmy and a slew of cannabis industry professionals to discuss the current turmoil in the marijuana industry.
Current financial issues are well known in the cannabis industry from higher inflation and costs, to a oversaturation of supply, to labor issues, to a lack of funding and loan options, but what about the emergence of Delta-8 and Delta-9 THC derived from hemp?  Due to a loophole in the 2018 Farm Act, Delta-8 and Delta-9 THC derived from hemp are Federally legal, and due to the wording of "0.03% THC by weight", the floodgates were open for "hemp that gets your really high" due to liquid forms of Delta-8 and 9.  Because liquids are so much more dense than dry flower and weigh so much more per square inch, a large amount of hemp-derived THC could be packaged into seltzers and sodas, and still be well under the federal legal limits established in the 2018 Farm Act.
While some large-scale cannabis states like California and Colorado have banned Delta-8 in a war known as "D8 vs. D9" within the industry, many feel the health concerns around hemp derived Delta-8 are being overblown in order for states to protect their heavily taxed marijuana industries.  The question remains is, how much are hemp-derived Delta-8 and 9 contributing to the margin compression and slowing sales in the cannabis industry? 
Join cannabis industry heavyweights like Moran Fox, Political Director for NORML, Michal Correia, Director of Government Relations at the NCIA, Scott Moskol, Partner at Burns and Levinson, Jeff Finkle, CEO of the Arcview Group, Chris Walsh, CEO of MJ BIZ, Carl Giannone, Co-Founder Trade Roots, David Rabinovitz, Cannabis Consultant, and Jackie Bryant, managing editor of San Diego Magazine as we discuss the current trouble trends in the cannabis industry and what the future looks like going forward.
Watch the exciting show on the Pro Cannabis Media's YouTube channel below!
What do you think about the cannabis industry now?  Leave a comment!
THE MARIJUANA INDUSTRY IS DEAD, HEMP GETS YOU HIGH NOW, READ THIS…
THE MARIJUANA INDUSTRY IS DEAD, CLICK HERE!
OR..
THE GREATEST LOOPHOLE IN DRUG LAW HISTORY? READ ON!
Cannabis Litigation: Mediation Tips – Canna Law Blog™
Our litigation team regularly attends mediations both before a lawsuit is filed and while a lawsuit is pending. We've covered mediation in the past, but for those who are unfamiliar, mediation is essentially a conference in which parties sit down together, generally with a neutral third party, to see if they can resolve cannabis litigation or a pre-litigation dispute outside of a court.
When reasonable minds prevail, an effective mediator (who is often a seasoned attorney or even a retired judge) can work with the parties to see the strengths and weaknesses of their cases, the cost vs. benefit analysis of filing or continuing a lawsuit, and what settlement options are available. Importantly, a mediator can NOT make the parties settle – it is truly up to the parties to put their best foots forward and participate in their mediation in good faith.
Mediations often take all day (sometimes, even multiple days) and our team has witnessed the gambit of model and no-no behaviors over the years. They are often filed well after cannabis litigation commences. Here are my general tips for how clients should prepare for and conduct themselves at a mediation:
Be prepared. Most mediations begin well ahead of the actual day of – briefs breaking down the facts, legal arguments, and posture of the case are typically required to be submitted (so the mediator is familiar with what's going on) and attorneys often engage in settlement negotiations beforehand as well. It's important for clients to review and have knowledge of these things because they are just as much a participant in the mediation as their attorney. It's also important for clients to make sure they and their attorney are on the same page in terms of what they expect to happen and what their goals are – we unfortunately have all had the situation come up where the client comes in the morning of and decides they want to take a "hard stance" and start by demanding millions of dollars more than what was discussed, or conversely, wanting to insist that they didn't do anything wrong and shouldn't have to pay a dime. The more a client is in tune with their legal team, the more efficient and effective a mediation typically will be.
Tell the truth. This is a general rule in litigation (especially in cannabis litigation), but there is a fine line between "puffing" and lying. Of course, focusing on the strengths of a case is important and necessary – mediations are negotiations, after all! However, lying or stretching the truth too much can be counterproductive and cause the mediator to become skeptical of a client's position. At the end of the day, mediators are humans and their ability to push one side or both sides of a dispute is absolutely affected by how they perceive the case themselves.
Be receptive. It's a guarantee that clients will hear things they don't want to hear at mediations. Why? Because the mediator's goal is to get both sides to a compromise – and they can't do that unless they bring light to bad facts or weak arguments. This is not to say that clients should run away from any fight. Clients should not let themselves be bullied and question what they're hearing, but it's not helpful to anyone for a client to dig in their heels and stop listening to what they're being told just because they don't like that the mediator isn't 100% on their side.
Don't give up too early. As I mentioned earlier, effective mediations often take all day or multiple days, and there can be several impasses during that time. Feelings of "this will never work" or "we will never reach a middle ground" will inevitably come up. It's important to remember that negotiations take time and require mental breaks. Again, this is not to say that everyone who goes to mediation must settle – we've all attended mediations where everyone is putting their best efforts to settle and it just can't happen. It's more to say that mediation is a process (and sometimes, an uncomfortable process), and it's important to remember that lulls and steps backward are pretty normal.
If you are successful in settling your case, get a settlement document signed before everyone leaves. This is so important because everyone involved in a mediation is often fatigued by the time a settlement happens. I've personally had to stay up until 3:00 a.m. to ensure a settlement document was signed before everyone left. But, this is something that cannot be skipped – especially, when the settlement terms are numerous or more complex. Hashing out terms for another day, or leaving questions unanswered, can bring the parties right back to where they started (in a contentious position) and settlements can completely unravel because of it. It's the worst case scenario to settle, leave, and find out the next day that the cannabis litigation will not end because nobody signed an agreement and the other side had a change of heart. Work with the mediator to hash out and write as much of the settlement as possible so the parties can walk away with closure and a sense of true resolution.
For additional posts on mediation, check out: