5 Key Terms in New York Cannabis Leases
By Brad Blommer and Ramsey Chamie
If you are entering New York's regulated cannabis market—as a cannabis producer, processor, retailer, or otherwise—there's a good chance at some point you will find yourself in a commercial lease negotiation. This blog post explores five cannabis-specific key terms to consider when negotiating your commercial lease.
1. Controlled Substances Act Carve-Out
Cannabis is a Schedule 1 drug under the federal Controlled Substances Act (CSA) and remains illegal under federal law. Leases often contain provisions stating that the tenant will comply with all federal and state laws. Without a carve-out for the CSA, a tenant operating a cannabis business would be in violation of a standard "compliance with all laws" provision and a landlord wanting to terminate a lease early could claim the tenant's cannabis business is a breach of the lease.
2. Permitted Use
Perhaps you're reluctant to state in a lease that you're operating a cannabis business (don't be) or perhaps your landlord gives you verbal confirmation but does not want to put anything cannabis-specific in writing (push back). Better to be explicit and include your cannabis-related activities as a "permitted use" under the lease. If your landlord won't agree, it may be an indication that the lease you're pursuing is not suitable for your intended business.
3. "Illegality is Not a Defense" Clause
Similarly, in the event a dispute with your landlord, you don't want your landlord making an "unclean hands" defense based on the fact that your cannabis business is illegal under federal law. Even if you follow suggestion #2 above, also consider including a clause that prevents anyone from using the federal illegality of cannabis as a defense to a breach of your lease.
4. Landlord will adhere to OCM Guidance and Regulations
New York's Marihuana Regulation and Taxation Act (MRTA) established the Cannabis Control Board and Office of Cannabis Management (OCM). The CCB has promulgated regulations, and OCM has issued substantive requirements and guidance, on cannabis facilities. Cannabis facilities (whether agricultural, industrial, or retail) are regulated spaces with specific requirements that must be followed at all times. While you may be familiar with these rules, your commercial landlord may not. To avoid any missteps, consider adding a covenant that your landlord will comply with all applicable cannabis rules and regulations.
5. Cash is King
Some commercial leases are silent as to manner of payment, with the landlord often expecting a wire or check to come in each month. Even if you have a bank account for your new business, you may want a provision in your lease that allows you to pay in cold hard cash. In the event your banking arrangement goes south (it happens), this provision can avoid the double-headache of having to find a way to pay rent when you discover that your landlord does not want to be handed an envelope of cash.
These are five key considerations for New Yorkers looking to lease space for their cannabis business. But there are other provisions specific to cannabis leases that you will want to discuss with an experienced cannabis lawyer (e.g., insurance requirements, consent of lenders (if any)).

You can reach Brad Blommer and Ramsey Chamie at (917) 764-4896 or info@gl-lg.com.
Source:  https://greenlightlawgroup.com/blog/5-key-terms-in-new-york-cannabis-leases
New York Proposes Adult-Use Rules
Kevin Chen, Michael McQueeny, Cecilia Oyediran Foley Hoag LLP – Cannabis and the Law The New York Cannabis Control Board ("CCB") held a momentous meeting on November 21, 2022 wherein it continued to issue more conditional cultivation, processing, and dispensing licenses, but, perhaps more importantly, proposed for issuance the first set of adult-use cannabis regulations that will […]



Source link
What Maryland's Legalization of Recreational Marijuana Means for Employers
Maryland voters earlier this month overwhelmingly supported a constitutional amendment to legalize recreational marijuana, joining 19 other states and the District of Columbia. (Missouri also approved legalization of recreational marijuana on Election Day.) While the voice of the electorate might not come as a surprise, the constitutional amendment may leave Maryland employers with more questions than answers. The passage of the amendment does not immediately impact employers but serves as an opportunity for them to evaluate their current drug testing and discrimination policies. It also a reminder to monitor the quickly expanding cannabis industry, which is bound to continue to impact the workplace.
WRITTEN BY:
The Constitutional Amendment
The approved constitutional amendment means that, beginning July 1, 2023, individuals aged 21 and older in Maryland may use and possess marijuana (up to 1.5 ounces of cannabis flower, 12 grams of concentrated cannabis, or a total amount of cannabis products that does not exceed 750 mg of THC). Aside from allowing use and possession, the passage of the ballot referendum also provides for the following actions:
Establishing an expungement process for cases involving a sole charge of possession of less than 10 grams of cannabis, in addition to other expungement provisions
Raising the amount of cannabis a person may possess that is subject to a civil fine rather than criminal penalty from 10 grams to 2.5 ounces
Mandating data collection and studies on cannabis use, impaired driving and other health and safety issues
Establishing a Cannabis Public Health Advisory Council to make recommendations to the General Assembly regarding cannabis regulation
Allocating new funding for various public health, business and equitable community initiatives related to the legalization of adult cannabis use in the state
The amendment also requires that the General Assembly pass legislation providing a framework for the use, distribution, possession, regulation and taxation of cannabis within the state. The 2023 legislative session is scheduled to begin January 11 and end April 10.
Takeaways for Employers
While the approved constitutional amendment is certain to trigger further action that will impact workplaces statewide, the text of the amendment does not speak to the implications of legalization on employers. Notably, use and possession of cannabis remains illegal pursuant to the federal Controlled Substances Act of 1970 (CSA). While individual states are authorized to allow use by adults within their borders, transport of marijuana across state lines is still prohibited under federal law. Possession of cannabis also remains prohibited on federal land (including federal buildings, national parks, military bases, etc.), even within states where it is otherwise legal. As noted in the Maryland Medical Cannabis Commission's new FAQs, cannabis smoking will also continue to be prohibited in all public places and motor vehicles. A "public place" includes indoor and outdoor spaces open to the public, including bars, restaurants, public transportation and indoor places of employment.
When it comes to drug testing policies, even in light of the amendment's passage, there is presently nothing under Maryland law that prohibits an employer from testing, denying or ending employment for an employee who tests positive for the presence of cannabis. Such restrictions do exist in other states, so employers should be aware of the possibility that Maryland could adopt similar restrictions in the future. In light of this, employers may choose to treat marijuana as an illegal drug and disqualify a candidate for employment who tests positive. Employers subject to federal regulation may be required to take such a position. Because marijuana is legal in Maryland for medical purposes, employers may treat it as a positive test for a prescribed drug and permit the positive test without repercussions if an employee presents an authorized medical marijuana card. Although no cases or guidance in Maryland has gone so far yet, courts in other states have found in favor of employees alleging disability discrimination against employers who failed to accommodate medical marijuana usage, so employers in Maryland may choose to do so to reduce risk. Yet another approach would be to simply remove marijuana from drug testing lists altogether, a step some employers are taking in light of current difficulties with hiring. Regardless of what an employer decides to do in terms of testing, it can continue to prohibit use, possession or being under the influence while at work.
Importantly, we expect to see changes and, with any luck, some clarification of outstanding questions and issues as the regulatory landscape develops in the coming years. Miles & Stockbridge will continue to monitor and report on this quickly changing landscape.
Opinions and conclusions in this post are solely those of the author unless otherwise indicated. The information contained in this blog is general in nature and is not offered and cannot be considered as legal advice for any particular situation. The author has provided the links referenced above for information purposes only and by doing so, does not adopt or incorporate the contents. Any federal tax advice provided in this communication is not intended or written by the author to be used, and cannot be used by the recipient, for the purpose of avoiding penalties which may be imposed on the recipient by the IRS. Please contact the author if you would like to receive written advice in a format which complies with IRS rules and may be relied upon to avoid penalties.
Source: 
https://www.jdsupra.com/legalnews/what-maryland-s-legalization-of-8325557/
"HIGH" Standards in Thailand; Regulations to Unlock Cannabis Industry
November 16, 2022
---
In the wake of shared global challenges, tourism and green growth is the way forward for Thailand's sustainable economy. Specifically, a relevant government panel has set up a plan to develop the country as an international hub and targeted Thailand as the world's foremost destination for the medical industry and wellness tourism. Still, a dream without a plan is just a wish. In response, the legal scheme to transform Thailand into a comprehensive medical hub was initially implemented. Cannabis liberalization will further strengthen Thailand's position as a global medical hub with affordable healthcare.
In driving Thai economic sustainable development forwards, the Ministry of Public Health of Thailand (MOPH) has refined re-emerging health aid. On 14 December 2020, MOPH announced the notification on the specification of controlled narcotic drugs under category 5, B.E.2563 (2020), to remove some parts of cannabis and hemp from category 5 under Narcotics Act B.E.2522 (1979). The following components of cannabis and hemp, as well as a substance derived from those parts, do not constitute narcotics under such regulation:
Bark, Stalk, Fiber, Branches, and Roots;
Leaves (excluding cannabis flower and bud);
Extracts that have tetrahydrocannabinol (THC) not exceeding the capped amount, i.e., 0.2 percent by weight.
Residue from cannabis extract, which THC is not over 0.2 percent by weight.
Hemp seed, hemp seed oil, or hemp seed extract.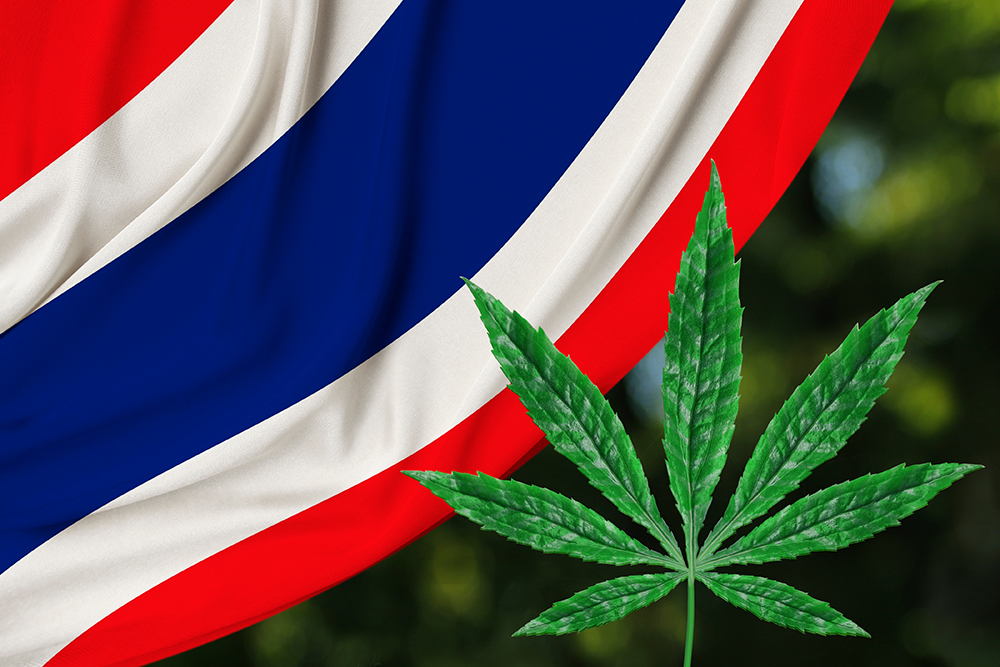 9 June 2022 marks a thoughtful day of observance of the cannabis industry in Thailand; the government of Thailand has delisted "all" parts of cannabis and hemp from banned narcotic lists under the notification of specification of controlled narcotic drugs under category 5, B.E.2665 (2022). Under this "Standard", all cannabis and hemp "extracts" remain considered narcotics, except for the following:
Extracts that have THC not exceeding the capped amount, i.e., 0.2 percent by weight, for which permission to extract from cannabis or hemp plants grown in Thailand has been obtained; and
Extracts from seeds of cannabis or hemp plants grown in Thailand.
Following the recent official decriminalization of cannabis and hemp, this transformation would enable the widespread of herbal medicinal cannabis treatments and marijuana-infused food. Specifically, traditional cannabis cuisine will officially be back on the menu. For educational purposes, this would allow more laboratories to grow cannabis and hemp without an overwhelming loss its resources for approval from relevant authorities. Importantly, using parts of cannabis and hemp plants would not constitute a violation of this legal standard. Although Thailand legalized growing cannabis and eased such consumption rules, smoking cannabis in public may be considered a public nuisance and remains unauthorized. Moreover, the importation, exportation, and distribution of cannabis and hemp parts, as well as its derived products containing THC over 0.2 percent by weight, remain stringently controlled by relevant specific laws, including the Plant Quarantine Act B.E.2507 (1964) and Plants Act B.E.2518 (1975).
In the light of laws and economic junctions, it is worth noting that although such continuing steps for unlocking the cannabis industry have been done, many relevant activities pertaining to the usage of cannabis and hemp will be monitored by newly enacted legislation thereafter, i.e., the Cannabis and Hemp Act. The law will then act as the detailed regulation framework and seal off remaining legal loopholes for the following activities relating to cannabis and hemp;
Manufacture, including Cultivation, Modification, and Packaging for Commercial Purposes;
Import and Export; and
Sale and Possess.
Specifically, under this upcoming regulation, any person who wishes to pursue the above-mentioned activities shall obtain the required license from relevant authorities. The forthcoming legislation will also impose legal limitations for avoiding the abuse of cannabis and hemp in children (under age 20) and pregnant or lactating women.
Amid a shifting legal landscape and future outlook of cannabis and hemp markets, we would be happy to guide you through successfully accessing this developing market with safety compliance with regulations. Please do not hesitate to contact us if you have any questions at info@franklegaltax.com
Source: https://franklegaltax.com/regulation-to-unlock-cannabis-industry/