Black Market Cannabis Migration Channels Surge
Much like Colombian cannabis seeping through Venezuela, and California black market weed going to states like Maine and even countries like Thailand, the African continent is seeing the same illicit cannabis market channels sprout up overnight.
Mozambique is an unusual case in Southern Africa, given its stringent prohibition of medicinal and recreational cannabis. Despite the country's strict ban, affluent Mozambicans such as doctors have been informally and lucratively importing high-end processed cannabis products from neighbouring South Africa.
According to Mozambican social scientist Armando Bana, the current situation results in a two-tier cannabis scenario. On the one hand, the affluent have easy access to high-quality processed cannabis through prescriptions or orders. On the other hand, people with low incomes may face imprisonment for simply possessing a gram of raw cannabis.
High-End Cannabis
Even though Mozambique has banned all forms of cannabis use and possession, the plant is widely cultivated by millions of impoverished Mozambicans. There is a vast expanse of cannabis cultivation in the fertile eastern coastal and mountainous western regions. According to social scientist Armando, rural cannabis cultivators rely on small harvests to earn money for necessities such as food, healthcare, and education. These farmers typically evade law enforcement scrutiny by offering bribes.
However, according to Mozambique social scientist Armando Bana, individuals caught using medical cannabis commercially or exporting large quantities of the crop across international borders can face imprisonment of up to seven years. Despite this, Armando's doctor acquaintances claim that there is significant demand for high-end medical cannabis imports, such as lotions, edibles, and oils. This high-end cannabis is used for recreational and healthcare purposes among Maputo's burgeoning middle class.
Wealthy Mozambicans satisfy their demand for high-quality cannabis products through their neighbour to the southwest, South Africa. Not only is South Africa Africa's most industrialized nation, but it also boasts the continent's largest processed cannabis industry. South Africa has invested heavily in both the cultivation and processing of cannabis, with its domestic cannabis industry projected to reach ZAR 406 billion (equivalent to $22 billion) by 2026.
Gilberto, a supplier of high-end chocolates, cannabis oils, and lotions in Maputo, Mozambique's capital, reveals that South Africa is the source of their imported finished cannabis products for doctor dispensaries, pharmacies, and chocolate shops. However, all of these transactions occur covertly. Gilberto operates as an "importer," procuring these products from South Africa and distributing them to doctor's offices, affluent pharmacies, and gift shops in Maputo.
Gilberto, who prefers not to disclose his last name to protect his identity, reveals that despite the risks involved, the potential profits make it all worthwhile. He says a 500ml cannabidiol product used to alleviate back pain can be obtained for $4 in South Africa, just over the border. However, he sells the same product to his network of doctors secretly in Mozambique for almost $9, which results in significant profits.
Cannabis – A Status Symbol
The fact that high-end cannabis products in Mozambique have become a symbol of social status among the affluent middle class is an open secret. This class has emerged due to a gas boom amidst widespread poverty in the country. Notably, these cannabis products are sought after for medicinal reasons and as status symbols.
Dilone Feza, the founder of Maputo Corruption Watch Forum, a local civic organization in Mozambique's capital, made some interesting comments. She reported that in affluent private parties held in Maputo City, a bar of cannabis chocolate or perfumed soap is regarded as a superior gift capable of elevating the status of certain social classes. Moreover, to facilitate the movement of processed cannabis across the country's borders, border guards are bribed to turn a blind eye to such activities.
According to Radum Ng'lane, spokesperson for the cargo inspection division of SENAME, the border management agency in Mozambique, any cannabis products that are discovered crossing the country's borders are not tolerated as it is a prohibited substance. He further stated that any border officer who accepts payment to allow the entry of cannabis products into Mozambique is subjected to strict and prompt disciplinary action.
Gilberto, the informal cannabis importer in Maputo, explains that the upper class in Mozambique finds it easier to access expensive processed cannabis products, such as scented soaps, cannabidiol oils, and chocolates. This is because the buyers who frequent doctors' dispensaries for such products are high-status individuals, including lawmakers and CEOs. Gilberto even knows of a minister who relies on CBD to alleviate a persistent migraine headache.
The situation is ironic, as ministers publicly denounce any form of cannabis possession, no matter how insignificant. However, in private, they engage in the exchange of cannabis chocolate at their exclusive residence parties, creating a kind of double standard.
An Unfair Situation
According to Feza, the situation is highly unjust because the wealthy in Mozambique have easy access to high-quality medical cannabis products, while the poor do not. This is unfortunate because recent research in healthcare has shown that medical cannabis can effectively manage severe conditions such as arthritis and muscular pain.
Feza, the anti-corruption activist, advocates for legalizing medical cannabis in Mozambique, arguing that it is unfair that only the affluent can quickly obtain high-end medical cannabis products while people with low incomes cannot. Feza believes that legalizing medical cannabis would allow poor Mozambican patients to access cannabis oil for conditions such as foot pain at public clinics with a doctor's prescription. Additionally, legalizing cannabis would decrease prices, increase tax revenue, and eliminate the need for smugglers.
Conclusion
The cannabis industry in Mozambique is intricate and frequently conflicting. Even though cannabis usage and possession are officially prohibited in the nation, it is commonly grown by millions of underprivileged residents who rely on meagre harvests to survive. In the meantime, despite the dangers of smuggling them across the border, the wealthy and powerful have easy access to high-end medicinal cannabis products smuggled from neighbouring South Africa.
The scenario has generated calls for legalization to minimize illicit smugglers' influence and provide a more equitable distribution of cannabis goods. Ultimately, Mozambique's cannabis debate underscores the difficulties in balancing tradition, public health, and social justice in a rapidly changing world.
CANNABIS MIGRATION MOVEMENTS, READ ON…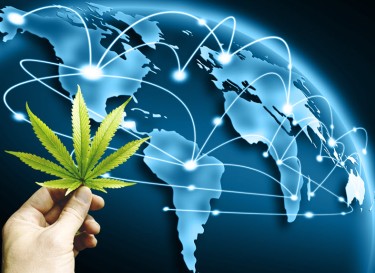 Will the 3rd Time be a Charm for Nebraska and Legalizing Medical Marijuana?
Nebraskans for Medical Marijuana, an organization formed by a state lawmaker in Nebraska, is optimistic that the third time will be the charm and that medical cannabis will be legalized in the state.
Nebraskans for Medical Marijuana (NMM) turned in two petitions to the secretary of state's office on Thursday in an effort to start the 2024 election process as Sen. Anna Wishart's (D) reform measure remains stuck in committee.
Nebraskans for Medical Marijuana's Third Attempt
In Nebraska, proponents of the drug are attempting a third time to have voters decide the matter. They gathered sufficient signatures to get it on the 2020 ballot, but the state Supreme Court disqualified the proposal because of a legal issue with its single subject. They also failed to gather the necessary number of signatures for updated petitions in 2022 as a result of a large loss of essential money.
Co-chair of the NMM campaign, Crista Eggers, stated in a news release the need to consistently petition the government. She emphasized the Legislature's defiance in the face of tremendous support from more than 80% of Nebraskans across political lines, geographic regions, and age brackets.
"We have consistently come up empty-handed after more than ten years of advocating, educating, and attempting to follow the right channels through our elected leaders in the Unicameral," Eggers said. "As a result, we will once more turn to voting as our means of advancement."
Regarding the newly submitted petitions, Senator Wishart confirmed that the language remains the same as in 2022. She mentioned that the Secretary of State's office would legally review the petitions.
Renewed Efforts and Revised Petitions for 2024 Ballot
The senator's proposed legislation on medical cannabis underwent a hearing in the Judiciary Committee of the unicameral legislature in February but has not made any progress. She attributes the lack of action to changes in membership and turnover within the committee. A previous bill version faced a filibuster in the Republican-controlled legislature, ultimately leading to its stagnation.
Regarding the 2024 ballot effort, Wishart expressed determination, stating that they would file again. She believes perseverance is vital to success; every setback they encounter only strengthens their resolve.
Wishart also highlighted their experience from the previous year, where they realized they didn't have to rely solely on a major donor for success. She expressed optimism about their achievements with over a year of collection time. They gathered 180,000 signatures in just three months through a volunteer-led effort with limited resources.
One of the initiatives submitted by the campaign on Thursday aims to ensure legal protection for doctors who recommend cannabis and patients who use and possess it. The initiative focuses on patients and seeks to establish a state statute that exempts them from penalties under state and local law when they possess limited quantities of cannabis for medical purposes with a written recommendation from a healthcare practitioner. Additionally, it allows caregivers to assist qualified patients in these activities.
The second measure proposes the creation of the Nebraska Medical Cannabis Commission, which would be responsible for registering and regulating individuals involved in the possession, manufacturing, distribution, delivery, and dispensing of medical cannabis.
To prevent potential legal obstacles similar to the single-subject challenge that hindered the previous reform effort in 2020, the complementary proposals have been carefully designed to maintain a narrow focus. The aim is to ensure that each initiative addresses a specific subject matter, minimizing the chances of derailment.
Despite the disappointment caused by the Nebraska Supreme Court's ruling on the single subject issue in 2020, Adam Morfeld, co-chair of NMM and a former Nebraska senator, emphasized that the ruling provided valuable guidance for refiling a new initiative. After thoroughly examining the court's decision, the campaign has developed two new statutory initiatives that they are confident will meet constitutional requirements.
To secure a spot on the November 2024 ballot, the campaign needs to gather approximately 87,000 valid signatures for each petition and submit them by July 5, 2024. Activists have announced their plan to commence a signature drive at the beginning of June.
Following the setback faced in 2022 regarding medical cannabis, there were initial considerations of pursuing an adult-use legalization initiative. However, the current focus of the strategy seems to be solely on medical marijuana.
Lessons Learned and Ongoing Challenges
There are just three states without a medical cannabis program, including Nebraska. However, the National Conference of State Legislators claims that some states have low-THC programs.
State Senator Anna Wishart speculated that there might have been an error the first time.
She said, "they sold themselves short when we thought we had to wait for a major donor. They fell short by less than 10,000 signatures on the two petitions last year. We accomplished that with volunteers in three months. Imagine what we can achieve in a year and a half.
In 38 of Nebraska's 93 counties, petitioners must also collect the signatures of 5% of the registered voters. They attempted to sue over that in the past but were unsuccessful.
Support from Medical Professionals and Patient Advocacy Groups
As a potential treatment for several medical problems, medical marijuana is receiving more and more support from physicians and other healthcare professionals. Medical professionals and patient advocacy organizations have significantly contributed to Nebraska's current medical cannabis petition campaign. The campaign has received strong support from organizations like the Nebraska Medical Association and regional patient advocacy groups, who have highlighted the potential advantages of cannabis-based medicines for treating patients' pain and enhancing their quality of life. Their backing gives the petition more authority and informs the public about medical cannabis's therapeutic potential.
Nebraskans for Medical Marijuana improves their argument for legalization by working with healthcare providers and patient advocacy organizations, highlighting the medical necessity and beneficial effects on patients' lives. These professionals' engagement strengthens the campaign's legitimacy and gives it a powerful voice in promoting compassionate and fact-based healthcare solutions.
Bottom Line
Nebraskans for Medical Marijuana is on its third attempt to legalize medical cannabis in Nebraska. Despite previous obstacles, the organization remains optimistic and determined in its pursuit. Supported by medical professionals, patient advocacy groups, and a dedicated team of volunteers, they aim to gather the required signatures to secure a place on the 2024 ballot. The proposed initiatives focus on safeguarding doctors and patients and establishing regulations for the medical cannabis industry. While challenges persist, the campaign draws inspiration from past experiences and the unwavering belief in the power of public support. Nebraskans for Medical Marijuana continues to advocate for the advancement of medical cannabis, fueling hope for its legalization in Nebraska.
NEBRASKA KEEPS TRYING, READ ON..
New York Cannabis: The New True Party of Interest Rule
New York's release of the revised adult-use rules and regulations has been well-publicized. A key revision that was the source of significant speculation was whether the Office of Cannabis Management (OCM) and Cannabis Control Board (CCB) would revise the True Party of Interest (TPI) definition with respect to ancillary service providers and the monetary limits before TPI status is triggered. And they did!
The revised TPI limits apply to the following parties:
Parties with risk sharing or goods and services agreements with the applicant/licensee;
Parties that consult and receive flat or hourly compensation from an applicant/licensee under a goods and services agreement; and
Goods and services provides that do not have any right to control the applicant/licensee.
Any party that falls under the aforementioned categories does not constitute a TPI as long as the payments in "that calendar year" do not "exceed the greater of"
10% of the gross revenue of the applicant/licensee;
50% of the net profit of the applicant/licensee; or
$250,00 from the applicant/licensee.
The key revision was increasing the dollar figure amount from $100,000 to $250,000, which will be particularly relevant to service providers to licensees in their first year(s) of operation, when gross revenue and/or net profit has the potential to be low.
Practically speaking, it will be interesting to see how the OCM actually applies this rule, given that gross revenue and net profit for a calendar year cannot actually be calculated until the end of the calendar year. It would not be surprising to see service providers structure contracts with a base compensation of $250 plus a year-end "true up" based on the licensee's gross revenue or net profit.
We will keep working through the significant revisions to New York's adult-use rules and regulations. Stay tuned!
The Cannabis Correlation – Every $1 Spent on Cannabis Leads to a Drop in Alcohol Sales of $0.75 to $0.85 Says New Canadian Study
New Study Finds That Every Dollar Of Cannabis Sold Is Linked to a Reduction in Alcohol Sales
…. A Threat To Big Alcohol?
Big players in the alcohol industry have long been watching the development of legal cannabis with a careful eye, most especially with the launch of recreational cannabis markets in North America and beyond.
While some players in the alcohol industry see cannabis legalization as a threat, others see it as a special opportunity to develop new products and attract a new customer base. Customers themselves are becoming increasingly more educated about the harms of vices once thought as safe and normal – most especially alcohol consumption. The use of marijuana is already seen as normal in today's society, and a safer substitute to alcohol.
Now, a recent study from Canadian researchers confirms that sales of medical marijuana are linked to a decrease in booze sales. The findings, which were published in the medical journal Health Policy, showed that medical marijuana legalization in Canada in particular may have prompted customers to substitute it for alcohol. The study was led by Professor Michael J. Armstrong of Brock University, who studied the sales of legal cannabis to those of wine, beer, and other liquor from 2015 through 2018 in Canada.

Specifically, he discovered that for every dollar of legal marijuana sold, there was a tie to declines in alcohol sales between 74 to 84 Canadian cents. Prof. Armstrong says the findings are not causative though it does suggest that alcohol is being replaced by cannabis. Additionally, he found that sales of alcohol from 2017 to 2018 were around 1.8% less than they would have been, had Canada not regulated medical cannabis.
"The negative association was robust to several alternative modeling choices," he writes.
"From an academic perspective, this study found evidence that cannabis on average was a substitute, not a complement, for alcohol in Canada. This suggests cannabis might also have a substitution effect in other countries that legalize it, though that remains to be seen," says Professor Armstrong in the paper.
 

"From a public health perspective, the results likewise imply that reductions in alcohol-related health impacts might partly offset the increased cannabis-related health impacts that legalization might bring," he continues. "Furthermore, medical cannabis presumably improves the health of at least some patients by treating symptoms that alcohol had merely masked," Armstrong says.
"Finally, from a political perspective, the results could make cannabis legalization slightly less attractive as financial policy but slightly less concerning as public health policy. This might influence legislative decisions in other countries that are considering legalization," he adds.
Can Marijuana Substitute Alcohol?
Alcohol and marijuana are both mind-altering substances which have been used since ancient times by civilizations around the world for enjoyment. However, they are very different: consuming too much alcohol even just on one occasion or over a long period of time can result in serious health problems.
Alcoholism is a real problem in today's society. Based on the 2021 National Survey on Drug Use and Health, almost 30 million people from ages 12 and up have experienced alcohol use disorder. Considering how widely available and easily accessible alcohol is, and the damage this can cause to families, our bodies, and society as a whole, these figures are downright shocking and scary.
Before discussing the use of marijuana as a substitute for alcohol, we must take note that anyone struggling with alcoholism or alcohol use disorder need to work with a medical professional to wean themselves off safely. Having a mental or physical dependency on alcohol is vastly different from an individual who merely wants to cut down on their drinking. You can also speak with a cannabis-knowledgeable doctor, if medical marijuana is legal in your state, about the possibility of integrating CBD into your therapy. There has been some research suggesting that CBD may indeed be useful for reducing alcohol cravings and helping individuals safely wean themselves off the drug.
That said, cannabis is a much safer substance compared to alcohol in more ways than one.
Alcohol alone is responsible for the deaths of 2.8 million each year around the world. Despite the research and illness we see caused by alcohol today, it is still among the leading causes for death and disability particularly cancer. It has been linked to around 60 chronic and acute diseases including heart disease, stroke, high blood pressure, breast cancer, dementia, and much more.
On the other hand, marijuana has never killed anyone. You can't even overdose on cannabis. It's significantly less addictive and less harmful, though possibilities of dependency still exist, but thousands of people around the world are able to consume cannabis responsibly. You can use pot instead of drinking wine at the end of a stressful day at work, to help you cope with everyday anxiety and depression, or even to help with chronic disease.
Conclusion
We do hope to see more studies verifying that cannabis sales result in less alcohol sales. This is only going to benefit society and our health as a whole.
But Big Alcohol doesn't have to suffer the economic impact. If you can't beat em, join em! And that's what many alcohol companies are doing now: taking advantage of the opportunities presented by the growing trend of increased cannabis intake, by developing cannabis-infused beverages that merge the best of both worlds. Consumers also no longer have to choose between one or the other when you opt for a THC or CBD infused drink.
CANNABIS SALES AND ALCOHOL, READ ON…