Fun 4/20 Deals – Let's Talk About Edibles  
Edibles have been growing wildly in popularity, going from an every-now-and-then item, to a primary way of getting high. Whether using them medically or recreationally, there's something pretty awesome about eating your way to feeling better. And now with new methods, even better edibles can be made.  
When looking at both THC-infused food products AND beverages, this sector makes up just under 17% of the overall market. Food product transactions stand at 13.1% and beverage sales account for about 3.7% – totaling 16.8% of a standard dispensary's sales. Although dosing isn't particularly accurate with edible products, they offer many other benefits including discretion and potency. Not to mention the sheer variety of products you can find these days.  
One of the primary reasons that edible products are so popular is because they offer more intense, and longer-lasting effects than smoking or vaping flower. When THC is processed via the digestive system, the body breaks it down and metabolizes it in the liver, producing the cannabinoid metabolite 11-hydroxy-THC (11-OH), which is regarded as being much more potent than regular delta 9 THC. It takes longer for 11-OH to reach the brain, but once it does, the high will be much more intense and can last for a few hours, whereas smoking hits almost immediately but the effects fade after about 1 hour at the most. 
Learn more about this infamous stoner holiday, as well as some of our favorite products and activities to celebrate the day with. As always, the best 420 deals are reserved for the subscribers of The THC Weekly newsletter, so make sure to SUBSCRIBE today.
---
A bit more about 11-hydroxy-THC
11-hydroxy-THC is one of our naturally occurring endocannabinoids; meaning it's made in the body. When you eat plant-based THCs, such as delta-8 or delta-9 THC, the body breaks it down and metabolizes it via the liver. 11-hydroxy-THC is a metabolite of the other tetrahydrocannabinols, and it's much more potent. This is why delta-8 THC edibles are just as strong as delta-9 edibles, but the same can't be said for flowers or vape products.
This process is known as first pass metabolism, and it's the reason why ingesting cannabis products orally has much more intense and long-lasting effects compared to smoking. So if you've been wondering why edibles get you beyond baked, this why. If you're anything like me and many other cannabis users I've spoken to, edibles hit different than smoking. Even though it takes a while to feel anything, once they kick in, I'm laid out on the couch almost every time. I feel more stoned, I'm laughing at everything, and eventually, I get super tired. This seems to be commonplace when it comes to edibles; but why exactly do they differ so much from smoking, from a scientific standpoint?
It comes down to two factors: the drug-metabolizing enzymes in your GI tract, and blood flow to the liver. When you first eat a cannabis edible, various enzymes in the GI tract begin digesting the food. From that point, blood flow from the GI tract goes through the liver where all these enzymes are metabolized, then the blood continues to general circulation. When the metabolites are formed, that's when you get the effects of 11-hydroxy-THC.
However, when you smoke cannabis, THC is absorbed through the lungs and distributed directly into the bloodstream. The active compounds make their way to the brain where they interact with the CB receptors that are part of the endocannabinoid system. In this scenario, you are feeling the effects of the phytocannabinoids (plant-cannabinoids) themselves, rather than the compound formed during metabolism.
4/20 edibles deals
(Using the 'Binoid420' coupon code)
Want to save big on THC-O gummies? Get 25% discount on the list price for one of the bundles using the special Binoid420 coupon code! Three flavors to choose from: Blueberry Pie, Sour Cherry Lime, Pina Colada and each piece contains 25mg of THC-O distillate.
Possible effects: THC-O gummies may give you an strong uplifting and happy feeling with a calming body sensation.
TIP: As this is a high-potency product, you better start low and grow slow. These new gummies are strong!
Current deal: Choose the 3 pack or the 6 pack and get an additional 25% discount using the Binoid420 coupon code. 
(With 'Binoid420' coupon code)
---
(Using 'CBDTESTERS50' coupon code)
Stock-up on high-potency Delta-8 THC gummies!
6-pack bundle of super-strength delta 8 THC gummies. Each gummy contains 50mg of THC and you 15 gummies per bottle. You will get three different flavors in your bundle: cherry pie, lemon drop, and green apple. These gummies are vegan, gluten-free, and non-GMO, using only cruelty-free ingredients.
TIP: use coupon code 'CBDTESTERS50' to get 50% discount on this premium delta 8 THC gummies for only $14.99/bottle!
(Using 'CBDTESTERS50' coupon code)
---
(Using 'CBDTESTERS50' coupon code)
Want a great Delta-9 THC product?
Get your 5-pack bundle of premium, high-quality, Delta-9 THC gummies. Each gummy contains 15mg of hemp-derived delta 9 THC, and there are 10 gummies per pack. They come in assorted flavors: green apple, cherry pie, blue raspberry, lemon drop, orange mango. They are organic, vegan, gluten-free, and non-GMO – making them compatible with most dietary restrictions. Also, they have no CBD whatsoever to mute the psychoactive effects, just straight THC.
TIP: use coupon code 'CBDTESTERS50' to get 50% discount on this premium delta 9 THC gummies bundle.
(Using 'CBDTESTERS50' coupon code)
---
(No coupon code needed)
Each pouch contains 20 gummies, each one infused with 30mg of delta-8 THC. There is a total of 600mg per bag. These gummies are available in 4 different flavors: apple rings, peach rings, sour worms, and watermelon slices. Pick your favorite or mix and match!
From now until 4/20 get your Delta 8 THC gummies for only $9.95/cart.
(No coupon code needed)
---
(With 'Freebie' coupon code)
Want to try hemp-derived delta 9 THC gummies in a variety of flavors? Delivered to your house for free? And did we mention there are vegan options available too? If you're interested, this is the perfect deal for you!
Each of these gummies contains 10 to 15 mg of delta 9 THC and they come in a total of six flavors: Guavaberry Fruit, Blueberry Citrus Burst, Kiwi Mixer, Green Apple, Tropical Punch, and Wild Cherry. The Chronix Brand contain 10 mg each (100mg total in the bag), and the Urb brand contain 15mg each (150mg total in the package).
Three of the flavors are vegan: blueberry citrus burst, guavaberry fruit, and kiwi mixer. Because they are vegan, they don't contain gelatin, so the consistency of these gummies is more like a mini jello-shooter rather than an actual candy gummy.
(With 'Freebie' coupon code)
---
(Using 'Binoid420' coupon code)
These chocolate bars are creamy, delicious, and packed with hemp-derived delta 9 THC and live resin terpenes. With 150 total mg, that equals out to 12.5 mg of THC per chocolate square, which allows for proper dosing if you eat it square by square. You also get 3 different flavors to choose from: milk chocolate, dark chocolate, and peppermint. These run out fast so get yours while supplies lasts.
TIP: From now until 4/20 get use the coupon code 'Binoid420' to get your Delta 9 THC live resin chocolate bars carts for only $10.49/cart.
(Using 'Binoid420' coupon code)
---
More deals on other products can be found here, and these pages will continue to be updated regularly until April 20th, so keep returning here, or SUBSCRIBE to the The THC Weekly newsletter, as more and more THC deals are announced daily.
Related
Michigan's Cannabis Dispensaries Set New Sales Record On 4/20
Michigan's cannabis consumers didn't hold back on 4/20 this year. But then, of course, no one expected them to.
Indeed, more than two tons of cannabis flower was sold during the annual weed holiday. Initial data from Michigan's Cannabis Regulatory Agency (CRA) shows overall sales of cannabis flower on 4/20 were up 242% this year compared to the same day in 2021, CRA director Andrew Brisbo said.
RELATED: Cannabis Sales Have Been Sluggish Lately, Will 4/20 Change This Trend?
Here's the breakdown of cannabis flower sold on 4/20 over the past three years:
2022 – 4,619 pounds
2021 – 1,912 pounds
2020 – 430 pounds
During this year's cannabis holiday, consumers bought more than $15.5 million in cannabis products from the state's retailers. Overall weed product sales, measured by price, were up 45% from the previous year.
Total 4/20 weed sales in Michigan in the last three years:
2022 – $15.55 million
2021 – $10.69 million
2020 – $3.67 million
"Overall sales continue to increase despite significant price decreases year over year," Brisbo said, per the Detroit News. "Over 140,000 adult-use vape cartridges were sold [on 4/20] — 100,000 more than last year."
RELATED: How Much Weed Was Sold In Top-Selling Cannabis States? Arizona & Michigan Smash Records Again
There are at least 540 medical dispensaries serving the state's 230,500 MMJ patients and nearly 500 adult-use retail shops in Michigan.
Lots Of Tax Money
Adult-use cannabis purchasers pay a 10% excise tax on top of state sales tax while MMJ consumers do not pay excise tax.
The influx of sales Wednesday translates to more than $2.55 million in excise taxes and state sales in a single day, CRA spokesman David Harns said.
Recreational cannabis sales in Michigan are forecasted to hit a new high of $1.5 billion this year. It seems this year's 4/20 celebrations provided a hefty push along that road.
This article originally appeared on Benzinga and has been reposted with permission.
420 is always one of our favorite days of the year – fun activities, get-togethers with friends, and perhaps best of all, killer deals on all the most popular products. `If you happened to have missed our weekly newsletter, then fear not because you can check out our top three deals of the holiday. Scroll down to access the deals, also to learn a bit more about the origins of this infamous stoner holiday.
Learn more about this infamous stoner holiday, as well as some of our favorite products and activities to celebrate the day with. As always, the best 420 deals are reserved for the subscribers of The THC Weekly newsletter, so make sure to SUBSCRIBE today.
---
What is 420?
While not officially a holiday, 420 has become one of the most universally celebrated days – in the sense that it is not specific to any region, ethnic group, gender, or religion/spirituality. Anyone who uses, or even just appreciates cannabis, is welcome to join in the festivities! It's one of the most inclusive 'holidays' that exists. The purpose of 420 is pretty cut and dry: to commemorate weed in all its natural, healing, and stoney glory. Its origins, however, remain a bit hazier. There are so many different 420 stories out there and if you've been smoking weed for a while you've likely heard quite a few… 
Some say it's the number of active chemicals in pot (this is somewhat factual, as there are roughly 400 compounds in the cannabis plant, but the term '420' predates this information). Others believe it's a code to denote cannabis possession by law enforcement (completely inaccurate, no such code exists). A handful of people think it has to with an older California senate bill called SB 420 (this does exist, but again, 420 came before the bill). And many others believe it has to do with one or more celebrities, typically named are Jimi Hendrix, Bob Marley, and Bob Dylan (also incorrect).  
The real story of how 420 came to be is a little more mundane, but actually pretty cool when you consider that it all started as an inside joke between friends from San Rafael, CA, who would meet after school at 4:20pm to smoke weed and hang out. Trends spread around high schools all the time, but how did the term 420 skyrocket to an internationally known phrase? That took some star power, for which we have the Grateful Dead to thank.
The group of teens had close ties to the Dead, and at a concert during Christmas weekend 1990, then High Times reporter Steve Bloom was handed a flyer that read, "We are going to meet at 4:20 on 4/20 for 420-ing in Marin County at the Bolinas Ridge sunset spot on Mt. Tamalpais." Once High Times printed a story about the event, accompanied by a photo of the flyer, it was game over and 420 spread like wildfire.
TOP 420 DEALS:
(No coupon code needed)
Looking for Delta 8 or THCO carts? Get them for only $5/cart, the lowest price ever for this product.
To celebrate 420, you can now stock up on Delta 8 THC and THC-O vape carts for only $5 each! Numerous different strains/flavors to choose from including Grape Ape, Green Crack, Maui Wowie, Northern Lights, AK-47, Sour Diesel, Pineapple Express, and more! Limit 4 carts per customer, carts only!
TIP: Follow the link below to get your Delta 8 and THC-O carts for only $5 each – while supplies lasts!
(No coupon code needed)
---
(Using '420sale' coupon code)
Looking for 420 deals? Get 40% off all your favorite products! Vapes, edibles, concentrates and more, all for almost half off.
This is a perfect opportunity to stock up. And in spirit of being festive, Delta Extrax decided to extend this sale. Originally set for only 4/20, it's now going to last until 4/24.
A few top sellers to check out include the Euphoria Tropical Punch Delta 10 THC Gummies, Blue Raspberry Delta 9 THC Rox, Galactic Grimm's Greens 2g Disposable, and many more interesting choices.
TIP: Get an extra 40% discount with '420sale' coupon code – applicable sitewide from 4/20 to 4/24!
(With '420sale' coupon code)
---
(Using the '420ISHERE' coupon code)
Want to save big on the new THCP vape cartridges? Get 30% discount on the 4 pack and the 8 pack using our special 420ISHERE coupon code!  Both bundles include the following strains:  Aurora (Indica), Fruit Loops (Hybrid),  Trainwreck (Sativa) & God's Gift (Indica). Choose the 8-pack to get the biggest discount! 
Each THCP vape cartridge contains premium THCP distillate, paired with Delta 8 THC and terpenes.
Using THC-P might give you heavy mental and physical buzz. Using indica carts, you might also experience relaxation & relief.
TIP: To take the price down to only $21/cart, choose the the 8-pack and use the 420ISHERE coupon code.
(With '420ISHERE' coupon code)
---
More deals on other products can be found here, and these pages will continue to be updated regularly until April 20th, so keep returning here, or SUBSCRIBE to The THC Weekly newsletter, as more and more THC deals are announced daily.
Related
10 Gifts That Will Liven Up Your 420 In Florida
We know better than to tempt Floridians with a good time, but this year's 420 is destined to be the best one yet.
Whether you're staying in or attending one of the many cannabis-friendly events across the state like The Florida Groves Festival or the annual 420 Fest in Miami, we've curated a comprehensive gift guide that will appeal to every type of consumer.   
From premium flower to discreet edibles, these products will take your 420 celebrations to the next level.   
For the Connoisseur in Your Life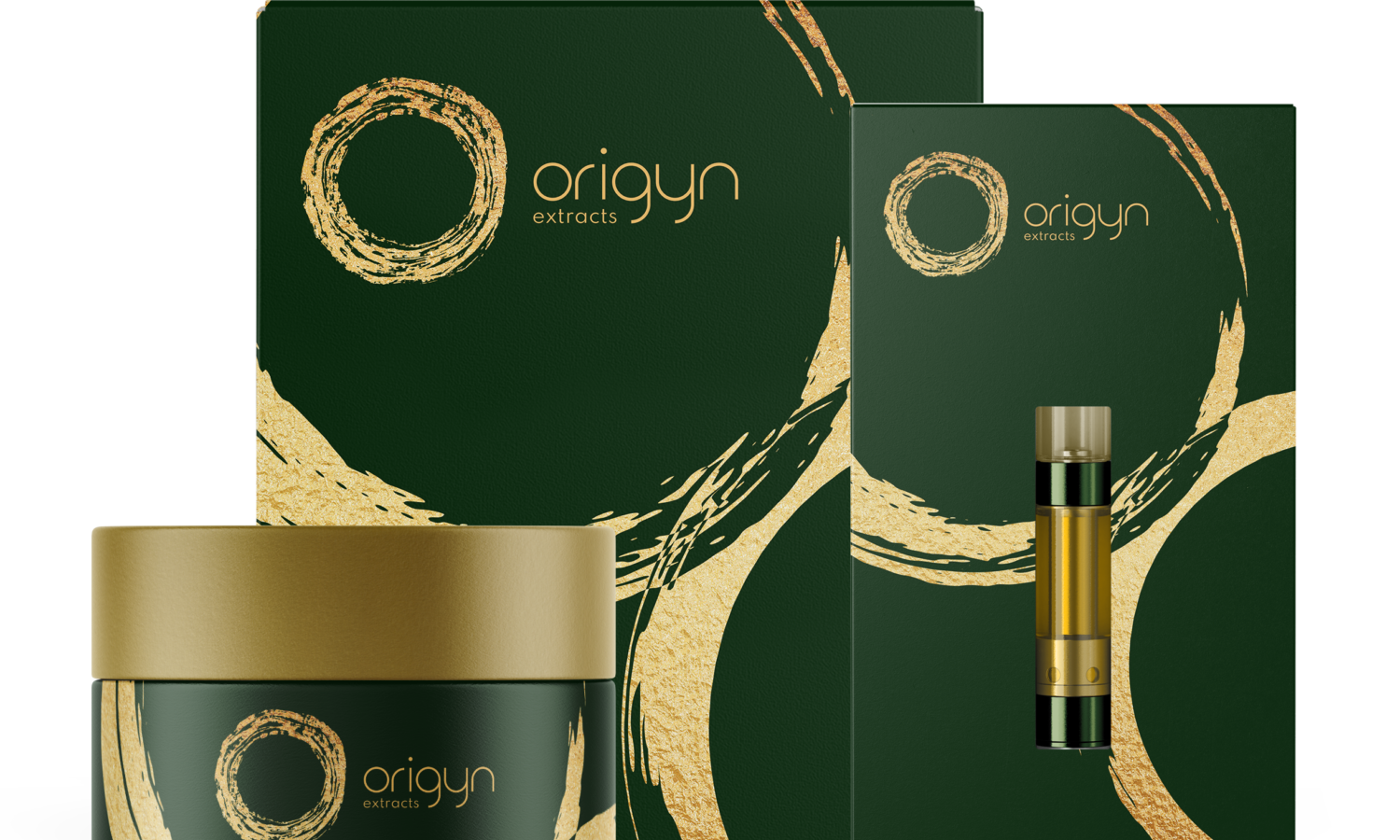 Are you searching for the perfect high this 420? Origyn's team of dedicated cultivators has developed some of the most innovative extracts that harness the raw power of each stain. Origyn's proprietary processes pinpoint the plant's purest and most potent traits to create truly superior experiences.   
RYTHM Live Vape Cartridges Jack Herer  
RYTHM's premium vape pens and cartridges use only high-quality, full-spectrum C02 oil and 100% strain-specific terpenes to create a lasting high. The cartridge contains no fillers or additives, and the mind-elevating sativa-dominant, Jack Herer, has a sweet and tart flavor profile with a lemon-berry nose.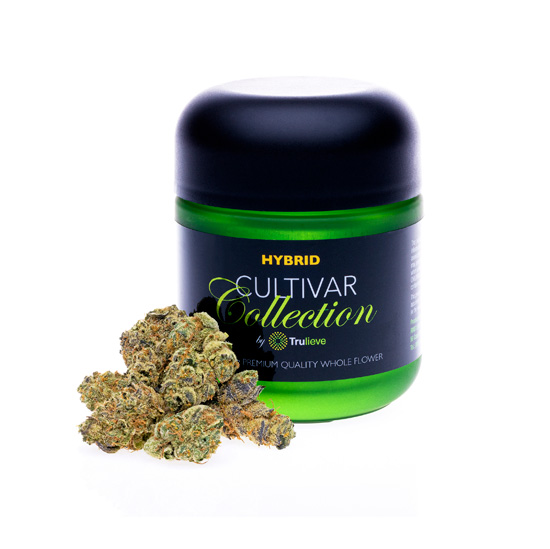 Trulieve spent years meticulously pheno-hunting ideal potencies, terpene profiles and aesthetics to create its Cultivar Collection. Each small batch harvest is hand-trimmed and slow dried to ensure the highest possible standards. Popular strains include Root Beer Float, Banana OG and Do Si Dos.   
If you plan to spend 420 outdoors with your dog, Dogwalkers Mini Dog pre-rolls are designed to complement a leisurely stroll around the neighborhood with your four-legged companion. Not only are the pre-rolls hand-packed with premium flower and packaged in a sleek tin, but a portion of all sales go to deserving animal shelters across the country.  
For a Cute Smoking Experience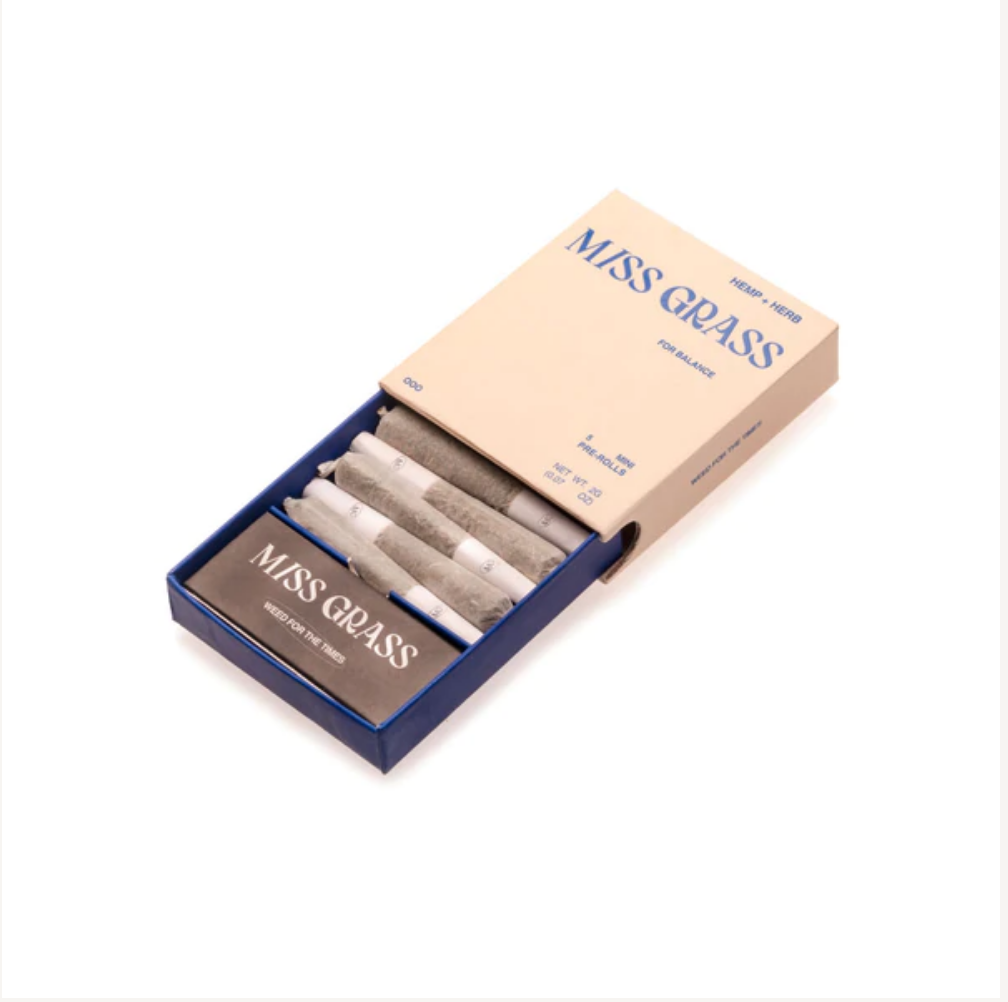 Miss Grass' hemp is available in boxes of five .4g mini pre-rolls and formulated with adaptogenic herbs that create heightened effects without using THC. Available in Balance, Pleasure and Sleep offerings, these pre-rolls are perfect for those seeking out a blissful body high.  
Flower by Edie Parker CBD Joints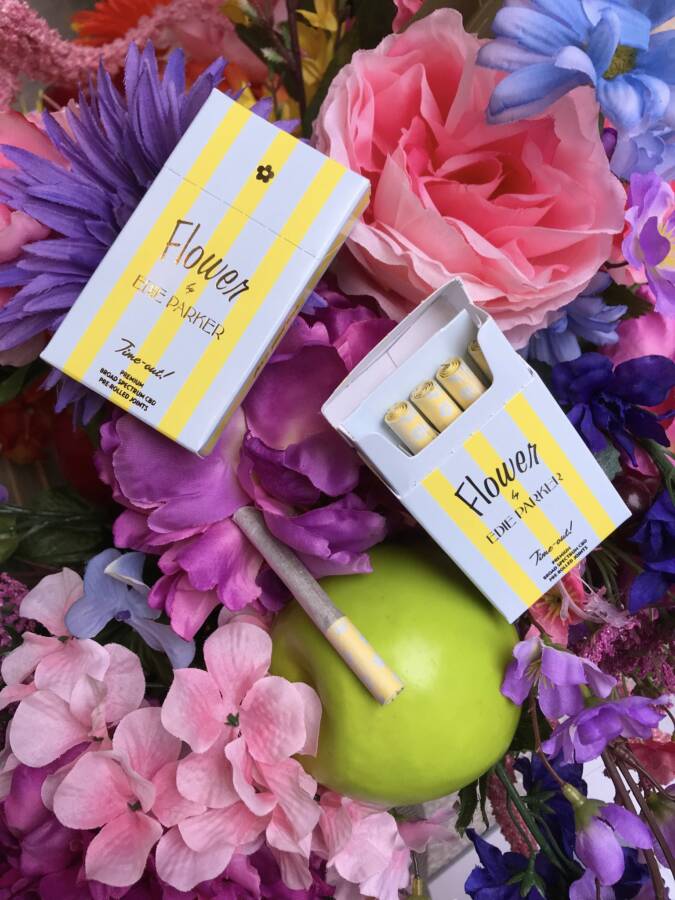 Edie Parker's CBD joints are the perfect addition to any self-care routine. Filled with 2.5 grams of 100% premium broad-spectrum CBD flower, these elegant pre-rolls are also great for impressing friends during a chill night in. 
If You're Trying to Stay On the DL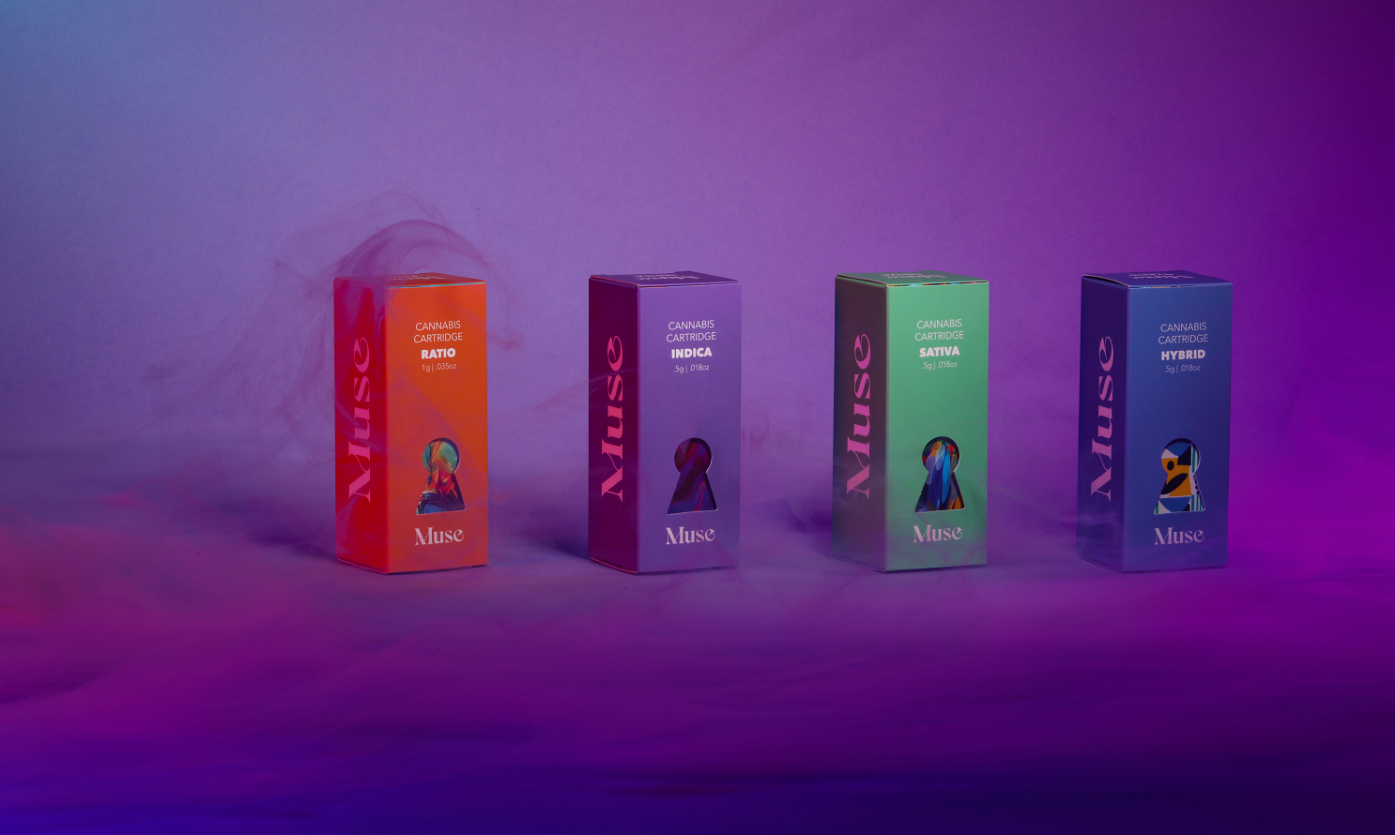 If this is your first time celebrating 420, Muse vapes are tailor-made to ease you into the world of cannabis. Each cartridge contains distillate and strain-specific botanical terpene profiles to provide mind-expanding experiences. We highly recommend pairing Muse with your favorite album or book to unlock what's within.  
This infused beverage enhancer is a perfect way to elevate your drinks. The water-soluble liquid is infused with nano-emulsified cannabis oil that gives any drink a flavorful, THC-infused kick. The pocket-sized self-measuring bottle precisely dispenses 5 mg of THC and ensures controlled and predictable cannabis experiences each time. Select Squeeze is available in four inviting flavors, including lemon lime, watermelon, strawberry lemonade, and hint of sweet. 
Secret Orchard's expert cultivators are responsible for the magic behind these high-quality fruit-forward soft chews.  These tantalizing confections combine the raw power of cannabis with amazing fruit flavors, such as Sour Watermelon and Blue Raspberry. They're perfect to bring along with you if you're headed out this 420.    
Sweet Talk Gummies and Chocolate 
Looking for a 420 sugar fix? Sweet Talk's gummies and chocolate bars are infused with premium quality cannabis and available in nostalgic flavors like raspberry lemonade and green apple. These bite-sized pieces of euphoria are sure to leave a big smile on your face.