How To Add Weed To Your Friendsgiving Celebration This Year
Friendsgiving season is officially upon us. The trend first surfaced in the mid-2000s when people began reimagining a traditional meal without family but with friends. What's a Friendsgiving feast these days without some marijuana?
Unlike the family events that require you to "forget something in your car" with your favorite cousin, at Friendsgiving (in states where cannabis is recreationally legal), you can celebrate freely with your friends. Here are some tips.
Infuse Your Feast
Introducing weed to your meal is easy, since so much of the flavor (and THC) is fat-soluble, the butter-heavy meal is a great way to infuse cannabis if you want a group experience.
 RELATED: Cannabutter 101: How To Dose Your Baking Without Totally Baking Your Friends
While infused butter is an easy go-to for guests to make any dish 420 friendly, you might want to consider exempting main courses due to people overindulging. You can do a smaller version so people can do a taste test. And new innovations like the Stündenglass Gravity Infuser truly puts on a show with a futuristic 360 degree gravity system and tray cloche that adds a cooled, flavorful smoke to anything from gravy to some drumsticks.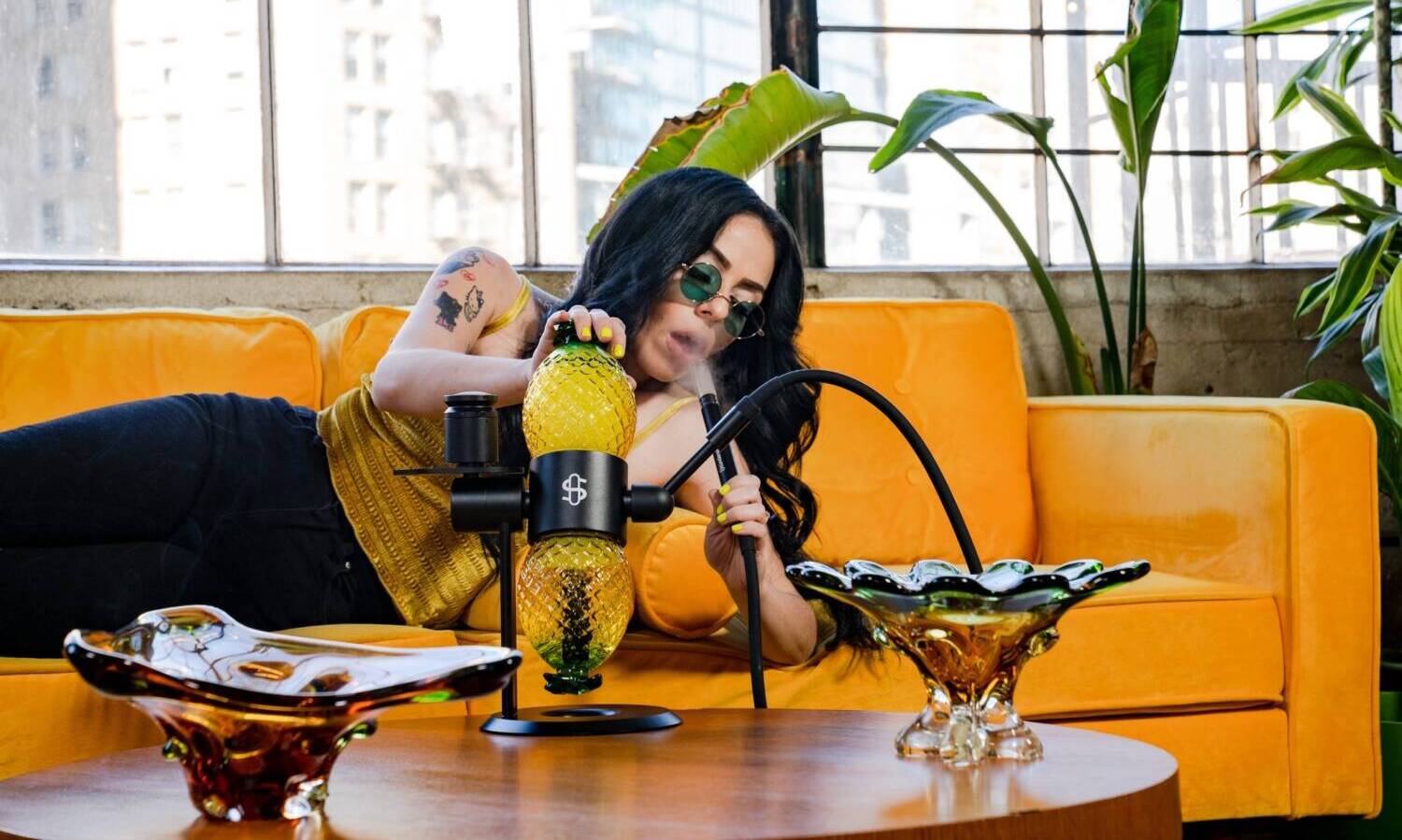 The easiest option is the dessert course. If you really want to think outside of the box, HighOnLove's Dark Chocolate Body Paint doesn't have to be reserved for the bedroom. Mom won't be around to stop you from playing with your food at this dinner table, so why not have a little fun? The body paint comes with a tiny paint brush you can use to create your own hemp or THC infused edible masterpiece. Apple cider donuts, pecan pie, strawberries, whatever you have out for your sweet tooth friends could pair with this delectable chocolate. The hemp-infused version is available online, while the THC infused Body Paint is available for Colorado locals.
Seasonal Accessories
If infusing the feast isn't your jam, festive glass pieces that double as functional pieces of art could add a touch of whimsy and can provide a conversation topic. To keep the vibes merry and high with your favorite flower, guests can puff on CannaStyle's Bread Bowl in between servings, or sip out of the top of one of their PSL Bongs.
RELATED: So, You Got Too High Before Thanksgiving Dinner — Here's What You Can Do
Remember, you normally won't share wine glasses, and the same idea applies when sharing pipes and joints. So whenever you do share a joint across the table, or take a puff from a friend's bong, Moose Labs' MouthPeace or MouthPeace Mini has made it post-Covid safe. MouthPeaces give you the freedom to share pipes, rigs, joints, blunts, e-cigs, and vapes without sharing germs.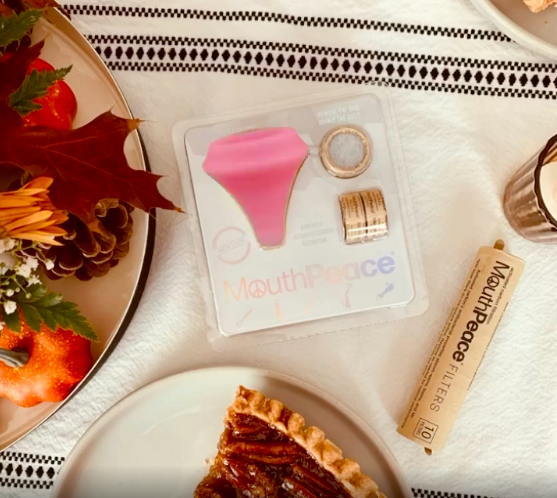 Cooking Tips to Keep You Sane
Chef Justin Khanna has worked in some of the top restaurants in the world and now advises food-tech startups, hosts pop-up dinners and publishes educational content. Here he offers some basic tips for your feast:
Don't get overwhelmed.  Making a prep list is the easiest way to avoid feeling scattered. Think about it: this is probably one of the biggest meals of your year, you should treat it differently than a standard dinner party with friends! Making a quick checklist of the dishes you're preparing can help make sure components don't go missing and also give you a great sense of how to answer when your guests come over and ask, "what can I help with?"
Don't go it alone. Speaking of asking for help, this ends up being a huge win of having your friends be your guests. It's not about grandma making the entire meal (that was my Thanksgiving tradition), so spread the load. Ask folks what they're comfortable making or bringing, and use that opportunity to build out the meal. It's way easier to know that someone else has the turkey covered, and you can use your oven for other projects throughout the day.
Don't forget snacks. Let's face it, your guests are going to arrive hungry. This doesn't have to be anything elaborate, but offering some nibbles on arrival can be a phenomenal way to give yourself "buffer time" on serving the big meal. Considering folks probably want to catch up (or get to know one another on a first meet), offer up a charcuterie or butter board, crudités and dips, or even a baked cheese appetizer as a way to let everyone settle in without getting hangry.
However you do it, have a great time with your friends and remember it is all about being together with those you chose this Thanksgiving.
Cannabinoid Hyperemesis Syndrome: Paradoxical Effects Of THC? Or Something Else?
There's one way to die from cannabis, and it's cannabinoid hyperemesis syndrome (CHS). According to the Official Journal of the American College of Gastroenterology, there have been about 2217 reported deaths from CHS. The figure is probably higher considering that most cases are never diagnosed and hence never reported.
CHS is a rather new diagnosis that is often confused with cyclic vomiting syndrome (CVS). Both conditions are characterized by cyclic episodes of excessive vomiting (hyperemesis) that may eventually lead to death. Even though exact mechanisms are yet to be confirmed, THC has been implicated in CHS.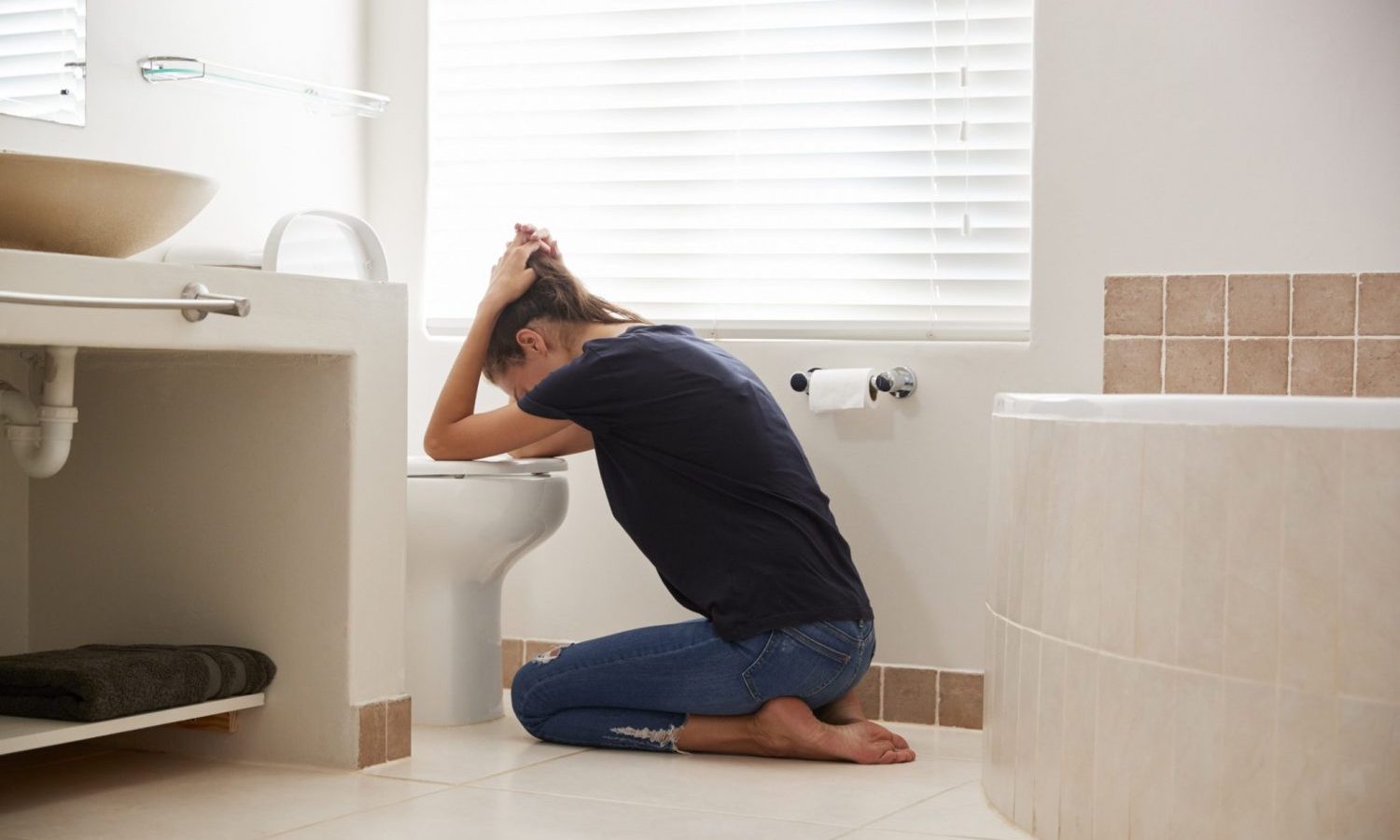 On the flip side, one of the approved uses of THC is in the treatment of chemotherapy-induced nausea and vomiting (CINV). Isn't it paradoxical that THC would trigger both CHS and be an effective cure for CINV nonetheless?
CHS was first described in a 2004 paper as cyclical hyperemesis (vomiting) as a result of chronic cannabis abuse. Apart from the vomiting, the researchers also noted that the patients were taking frequent hot baths for relief, as a learned behavior. It is hypothesized that CHS may be a result of overstimulation of endocannabinoid receptors. Genetics may also have a role to play, according to preliminary research.
RELATED: Is 'Uncontrollable Vomiting' Really A Serious Side Effect Of Marijuana?
CHS is often divided into three phases. The first is the prodromal phase where the patient experiences early morning nausea and slight abdominal discomfort. This phase may last for several years. The second is the hyperemetic phase that's characterized by severe nausea and vomiting, abdominal pain and the learned behavior of taking hot baths. Left untreated, the patient can deteriorate quite fast during this stage due to electrolyte imbalance and dehydration. The final stage is the recovery phase.
Most of the patients who've been diagnosed with CHS are young adults with a history of chronic cannabis use (16 years on average). They reported daily use of cannabis, up to three or five times per day. Chronic cannabis use is what differentiates CHS from cyclic vomiting syndrome. In addition, the behavior of taking compulsive hot showers is only observed in CHS.
RELATED: A Brief Examination Of Cannabinoid Hyperemesis Syndrome
Treatment for CHS revolves around treating nausea and vomiting and preventing a relapse during the recovery phase. Even with the proven anti-emetic properties of cannabis, this is one case where offering it as a form of treatment may cause more harm than good.
This article originally appeared on MyCannibis.com and has been reposted with permission.
What Is The Best Way To Grow Weed?
Soil is the most well-known and recognizable growing medium. Cannabis and other plants have been grown in soil for many years. But there are now a lot of additional soilless growing options available for your cannabis.
A cannabis plant can grow and flower regardless of the medium as long as the roots have room to expand and access fresh oxygen, water, and the right nutrients. However, the majority of growers will have a strong personal preference for a particular medium based on factors like desired yields, ease of use, and growing space. The following is a list of the most typical media utilized by expert growers in the cannabis industry: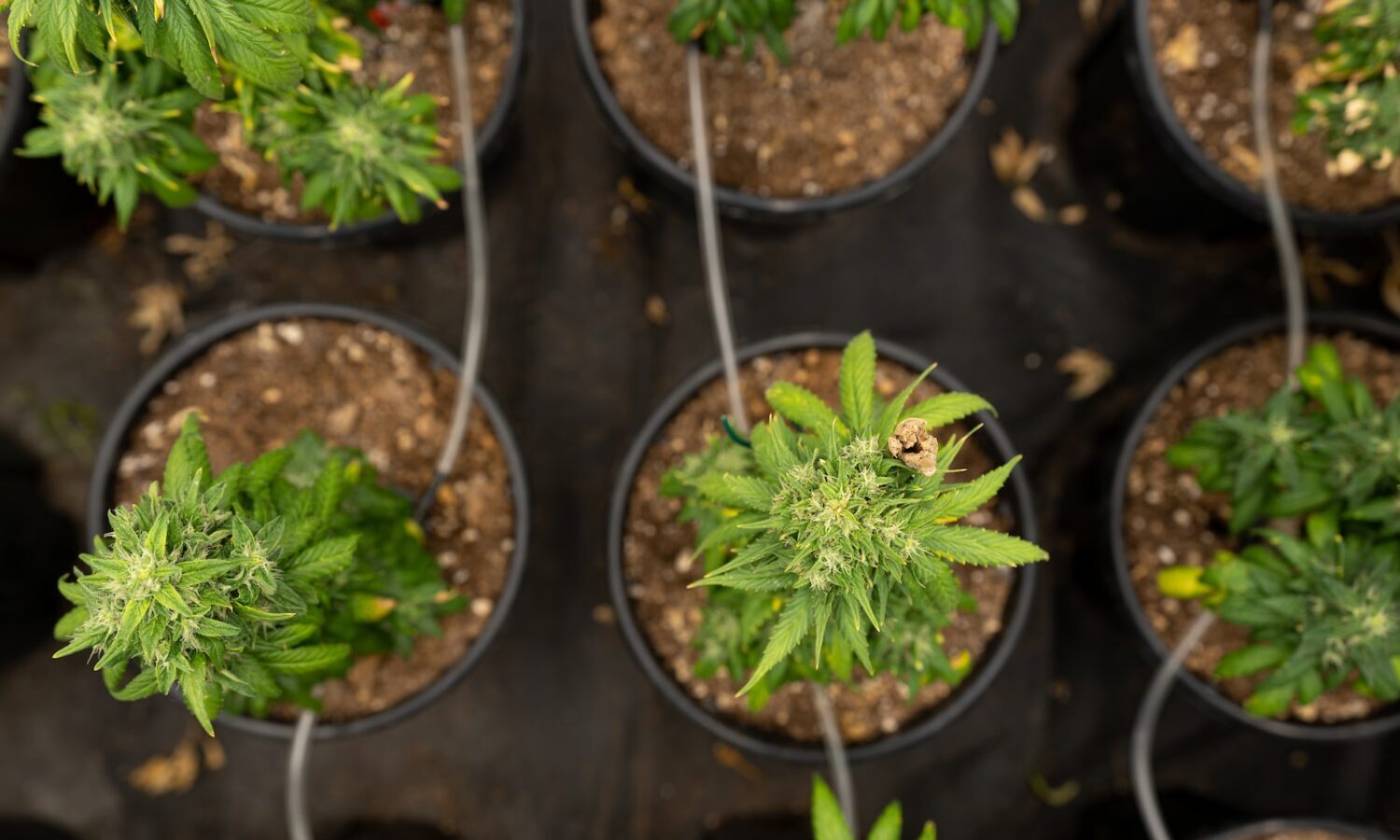 Growing Cannabis in Soil 
In addition to an outdoor planting area, continuous monitoring, and a basic understanding of soil management, growing weed in soil demands a lot of patience. Although most beginners adopt this strategy, there may be some issues before you can eventually reap the rewards of your labor. You won't have much trouble following the steps if you've ever grown plants indoors or outdoors before.
The potential for the success of outdoor cannabis cultivation is its biggest benefit. The size and height your plants may attain will give you a year's worth of freshly produced cannabis if you have enough room to plant your seeds. The trick is to create and keep up perfect growing conditions, which don't just rely on the soil's nutrients and growing characteristics.
Pros and Cos of Growing Weed in Soil 
Pros:
Reduced costs.
The process is easy to understand and follow
Requires no special equipment
Massive cannabis harvest
Eco-friendly technology.
Cons:
Less control of the result.
Local weather and climate can be a problem.
Requires continuous supervision.
Growing Cannabis in Rockwool  
A substrate called rockwool is made by spinning molten basaltic rock into fine strands. How does it relate to marijuana cultivation? Rockwool appears to be the ideal substrate for hydroponic growing setups. Rockwool is widely used in commercial cannabis production and is not disregarded by personal hydroponic growers due to its inert qualities, natural capacity to hold water, and ability to give adequate oxygenation to the plant roots.
RELATED: What Is Rockwool And Why Is It A New Buzzword In The Marijuana Industry?
The idea of growing marijuana in rockwool initially strikes you as odd. But with all of the advantages, it's the best option for those just starting with hydroponic horticulture. No less rigorous than the others, rockwool media is completely devoid of organic materials. Additionally, the surroundings are clean and devoid of harmful metals.
Why bother looking at other growth mediums if rockwool is so perfect for growing cannabis? Rockwool is not an exception to the norm; no media is ideal. Rockwool's effect on the environment is its main drawback. It cannot be recycled, is not biodegradable, and is typically not produced in a sustainable manner.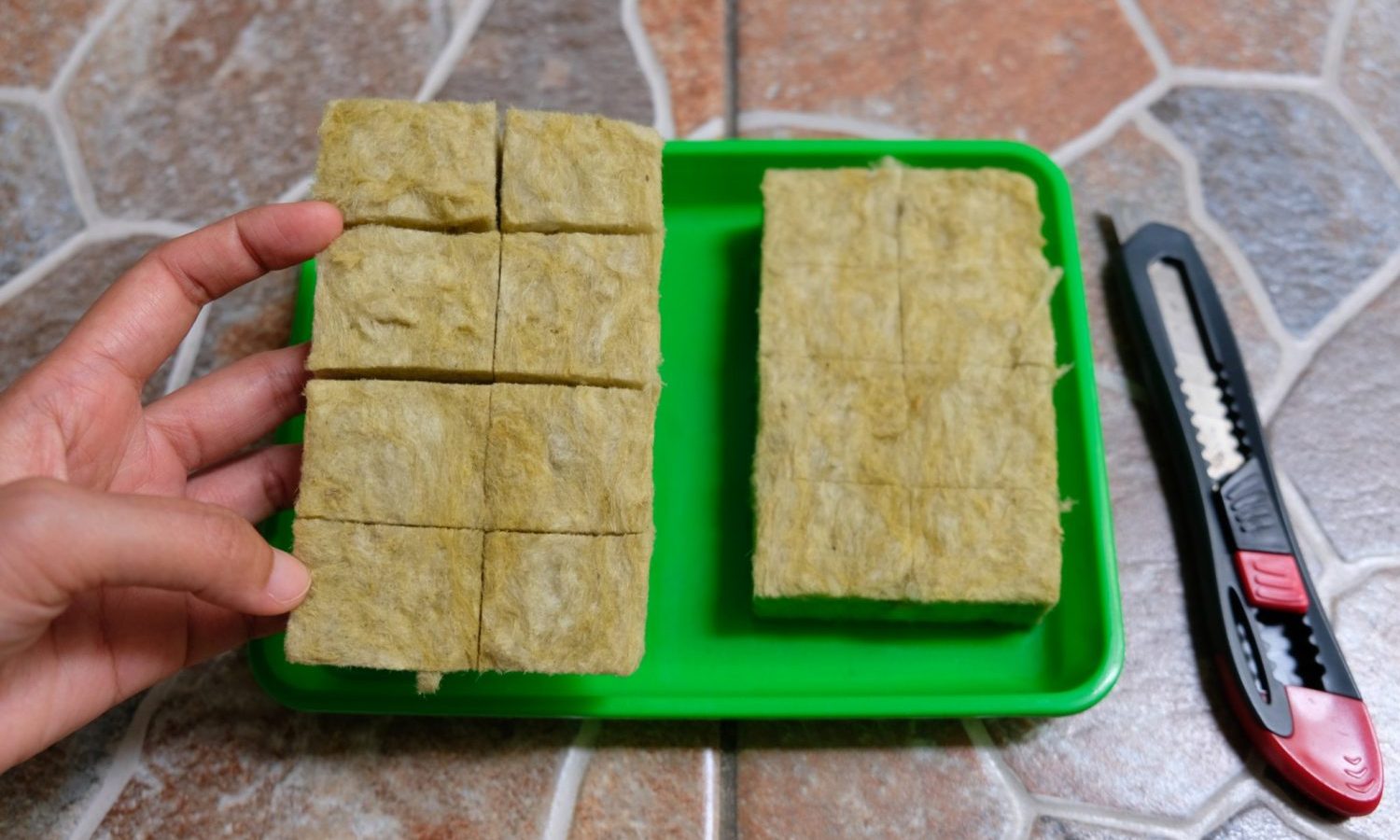 Pros and Cons of Rockwool Planting 
Pros:
It can be used for both hydroponics and soil growing.
It is not difficult to set up and maintain.
The growing environment is germ-free, free from organic threats and metals.
It provides good drainage and easy root penetration.
Warmth, moisture, and darkness of rockwool cubes result in great germination.
Cons:
It is not an eco-friendly method.
Stabilizing water pH can be a serious issue.
Rockwool is not sustainable or biodegradable.
Growing Cannabis in Peat Moss 
Cannabis grown with peat moss increases the likelihood of a plentiful harvest and decreases the likelihood of failure. Both growers using soil and those using hydroponics can benefit from the usage of peat moss as a fertilizer. However, don't squander time if you intend to employ peat moss in your nearby cannabis garden. Weeks are needed to prepare peat moss for gardening.
RELATED: Rookie Errors To Avoid When You Are Just Starting To Grow Weed
The excellent news is that peat moss can be used to achieve the ideal pH for cannabis. An expert grower is aware of the significance of a balanced pH. Peat moss can be used with alkaline soil additions because of its acidic pH level. As a result, successful cultivation and efficient absorption of all necessary nutrients are guaranteed.
Pros and Cons of Using Peat Moss 
Pros:
Adds healthy nutrients.
Has promising water-holding capacity.
Carries an important role in the acidifying process.
Has outstanding resistant properties and is contamination free.
Enriches the grow environment with beneficial microorganisms.
Cons:
Requires much time to prepare.
Can lead to soil compression.
Raises concerns of sustainability.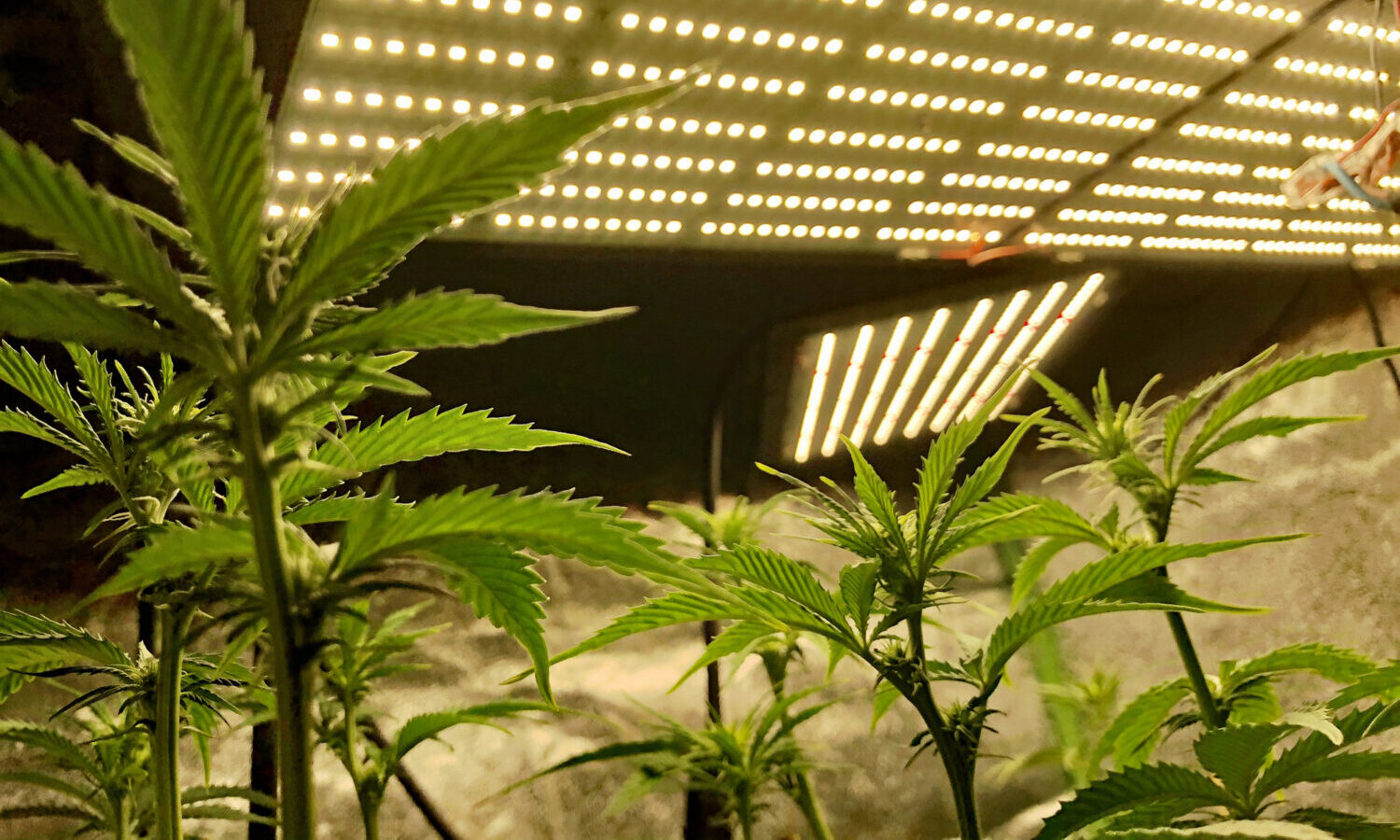 Growing Cannabis in Coco + Perlite  
Another alternate option that is well-liked by cannabis enthusiasts is growing marijuana in coco coir. Before weed gardeners discovered how to make use of the coconut husk, it was seen as a waste product. Its refined fiber provides an almost ideal environment for marijuana cultivation. This medium, which has an average pH of 6.5-7.0 and is oxygen-rich and superbly water-retentive, is beneficial for both outdoor and indoor plants.
Cannabis grown by flushing in coco is the most environmentally friendly method. This process is completely recyclable and green. To improve your probability of a fruitful and successful harvest, you can choose to add specific cannabis perlite. Both soil and hydroponic farming schools advise using the obsidian supplement perlite. It stimulates root development, boosts oxygen levels, and reduces soil weight when applied to coco coir.
RELATED: Is There Really Any Difference Between Cannabis Grown Indoors Vs. Outdoors?
Although it takes more work and knowledge, growing cannabis on coco coir produces significantly better results than growing it in just soil. Try planting in coco coir as the next upgrade if soil growing is no longer difficult for you.
It is more difficult to choose between peat moss and coconut coir. Go for coco coir without hesitation if you are a committed conservationist or in a time crunch.  Give peat moss a try if you enjoy gardening in general, strive for the finest outcome, and have enough time to prepare the growing medium. Contrasting these mediums' characteristics is challenging. It is therefore preferable if you can examine peat moss and coco coir in action to evaluate which result best suits your needs.
Pros and Cons of Coco + Perlite  
Pros:
The technique is easy.
Coco coir is as accessible as soil.
It is a totally eco-friendly cultivation process.
Has a light structure that is better for root development.
Cons:
Needs to be hydrated in order to activate.
Requires nutrients, such as cannabis perlite.
Bottom Line
Different cannabis enthusiasts and growers have their preferred method of growing cannabis, with each method having its advantages and drawbacks, some more than others. Using these methods is acceptable, you just have to know the pros and cons and choose what's best for you.
This article originally appeared on Cannabis.net and has been reposted with permission.
Where is Cannabis Legal in Europe?
Europe is a huge continent with over 40 countries included. Therefore, it is often hard to generalize when it comes to their view on cannabis laws. Each nation has its own opinion and this can differ drastically from one country to another. We're going to be delving into every European country and displaying their summarized laws on weed. Let's go. 
Albania 
Medical: No
Recreational: No
Due to the Law of Narcotic and Psychotropic Substances that was made in 1994, cannabis is firmly included on the list of illegal substances. Therefore, cultivation, possession, production and essentially anything involving weed is illegal. This includes even the medical use of the substance. In July of this year, Albania drafted their first cannabis law to attempt to legalize it for medicinal purposes but it faced opposition. 
Andora
Medical: No
Recreational: No
Cannabis both medically and recreationally is strictly illegal in Andorra. You can face up to two years in prison for the trafficking of the substance, and individual use can also leave you with a large fine of up to 600 euros and an arrest. The only hope is that it borders Spain, where there are far more liberal views on cannabis. 
Austria
Medical: No
Recreational: Decriminalised
In Austria, it is illegal to consume, buy, sell or grow the plant. They also still do not have a medical cannabis market. However, in 2016, the personal use of it was essentially decriminalized. 30-40% of the nation's young people, aged 15-24, enjoy hash and cannabis.  
Belarus 
Medical: No
Recreational: No
Belarus is very strict when it comes to cannabis laws. It is illegal in every way you look at it, even the industrial use of hemp.  
Belgium
Medical: Yes
Recreational: Decriminalised 
Belgium is definitely in the higher end of Europe when it comes to acceptance of cannabis. Medical cannabis exists, although it's limited to only Sativex products. Plus, whilst recreational weed is illegal in Belgium, possession of under 3 grams by a person of age is decriminalized. 
Bosnia and Herzegovina 
Medical: No
Recreational: No
Similar to Belarus, Bosnia and Herzegovina have banned cannabis both medically and recreationally and do not look to be changing that any time soon. 
Bulgaria
Medical: No
Recreational: No
Medical and recreational cannabis is illegal in Bulgaria. However, farmers can grow industrial hemp with a permit, so at least that's something. Plus, in 2019, Bulgaria was the first EU country to legalize the selling of CBD products. As one of the EU's poorest members, many believe that legalizing THC could benefit their economy. 
Croatia
Medical: Yes
Recreational: Decriminalised 
In 2015, Croatia legalised the use of medical cannabis. Plus, the personal use of the substance is also only considered a misdemeanour and not a crime, meaning at worst you'll face a fine. They are not quite at the stage of having a recreational cannabis market yet, but perhaps this could change. 
Cyprus
Medical: Yes
Recreational: No
As of 2019, Cyprus legalized the use and cultivation of cannabis for medical purposes. However, the use of the substance for recreational purposes is dealt with heavily by authorities. 
Czech Republic
Medical: Yes
Recreational: Decriminalized
As of 2010, the Czech Republic decriminalized the use of the possession and cultivation of cannabis for personal use. You do need a license to grow it. Medical usage was also legalized in 2013 for certain conditions. 
Denmark
Medical: Yes
Recreational: Decriminalized
Denmark is considered one of the most liberal nations in the world, but how do they fair when it comes to cannabis? Denmark legalized medical cannabis in 2018, but the access to it remains limited and only certain products like Sativex are available. The substance remains illegal but they are lenient with small amounts for personal use. 
Estonia
Medical: Yes
Recreational: Decriminalized
Estonia is another example of a nation that legalized medical cannabis a while ago, but have yet to really do anything about it. You can expect leniency if you're found with a small amount of weed but, overall, it's illegal.
Finland
Medical: Yes
Recreational: No
Since 1972 it has been illegal to use cannabis recreationally and that has not changed since. However, as is the case with many nations in Europe, a small amount will probably be given only a small fine. Medical cannabis is also legal, but the industry is far from booming, with only around 250 people actually having access to it. 
France
Medical: Yes
Recreational: No
It is illegal to produce, import and sell recreational cannabis in France. In January 2022 the government dismissed a drafted law that tried to legalize it. In fact, it is believed that France has some of the harshest drug laws in Europe. As you can predict, even the medical weed is limited and hard to access. 
Germany
Medical: Yes
Recreational: Almost
Germany has recently laid out plans to legalize cannabis for recreational use. This would make it one of the first and largest countries in Europe to do so. As of yet, there is no exact date that this could happen. Medical cannabis has also been accessible since 2017.
Greece
Medical: Yes
Recreational: No
Greece has legalized medical cannabis but the industry has not yet gotten off the ground. In regards to recreational use, it is completely and firmly illegal. A small amount won't amount to a criminal record. 
Hungary
Medical: No
Recreational: No
Hungary supposedly treats cannabis use with the same amount of seriousness as heroin. The use of the substance is illegal both medically and recreationally. 
Iceland
Medical: No
Recreational: No
The best cannabis product you're going to get in Iceland is maybe some CBD and prescribed Sativex. Other than that, it is completely illegal. 
Ireland
Medical: Yes
Recreational: No
Medical cannabis and CBD in Ireland has been legal since 2019, however it requires approval by the Minister for Health. Recreational weed is completely illegal.
Italy
Medical: Yes
Recreational: Decriminalized
Recreational cannabis is illegal in Italy, however some cannabis-lite products are available for purchase in smart shops with very small amounts of THC. Medical cannabis is, yet again, legal but strictly regulated.
Kosovo
Medical: No
Recreational: No
Kosovo is another strict nation, no use of cannabis is legal here. However, yet again, people are suggesting it be a good idea for their economy to create a legal weed market. 
Latvia
Medical: No
Recreational: No
Latvia has banned all use of cannabis except hemp production, but if you're found with a gram or so then you can expect only a fine. 
Liechtenstein
Medical: No
Recreational: No
Liechtenstein does not even have Sativex available for medical use, the nation has made weed illegal in all ways. 
Lithuania
Medical: Yes
Recreational: No
Since 2018, medical cannabis has been legal in Lithuania, but the industry is limited and hardly accessible. You can expect a small fine if found with limited cannabis in this country but larger amounts will be an issue.
Luxembourg 
Medical: Yes
Recreational: Yes
In 2021, Luxembourg shocked the world by becoming the first country in Europe to legalize growing and using a limited amount of cannabis for personal use. However, it's now being revealed that – without a cannabis market being created – it feels more like decriminalization than actual legalization. Nonetheless, it has paved the way for the rest of the continent. 
Malta
Medical: Yes
Recreational: Yes
Malta is the most progressive nation in Europe when it comes to cannabis. Both medical and recreational use is legal and has been since 2021. However, as of yet, there has been limited news on how this change of law has been actioned. 
Moldova
Medical: Yes
Recreational: Decriminalised
Medical cannabis in Moldova is legal but limited. Recreational weed is illegal but decriminalized – in essence, simple drug use is not a crime. 
Monaco
Medical: No
Recreational: No
Tax avoidance may be legal in Monaco, but cannabis most certainly is not. 
Montenegro
Medical: No
Recreational: No
Montenegro is far from legalizing cannabis in any way. In 2014 a political party attempted to present a bill but it was instantly rejected.
The Netherlands
Medical: Yes
Recreational: Decriminalized
The Netherlands have the most successful recreational cannabis market in Europe, with hundreds of thousands of tourists coming to Amsterdam to enjoy their coffeeshops. However, the actual use of cannabis is still technically not legal, it is just completely decriminalized. 
North Macedonia
Medical: Yes
Recreational: No
Medical cannabis is legal but limited in North Macedonia, and products containing 0.2% THC or less are also available. There is no likelihood that their stance on recreational weed changes any time soon. 
Norway
Medical: Yes
Recreational: Decriminalized
Norway only allows for the medical use of the cannabis plant and nothing else. However, they are lenient to small amounts for personal use, probably only resulting in a fine. 
Poland
Medical: Yes
Recreational: No
As of yet, hemp cultivation and a 2017 medical cannabis program is all that Poland currently has. Yet again, small amounts will be dealt with leniently. 
Portugal
Medical: Yes
Recreational: Decriminalized
In Portugal it is possible to access medical cannabis if other methods have proven to fail for your specific condition. The use of small amounts of cannabis will not give you jail time but may result in a fine. 
Romania
Medical: Yes
Recreational: Decriminalized
In 2019, Romania stated that they are looking to make their medical cannabis more accessible. Whilst recreational cannabis is illegal, they do not deal with the substance strictly due to it not being a high-risk drug. 
Russia
Medical: No
Recreational: Decriminalised
Russia has made possession of up to 6 grams a smaller crime, and therefore will result only in a fine. However, there is still a long way to go for the country, without even a medical cannabis market. 
San Marino
Medical: Yes
Recreational: No
In 2019, San Marino came close to legalizing recreational cannabis after a citizen's initiative but backtracked at the last minute, stating they would rather wait for Italy to do it first. Limited medical cannabis is also available. 
Serbia
Medical: No
Recreational: No
Serbia is another strict nation when it comes to cannabis.
Slovakia
Medical: No
Recreational: No
The best you will find in Slovakia is prescribed Sativex and some CBD products, the rest is completely illegal. 
Slovenia
Medical: Yes
Recreational: Decriminalized
Medical cannabis and CBD products are legal in Slovenia, but not always easy to access. There is also quite a lenient approach to small amounts of the illegal use of the substance. In fact, there's even a secret cannabis bar in the capital Ljubljana. 
Spain
Medical: Decriminalized 
Recreational: Decriminalized 
Spain has their own underground coffeeshop market, with cannabis cafes that require membership to smoke in them. You are also able to indirectly purchase cannabis here. However, their medical weed market is basically non-existent and the drug is completely illegal when used in public.
Sweden
Medical: Yes
Recreational: No
You would expect more from Sweden, but their medical cannabis industry is highly limited and seems to have no future for recreational weed legalization.
Switzerland
Medical: Yes
Recreational: Decriminalized
If you're found with less than 10 grams of cannabis then you can expect a lenient fine in Switzerland. They are also currently in the process of improving their medical cannabis industry. 
Ukraine
Medical: No
Recreational: Decriminalised
Whilst both medical and recreational cannabis use is illegal in Ukraine, technically possession of small amounts is only a petite offence. The president is also a fan of legalizing medical cannabis, so perhaps when the war is over this could be his next move. 
United Kingdom
Medical: Yes
Recreational: Decriminalized
The United Kingdom is working on improving their medical cannabis industry, which began in 2018. In fact, the UK is the biggest exporter of medical cannabis in the world, and yet a limited amount of their population actually have any access to it. Small amounts of weed are often ignored in the nation but it is unlikely that the UK will legalize recreational cannabis until other major players in Europe do it first.
Conclusion
Europe has definitely been slower in accepting cannabis than other places, especially North America. However, it is the smaller nations that have been the heroes of the story, with Luxembourg and Malta paving the way. But now with Germany looking imminent to legalizing cannabis, this could completely change the way the rest of Europe sees the substance. 
Hello and welcome to the site!! Thanks for joining us at Cannadelics.com; a news site dedicated to bringing you the best in cannabis and psychedelics reporting. Stop by regularly to stay in-the-know on everything going on, and subscribe for the Cannadelics Weekly Newsletter, so you're always up on what's going down.
Related