How to Prepare For Your First Cannabis Job
Do you want to work in the fast-growing cannabis industry? Even if you have no direct experience working with cannabis, you can find a cannabis job that lines up with your skills or one that requires no experience at all.
If you want to be prepared for your first cannabis job, you need to understand the rules and terminology, network at industry trade shows, and apply regularly. To start your cannabis career on the right foot, follow these tips. 
Understand Your Strengths
Consider your previous work experience, education, and skills before applying. Chances are that some of your soft and hard skills will align with a position in the cannabis industry. For instance, friendliness, cannabis product knowledge, and previous retail experience can translate to a budtender position.
Even if you don't have any work experience or relevant job skills, there are many ways to build up your resume and cover letter. Consider volunteering at local advocacy groups or working in a similar position outside of the cannabis industry to earn transferable skills for various cannabis careers.
Understand the Rules and Regulations of the Cannabis Industry
Cannabis rules and regulations vary by state and municipality. Rules may also vary between recreational and medical cannabis markets. Understanding more about your state's cannabis regulations and restrictions is critical to getting hired. Cannabis companies are looking for talented individuals who can remain compliant with state and local laws. 
Rules and regulations may include tracking requirements, ID checks, and other workplace rules. While cannabis businesses may provide initial training on these rules, it can't hurt to be prepared. One mistake can cost them their license.
Determine Employee Eligibility Requirements for a Cannabis Job
Depending on where you live, cannabis employee regulations and restrictions may vary. For instance, there may be age requirements, background checks, work permits, and training requirements that you need to meet before working in the industry.
Connect with Industry Professionals
Local and national trade shows are great places to meet industry leaders and professionals. Having one-on-one conversations with business leaders in the industry and employees is a great way to network and find out about job openings.
Do your research on companies attending the event and choose 15-20 to research in-depth. Trade shows are an excellent time to ask about open positions and create connections for future job opportunities.
Check Job Boards for Cannabis Jobs
Apart from word-of-mouth, job boards are an excellent source of cannabis employment. Set up a job alert for all positions you're interested in. You can search jobs by setting up job alerts to be one of the first to apply when you're spot opens up. Job seekers should check Indeed, Monster, LinkedIn, ZipRecruiter, and Craigslist for job openings.
Create a Resume and Cover Letter Catered in Cannabis Jobs
A resume and cover letter can showcase your previous experience, skills, and education in your own words. Keep them under one page each and check for spelling and grammar mistakes. Sending these in with your resume gives you a leg up over the competition.
Check out these resources to create a resume and cover letter for the cannabis industry.
Get Certified at a Renowned Training Institute
While there is no standard certification for the cannabis industry, earning credentials from a renowned training institute can give you the competitive advantage you need over other applicants with similar skills and experience.
Cannabis Training University provides students worldwide with an online-based curriculum covering cannabis cultivation, extraction, cooking, laws, careers, business, and medicine. Become a cannabis expert in under 12 months and get the job you deserve.
FREE E-BOOK
Learn how to cash in on the Green Rush!
Ace the Interview
Give yourself plenty of time to prepare before the interview and consider the topics you are likely to touch on and ways you could present yourself as the best candidate for the role.
Research as much as you can about the cannabis company and your roles and responsibilities. Plan what you will be wearing to the interview and your body language. Practice common interview questions in front of a mirror or with a friend.
Prepare a question or two about your potential employer on topics such as company work culture, how advancement opportunities work, and how they like their job. Job interviews are also a great way to determine if you want to work for the company.
Preparing For Your First Day
The first day can be nerve-racking and exciting at the same time. It'll be the first time you meet your new coworkers and the pressure is on to create an excellent first impression and acclimate to the company culture.
Here are a few tips to prepare you for your first day on the job:
Dress Up
Dress codes can vary by company and position. Entry-level budtenders and trimmers may be dressed casually, while office work may require more formal attire. You can observe how others dress on the first day and adjust accordingly.
Map Out Your Commute
Give yourself at least 15 minutes of extra time than you expect to account for any delays. Early morning commute traffic can make your commute longer than it usually would. Arriving a few minutes early can give you more time to prepare for your first day.
Ask Questions
It's your new day, so it's reasonable that you will have many questions. Feel free to ask questions about your role and responsibilities and how best to communicate with your supervisor. Asking relevant questions shows you are engaged and excited about your new role.
Be Friendly
Make a good first impression by smiling and having a positive attitude. Take time to introduce yourself to everyone and use downtime to engage in small talk to get to know your team. Making friends can create a team atmosphere and even help you move up in your career.
"
There are over 300,000 jobs in the cannabis industry. CTU trained me for one of them!

– Johanna Rose
Makes $24.50 @ THC +
Eat Lunch with Coworkers
Some bosses or employees offer to buy the new hire lunch. Don't hesitate to take them up on their offer. Eating together helps you learn more about your coworkers and them about you. It can even become a regular thing, which can help solidify your friendship and advancement opportunities.
Be Aware of Your Body Language
Body language can give the impression that you are restless, nervous, or bored. Try to be engaged with your body, nodding in agreement, sitting or standing up straight, making direct eye contact, and being relaxed. 
Say Goodbye When You Leave
When you're done with your first day, thank your supervisor or coworker for showing you the ropes, and let your coworkers know you're heading out. 
Start Your Dream Career
Your dream cannabis career is within reach. Combine your passion for cannabis with a world-class cannabis education from CTU. Earn the cannabis industry credentials you need to stand out from the competition and advance through your career. 
What Careers Outlaw Weed In Legal States?
When a state legalizes marijuana, citizens who once hid their marijuana use can freely purchase and partake in what was previously forbidden. While this is liberating for many people living in a state where weed is now legal, this freedom does not apply to all.
Just because marijuana is legal in a state does not mean all its residents can get high. In fact, there are several jobs and career paths that still have a complete prohibition on marijuana use. In other words, just because marijuana is legal where you live it does not necessarily mean your job can't fire you for indulging in some THC. But what types of jobs still outlaw marijuana in states where weed is legal?
RELATED: Which Industries Most Often Test Workers For Cannabis?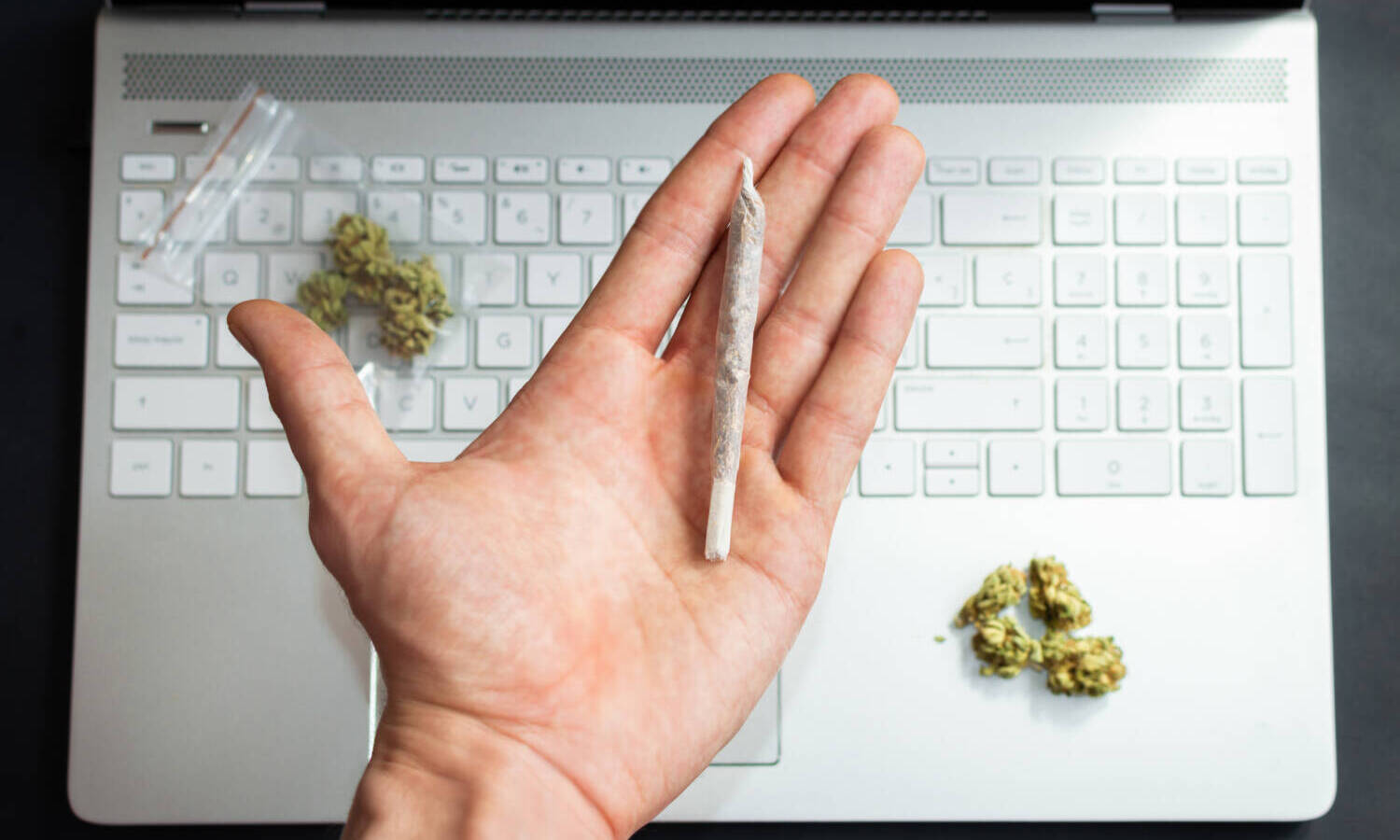 Federal Employees
Many states have legalized marijuana in some form, but it still remains illegal on a federal level. For this reason, all federal employees are still subject to a zero tolerance drug policy. This applies to all federal employees, not just the military.
According to NORML, "Federal employees can be denied employment or terminated due to testing positive for marijuana metabolites, even if their use is in compliance with state law." This ban currently applies to all federal employees, and even applies to veterans who may otherwise qualify for medical marijuana use. 
This issue of veterans is a particular point of contention, as some believe veterans suffering from PTSD could greatly benefit from medical marijuana. The Safe Harbor Act is one bill that is hoping to rectify this issue.
Safety-Sensitive Positions
Another type of job where you can be fired for marijuana use in a legal state is a category of jobs called safety sensitive positions (SSP). "Safety-sensitive generally means that a position involves some aspect of a heightened danger that requires an employee's full and unimpaired skills and judgment to safely execute his or her job," attorney Mary Will told Society for Human Resources Management.
Some positions that often fit into this category include non-federal aviation and transportation workers as well as many working in the medical field. The exact list of safety sensitive positions, however, is up to the state where you live.
RELATED: What To Know About Weed In The Workplace In 2022
Each state that has adopted these safety sensitive carve-out provisions deals with them differently. The exact definition of a safety sensitive position is defined and handled differently in most states. Without federal support of legalization and oversight, the concept of safety sensitive positions will continue to vary state to state.
Medical Vs. Recreational Use
According to the National Conference of State Legislators (NCSL), as long as employees are not engaging in violations like bringing cannabis to work, and "aren't working in a job where impairment may result in serious harm to others and aren't working in a federally related job, employers can't take medical cannabis use or positive drug test results into consideration when making hiring and firing decisions."
While this does not apply to federal workers or those that fall under the "safety sensitive positions" category, it is important to know that standard employers must take your medical marijuana prescription and usage seriously, and that it is often protected by law.
Nevada even goes so far to require employers to attempt reasonable accommodations for those who have a medical issue that requires medical marijuana use.
The Future Of Weed In The Workforce
Like much of marijuana policy, the future of marijuana as it pertains to employment will remain mostly in limbo until federal legalization measures materialize. There are, however, glimmers of hope in regards to the possible relaxing of some federal policies.
RELATED: How Cannabis Legalization Is Changing The American Workplace
One memo from the Office of Personnel Management may be telling as to where marijuana policy is headed as it becomes more and more difficult to find quality candidates for open positions. "As more state laws have changed, federal agencies are increasingly encountering individuals whose knowledge, skills, and abilities make them well-qualified for a position, but whose marijuana use may or may not be of concern when considering the suitability or fitness of the individual for the position," the memo says. 
While the memo has no clear intentions for future policy, it does show that perhaps the current federal policies on drug screening are limiting a lot of talent in the hiring pool. Maybe the great resignation and its lasting effects on the workforce will help federal and other employees finally enjoy recreational marijuana without fear of losing their jobs.
How to Start a Cannabis Business
Are you interested in starting a cannabis business? If so, the Master of Cannabis Certification Program from Cannabis Training University is right for you. CTU provides in-depth information on cultivation, extraction, infused product, retail, and ancillary cannabis businesses.
Our online-based curriculum provides aspiring cannabis entrepreneurs with step-by-step instructions on launching a marijuana business. If you're interested in pursuing your cannabis business idea, here's what you need to know.
Become Knowledgeable About Cannabis
Whether you want to start a cannabis dispensary, farm, or manufacturing facility, you need to understand the industry terminology related to businesses, medicine, law, cultivation, cooking, and extraction.
The Master of Cannabis program provides you with several downloadable handouts covering essential business terms you need to know, including cannabis collective, point-of-sale system, surety bond, moratorium, merchant account, and SEO.
For example, as a business owner in the cannabis industry, you need to understand vertical integration, a business structure where one organization completes all parts of the supply chain (cultivation, manufacturing, sales). Vertical integration is a requirement in some states.
Understanding cannabis terminology allows you to communicate with experts about investment opportunities, customers, and your staff. We teach you everything from strains to terpenes to the most popular cannabis products and provide downloadable handouts you can refer to later.
Find Your Niche Market
Where do you fit in the cannabis industry? You may have an entrepreneurial spirit but aren't sure what segment you want to focus on. Understanding every aspect of the supply chain, from cultivation to retail, can help you find an underserved niche market.
CTU provides you with in-depth instruction on the setup and operation of cultivation, extraction, infused product, retail, and ancillary cannabis businesses. You'll understand how each segment works and the challenges involved with each business type.
Understand Federal, State, and Local Rules and Regulations
Research the applicable federal, state, and local cannabis regulations to determine the eligibility requirements for business license applicants and operational restrictions for cannabis businesses. Understanding the rules can help you remain compliant and avoid a license suspension.
CTU's Master of Cannabis Certification Program features up-to-date rules and regulations for all states in the U.S. and provinces and territories in Canada and many countries around the world. Staying on top of the latest legalization laws can show you where you can continue to expand your business.
Be Aware of Industry Challenges
The legal cannabis industry is one of the fastest-growing industries in the country. However, cannabis companies still have many hurdles to overcome, primarily due to cannabis' federally illegal status. Federal legalization of cannabis would overcome many of these challenges.
CTU's Master of Cannabis Certification Program provides you with a complete overview of challenges in the cannabis industry.
Banking
Banks are hesitant to lend money to cannabis businesses, but some may operate accounts for these companies. Recent estimates indicate that over 400 banks and credit unions in the U.S. operate accounts for cannabis businesses.
If you're interested in opening a cannabis company, be prepared to pay more for a business bank account and various deposit and transaction fees. Banking reform under the SAFE Banking Act has been considered several times by Congress.
FREE E-BOOK
Learn how to cash in on the Green Rush!
Taxes
The Internal Revenue Service civil tax code section 280E states that "no deductions or credit are allowed for any amount incurred in a business that consists of trafficking controlled substances prohibited by federal law."
Cannabis' illegal federal status means businesses must pay taxes on their gross income, unlike other companies that only pay taxes on their net income. Working with a professional tax accountant can help your business entity navigate the 280E tax code. 
Black Market
The illegal cannabis market still has a strong hold over the marijuana industry. Legal cannabis businesses have a hard time competing with black market prices. Cannabis businesses must make high-quality products at competitive prices to retain customer loyalty.
Security
Because businesses do not have access to traditional banking, cannabis businesses must deal in cash. Having a lot of cash on hand significantly increases a business' security risk. Businesses will need to hire security services to transfer cash and work with a bank that accepts cannabis money.
Cannabis businesses must have a strong security plan that may include security systems, fencing, guard dogs, and other loss prevention strategies.
Compliance
Cannabis businesses must adhere to fire, building use, zoning, and environmental controls. In addition, each jurisdiction has its own regulations, and regulations can vary between medical marijuana and adult-use marijuana markets. Staying informed about the latest rules and regulations can require a lot of attention and patience.
When starting a weed business, you must remain compliant with your state's tracking regulations. Tracking will be done on a complex computer program. Mistakes with the tracking program can lead to fines, audits, and closure.
Create a Business Plan
A cannabis business plan lists your organization's objectives and how it plans to achieve its goals. A business plan can include a go-to-market plan, competitive and industry research, mission statement, financial estimates, and other information that can be relevant to investors.
A comprehensive business plan should include an executive summary, market analysis, company description, marketing and sales plan, and a facility operating plan. Learn more about creating a business plan and view a sample business plan used by an actual business by enrolling in CTU's Master of Cannabis program.
Apply for Licenses and Permits
CTU makes it easy to apply for a cannabis business license in states that have open application periods. We update the laws to reflect the current license availability in every state, province, and territory and provide links to license applications and fees.
"
There are over 300,000 jobs in the cannabis industry. CTU trained me for one of them!

– Johanna Rose
Makes $24.50 @ THC +
Business license requirements vary by state. For example, some states allow for an unlimited number of licenses, while others may restrict the number of business licenses they issue. Consider residency restrictions, background checks, and other licensing restrictions.
Join the Cannabis Industry Today!
Join thousands of other satisfied Cannabis Training University students. Learn how to apply for and run a successful cannabis business and explore different industry growth opportunities with world-class cannabis education. Sign up for the Master of Cannabis Certification Program today!
A Look Into Marijuana Salaries
The legal marijuana industry is experiencing a lot of positive movement. There is a lot of enthusiasm and success among people who own cannabis businesses in the cannabis industry and those who hold cannabis jobs or want to do so in the near future. As the fastest growing job market in the nation, the cannabis industry has many job opportunities for people of all skill levels.
If you are a job applicant or looking to begin a career in the industry, you need to be aware of the average marijuana salaries. This is true, whether you are working as a bud trimmer, budtender, master grower, receptionist or marijuana dispensary manager to name a few in demand positions.
The marijuana salaries for these jobs vary, depending on several factors such as job training, experience, education, and knowledge of the cannabis industry. You will be able to use the information gathered here to see which cannabis jobs meet your salary expectation and have advancement opportunities.
Top Marijuana Salaries
The Budtender
To become a budtender and be considered successful in your position, it is best to get cannabis training because you have to know a lot about different marijuana products in order to explain them to customers and medical patients. Your job as a budtender is selling various marijuana strains and products and helping your customers find which one works best for their needs. Therefore, you must have good customer service experience and cash handling skills.
In most cases, this job starts at $14 per hour for entry level positions and can go up to $20 per hour plus tips if you have more experience and provide superior customer service. These are the kind of marijuana salaries to expect in the beginning, but advanced opportunities are possible if you take your job seriously, try to enhance your training and work to build the owner's success in the business.
Once you work hard and are able to obtain a leadership role, your salary could go up to almost $50K per year as an experienced budtender. In addition to these marijuana salaries, you may be able to get lots of store discounts on cannabis products as an employee. This discounts could add up to a lot of savings in the long run if you are a recreational cannabis user.
The Dispensary Manager
Of course, a manager of any marijuana dispensary earns more than an entry level budtender or bud trimmer does. The dispensary manager is the person that oversees the business and its daily operation. This person might be at the establishment for longer hours, having to be there earlier to open up and later to close the shop. Dispensary managers should have several years of retail management and supervising experience. A Bachelor's degree in management, business administration, marketing, or a relevant field is preferred
Most managers will enjoy benefits such as vacation pay and health , dental and vision care. The manager might only have a rapport with customers when it is necessary to handle issues, unlike the budtender who deals with customers throughout the day.
Experience as a manager is important because there are a lot of responsibilities. Marijuana salaries for a dispensary manager range between $60k and $150k per year depending on experience, skills, and dispensary.
Delivery Driver
Cannabis delivery drivers can be responsible for either delivering packages between vendors or orders to customers' homes. Drivers should have a clean driving record, a valid driver's license, and a reliable form of transportation. It is their duty to provide excellent customer service and check IDs. The average salary for a delivery driver is $14 per hour, not including tips.
The Bud Trimmer
In many cases, if you do not have job training, industry knowledge or experience, an entry level bud trimmer job is available for people with minimal or no direct skills. Cannabis bud trimmers are responsible for harvesting mature cannabis plants, removing the fan leaves, and getting them ready for the drying and curing process.
If you have some experience, your pay scale could be more, as much as $15 per hour. As an entry-level bud trimmer, you might start at $10 per hour and work your way up by the volume of work you can produce each day.
Cultivation Assistant
A cultivation assistant is responsible for helping in the production and maintenance of a cannabis crop. You may be responsible for ensuring plant quality and performing several daily tasks including watering, defoliation, transplanting, pruning, and trimming.
FREE E-BOOK
Learn how to cash in on the Green Rush!
The average salary for assistant growers is $15 per hour. Cannabis cultivation facilities look for applicants with some experience in commercial cultivation. A degree in plant science, horticulture, or a related science degree is preferred.
Master Grower
Master growers oversee the entire cannabis production process, set up cultivation plans, troubleshoot plant issues, and supervise the cultivation facility staff. Master growers have several years of experience working with the plant, identifying issues, and producing successful yields. The average salary for a master grower is between $80K and $150K per year. A degree in botany, agriculture, or a related field is preferred.
Edibles Chef
Cannabis edibles chefs are tasked with infusing cannabis into food and drinks. Cannabis chefs can develop different products using cannabis-infused butter and oils, as well as cannabis concentrates.
Experience working in a commercial kitchen is required. Chefs must understand food safety requirements and regulations pertaining to cannabis processing facilities. The average salary for an edibles chef is between $40K and $90k per year.
Kitchen Assistant
A kitchen assistant works in a high-volume and fast-paced kitchen environment. They are responsible for getting the ingredients ready, tidying the production area, and storing the products.
Assistants may also be responsible for preparing the infused edibles. The average salary for a kitchen assistant in a cannabis commercial kitchen is $14 per hour. Prior kitchen experience is preferred and a food handler's license may be required.
Packager
Cannabis packagers work in processing facilities weighing, packaging, and labeling cannabis products. They may be responsible for packaging flower, rolling joints, and safely operating the equipment and machinery. They may be in charge of maintaining a daily production log.
Cannabis packagers must be detail-oriented and perform work in a fast and effective manner. Packager salaries can range between $13 an hour to $18 an hour depending on experience. A high school diploma is preferred. Warehouse, assembly line, or food manufacturing experience is preferred.
"
There are over 300,000 jobs in the cannabis industry. CTU trained me for one of them!

– Johanna Rose
Makes $24.50 @ THC +
Extraction Technician
A cannabis extraction technician is responsible for operating equipment used to extract cannabis resin from the plant material. Extraction technicians may use solventless methods such as dry sifting, rosin pressing, or ice water extraction. They may also use solvent-based methods using closed-loop extraction systems and chemical solvents.
Extraction technicians must wear the appropriate safety apparel and be aware of all safety precautions when working with dangerous chemicals. The average salary for an extraction technician is $17 per hour. Lab experience as well as a bachelor's degree in biochemistry, chemistry, or a related science field is preferred.
Sales Representative
Cannabis sales representatives look for new clients for cannabis companies across the country through cold-calling or in-person meetings. In order to be a successful sales representative, you must be upbeat, friendly, and able to develop a rapport with potential and current buyers. Cannabis sales representatives' salaries range from $70K to $100K per year. Previous experience with sales and the cannabis industry is highly preferred.
Start Your Cannabis Career with Online Industry Training
Do you want to be a part of the fast-growing cannabis industry? Are you looking for a rewarding and exciting career working directly with marijuana? If you want to learn more about marijuana salaries for various cannabis jobs, go to the Cannabis Training University. Enroll in our leading cannabis courses today.