Minority Cannabis Academy & EzHire Cannabis form a New Jersey partnership to further diversity & inclusion in the cannabis industry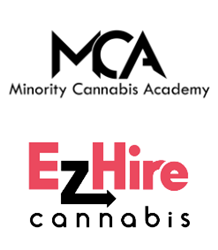 "Job placement is at the forefront of our organizational goals and EzHire Cannabis is the perfect partner to help streamline this process." Brendon Robinson, Co-Founder of Minority Cannabis Academy
JERSEY CITY, N.J. (PRWEB) SEPTEMBER 07, 2022
MCA focuses on the professional development & technical training of minorities & disenfranchised communities impacted by the "War on Drugs", who are interested in becoming cannabis industry professionals. EzHire Cannabis is a technology platform that enables candidates to create comprehensive profiles & be put front & center with prospective employers.
For EzHire, this partnership comes on the heels of last month's announced partnership with MassCultivatED in Massachusetts. CEO Jacob Carlson added, "We are looking forward to growing the future of cannabis in New Jersey with our partners at MCA. Diversity & Inclusion are the pillars of our brand & finding partners like MCA to fulfill that mission is critical to our success."
With over 40,000 new jobs expected in New Jersey from the legal cannabis industry in the next 12-18 months, the timing of this partnership is critical to ensuring the skills MCA gives candidates translate to jobs in the industry. Per Carlson, "MCA's program is intense & designed to make sure graduates know the realities of working in cannabis. Our job as the technology partner is to make it easy for employers to find & hire remarkable and diverse talent."
As part of the partnership, those who complete MCA's comprehensive workforce development courses will be set up with profiles on the EzHire Cannabis platform & presented to employers at various Multi-State Operators including such as Columbia Care aka Cannabist, who recently became an ongoing sponsor of the Minority Cannabis Academy.
MCA Co-Founder and President, Brendon Robinson added, "Partnering with EzHire Cannabis will enable us to create an ecosystem for the students that are enrolling in our program. Job placement is at the forefront of our organizational goals and EzHire Cannabis is the perfect partner to help streamline this process."
Founded in 2021 by Brendon Robinson & Stanley Okoro, Minority Cannabis Academy (MCA) is a Black-Owned Adult Learning Institution based in Jersey City, New Jersey. We are a 501(c)3 non-profit organization that focuses on the professional development & technical training of minorities & disenfranchised communities impacted by the "War on Drugs", who are interested in becoming cannabis industry professionals. We're creating invaluable workforce development opportunities for a demographic that needs & deserves it the most.
Founded in 2019 by former HubSpot co-workers Jacob Carlson and John Serrantino, EzHire Cannabis is billed as "the Indeed for Weed" focusing on connecting candidates with opportunities in the cannabis industry. The proprietary software platform allows candidates to create comprehensive video profiles & search for jobs. With customers spanning every legal cannabis market, EzHire Cannabis' mission is to enable candidates to become more than a resume.
Eight Best Cannabis Strains for Anxiety – Cannabis | Weed | Marijuana
The best cannabis strains for anxiety might sound like an oxymoron. Those with anxiety, from minor discomfort to a crippling condition, usually don't find THC all that welcoming.
And indeed, even in people who aren't overly anxious, high-potency THC can trigger some paranoia. 
So it's clear when looking at the best cannabis strains for anxiety we're going to look at many CBD strains. This is because we have some solid research that CBD has anti-anxiety properties. 
Whereas THC "expands the mind," so to speak, it can also cause paranoia. But if an inaccurate perspective is causing your anxiety, a little THC can help put a new spin on things.
As well there's more to cannabis than CBD and THC. A full spectrum of cannabinoids and terpenes work together to provide an "entourage effect." This effect gives cannabis its holistic healing powers.
Anti-anxiety terpenes include: 
Alpha-pinene
Caryophyllene
Limonene 
Linalool
Myrcene
So let's discuss our picks for the eight best cannabis strains for anxiety.
Eighth Best Cannabis Strain for Anxiety: Kosher Kush
Kosher Kush is an indica-dominant strain with high levels of THC. Not exactly a top choice among those cautious of THC. But, what Kosher Kush has going for it is its high levels of beta-caryophyllene, myrcene, and limonene terpenes. All of which help anxiety.
Kosher Kush also has above-average levels of trans-nerolidol. This terpene exists in other plants like jasmine, ginger, lavender, and lemongrass. People have been using trans-nerolidol aromatherapy for ages.
So if the high THC content scares you, try using this strain as a fragrance while you enjoy one of the more CBD-heavy strains listed below.
Seventh Best: Lemon Garlic OG
From Humboldt, California, Lemon Grass OG is one best cannabis strains for anxiety you don't want to miss out on. Full of terpenes for stress relief and reducing anxiety, you'll find high levels of limonene, beta-caryophyllene, and myrcene if grown right.
You'll feel relief without the paranoia with a balanced THC: CBD ratio. And, as the name suggests, its flavour is unique. A mix of citrus and garlic might turn some off, but it adds to the strain's appeal to others.
Sixth Best: Jack Herer
Jack Herer is a THC-dominant strain. But with terpenes such as terpinolene, linalool, caryophyllene, and alpha-pinene, its effects are relaxing rather than intoxicating.
Jack Herer is a good choice for those with anxiety in the morning. A wake-n-bake will provide a caffeine-like boost right away. But then, the entourage effect will work with you throughout the day to ensure your anxiety remains manageable.
Jack Herer is great for those with anxiety that still need their THC-dominant cannabis. 
Fifth Best Cannabis Strain for Anxiety: ACDC
ACDC is a CBD-rich cannabis strain popular among those who like a bit of THC in their bud. Its 20:1 CBD-to-THC ratio produces almost no high. Still, with all the terpenes and cannabinoids at your fingertips, you'll find relief from anxiety and inflammation. As well you'll feel a general sense of well-being. 
Fourth Best: Cannatonic
Cannatonic might sound like a strain that'll leave you comatose. But this balanced CBD:THC is a perfect cannabis strain for anxiety. Its ratio provides a mellow buzz that lets you finish your work without hampering your mood. Cannatonic is high in myrcene, which is great anxiety-reducing effects.
Third Best Cannabis Strain for Anxiety: Critical Mass 
Critical Mass almost took the top spot with its high amount of myrcene and caryophyllene terpenes. Critical Mass is an indica-dominant strain bred for higher CBD concentrations and excellent for those who still want some THC in their cannabis.
Second Best: Valentine X 
Technically, Valentine X is a phenotype of our #5 best cannabis strain for anxiety pick, ACDC. But what makes Valentine superior is that it was bred to produce an anxiety-reducing strain. It's like ACDC except with higher concentrations of CBD and anxiety-reducing terpenes. Valentine X is the way to go if you liked ACDC but wanted something a little more substantial.
The Best Cannabis Strain for Anxiety: Elektra
The best cannabis strain for anxiety, in our opinion, is Elektra. There are a few reasons for this.
One, Elektra, was bred by crossing Early Resin Berry and an ACDC strain (which we know is already good for anxiety).
Two, Elektra is a CBD strain with high levels of beta-caryophyllene, myrcene, and limonene, which all provide anti-anxiety effects and help you relax.
Third, it's delicious. While we've been focusing on cannabis compounds to relieve anxiety, the taste is just as important. 
And that's why Elektra takes the top spot. With hints of dark chocolate and red wine, this is a strain you won't want to miss out on, even if anxiety isn't a big issue for you.
Cannabis courses offered by more Illinois colleges
The Chicago Sun Times reports
The University of Illinois and 11 community colleges statewide — more than ever — are offering courses to prepare students for jobs in the cannabis industry.
Considering how fast the cannabis industry has grown in Illinois, D.K. Lee can't help but think of South Korea in the 1970s.
Lee, an agronomy professor at the University of Illinois at Urbana-Champaign, has spent most of his career studying perennial grasses and other specialty feedstocks.
A little over three years ago, Lee and colleagues in the College of Agricultural, Consumer and Environmental Sciences started to discuss how the university could broaden its reach into specialty crops while gauging the interest and needs of Illinois growers.
One crop that kept coming up was cannabis — which includes hemp and marijuana — that has some family history for Lee.
"I remember back in 1970, around the time when the South Korean government started regulating cannabis, my grandma was producing hemp fiber," used to make clothes, Lee said. "At the time, no one knew about marijuana. They had been growing hemp fiber from generation to generation."
Lee sees similarities between the era when his grandmother cultivated hemp and current-day Illinois. In South Korea, practices were passed through generations, with no formal learning.
"There's a lot of demand and interest for cannabis and hemp out there, but we realized there wasn't necessarily any good information," Lee said. "We, as a university, need to be the ones to start developing and establishing some research for the younger generation."
As the popularity of medical and recreational marijuana grows in Illinois, education on the manufacturing, cultivation and management of cannabis is following. This fall, in addition to the University of Illinois, 11 community colleges statewide — more than ever — are offering courses to prepare students for jobs in the cannabis industry. Courses cover such topics as "Cannabis and the law" at Oakton Community College in Des Plaines and "Cannabis flower production" at UIUC.
The workforce needs are immediate, as the state issues more licenses for growing and selling marijuana.
"We heard from employers. They're looking for an educated workforce that can come in and know what they're doing right away," said Daniel Kalef, vice president of higher education at the California-based cannabis training platform Green Flower.
Kalef's industry group is working with Moraine Valley Community College in Palos Hills this fall, offering two noncredit courses: an advanced manufacturing agent program and an advanced cultivation technician program.
"Because it's not legal at the federal level, everything that is grown and sold in Illinois has to happen in Illinois," Kalef said. "As the state continues to see incredible growth, you know that means there's a lot more people that need to be growing, manufacturing and selling."
In the summer of 2019, Gov. J.B. Pritzker signed legislation to legalize recreational marijuana, making Illinois the 11th state in the country to do so at the time.
The first college course in Illinois on cannabis quickly followed, at Oakton Community College, which developed a program around patient care and medical cannabis. Since 2019, more than 550 students have enrolled in the school's cannabis education programs.
Five Best Hybrid Cannabis Strains (2022) – Cannabis | Weed | Marijuana
What are the five best hybrid cannabis strains? Cannabis usually falls into sativa or indica categories.
But some growers purposefully cross-pollinate strains to create specialized and unique genetics. They say sativas give you a "head high," like a shot of caffeine. In contrast, indicas are supposed to make you mellow and relaxed.
A hybrid strain mixes those two characteristics. But it's more than just the high. Hybrid strains are some of the tastiest on the market. So let's explore what we consider to be the top five in 2022.
Fifth Best Hybrid Cannabis Strain: Jack Herer
With a 40/60 indica/sativa split, Jack Herer strains can yield up to 20% THC. It flowers in nine weeks and grows more like a sativa than an indica.
Named after the long-time cannabis activist Jack Herer, this hybrid strain definitely leans more sativa than indica. It's also one of the most straightforward hybrid strains you can grow. It's disease resistant and can withstand colder temperatures.
With a fresh, earthy and pine taste, Jack Herer is a spicy strain that leaves a sweet aroma. It's one of those best hybrid cannabis strains we return to often.
Fourth Best: Gorilla Glue
What version? #2? #5? Is it possible they're all the best hybrid cannabis strains?
For this list, we'll group all the different Gorilla Glue variations together for convenience. But certainly, each modification of the Gorilla Glue strain will have a unique characteristic the other didn't.
A 50/50 split between indica and sativa, this is a true hybrid. With some strains promoting a THC content as high as 30%, this is a favourite among medical cannabis patients.
An award winner at the Cannabis Cup and the Jamaican World Cup, what more do we need to say about Gorilla Glue?
Despite being a 50/50 split, Gorilla Glue tends to have a more energetic feel than the indica-heavy hybrids. That said, the body high on this strain is intense.
If you're new to cannabis or hybrid strains, you might want to set this one aside for now. But if you're looking for a good hybrid and haven't tried Gorilla Glue yet, get on it!
Third Best Hybrid Cannabis Strain: Green Crack
There's a reason this strain has the word "crack" in it. A cross between Afghan kush and a mysterious Skunk strain, Green Crack is indica-dominant, with most products highlighting a 70:30 ratio.
This best hybrid cannabis strain is nice to grow for its dense buds caked in trichomes. But also because of its reputation of being easy to cultivate. That said, this plant grows better outdoors than indoors.
Some call this "high school" weed for the memories that its earthy taste and pungent smell invoke.
Second Best: Sour Diesel 
Almost every cannabis connoisseur has tried Sour Diesel. But if you haven't, now's the time to do some weed shopping. Sour Diesel is hands down one of the best hybrid cannabis strains on the market.
This sativa-dominant strain has a typical 60:40 ratio; sometimes, you can even find the 15-20% THC concentration with a little CBD. So if you're the type of connoisseur that likes to incorporate cannabinoids other than THC, Sour Diesel is the strain for you.
Sour Diesel, of course, gets its name from the smell and aftertaste. It tastes sweet and sour, like candy, but its smell is a strong, pungent odour reminiscent of diesel.
To the novice, the idea of a diesel-like smell may be a turn-off. But we ask you: don't knock it till you try it. 
But, if smell and odour are an issue for you, this is not the strain to light up with! Your neighbours will hate you.
Although other hybrid strains have higher THC concentrations, we don't accept that higher is necessarily better. After all, if all you want to do is get really stoned, you can eat an edible or hit a colossal dab.
But if you want to savour the aroma, taste, and relax with a joint between your fingertips – you'll want to try Sour Diesel.
First Best Hybrid Cannabis Strain: White Widow
Choosing between White Widow and Sour Diesel was a tough call, but at the end of the day, White Widow is our pick for the best hybrid cannabis strain.
Although technically an indica-dominant hybrid, with a 60:40 ratio, this strain doesn't lean one way or the other. Consumers report an excellent cerebral high as well as a strong body buzz. 
And while it doesn't get as high in THC as some of the others on the list, we're not going to complain about a tasty 20% THC hybrid strain.
Perhaps White Widow is a crowd favourite because of how old it is. It has legacy power that newer strains lack. First bred in the Netherlands, White Widow was what most people smoked when they visited a Dutch coffee shop in the 1990s.
This hybrid strain also won the Cannabis Cup in 1995.
Like Sour Diesel, this hybrid cannabis strain has opposite smells and tastes. White Widow smells earthy and woody. But its taste is spicy and sweet. It's a unique combination that consumers and patients alike have been returning to for nearly 30 years.
The strain has evolved into an auto-flowering plant, making it a favourite among novice growers.
Five Best Hybrid Cannabis Strains
Of course, this list is subjective to our tastes. But these five best hybrid cannabis strains have also been popular in legal states and the underground legacy markets.
What are your top five best hybrid cannabis strains? And what do you like about them versus strains that are strictly sativa or indica? Let us know in the comments!
Happy toking!