My Top 5 Reasons to Be Dankful This Cannabis Thanksgiving
Top Reasons to Be Dankful!
It's almost Thanksgiving day, where people eat excessively, watch Football, fall asleep and go into a shopping Frenzy the very next day! While some might fight with their families, most people will get together, share a meal and feel good for a while.
And this is a good thing. There's been a lot of heavy news over the past few years and a bit of "wholesome goodness" wouldn't be bad.
During all Thanksgiving rituals, there comes a time when people say what they are thankful for…and as we are gearing up for Thanksgiving I'd like to say why the world should be thankful for weed.
So today, Reginald Reefer will be giving some "Reasons to be Dankful!"
All of the good music…
People probably don't realize that a lot of their favorite music was created by people who were stoned. You probably have to thank one or two stoners for coming up with one of your favorite tracks.
Good Medicine
Many people find relief in cannabis. It has helped people with addiction, pain management, depression, cancer, HIV/AIDS, and a myriad of issues. While the "science" might still not have all the answers, the people who have found relief in the plant understand that cannabis is good medicine.
Good times
How many good times have you had with cannabis? How many laughs have you shared? How many friends have you made? Cannabis is a good social lubricant and I have had some of my best times on weed. Something to be Dankful for!
Clearing the Headspace
Having "euphoria on demand" is a good thing. Sometimes when your mind is clouded by dark thoughts, cannabis can help shine some light into the darkness. Sometimes you just need to take a break from the bullshit to see the light. So thanks cannabis!
Good Entertainment
A lot of movies, books, and other forms of art are made by cannabis users while under the influence. For every screenplay or series you enjoyed that was secretly being worked on by a stoner – it's cannabis shaping the narratives.
Jobs
Since the legality of cannabis, many people have been employed. Some of whom have been hurt by the drug war itself. However, cannabis employment is one of the fastest growing sectors for job development, so thanks cannabis!
General Culture
Cannabis has influenced culture with movies, music, art, publications, and is even influencing politics and media. There are puns that everyone knows, and it has engrained itself into our culture…so thanks cannabis for keeping the culture "DOPE"!
What are you dankful for?
These are just a few examples of being Dankful. Remember, today is "Weed Wednesday" or "Green Wednesday" so stock up on some cannabis for the whole family. However, everyone has their own take on things. So I'm curious, what has cannabis done for you that makes you say, "Thanks cannabis, you're the shit!"
MORE ON DANKSGIVING, READ ON…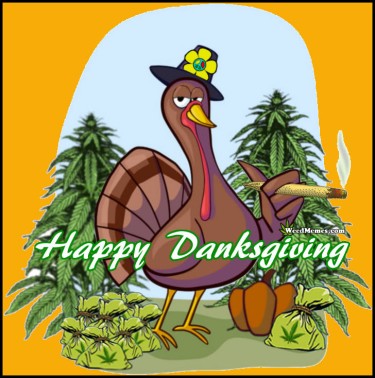 Will LA's Social Equity Retail Licensing Be Stopped?
This Thursday, December 8, 2022, the City of Los Angeles will open Phase 3, Round 2 of storefront retail licensing. The City will only accept applications from verified social equity applicants. It will select winners via a "triple-blind" lottery, awarding up to 100 retail licenses. But a guy in Michigan is trying to prevent the lottery from moving forward on constitutional grounds. Let's look at what's going on.
Law360 recently reported on a case filed by a Michigan resident seeking to halt LA's program. The same plaintiff successfully halted licensing in parts of New York on similar grounds, and has also filed claims in other jurisdictions to varying degrees of success. His claims boil down to one key question: do LA's social equity violate the Dormant Commerce Clause of the United States Constitution?
Before analyzing LA's retail licensing program, let's look at why the Dormant Commerce Clause is important. As we wrote in a recent post:
[I]n general the [Dormant Commerce Clause] prohibits states from enacting laws that place substantial burdens (discriminate) on interstate commerce. This means that when a state enacts a law that regulates interstate economic activity by favoring its own residents, as with Maine's residency requirement, it must be "narrowly tailored".

Broadly speaking, this means the state must be able to justifiable the discriminatory law. That's the rub: Maine's (and many other states') requirement that medical marijuana licensees be state residents is clearly discriminatory against non-residents. In this case, Maine did not dispute that the law was not narrowly tailored and as a result the First Circuit found it unconstitutional.
States often try to stack the deck in favor of locals by implementing residency requirements, which we have noted for quite a while violate the Dormant Commerce Clause (see here from all the way back in 2015 and here from more recently). In virtually any other industry, challenging laws like this would have yielded a clear victory. But since cannabis is federally illegal, many folks didn't raise Dormant Commerce Clause challenges until much more recently. And as mentioned above (in the case of Maine and New York, for example), they are starting to win.
Now turning back to LA's social equity retail licensing program, LA required social equity applicants to meet the following criteria.
A qualifying California Cannabis Arrest or Conviction* prior to November 8, 2016; and,
At least one other eligibility criteria:

10 years of cumulative residency in a Disproportionately Impacted Area, as defined by police reporting districts; or,
Low Income in the 2020 or 2021 calendar year.
In other words, to qualify, one must have an arrest in California. The plaintiff here claims he meets all of the above criteria except that he had an out-of-state conviction. So he alleges a Dormant Commerce Clause violation.
The plaintiff's claims are very interesting from a legal point of view. LA did not adopt a residency requirement. Instead, it just required evidence of an in-state conviction, not an in-state residence.
Technically, nothing would prevent someone who lived in Los Vegas, London, or Beijing from applying so long as they had been convicted in California. So the city has some leeway to argue that there are no Dormant Commerce Clause issues in play. It's less clear how the case will play out.
Stay tuned to the Canna Law Blog for updates on the Dormant Commerce Clause and cannabis licensing.
Best Place to Find a Weed Dealer Online? Instagram Still Leads the Way for Finding a Cannabis Plug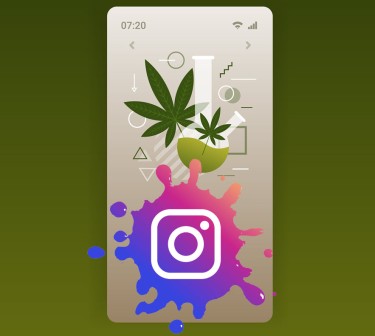 Since the advent of mainstream social media, it has become the number one mode of advertising for different brands. If you aren't on social media as a brand, then you probably don't care about reaching a broad audience. With an audience that spans beyond the reach of TV and newspapers,  everything that matters is on social media including illegal weed dealers.
You shouldn't be too shocked that illegal weed dealers are blossoming on social media. This is despite the repeated efforts of these social media platforms to illegal activities on their platforms. While it is important to state that there are conscious systems in place by these platforms to find these perpetrators, the apparent loopholes cannot be avoided. These loopholes are actively being exploited by such perpetrators and they have continued to enjoy the dividends of a broad audience to carry out their activities.
The digital world has always been a problem for lawmakers seeking to establish physical systems to deal with physical problems such as the illegal cannabis trade. An example of this is the recent issuance of licenses by the Empire State just a week ago. A total of 32 conditional adult-use licenses were issued with the aim of regulating the cannabis industry. These physical moves are made to curb the activities of illegal cannabis retailers with the use of regulations similar to those in states with legal programs. However, the desired effect is yet to be reached as some retailers easily get their done across the digital world. This makes the digital space another battleground to contend against the proliferation of these systems.
A report from Bloomberg recently revealed that a large part of illegal cannabis sales that take place in New York occur across Meta Platforms with Instagram being the most exploited. Instagram has always been a special platform when it comes to the advertisement of products and services. The interactive space allows the accurate use of videos and pictures to promote products and weed sellers are keying in too. The platform has seen a huge influx of illegal weed dealers who are targeting young people and the trend doesn't look like stopping anytime soon.
A New York cannabis grower recently disclosed to Bloomberg that he has been able to reach more people to purchase weed through Instagram. He believes this is because Meta is very good at getting themselves incorporated into the lives of people. It is now worthy of note that Mike is yet to get his license to sell weed from the state. Nonetheless, he is flourishing on Instagram due to loopholes that allow illegal weed dealers to thrive.
A quick survey by Bloomberg News on Instagram showed a great deal of sponsored posts and stories that included cannabis growers, sellers and clubs. Some of these posts eventually link to illicit cannabis sellers who portray themselves as legal weed retailers and take advantage of unsuspecting customers. Bloomberg News shared some of its findings with Meta and they have promised to remove some pages for flouting their policies. Unfortunately, these posts remain online and can be accessed which means they continue to misinform the public with nothing being done.
Meta maintains its position that marijuana content is not allowed on Instagram and that there are policies to monitor and curb it. It states that marijuana falls under its restricted goods policy along with tobacco and e-cigarettes. These goods are flagged off and so content that promotes buying, selling, trading, donating or gifting them is restricted. Hemp products on the other hand are allowed though with special restrictions on them provided THC content doesn't exceed 0.3 percent.
Rachel Hamrick, a Meta spokesperson explained the moves that Instagram is taking to curb these posts in an emailed statement. She explains that Instagram targets both ads and organic posts that flout these restricted goods policies. The body then removes such posts whenever they are found and pages that are linked to them are either suspended or brought down. This shows that the firm is doing a great deal to curb the activities yet many cannabis companies still find their way around the policies.
While digging to see how cannabis companies are avoiding the restrictions, a number of loopholes were discovered.  Some cannabis companies claimed that they avoid the regulations by putting up disclaimers that the products are not for sale. However, these pages are still linked to other external pages and phone numbers which can be reached for transactions to occur.
Another common feature is that cannabis companies have multiple backup pages which can be reached easily. The purpose of these backup pages is that the companies use them to continue reaching their audience after the main page is taken down. These affiliated pages are also taken down easily but it remains equally as easy for the cannabis companies to open other accounts and reach their populace again. These are just some of the common loopholes that such cannabis companies exploit which makes Instagram the to-go platform for illegal dealers.
Instagram is not the only platform that illegal weed sellers are maximizing presently to reach and sell to new and existing customers. Weed sellers have also shown that Telegram, Discord, Snapchat, and upstarts like WeedTube and Social Club are platforms to meet new customers. This shows that if these social media platforms don't clamp down on illegal cannabis dealers, they will easily proliferate.
Instagram remains the top platform due to its strong young user base which is the target of pot sellers. Statistics show that 35 percent of people aged 18 and 25 used marijuana in 2020. This is more than any age group that used cannabis according to the reports by the Substance Abuse and Mental Health Services Administration. Since 71 percent of people aged between 18 and 29 use Instagram, it is understandable that every pot seller wants to advertise on Instagram.
META AND INSTAGRAM ON CANNABIS, READ ON…
What is the Best Way to Grow Weed?
What Should You Put Your Seeds In : Soil, Rockwool, Peat Moss, or Coco Plus Perlite?
Soil is the most well-known and recognizable growing medium. Cannabis and other plants have been grown in soil for many years. But there are now a lot of additional soilless growing options available for your cannabis.
A cannabis plant can grow and flower regardless of the medium as long as the roots have room to expand and access fresh oxygen, water, and the right nutrients. However, the majority of growers will have a strong personal preference for a particular medium based on factors like desired yields, ease of use, and growing space.
The following is a list of the most typical media utilized by expert growers in the cannabis industry:
GROWING CANNABIS IN SOIL
In addition to an outdoor planting area, continuous monitoring, and a basic understanding of soil management, growing weed in soil demands a lot of patience. Although most beginners adopt this strategy, there may be some issues before you can eventually reap the rewards of your labor. You won't have much trouble following the steps if you've ever grown plants indoors or outdoors before.
The potential for the success of outdoor cannabis cultivation is its biggest benefit. The size and height your plants may attain will give you a year's worth of freshly produced cannabis if you have enough room to plant your seeds. The trick is to create and keep up perfect growing conditions, which don't just rely on the soil's nutrients and growing characteristics.
ADVANTAGES AND DISADVANTAGES OF GROWING WEED IN SOIL
ADVANTAGES:
Reduced costs.
The process is easy to understand and follow
Requires no special equipment
Massive cannabis harvest
Eco-friendly technology.
DISADVANTAGES:
Less control of the result.
Local weather and climate can be a problem.
Requires continuous supervision.
GROWING CANNABIS IN ROCKWOOL
A substrate called rockwool is made by spinning molten basaltic rock into fine strands. How does it relate to marijuana cultivation? Rockwool appears to be the ideal substrate for hydroponic growing setups. Rockwool is widely used in commercial cannabis production and is not disregarded by personal hydroponic growers due to its inert qualities, natural capacity to hold water, and ability to give adequate oxygenation to the plant roots.
The idea of growing marijuana in rockwool initially strikes you as odd. But with all of the advantages, it's the best option for those just starting with hydroponic horticulture. No less rigorous than the others, rockwool media is completely devoid of organic materials. Additionally, the surroundings are clean and devoid of harmful metals.
Why bother looking at other growth mediums if rockwool is so perfect for growing cannabis? Rockwool is not an exception to the norm; no media is ideal. Rockwool's effect on the environment is its main drawback. It cannot be recycled, is not biodegradable, and is typically not produced in a sustainable manner.
ADVANTAGES AND DISADVANTAGES OF ROCKWOOL PLANTING
ADVANTAGES:
It can be used for both hydroponics and soil growing.
It is not difficult to set up and maintain.
The growing environment is germ-free, free from organic threats and metals.
It provides good drainage and easy root penetration.
Warmth, moisture, and darkness of rockwool cubes result in great germination.
DISADVANTAGES:
It is not an eco-friendly method.
Stabilizing water pH can be a serious issue.
Rockwool is not sustainable or biodegradable.
GROWING CANNABIS IN PEAT MOSS
Cannabis grown with peat moss increases the likelihood of a plentiful harvest and decreases the likelihood of failure. Both growers using soil and those using hydroponics can benefit from the usage of peat moss as a fertilizer. However, don't squander time if you intend to employ peat moss in your nearby cannabis garden. Weeks are needed to prepare peat moss for gardening.
The excellent news is that peat moss can be used to achieve the ideal pH for cannabis. An expert grower is aware of the significance of a balanced pH. Peat moss can be used with alkaline soil additions because of its acidic pH level. As a result, successful cultivation and efficient absorption of all necessary nutrients are guaranteed.
ADVANTAGES AND DISADVANTAGES OF USING PEAT MOSS
ADVANTAGES:
Adds healthy nutrients.
Has promising water-holding capacity.
Carries an important role in the acidifying process.
Has outstanding resistant properties and is contamination free.
Enriches the grow environment with beneficial microorganisms.
DISADVANTAGES:
Requires much time to prepare.
Can lead to soil compression.
Raises concerns of sustainability.
GROWING CANNABIS IN COCO + PERLITE
Another alternate option that is well-liked by cannabis enthusiasts is growing marijuana in coco coir. Before weed gardeners discovered how to make use of the coconut husk, it was seen as a waste product. Its refined fiber provides an almost ideal environment for marijuana cultivation. This medium, which has an average pH of 6.5-7.0 and is oxygen-rich and superbly water-retentive, is beneficial for both outdoor and indoor plants.
Cannabis grown by flushing in coco is the most environmentally friendly method. This process is completely recyclable and green. To improve your probability of a fruitful and successful harvest, you can choose to add specific cannabis perlite. Both soil and hydroponic farming schools advise using the obsidian supplement perlite. It stimulates root development, boosts oxygen levels, and reduces soil weight when applied to coco coir.
Although it takes more work and knowledge, growing cannabis on coco coir produces significantly better results than growing it in just soil. Try planting in coco coir as the next upgrade if soil growing is no longer difficult for you.
It is more difficult to choose between peat moss and coconut coir. Go for coco coir without hesitation if you are a committed conservationist or in a time crunch.  Give peat moss a try if you enjoy gardening in general, strive for the finest outcome, and have enough time to prepare the growing medium. Contrasting these mediums' characteristics is challenging. It is therefore preferable if you can examine peat moss and coco coir in action to evaluate which result best suits your needs.
ADVANTAGES AND DISADVANTAGES OF COCO + PERLITE
ADVANTAGES:
The technique is easy.
Coco coir is as accessible as soil.
It is a totally eco-friendly cultivation process.
Has a light structure that is better for root development.
DISADVANTAGES:
Needs to be hydrated in order to activate.
Requires nutrients, such as cannabis perlite.
BOTTOM LINE
Different cannabis enthusiasts and growers have their preferred method of growing cannabis, with each method having its advantages and drawbacks, some more than others. Using either of the methods is accepted, you just have to know the pros and cons and choose what's best for you.
GROWING WEED, SEEDS OR CLONES, READ ON…