NACAT Webinar: The Complex Universe of Cannabis with Hilary Bricken
Effectively serving cannabis companies as an accountant involves much more than just counting cash and paying the quarterly tax bills.
There are countless state and federal rules and regulations that must be followed just to keep your clients legally operational, let alone profitable. This is not an easy task, especially with the influx of investor capital and constant legislative changes making the business side of the industry difficult to navigate.
Accountants need to be present and proactive with their clients in defining and following the goals of company executives, whether that is opening new dispensaries in other locales, mergers and acquisitions of other cannabis businesses, or even a grand exit.
Join the National Association of Cannabis Accounting & Tax Professionals in welcoming attorney Hilary Bricken as she discusses strategies and roadblocks to effectively scaling cannabis businesses in the current legislative climate. Hilary will cover:
Cannabis corporate structures

Mergers and Acquisitions in the world of cannabis

The regulatory impacts on every stage of the cannabis business

Cannabis local and state rules
For more information, click here.
New York to Accept Retail Dispensary Apps August 25
It is finally here: New York's Office of Cannabis Management (OCM) announced that it will begin accepting applications for the Conditional Adult-Use Retail Dispensary (CAURD) Licenses on August 25, 2022. Applications will be accepted through the OCM's online portal and the application window will close on September 26, 2022. This is obviously a huge deal and the first step towards legal sales of adult-use cannabis in New York.
As a brief refresher, this is a conditional license that moves forward New York's stated goal of prioritizing social equity applicants. Even if the non-conditional adult-use licenses follow shortly hereafter, it means a lot that the first sales of cannabis in New York will come from businesses owned by individuals who have suffered from New York's needless and damaging war on cannabis. The two big ticket items for CAURD applicants:
Applicants must have a marijuana-related offense conviction that occurred prior to the MRTA being passed on March 31, 2021, or a parent, legal guardian, child, spouse or dependent with a pre-MRTA marijuana-related offense conviction in the State of New York; and
Applicants must have experience owning and operating a qualifying business.
We have all of the critical breakdowns of the CAURD license:
This is a big deal, and for anyone interested in applying for a CAURD license, we strongly recommend contacting an experienced cannabis attorney (including us!).
Stay tuned for future development on New York's cannabis industry and an update after the Cannabis Control Board's meeting on Monday, August 15, 2022. We will keep you posted.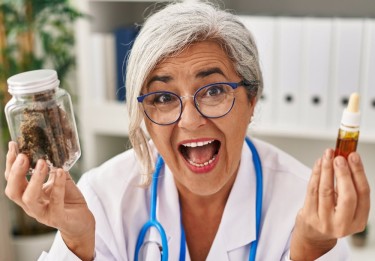 Is it a problem that scientists find THC in over 60% of CBD products they tested?
There is every possibility that when you purchase a CBD product from your local supplements or grocery store, you could be getting a little something more than you bargained for, a new study cautions. According to reports from researchers in the journal Drug and Alcohol Dependence, up to 60% of CBD products examined in the lab also contain tetrahydrocannabinol (THC), the chemical compound in weed that makes one high.
Short for cannabidiol, CBD is the second most predominant active ingredient in the Cannabis Sativa plant, which can also be called marijuana or cannabis. Unlike cannabis which gives a strong intoxicating effect when smoking due to the presence of tetrahydrocannabinol (THC), this isolated compound does not give a high when consumed.
PREAMBLE TO THE STUDY
According to Shanna Babalonis, the senior researcher and an assistant professor of behavioral science at the University of Kentucky College of Medicine, a majority of the products contain only trace amounts of THC. Still, those trace amounts are enough to gather in your body, and as a result, you can fail a drug test. She claimed that using a CBD product just randomly bought at a store might put military personnel, professional and amateur sports, and persons involved in legal conflicts like child custody battles in danger without them being none the wiser.
"The Olympics forbid the use of THC. A lot of other sporting organizations forbid it. However, athletes utilize CBD since it aids in their recovery and other aspects of their training, "added Babalonis. Therefore, I believe that one of the most important lessons to be learned from this research is that the general population has to inquire about the presence of THC in CBD products.
CBD or Cannabidiol is a chemical compound in cannabis that does not make you intoxicated. Instead, it has been praised for having a number of possible health benefits.
THE STUDY
The senior researcher, Shanna Babalonis, and her associates purchased eighty different CBD products for this investigation from Kentucky shops or online retailers. To precisely ascertain whether each product contained any THC, nine analyses were performed on each one.
In addition, Epidiolex, the sole CBD medicine on the market with approval from the Food and Drug Administration, was put to the test. Epidiolex is a medication that is given to treat epileptic seizures, and the production of the drug is strictly controlled.
The scientists discovered that Epidiolex only comprised 0.022 milligrams of THC per milliliter, which is barely noticeable. So, using that background, we compared all the other CBD products, Babalonis added. We discovered this in the FDA-approved product that underwent quite rigorous controls. They discovered that fifty-two out of the eighty CBD products had some THC in them, and all but five of those had amounts higher than in Epidiolex.
Associate vice president of consumer clinical content development at the Partnership to End Addiction in New York City, Pat Aussem stated that if a person does not have a tolerance for THC, these trace quantities can build in a user's fat cells over time, may have an effect on them. She wasn't involved in the research.
According to Babalonis, several of the CBD products had levels of THC that might make some consumers intoxicated, most especially if they had never used marijuana before. Eleven products contained more than one milligram of THC per milliliter, while one product had more than two milligrams per one millimeter. This is of great concern because many older individuals take CBD along with numerous other drugs, and their products may include significant doses of THC, Babalonis added. She could not speak on the reason why so many CBD products contain THC.
In order to find and buy CBD products with CBD content on the packaging that was available for online retail purchase, another researcher,  Bonn-Miller, and his study team searched the internet. More than 42% of the items were under-labeled, meaning they included more CBD than was reported, according to the team's analysis of 84 products from 31 different companies. Another 26% of the items bought had incorrect labels, which meant they contained less CBD than was claimed. Their result was similar to that of Shanna Babalonis.
THE CAUSE AND POSSIBLE REMEDY FOR THIS
Babalonis stated that it is certainly possible to take out all the THC. About 30% of all the products that were tested did not have any THC in them. Babalonis added that the cause of this phenomenon could be poor quality testing and sloppy manufacturing processes, but she suspects that some instances might involve manipulation by the consumer.
Just to be a little bit pessimistic, we could assume that if an individual feels an effect from something, if they experience an impressionistic effect, they might be inclined to think that the product is effective, said Babalonis. On the other hand, if an individual does not necessarily experience any effects from something, they would be inclined to think that the thing does not work.
These outcomes indicate the need for more stringent rules for CBD products, both Aussem and Babalonis stated.
Customers should receive realistic marketing claims, and if they choose to purchase CBD products, they should be informed of all ingredients, according to Aussem. CBD products have been on the rise for a while, marketed for an assortment of ailments without studies to back it and without restriction on quality control, one expert says.
Twenty-one of the examined goods carried the "THC Free" label. The investigation found that five of these had THC levels that could be detected.
When purchasing a drink at the grocery store, Babalonis stated, You would expect to see that there is no alcohol in it when it says there is no alcohol in it. You would not drink it expecting to experience the effects of alcohol or even test positive for alcohol on a Breathalyzer. The same thing applies here.
BOTTOM LINE
After reading this article, I would have to tell you to think twice before you purchase a seemingly ordinary over-the-counter CBD product, as research shows there is more to them than meets the eye (literally). Suggestions that will go a long way in dealing with this occurrence are the provision of more stringent rules for the manufacturing of CBD products and a quality testing process acknowledged by the F grade given to them.
MORE ON THC IN CBD, READ ON…
Inflation Finally Comes to Cannabis
1 In 4 Cannabis Retailers Are Raising Prices To Combat Rising Inflation Costs
Inflation is hitting major sectors of the economy, and the cannabis market isn't left out.
In the following weeks or months, there could be a major shift in the purchase habits of cannabis users all over the country. Inflation is ruining not only summer plans but also regular budgets. Many people are feeling the impacts of high-rising costs, and the majority are beginning to voice their pains because it's hitting them where it hurts.
So far, cannabis and its derived products are yet to reach a double-digit increase, as seen in food items like chicken and avocados. It wasn't until recently that the prices began inching upward; in the past, they fell. Between January 2021 and January 2022, it was reported that the costs of cannabis edibles, flowers, and vaping items fell by 11.8%, 16.75%, and 12.40%, respectively.
The predicted rise in cannabis products due to inflation can be linked to various reasons, from insufficient production materials to the apparent disruption in the supply chain distribution. Prices of most things, even necessities, are at their all-time high for four decades. Word on the street is that if your favorite item is yet to increase in price, it's only a matter of time. The rising cost of packaging materials is at its highest, so no industry would be left out of this.
Cannabis Price Survey
In June, GreenGrowth CPAs conducted a month-long survey in which they questioned operators about the impact of price volatility on their pot business. The poll looked at more than 700 businesses in jurisdictions where cannabis usage is permitted for either medical or recreational purposes. Both small multi-state operations and big ones fall under this category.
In response to growing inflation expenses, 1 in 4 operators said they intended to hike prices in the near or immediate future. More than 50% of the survey participants say that during the past year, the global cannabis economy has deteriorated.
Derek Davis, founder, and CEO of GreenGrowth, noted that the cannabis industry is constantly evolving. He said that his firm took into account many variables affecting the financial performance of cannabis enterprises to give accurate financial statistics, as well as the economic effects of growing inflation expenses. "By polling our clients and cannabis business owners in general, we can gather enough information to have a thorough analysis of how the current economic climate is affecting weed business owners," Davis continued.
Laying Blames
Volunteers of the GreenGrowth survey suggested that the current inflation plaguing the U.S. cannabis business space can be blamed on the petroleum industry and the Biden Administration.
40% of survey participants blamed the Biden Administration for general inflation problems, 30% blamed residual effects from the Trump Admin, 20% faulted outside influences like the war in Ukraine, and several other participants decried supply chain problems and petroleum companies.
The result of the survey, released on Monday, revealed at least 25% of legal cannabis dispensary operators are on the verge of raising the prices of their stock to battle the rising costs of operations in the immediate future. Compared to 2021 and 2021, 70 percent of a similar study were optimistic about steady improvements in the industry. Today, not so much. Financial operators in the industry now find themselves tackling a number of fresh difficulties and commercial barriers every other day.
During the pandemic, an increase in demand was advantageous for many operators, who leveraged this newfound wealth to implement ambitious growth strategies. Now, minorities perceive a decelerating business climate and are increasing prices to offset growing inflation costs, which has an adverse effect on their profits and operational performance.
GreenGrowth noted that it's not all bad news. About 70% of operators revealed that they'd try their best to bear the increased costs connected with inflation before raising client prices. According to reports from GreenGrowth, operators that anticipate increased costs may raise prices by as much as 10% for consumers.
Why did it take this long?
The weed industry escaped inflation for a long time. Mainly because there was too much weed in circulation. Weed shops were forced to keep their prices at the same rates to stay above the competition. Raising cannabis prices at such a time would have been more or less a death sentence.
Seattle-based Ganja Goddess general manager, Jason McKee, pointed out that it is very risky to raise prices when customers know they have multiple options. As of the time McKee gave this interview, cannabis stores had begun to see a slight decline in sales. She had mentioned that their store's sales strategy involved keeping the customer interested in their products and willing to come back.
It is not only retailers that are stuck at the same pricing levels. Growers also compete with fellow growers to supply dispensaries. Like consumers, dispensaries also go for growers with lower prices, despite knowing that production expenses are on the rise.
About GreenGrowth Firm
GreenGrowth is an accounting and advisory firm with Certified Public Accountants (CPAs). Founded in 2016, the company's objective is to assist budding cannabis firms with business and tax strategies that would keep them in the green. To learn more about the company, you can visit its YouTube Channel, which currently has about 14,000 active subscribers. This channel provides useful business knowledge that would profit operators in the cannabis market.
Bottom Line
The pandemic has left the entire supply chain in a disarray, and transportation is being curtailed everywhere. Long lines and a backlog at the dock make it difficult to import items, which drives up the cost of even the most basic materials—even those used for cannabis cultivation and retail sales.
The cannabis industry is currently feeling the squeeze of inflation on the supply chain. Like Matt Gaboury of House of Cultivar said some months back, everyone will continue a rambling to switch vendors for things like packaging materials, especially the 70 percent that has chosen to bear the incurred costs themselves.
A general price increase is unavoidable in the long run, as the abundance of weed in the market will even out at a point. There's only so much anyone can do to match inflation.
WEED AND INFLATION, READ ON..