Puerto Rican Recreational Cannabis Market Could Be Worth $500 Million Says New Trade Report
Report Projects Puerto Rican Recreational Cannabis Market Worth Over $500 Million
A Puerto Rican trade group that supports cannabis is hoping to make progress in the conversation of complete recreational marijuana reform on the island. They have recently released a report to this effect. The report predicts how the legalization of recreational marijuana might profit the U.S. territory located to the southeast of Cuba. Based on the analysis, or would take up to five years for the development of the industry here and would follow the same path as the casino industry, which rose to prominence in this region in the first decades of the 20th century.
This type of economic development is considered by other jurisdictions also and not only on the island, especially after the pandemic. Neither is it the singular popular destination for tourists. However, this part of the economy is critically vital to the economy of the island and has gotten increasingly so during the second decade of this century. Presently, it accounts for 10 percent of the entire economy. Truly, prior to the pandemic, a lot of the vital infrastructure was damaged thanks to Hurricane Maria, and the island was rebuilt using tourism.
Outside this, the island is familiar with the manufacturing of different recreational commodities, such as, but not limited to, the largest rum distillery in the world, the Bacardi factory located in Cataño. Also, it is increasingly a haven for crypto firms. Because of former president Donald Trump, ninety-eight percent of the land on the island is presently deemed an opportunity zone specifically created to bring in foreign investors.
REFORM OF CANNABIS IN PUERTO RICO
Marijuana has been an illicit substance in Puerto Rico since 1932, when Act 12 precisely prohibited the same. Punishments for importing, planting, selling, and purchase of the plant ranged from a one-month to a year sentence in jail.
Rep. José Luis Báez supported decriminalization in 2013, immediately following the victories of two American state referendums, one in Colorado and another in Washington State. Two years later, the medicinal cannabis reform was enacted by the governor, Alejandro Garcia Padilla.
This reform covers permitting patients to gain a 30-day supply of the drug but in a form that cannot be smoked. Growing in your home is still illegal, and patients must buy their medications from state-authorized dispensaries. The number of patients in Puerto Rico is estimated at 115,000.
HOW CANNABIS CAN AID PUERTO RICO IN RECUPERATING
The acceptance of the financial obligation restructuring is without a doubt a crucial step for Puerto Rico as it seeks to regain access to capital markets and instill newfound confidence in the economy of the island. The development process won't just happen. Puerto Rico needs to develop financial strategies that take into account both its own realities and those of the US and other markets. In this perspective, investing heavily in marijuana makes perfect sense, especially in light of the upcoming federal liberalization that is expected.
OPPORTUNITIES IN MARIJUANA FOR PUERTO RICO'S FARMING SECTOR
The Department of Agriculture in Puerto Rico stated that because of the island's fortunate geographical location in a tropical area, cannabis might be cultivated and harvested in Puerto Rico about three times a year, unlike the biggest manufacturers in the world that can currently only grow and harvest outdoors once or twice in a year.
A grand program to encourage cannabis cultivation would not only allow Puerto Rico to get the most out of its geographical location, but it would also create opportunities in the backwoods of the island where they are probably most direly needed. The per capita income in the island's most wealthy (and municipal) town is four times more than in its poorest areas (rural).
With perfect environmental conditions to support cultivation, the cannabis market in Puerto Rico might be predominantly self-reliant in regard to essential materials. At the same time, excess cannabis can be exported, not only to the United States market, where Puerto Rican goods have unrestricted access.
THE ISLAND'S LEGAL STATUS
Today, Puerto Rico is a U.S. territory without incorporation. Not a U.S. state but a territory. Another contentious issue is how U.S. federal law is understood in this situation. The island, along with the Philippines and Guam, are locations where civil liberties enjoyed within the continental U.S. and incorporated territories do not apply, according to what some consider to be highly racist rulings enshrined in Supreme Court case law and handed down in the early part of the previous century. Based on these lawful precedents, only the "fundamental limitations" of the U.S. Constitution relating to unincorporated territories, the District of Columbia, and the United States itself.
This means that marijuana is definitely in a very peculiar gray area when it comes to things like the constitutional rights of states (see the earliest cannabis reform at the state level as a constitutional amendment at this level).
THE DISPLACEMENT OF LOCALS?
One of the terrible effects of the recent hurricane was that many people were forced to sell their homes as a result of it for a number of reasons. Due to this, investment banks have acquired huge parcels of damaged real estate here over the past few years, making it difficult for residents to afford to live here. Local protests against foreign development, particularly the privatization of public resources like beaches, have also resulted from this.
In this type of setting, the growth of the cannabis sector could be advantageous for international companies. Another consideration is how it would affect the neighborhood's sustainable economic development.
BOTTOM LINE
With the revenue cannabis can generate and is already generating for some nations, it is quite conceivable that marijuana can act as a way forward for Puerto Rico, as they seemingly already have an advantage of favorable weather which can see the harvest as much as three times a year.
The slow pace at which cannabis legalization has proceeded is perplexing, given the economic activity that a marijuana advancement would unleash in Puerto Rico. It is inexcusable to keep the door closed to a bustling cannabis market on an island where the inhabitants desperately need financial opportunities.
LATIN AMERICA ON CANNABIS, READ MORE…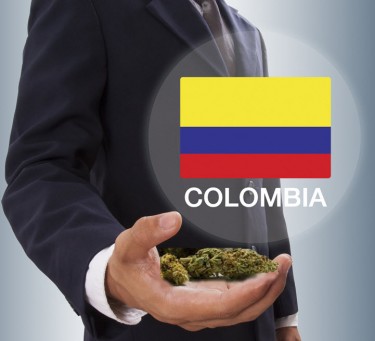 COLOMBIA LOOKS TO START EXPORTING CANNABIS FROM LATIN AMERICA!
L.A. County Commercial Cannabis Tax Measure is Here
L.A. County commercial cannabis is finally coming in 2023. We covered the breaking news about L.A. County commercial cannabis regulations here. This is a huge deal, because L.A. County is the biggest county in the U.S. with over 9 million residents.
L.A. County plans to allow the following businesses in in its borders in 2023: 25 retail, 25 delivery, 10 cultivation (indoor or mixed light only), 10 distribution, and 10 testing licenses. Priority goes to equity applicants.
The exact licensing/permitting process has yet to be revealed. We can really only tell what the general "framework" for it is. Nonetheless, the local approval process should be in place by 2023. For now though, we're getting a look at the proposed L.A. County Commercial Cannabis tax measure.
L.A. County Commercial Cannabis Tax
The County is putting a ballot measure before voters regarding how commercial cannabis businesses in the unincorporated parts of the County should be taxed. A copy of the measure and ordinance can be found here.
On November 8th of this year, County residents will make the call on whether to apply a general tax to cannabis businesses. That general tax will go to the County's general fund, and will be earmarked for a variety of County needs and programs. One of them is the County's cannabis equity program administered through the Office of Cannabis Management.
What's in the measure
If the measure is approved by voters, L.A. County commercial cannabis businesses would be taxed at the following rates starting July 2023:
Retail: 4% of gross receipts
Manufacturing:  3% of gross receipts
Distribution: 3% of gross receipts
Testing: 1% of gross receipts
Cultivation: $7/sf of canopy (indoor artificial light)

$4/sf of canopy (mixed light)
$4/sf of canopy (outdoor)
$2/sf of canopy space (nursery)

Any other type of Cannabis Business:  4% of gross receipts
Adjustments to rates
The County proclaimed in its media release that "[t]hese are some of the lowest rates in the State, and they are designed to better promote the viability of the legal cannabis businesses." I'm not so sure about that, given the recent changes to state law around cannabis tax reform. In any event, the measure also allows the county "to decrease or increase the tax rates up to the following maximum tax rates on cannabis businesses in the unincorporated areas of Los Angeles County after July 1, 2026:
Retail: 6% of gross receipts
Manufacturing:  4% of gross receipts
Distribution: 3% of gross receipts
Testing: 2% of gross receipts
Cultivation: $10/sf of canopy (indoor artificial light)

$7/sf of canopy (mixed light)
$4/sf of canopy (outdoor)
$2/sf of canopy space (nursery)

Any other type of Cannabis Business:  4% of gross receipts
The County notes that, regarding the max increases, the tax rates for cultivation will be adjusted annually to reflect inflation in 2027.
Who pays the tax
A nice perk of the County tax is that it only applies to cannabis businesses located within unincorporated areas of the County. And the tax also applies to illegal operators as a way to combat the illegal market. This assumes though that the County will be able to find and catch these operators in the first place.
We'll be sure to keep you up to date on the County's licensing/permitting regulations as they roll out and certainly on whether this tax measure passes in November.
The Munchiest – Mango Habanero BBQ Sauce Infused with Cannabis Honey
The Munchiest – Mango Habanero BBQ Sauce infused with Cannabis Honey
https://www.reddit.com/r/treedibles/comments/wb53rt/mango_habanero_
bbq_sauce_infused_with_cannabis/
https://magicalbutter.com/blogs/sauces-spreads/mango-habanero-bbq-rib-sauce
https://magicalbutter.com/blogs/base-recipes/magical-honey
I don't know how about you, but I'm a person who like to have a bit of spice in their life. One of my favorite spicy sauces is the Mango Habanero BBQ Sauce. The spicy fruity nature of this sauce can liven up many dishes including buffalo wings, pizza, hamburgers, etc.
Now imagine if you could infuse all of that goodness with cannabis. You get the spice, you get the flavor and you get the "stoned" all rolled into one amazingly potent sauce.
Does this sound like something you'd try?
Well, read until the very end to learn how to make your own Mango Habanero BBQ Sauce infused with Cannabis Honey!
First – let's make the Cannabis Honey!
To make cannabis infused honey is actually very simple. All you will need is some local organic honey, 14-28 grams of cannabis, a little bit of water and some time.
Firstly, you'll want to start by decarboxylating the cannabis. You can do this by preheating your oven to about 120º C (220-240º F). You can then place the cannabis, broken down and scattered, on an oven-ready tray.
Place the cannabis inside of the oven for about 10-15 mins. Remove and let it cool. I personally like to place a bit of aluminum foil loosely over the cannabis to ensure to trap in as much of the essential oils evaporating.
You could also utilize a jar and some hot water, but this technique is a bit more complex so we'll just leave the traditional decarb method.
Once you have decarbed the weed, you'll want to put in between 3-5 cups of honey into a pot on the oven, you can add a bit of distilled water to the mix. Not more than 3-4 Tablespoons.
Slowly get the honey heated up and then mix in the decarbed cannabis into the mix. Stir, cover, and let it slowly boil for the next 30-45 minutes. Be sure to stir every now and then.
Once you're done, you're going to want to run it through some sort of filter. This could be something like Cheesecloth or other types of filters you may have. Simply filter out all of the plant material and then place the contents into its own jar.
Now you'll have a potent honey infusion ready for the next step.
Let's make some Mango Habanero BBQ Sauce!
To make this happen you'll want to get some;
2 Cups of Fresh Mango cubed

4 Habanero Peppers without the seeds

½ cup of Cannabis infused honey

1/3 cup of Sugar

1 Cup of Water

1 Tablespoon of turmeric

1 Tablespoon of sea salt

Garlic 4 cloves

Small onion diced

1 tablespoon of smoked paprika

Salt and pepper to taste
Now that you have all of the ingredients. You'll want to get a large sauce pan and fire up the stove. Start off by frying the habanero and onions on a medium heat until everything is soft. Then you can start adding in the rest of the ingredients one by one.
Start with the habanero and onion, garlic – then add in the mangoes. Simmer for a bit, then add in the, honey and the rest of the spices. Lower the heat to as low as you can and stir for a good 10-15 minutes.
Once you see it boiling a bit, transfer all of the liquid to a blender, and blend it until it become a thick sauce. You can thin it out by adding a bit of water.
Transfer  all of this to its unique jar and whip it out whenever you need a bit of infused goodness to your food.
What does it mix well with?
Personally, I can't get enough of this. You can add this on burgers, pork, fish, in salads, on your ribs…wherever you really want, this pairs pretty much effortlessly with anything.
Just be cautioned into not over eating. The Honey recipe is pretty hardcore and if you go on a binge and snarf down a pound of honey infused mango bbq ribs, you might find yourself tripping some serious balls.
The fortunate thing about the mango is that it;
Increases myrcene – which is said to make you higher.

The spice activates the nervous system – you immediately will feel the effects

Adrenaline high – after you burn for a bit, you'll get an adrenaline high, which mixes well with the cannabis high
Just remember to start off slow and then work your way up. This is a great way to add some flavor and spice to your food while also getting you high AF. Maybe the next BBQ cookout, you can bring your "special sauce" that will make everyone love you.
Try it, let me know how it goes!
CANNABIS BBQ IDEAS, READ THIS…
CANNABIS-INFUSED BUFFALO WINGS SAUCES TO TRY THIS SEASON!
OR..
Cannabis Sales Are Slowing, But Magic Mushroom and LSD Sales Are Booming, What Gives?
Magic Mushrooms and LSD Are Booming, But How Safe Are They?
Drugs that have been illegal since the hippie 1960's era are now being widely used once again.
Sometimes for recreation, others for healing emotional issues, and oftentimes, for medical use. Psilocybin and LSD in particular have caught the interest of medical professionals because of their powerful healing properties especially for conditions that conventional medication has not had 100% success in treating.
The US Food and Drug Administration has also started to recognize the potential of these drugs: in 2018, they designated certain psychedelic treatments with a "breakthrough therapy" status, which means that it has therapeutic potential. Several renowned medical schools and hospitals around the United States have also opened psychedelic medicine departments which have been entirely devoted to studying the impact of psilocybin and LSD.
Additionally, these drugs have also become more widely available for recreational consumers. More people are getting into the microdosing trend, consuming magic mushrooms and LSD in the comfort of their own home or with friends, out on vacation, or in rituals even if they are still federally illegal.
But how safe are they?
Safety of Magic Mushrooms
Magic mushrooms is any of several mushroom species that contain the psilocin or psilocybin compound. Ancient cultures around the world have used magic mushrooms for its hallucinogenic properties. It's consumed in a variety of ways: dried or fresh, mixed into food and drink, added into capsules, or even eating freshly picked mushrooms.
It is widely used for the treatment of treatment-resistant anxiety and depression, post-traumatic stress disorder, and other types of trauma because of its entheogenic properties. However, when consuming mushrooms, users can feel a range of side effects including nausea, paranoia, and hallucinations though these can still be managed and tolerated depending on the user.
In May 2022, a large international drug survey whose results were published in the Journal of Psychopharmacology showed that magic mushrooms is generally well tolerated. Just 0.2% of users reported that they needed emergency medical care after consuming the drug. The survey used data from the 2017 Global Drug Survey, polling 9,233 people about their drug use and medical treatment. Those who sought treatment reported, in descending order, these side effects: anxiety and panic, paranoia, and seeing or heating things. There were also 37% of people who said that they passed out while 32% said they experienced difficulty breathing, and 26% said they experienced seizures.
Keep in mind that most people who reported they needed emergency medical care said they also mixed substances: many mixed magic mushrooms with either cannabis or alcohol. They also said that having the wrong mindset, not in the correct environment, and mixing substances likely contributed to their negative experiences.
Aside from these, magic mushrooms can be a delightful, euphoric experience and one that anyone can benefit from: small (micro) doses can boost focus and creativity, or add a little more joy into your day if you haven't set an intention for healing. Recommended starting doses for a microdose begins at 0.5 grams to 1 gram, and macro dosing can start at 10 grams depending on your body weight and experience. The trip can last from 4 to 8 hours long.
It's also important to remember that the set and setting are incredibly important to the success of your experience; for those who are interested in the medical properties of mushrooms, look for psychedelic-assisted psychotherapy offered in or near your area.
Safety of LSD
LSD (lysergic acid diethylamide) is another extremely popular hallucinogenic drug. Unlike magic mushrooms which come from directly from nature, LSD is a chemical though it is derived from a fungus known as ergot. It can also be synthetically produced in a laboratory.
Also known by the names acid, lucy, or dots, LSD is widely used for recreation as well as medicine. It can produce energetic, uplifting, and happy moods but its side effects can also include anxiety, confusion, flashbacks, and overwhelm.
Acid is consumed by placing a "tab" in one's mouth, though these are not actually tablets: it's a blotter paper that is absorbed when placed on the tongue. There are other forms of consuming it: acid is also available as a clear liquid that can be placed in the tongue. The effects of acid can last anywhere from 5 to 12 hours depending on one's tolerance and how much you take. A microdose is usually 5 micrograms, though seasoned trippers can take 10 to 20 micrograms for a stronger trip.
The state of mind one is in can strongly influence how good or bad your LSD trip will be. When you're depressed or anxious when you take LSD, this can result in a severely negative experience, making the world and life in general feel painful and scary. Sometimes, the negative emotions can be so overwhelming that people who are not in the right state of mind can even be prone to self-harm during a bad LSD trip.
Consuming LSD is low or microdoses is usually well tolerated though severe physical side effects can manifest when one takes too much or mixes with other substances. These include seizures, dry mouth, tremors, loss of appetite, and nausea.
Conclusion
Before you self-medicate with any of these popular psychedelics, be sure to plan ahead. There are certain things you should think about, and be sure that you are using only good-quality drugs that have not been cut with other substances.
Plan for your trip and be around experienced friends. It's always recommended to use these drugs while in the right state of mind, though you can also engage in healing modalities under the guidance of a professional.
MORE ON LSD AND MUSHROOMS WITH CANNABIS, READ THIS…