RCMP veteran kicked out of 2nd Port Alberni pub for rolling medical cannabis joint wins case
Marijuana Users 22% More Likely To Need Emergency Care, Per New Study
A new study on marijuana posits that its use is not as safe as some paint it out to be. The study claims that marijuana users are more likely to be hospitalized and visit emergency rooms when compared to non-users.
The study, published in the journal BMJ Open Respiratory Research, relied on self-reporting from Canadian residents between the ages of 12-65 over a six-year period. After adjusting for counfounding factors, cannabis users were 22% more likely to visit the ER or to be hospitalized.
RELATED: How To Avoid Going To The Emergency Room For Marijuana Overdose
Per the study's abstract, its objective was "to evaluate the association between cannabis use and respiratory-related emergency room (ER) visits and hospitalisations." Researchers didn't find a link between cannabis use and respiratory emergency occurrences, instead, they found that people who consumed cannabis often visited the ER due to physical bodily injury.
"Physical bodily injury was the leading cause of emergency department visits and hospitalizations among the cannabis users, with respiratory reasons coming in a close second," said study author Nicholas Vozoris, in an email exchange with CNN.
"Although no significant association was observed between cannabis use and respiratory-related ER visits or hospitalisations, the risk of an equally important morbidity outcome, all-cause ER visit or hospitalisation, was significantly greater among cannabis users than among control individuals," concludes the research.
Marijuana use has long been associated with slower response times from users, which is why most experts recommend avoiding the use of heavy machinery or doing any physical task that demands coordination after consuming cannabis. This is a valid concern, yet one that shouldn't be mythologized and brought out of proportion.
RELATED: Heat Waves And Weed: 5 Ways Summer Heat Can Affect Your High
There are a lot of things we don't know about cannabis, making it a priority for researchers and experts to analyze every possible aspect of the drug and how it could impact the population as a whole. Still, it's important not to fall back on fear mongering; as we continue to embark on this new stage of cannabis use on a national level, responsible authorities should advocate for safe and responsible use of the drug.
Cannabis Laced With Fentanyl Is Not A Thing, Cops & Media Should Stop Scare Tactics
By Joana Scopel
Over the past two years, between law enforcement and some anti-cannabis media outlets, frightening stories about "fentanyl-laced marijuana" have cropped up in the news although lab testing has never confirmed it.
Does fentanyl-laced weed even exist? Leafly undertook a 6-month investigation and analyzed claims of fentanyl-laced cannabis. "Many of our readers are medical marijuana patients or adult cannabis consumers. If they face a serious risk using any cannabis-related products, we intend to let them know about it," Leafly stated.
RELATED: What Ever Happened To All Of That Fentanyl-Laced Marijuana?
"The lie spreads from three sources: Faulty field drug testing kits, police departments incentivized to hype local fear, and reporters who fail to question, investigate, or follow up on police claims," Leafly added.
In reality, Fentanyl traces have only been found in one cannabis sample on US soil — one of 40 claimed in Connecticut, where a state public health leader admitted it might be "the first confirmed case in the United States."
According to harm reduction specialists, "even if marijuana was dusted with fentanyl, it likely wouldn't kill a consumer because fentanyl burns up at a lower temperature than marijuana."
Even WebMD said that is a myth. "There is no scientific data that would validate the assumption [that fentanyl-laced weed is causing widespread fatalities] thus far," Lawrence Weinstein, MD and chief medical officer at American Addiction Centers said.
According to the Ontario Harm Reduction Network (OHRN), there have been no laboratory-confirmed cases of fentanyl-laced cannabis. OHRN, said also that fentanyl has a high-profit margin, whereas marijuana has a low-profit margin.
Moreover, fentanyl's high potential for fatal overdose makes it a bad option for producing dependence. "The idea they would enhance dependency does not hold water because of the lethality of [fentanyl]. That's truly a myth," Weinstein added.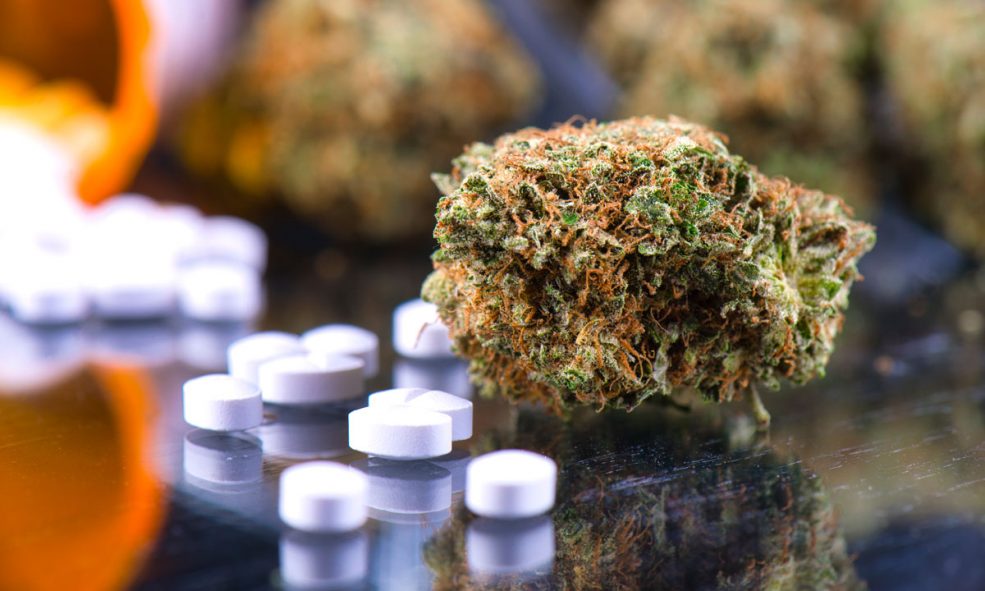 RELATED: How Can You Tell If Your Weed Is Laced With Anything?
In addition, testing positive for both fentanyl and marijuana does not automatically mean that you've consumed fentanyl-laced weed.
"It is more likely that that person also may test positive for other substances for fentanyl. [Fentanyl] is much more prevalent to be used in cutting opioids. It doesn't mean that other substances cannot be laced with fentanyl, but based on frequency and likelihood, it is most likely other substances that one would need to be tested for," Weinstein concluded.
This article originally appeared on Benzinga and has been reposted with permission.
Cannabis Legalization Leads to Less Driving Accidents, Says Study
The governments of legalized states are doing everything they can to cash in on new cannabis legalization policies, and this includes THC driving laws to collect traffic fines. Now, new research sheds light on the smear campaign that smoking weed leads to more traffic accidents. As it turns out, it's the opposite, and states with medical cannabis legalization measures, have shown to have less driving accidents and lower insurance rates, according to a new study.
A new study shows how a medical cannabis legalization doesn't lead to more driving accidents, as shown through insurance premiums. We cover all kinds of stories in the cannabis and psychedelics fields of today. Keep up with industry news by subscribing to the THC Weekly Newsletter, and get some cool product promotions, along with your news updates. We've also got tons of offers for cannabinoid products like HHC-O, Delta-8, Delta-9 THC, Delta-10 THC, THCO, THCV, THCP, and HHC. The world of cannabis products is huge, and everyone should buy the products they are most comfortable with using.
---
Study about cannabis legalization and driving accidents
On June 12th, a study was published called Medical cannabis and automobile accidents: Evidence from auto insurance, in the publication Health Economics. The study investigates cannabis legalization on driving accidents and safety. In order to do this, study investigators researched auto insurance premiums between the years 2014 – 2019, right down to the zip code.
The study results found that in states with a medical cannabis legalization, premiums decreased by an average of $22 per year after the legalization measure passed. This decrease is more substantial in areas close to dispensaries, and is more noticeable in places where drunk driving was more common prior to legalization. According to the authors, "we find premium reductions are larger in states with greater patient enrollment and in states that allow smoking."
Study investigators estimated "that existing legalization has reduced health expenditures related to auto accidents by almost $820 million per year with the potential for a further $350 million reduction if legalized nationally." This is quite different from the standard – yet always statistically unsupported line – that driving while high is dangerous.
Their final conclusion? "Our results indicate that the legalization and access to medical cannabis positively impacts auto safety." They also explain why other comparable research turned up different results of either no difference, or a negative difference. "Other literature on this topic (which mainly finds null or negative results) has been limited by the reliance on data that only involve fatal accidents. We conduct a more comprehensive analysis by focusing on the direct effect on auto insurance prices."
What does other recent research say?
The study investigators in the auto insurance premiums study make a good point. Not all studies ask the right questions. Like this one, Medical Marijuana Laws and Driving Under the Influence of Marijuana and Alcohol, which examined the number of people caught driving under the influence of cannabis. According to the authors, "We assessed the possible association of MML and individual-level driving under the influence of cannabis (DUIC), and also under the influence of alcohol (DUIA)."
The study examined three other cross-sectional studies: The National Longitudinal Alcohol Epidemiologic Survey from 1991–1992, the National Epidemiologic Survey on Alcohol and Related Conditions from 2001–2002, and the NESARC-III from 2012–2013. This included a total number of 118,497 participants, although they were all participants in other studies, and all information comes from other investigations.
The study found that between 1991–1992 to 2012–2013, the prevalence of driving under the influence of cannabis went up to 1.92% from 1.02%. Higher amounts were found in states with medical marijuana programs. Study authors concluded, "Medical marijuana law enactment in US states appears to have been associated with increased prevalence of driving under the influence of cannabis, but not alcohol."
This is great, but an increase in the amount of antidepressants on the market also logically means an increase in the number of people who will drive with those drugs in their systems, whether its ever tested for or not. Yet no one is worried whether this increase has a negative effect on traffic accidents, since it doesn't come up as a big threat. Increased rates of driving under the influence of cannabis mean nothing if there isn't an increase in driving issues, which the first study implies there are not. This study never even asked the question of whether it's a problem.
In this report by the CDC in 2019, it says that in a four-year-period, the number of people 16-25 willing to admit to driving on weed, went up by 47%, from 2014-2018. This equals a 12 million person increase. To give an idea of how this compares to alcohol, in 2018 20.8 million people claimed to have driven after drinking. While this was used to seemingly raise fear, the agency was not able to provide accident numbers for cannabis.
However, this study published in the publication Addiction, did. Called Traffic fatalities within US states that have legalized recreational cannabis sales and their neighbours, it investigated crash fatalities in Colorado, Washington, and Oregon. It found there was only a one-per-million rise in road deaths the year after legalization, and that a year after that, the numbers returned to previous levels. As the results weren't statistically significant to begin with, and didn't remain, this doesn't say much for there being an issue with driving while on weed, or for government agencies or publications that say there is, especially when they don't provide backing for their arguments.
So why are there drugged driving laws for cannabis?
This is a great question. If cannabis isn't resulting in a greater number of accidents, which can be seen in lowered premiums rather than raised premiums, why does anyone get punished for it? We all understand why drunk drivers get their licenses taken away, and why so much is done to prevent them. They cause real damage. Damage that is so obvious, that we all know about it. We all know someone who died in a drunk driving accident, or a friend of a friend who did.
Very few people have a story about their friend, or a friend of a friend, who died in an accident due to weed. Does this mean it's impossible? No, not at all, and there should be some actual stories out there. I, personally, can't drive when stoned, but I seem to be one of the few people I know who has this issue. The thing is, being stoned isn't the same as being drunk.
Drunk people are known for not being able to consider circumstances or consequences, and therefore making bad decisions. Stoners, not so much. I'm not good at driving stoned, so I don't do it, because even when stoned, I'm not so blown I can't make the right decision. Conversely, I have had to have keys taken away from me when drunk, since in that state I indeed thought it was okay to drive. I would never approve of doing that while sober, or stoned.
Yet the fear of drunk drivers is instilled in so many of us, that we desperately want to know that something is being done to help the situation. And for good reason. In the US alone, someone dies from a drunk driving related incident every 50 minutes, with an average of 29 deaths a day. 10,497 people died in 2016 from drunk driving accidents, which accounted for 28% of all road deaths that year. Of the total road deaths for 2016, 1,233 were children, and 17% died due to drunk drivers.
Regardless of legalizations, weed has been a popular drug in the US for a hundred years, and no similar statistics exist on driving under the influence of cannabis. This study from 2010 called The Effect of Cannabis Compared with Alcohol on Driving, investigated cannabis and alcohol driving incidences, and came to the conclusion "Epidemiological studies have been inconclusive regarding whether cannabis use causes an increased risk of accidents; in contrast, unanimity exists that alcohol use increases crash risk." That says a lot.
Drugged driving laws
Even if a cannabis legalization doesn't lead to more driving accidents (or a negligible rise), this hasn't stopped several states from making specific legislation to try to catch high drivers. Why would they do this with no official information stating an increased danger? My guess is to collect fines.
While most states have some form of drugged driving laws to cover driving while on drugs other than alcohol (not a bad idea considering how many people are on drugs like opioids and Ambien), some specifically target THC, and give blood THC tests.
Washington has a max THC level for drivers, which is five nanograms per milliliter, or higher, of THC in the blood. Both Colorado and Montana uphold the same standard. Nevada is even more intense, and considers drivers to be under the influence if they have two nanograms of THC in their bloodstream, or five nanograms of metabolite. This measurement of THC in the blood is done by looking at nanograms per milliliter of blood.
States like California, Oregon, Illinois, Michigan, Alaska, Maine, and Arizona make the judgement based on impairment of the driver, and not specific amounts of THC in the system. And states like Massachusetts have zero-tolerance policies for any drugs while driving. Not to beat a dead horse, but plenty of people in that state are driving around with antidepressants in their systems, and antidepressants are psychotropic medications that specifically have effects on neurological activity, and come with all kinds of warnings. Yet once again, no one has an issue with that. Zero-tolerance seems to be zero-tolerance, only when its convenient for lawmakers.
Conclusion
The weirdest part of all this, is that legalizations have created the logical fallacy that no one drove while high before legalizations happened, and that this whole issue only exists because of legalizations. This makes no sense. People have been driving high as long as being high has been a thing. Trying to change the narrative to collect fines, is a pretty low endeavor for any government that does it. Luckily, the research sets the record straight.
For those looking to travel with weed, but are unsure if this is a good idea, check out this guide for a range of tips and smart travel options.
Welcome to the site! We appreciate you joining us at Cannadelics.com (formerly known as CBDtesters.co), a wholly independent publication focusing on comprehensive coverage of the cannabis and psychedelics landscapes. Read-thru the site regularly to stay on top of industry changes, and check out The THC Weekly Newsletter, for regular updates on everything happening.
Related