Techniques for Growing Cannabis in Peat Moss
Learn the top techniques for growing cannabis in peat moss.
Most cannabis cultivators have their favorite methods of growing, as well as their favorite grow media and nutrients. The two main schools of cultivation are hydroponics and soil (biological) growing.
Both methods of growing can benefit from grow amendments such as peat moss. This type of media can significantly improve the root structure that can be the foundation for a healthy cannabis plant.
Our guide on techniques for growing cannabis with peat moss breaks down the advantages and disadvantages of using peat moss, as well as techniques on how to properly use this media as your soil amendment.
Hydroponic Growing
Hydroponics is a method of growing without traditional soil that uses nutrient-rich water and an inert growing medium, like peat moss mixed with other media such as perlite to improve its aeration. The plants are suspended in gravel, water, sand, rock wool, clay pellets, or other material, and the root systems are fed directly with a nutrient-rich water solution.
Although it sounds fairly hi-tech, hydroponic growing is nothing new, and it has a fairly long history with cannabis-growing. The practice goes back centuries, with some botany historians identifying hydroponic practices with ancient cultures in many different regions of the world.
Hydroponic growers swear by this method—just like soil growers are incredibly devoted to their traditional cultivation method. Even within the schools of hydroponic and soil grows, there are a variety of methods, media, and nutrient recipes.
Soil Growing
In this article, we'll focus on one of the lesser-utilized soil mediums: peat moss. A good cannabis soil mixture can contain any number of substances that, when combined, create a good soil mixture to help with water retention and nutrient absorption.
Because there is such a wide variety of potentially good ingredients to put into a soil mixture, the possibilities and various ratios of ingredients depend on your unique garden needs. Among the various suitable soil ingredients are potting soil, compost, perlite, coarse sand, coco coir, fine gravel, and peat moss.
What Is Peat Moss?
Peat moss, in particular, is a beneficial element to any indoor or outdoor cannabis garden. Also known as sphagnum moss, peat moss belongs to a family of hundreds of moss species that grow in wetland areas, known as peat bogs. For horticultural uses, peat moss is made up of the decomposed matter of different types of moss.
When cultivating with cannabis, peat moss can help provide two important things to any garden: aeration and moisture.
The root systems of plants are just as important as what grows above the soil surface, yet some growers tend to neglect it more, in a variety of ways. Inappropriately designed pots, pots of the wrong size, and water and nutrient inadequacies (too much or too little) being just a few of them.
Roots are the foundation for this time and foliage that grow from it. A strong root system is critical to withstand the environmental challenges above the soil such as rain and wind. Roots also help absorb water and nutrients from the soil.
Root systems must stay moist to remain healthy, and plants do not grow nearly as well when their roots are cramped in a confined space. Well-aerated soil helps them spread out and grow, which is why a relatively loose soil mixture that allows easy root growth and nutrient intake is superior to dense soils that contain too much clay.
If you've ever purchased a bag of soil mixture, it is likely to have contained peat moss as an ingredient. In cannabis, peat moss can be a valuable addition as a soil amendment but requires careful preparation and maintenance to yield positive results.
Why Is Peat Moss Soil Good?
Water Retention
Peat moss is a great soil component for its ability to retain water (up to 20 times its weight) and hydrate plants over an extended period of time. If you live in a dry climate, peat moss can do wonders to save you water, and the frequency of watering, as well as preventing plants from becoming too dry.
Perlite can provide aeration in any growing set-up to prevent damp moss which can lead to mold.
Nutrient-Rich
Peat moss also provides some valuable micronutrients to the soil. When used alongside fertilizers and other nutrient-rich substances, peat moss can hold on to a large number of nutrients and make them available for absorption by the plant's roots. It also contains a range of elements, such as sulfur, which helps plants express their terpenes for better smelling buds.
Contaminant-Free
As a relatively sterile type of media, peat moss is free of weed seeds, pests, and pathogens. This is ideal for young plants that may be vulnerable to contaminants. More importantly, this soil amendment can produce a growing environment with beneficial fungi and bacteria that lead to a healthy crop.
Acidic pH
Peat moss pH is slightly acidic, so it allows for the use of alkaline soil amendments. In soils that are too alkaline, peat moss is often added to balance the pH. The management of pH is critical in the absorption of nutrients in plants. A pH level that is outside the recommended range can lead to nutrient deficiencies.
Despite these advantages, peat moss often gets overlooked in favor of other popular soil amendment ingredients, which is unfortunate.
Drawbacks of Using Peat Moss
On the other hand, peat moss has a few disadvantages when growing in soil-based or hydroponic set-ups that must be considered. From its preparation time to its unsustainable sourcing, it is important to consider these factors when deciding what ingredients to use in your cannabis grow media.
Structural Issues
When used alone, peat moss mixtures can literally cave in on themselves under pressure when wet. In large and heavy containers, peat moss can compress, which can lead to anaerobic conditions in the mixture. This means your soil will have very little oxygen for its roots and can develop a pungent ammonia smell.
FREE E-BOOK
Learn How To Grow Cannabis!
Preparation Time
In addition, using peat moss is not as easy as mixing it into your growing container and forgetting about it. Growers must undergo a weeks-long preparation process to get the moss ready to provide the right structure and nutrients for your plant's roots.
pH Levels
Peat moss can be high maintenance in terms of managing its pH levels. By itself, it has a low ph. Many growers choose to regulate the pH with lime, but the pH levels can still slowly get lower, so you will need to regularly check your mixture.
Sustainability
If you're an eco-conscious grower, peat moss may not be the best soil amendment to use. Peat moss can come from a variety of materials, but much of the peat moss sold for gardening comes from Canadian sphagnum moss.
Peat refers to the decomposed matter of the sphagnum moss and is mined from peat bogs, also known as peatland. It is believed that peat mining companies are doing a huge part in destroying these vulnerable ecosystems. Harvesting this moss can threaten wildlife and native plants found along the peat bogland, which can lead to other negative environmental impacts.
Techniques for Growing Cannabis in Peat Moss
Preparing peat moss for use in your cannabis garden is pretty straightforward but can take many weeks of preparation. Make sure to take into account this prep time when planning your cannabis planting.
Because peat moss is initially resistant to absorbing water and repels it, also known as being hydrophobic, the first step is to prepare it for soil use. This is best done during the spring months when the days are growing warmer and longer.
Prepare the peat moss for later use by placing a substantial amount of peat moss in a large pan or deep containerand thoroughly moistening it with water. Spread the peat moss out to cover the bottom of the pan to increase the surface area, and leave it outside for a few weeks. This will allow the peat moss to soften and become more absorbent, as well as allow it to grow important micronutrients.
You want it to get exposed to rain and morning dew as much as possible, but if water collects in the pan, pour it out so it doesn't get stagnant. If you live in an arid region, be sure to periodically spray the peat moss with water.
Coarse, clumpy chunks of peat moss work better for soil mixtures than thin, wispy peat moss. Remember that peat moss must be kept evenly moist in order for plants to grow their best. Avoid letting it dry out because it will once again be resistant to absorbing water and will require attention and treatment.
After a few weeks, assemble the peat moss with equal parts of a good-quality potting soil or garden soil that does not contain any fertilizers. Some commercial soil mixes have synthetic fertilizers added, but to grow good-tasting cannabis, you want to grow organically and avoid synthetic additives.
Also purchase an equal part of perlite, which will help increase the soil aeration and aid root development. If you do not have access to perlite, you can substitute it with thick, coarse sand. Avoid any sand with tiny grains.
To mix the soil, combine equal parts of the peat moss, soil, and perlite into a large garden bucket and thoroughly mix the ingredients together with your hands and a hand spade. You want the three ingredients to be evenly distributed throughout the mixture. To do this, you will want to add a nutrient-rich ingredient like compost (you can easily make your own at home) or a commercially available product like Big Bloom.
Compost is a valuable ingredient when growing organic cannabis because it feeds the soil. Big Bloom, used in combination with Grow Big and Tiger Bloom, is an almost purely organic mixture that feeds the plants rather than the soil. So, while compost will feed the peat moss soil mixture, compost will feed the soil. In the correct ratios, they work well together.
Your cannabis plants will grow very well in a peat moss soil mixture right from the start. After the first couple of weeks, supplementing it with the Big Bloom and Grow Big nutrient (follow the feeding schedule provided for the trio) will ensure your cannabis thrives throughout all stages of its life cycle (vegetative, flowering, and pre-harvest).
Peat Moss vs. Coco Coir
Since they have a similar consistency, many soil mixes contain either peat moss or coco coir. Both can work well and have their own unique benefits and drawbacks. Most cannabis cultivators have a preference for one or the other.
Coco Coir Benefits
Although similar to peat moss in its consistency, coco coir has its own unique sets of benefits that differentiateone from the other. One of the unique benefits of coco coir is that its pH typically runs between 6 to 6.7, which is perfect for cannabis.
Since coco coir is harvested from coconuts, it is a renewable resource—unlike peat moss. It also absorbs water much easier and is much easier to rehydrate if it gets overly dry. It has excellent water retention properties, retaining 8to 30 times its own weight.
Like peat moss, coco coir is an outstanding habitat for microorganisms.It is also free of pests, pathogens, and weed seeds. Coco coir is durable and due to its lignin content, it breaks down slower than peat moss. Finally, coco coir is typically less expensive than peat moss—and this lower cost is something that everyone can appreciate.
Coco Coir Drawbacks
Coco coir also has some drawbacks. It has a high salinity unless thoroughly washed, and its quality and consistency can vary more than peat moss, depending on the source. It also doesn't contain many microorganisms and few trace elements.
"
There are over 300,000 jobs in the cannabis industry. CTU trained me for one of them!

– Johanna Rose
Makes $24.50 @ THC +
Also, because some coco coir is sprayed with pesticides in its country of origin, combined with its tendency to be high in sodium and magnesium, means that it must be thoroughly washed and treated (follow the same instructions for treating coco coir as the peat moss method detailed above).
Which One Should You Use?
Because peat moss and coco coir have several similarities as well as differences, it is easy to see why both have their legions of devotees. There are really no right or wrong answers when it comes to using one or the other; it is just a matter of personal preference.
Since it is used less often than coco coir for cannabis cultivation and has many benefits, do not overlook peat moss the next time you plan a cannabis soil mixture. Most likely, you will be happy with the results and use it as a regular soil ingredient.
Become a Cannabis Growing Expert with CTU
Now that you know the basics of using peat moss to create beneficial soil for your plants, you can learn how to use other grow media to find out which works best for you.
Learn about all the latest cultivation methods from industry professionals when enrolling in Cannabis Training University's online marijuana classes.
Whether it is your first time growing or you are a seasoned grower, CTU has a complete curriculum that takes you through every step of the cultivation process.
Learn about the fundamentals of growing cannabis and advanced growing techniques to maximize the quality of your harvest. Start your journey toward becoming a master grower today!
How to Obtain a License to Grow Cannabis in Florida
Are you interested in growing commercial cannabis in Florida? Although the application period for medical cannabis cultivators is closed, many opportunities are available for growing hemp in Florida. Here's what you need to know about the state's cannabis cultivation business laws.
Florida's Medical Cannabis Program
In November 2016, Florida voters passed Amendment 2, legalizing medical cannabis possession, use, and sales. Under the new law, patients could use cannabis with a doctor's recommendation to treat a qualifying condition.
Further reading: How to Get a Medical Cannabis Card in Florida
At first, businesses could apply for standalone MMTC licenses, such as cultivation or retail business licenses, but lawmakers passed legislation requiring vertical integration, meaning companies had to grow, process, and sell their own cannabis.
Cannabis operators have fought against the unconstitutionality of vertical integration, suing the Florida Department of Health (DOH). The Florida Supreme court has ruled in favor of keeping vertical integration.
Currently, Florida has 22 vertically integrated MMTC licenses, each able to open as many retail, cultivation, and processing facilities as needed. Florida has become the largest medical cannabis market and one of the largest markets in the country.
In September 2022, the state issued 1 MMTC license to a black-owned business, the first permit issued since the first licensing round. The DOH plans to provide an additional 22 MMTC licenses through a second licensing round to qualified applicants. 
The timeline and requirements for the second MMTC application process have yet to be available. The DOH is currently drafting the rules and regulations.
Florida's hemp program, started in 2020, is another option for aspiring business owners looking to break into The Sunshine State's green rush. Hemp business licenses are available through the state's online Hemp Cultivation Licensing Portal.
FREE E-BOOK
Learn How To Grow Cannabis!
Are Medical Cannabis Cultivation Licenses Available?
Florida's medical cannabis program is vertically integrated, requiring all cannabis businesses to operate every aspect of the supply chain from seed to sale. Currently, the state of Florida is not issuing any new MMTC permits. A timeline for new licenses has not been released.
Cannabis Business License Requirements
Florida's DOH is drafting new rules for the state's second licensing round. When the licensing period is open, applicants can apply if they meet the basic business requirements and have paid the initial application fee. 
Although the new requirements have not been released, it can be helpful to understand the requirements for the initial licensing round. For the first round of licenses, applicants must have demonstrated:
For the 5 consecutive years before applying, the applicant has been registered to do business in the state.
Possession of a valid certificate or registration issued by the Department of Agriculture and Consumer Services
The technical and technological ability to cultivate and produce cannabis, including, but not limited to, low-THC cannabis.
The ability to secure the premises, resources, and personnel necessary to operate as an MMTC.
The ability to maintain accountability of all raw materials, finished products, and any byproducts to prevent diversion or unlawful access to or possession of these substances.
An infrastructure reasonably located to dispense cannabis to registered qualifying patients statewide or regionally as determined by the DOH.
The financial ability to maintain operations for the duration of the 2-year approval cycle, including the provision of certified financial statements to the DOH.
All owners, officers, board members, and managers have passed a background screening.
The employment of a medical director to supervise the activities of the MMTC.
A diversity plan that promotes and ensures the involvement of minority persons and minority business enterprises, or veteran business enterprises, in ownership, management, and employment, An applicant for licensure renewal must show the effectiveness of the diversity plan with their renewal application.
MMTC License Fees
The DOH has not released application fees for cannabis business licenses. However, application fees may be steep. In 2018, the non-refundable application fee for an MMTC license was $60,830 in the form of a money order or cashier's check made payable to the DOH.
How to Become a Legal Cannabis Grower in Florida
Growing cannabis requires a comprehensive business strategy that complies with the state's rules and regulations. Business owners must hire the right personnel, create a business plan, get funding, and choose the right location before applying for a license.
"
There are over 300,000 jobs in the cannabis industry. CTU trained me for one of them!

– Johanna Rose
Makes $24.50 @ THC +
Further reading: The Best Way to Get Started as a Legal Cannabis Grower
Start Your Cannabis Business with a CTU Online Education
Leap into Florida's cannabis market by enrolling in Cannabis Training University's Master of Cannabis Certification Program. Our easy-to-use online learning platform lets you learn anytime, anywhere. Our online cannabis business training is available on demand. Enroll today!
How to Grow Cannabis From a Seed in 10 Easy Steps
Whether it's to control budget or because it's hard to acquire clones, many are interested in learning how to grow cannabis from a seed. Growing marijuana has never been easier or more accessible.
Our guide to growing cannabis takes you from the planning stages to the final stages of your harvest. If you're ready to start growing your favorite strain, keep reading.
Step 1: Sourcing and Germinating Seeds
If you can't or don't want to grow from clones, seeds are a great (and some may say better) alternative. Finding high-quality seeds is easier said than done.
Dispensaries in states with medical or adult-use cannabis may carry cannabis seeds. In states without cannabis laws, finding seeds is strictly limited to online cannabis seed banks.
Do your research on the many available seed banks that ship to the U.S. While many say they ship worldwide, they may exclude the U.S. in the fine print.
Seed banks differ in seed selection. They also offer a variety of payment methods and discreet shipping. Some of the most popular seed bank sites include Attitude Seed Bank, True North Seed Bank, Amsterdam Marijuana Seeds, and Seedsman.
Cannabis seeds require germination to jumpstart the growing process. The simplest way to achieve this is through the paper towel method. During this process, the germ in the seed breaks through the outer shell forming a root, also known as a taproot. Germination can take a day or up to a week. Germinated seeds can be placed in the growing medium.
Step 2: Location and Light
Cannabis can be grown indoors or out. However, most towns that allow for home cultivation require gardens to be secured and away from public view. Regardless of where you choose to grow, your space must have the right amount of light and space to grow.
If you're growing outdoors, consider any large trees that may cast a shadow or shrubs and bushes that can limit its space. North American growers should plant their garden in a space that faces the South to increase the amount of light it gets.
Growing indoors? Consider the height of your space and garden. Don't forget about including the hanging lamp height in your calculations. Grow lights need to be a certain distance away from lights to prevent burns and avoid stretching if the light is too weak.
Indoor growers can grow in basements, garages, rooms, and even closets. Many growers start off with a grow tent, which provides a contained space for cannabis gardens. Many tent options come with all the necessary pots, lighting, filters, and fans needed to start growing from seed.
Once you've chosen your preferred space to grow your garden, it's time to consider lighting, an integral part of the process. Most growers choose metal halide (MH) lamps during the vegetative stage. They switch over to high-pressure sodium (HPS) bulbs during the flowering stage.
Others may stick to their fluorescent and LED options. These can provide the right level of supplementary lighting for HID lamps. If you'll be depending on LED lamps for your garden, make sure they have a full spectrum of white light.
Full-spectrum LEDs are a bit more expensive than conventional HID lights, but they can save you money on energy bills. 250 to 400-watt HID lights can work for small gardens.
Step 3: Medium and Container
The medium of your plant refers to the base structure of your plant's roots. A container keeps your medium, nutrients, and water contained when needed. Outdoor growers can use dirt, topsoil, compost, and other soil amendments to create a thriving microbiome needed to feed the plant's roots.
Indoors growers, on the other hand, are increasingly preferring soil-less growing methods. Mediums made from peat, sphagnum, and coco act like soil. They hold the moisture and air needed to absorb the necessary nutrients.
Many smart pot options have holes around the sides and bottom of the container to improve water drainage. These breathable pots allow roots to get oxygen during the dark cycle. The pots prevent water build-up, which can lead to root rot and mold.
Step 4: Nutrients
Choosing the right nutrients is important for the best growth possible. Cannabis plants require certain nutrients to grow its roots, foliage, and buds.
Nutrient solutions usually include an N-P-K ratio (nitrogen, phosphorus, and potassium). Nutrient solutions come in grow and bloom formulas for vegetative and flowering stages, respectively.  Grow formulas have higher ratios of nitrogen compared to bloom formulas due to their differing needs.
Start off by reading your nutrient solution's instructions and create a diluted solution at ½ to …" the recommended dosage. Starting off with a lower-than-recommended dose ensures you don't overfeed and ruin your crop.
If within a week or 10 days you don't see any signs of nutritional deficiencies, you can increase the dosage to the listed levels on the packaging. If however, your plant looks healthy, you can continue your feeding levels.
Ideally, you want to use organic fertilizers to avoid salt build-ups in the medium. Organic and veganic nutrients are pricier than synthetic fertilizers, but they produce a far better product. Organic nutrients are helpful to bring out the cannabinoid and terpenes from your strain.
Some outdoor growers choose to feed their gardens through a composted medium that has many of the minerals needed for the plant's growth. Others use time-release pellets that contain nutrients that are slowly released into the medium.
FREE E-BOOK
Learn How To Grow Cannabis!
Step 5: Vegetative Stage
A plant's vegetative stage is the first (some might say most important) part of the growth process. Much of the plant's size and yield are produced during this time. Some may say that longer vegetative periods can lead to bigger yields. Vegetative periods can last between a couple of weeks to a couple of months.
Plants will remain in a vegetative stage when the light-dark cycle has more light than dark hours. Indoor growers set light timers to provide their plants with a minimum of 18 hours of light per day during this stage. During its dark cycle, the roots develop, so every hour of light and darkness matters.
Many growers use MH bulbs during this stage. MH bulbs have blue wavelengths, which are necessary to keep your plants from growing tall and wild. Indoor growers may prefer this set-up to keep their plants short and bushy. MH bulbs can produce plants with short internodal lengths (the distance between the main stem and the branches).
During this stage, you can employ different training and pruning techniques to maximize growth and yields. For instance, topping a plant involves removing the top shoot of the main stalk near the end of the vegetative stage. When cut, the plant produces additional shoots under the shoot's cut, where buds can form during the flowering stage.
During this time, you can also install a trellis system to train the plants to grow a certain way. A trellis system can stretch out your plant to get better and more even light coverage. When branches become too heavy, the trellis can support the structure, but requires you to weave the branches through the trellis grid.
Step 6: Flowering Stage
After the vegetative stage comes the flowering stage. When growing outdoors, the flowering stage comes after the summer solstice (late July), when there are fewer daylight hours (under 12 hours of light). 
Indoor growers can mimic the same process by reducing the light period using a light timer. Growers can set their timers on a 12-12 light-dark cycle. Strains vary in their flowering period, but most strains can flower in 8 to 9 weeks.
You'll want to pay close attention to your plants during the final part of its flowering stage. Plants can grow half their size in the late stages. Some growers use HPS bulbs to increase the yield, but this can also cause plants to stretch. Try balancing the red wavelengths of HPS bulbs with an MH bulb with shorter blue wavelengths.
Throughout the flowering stage, you're going to have to prune your plant. During this stage, most of the focus should go into growing the bud sites, not leaves or stems. It's up to you to prune the dead leaves that take focus and energy away from bud growth. 
Most bloom nutrient formulas lack the nitrogen needed during its vegetative stage. But, they have a higher ratio of phosphorus and potassium. This lack of nitrogen is the cause of the yellowing leaves and foliage growth.
Step 7: Flushing
Flushing is a critical aspect of the growing process. During this process, growers use water at the late stages of the flowering period. A water-only diet ensures the nutrients are completely flushed from the plant. Growers can flush for a week or up to two, depending on their preference. 
Flushing may result in your plant's leaves turning a yellow color, a clear sign of nutrient loss. Don't fret, flushing is for the good of your plant and buds. Proper flushes ensure you have a smooth smoke or vape. Some say that cannabis that burns into white ash has been properly flushed compared to one that burns black.
Step 8: Harvest and Drying
After many weeks of tending to your plants, it's finally time to harvest your buds. Cutting and drying weed requires a careful hand to produce a ripe bud. Generally, growers should cut down their plants at the end of the dark cycle, just before the sun or lights appear. 
Cutting down branches during this time allows you to prevent the plant from starting up its photosynthesis process, which can bring moisture and minerals back up from the roots.
But, how does one cut down a plant exactly? Many growers start off by cutting individual branches at the top of the plant. Cut the branch right below the first shoot. This cut allows you to hang each branch upside down from its base during the drying process.
If you're dealing with more than one strain, make sure to label each branch with its appropriate strain name and plant. 
Once you've cut down all your branches, hang them upside down in a dark and dry space for 5 days to a week. Proper air circulation is a must to keep the evaporation process going. Fans are helpful tools to maintain air circulation. A hygrometer can help you keep track of your space's humidity levels. If levels get too high, bring in the dehumidifier to maintain a balance.
Step 9: Trimming and Curing
Don't lose steam quite yet. The trimming and curing process may be one of the last, but certainly not least important steps of the process. How well you cure your buds determines the quality, aroma, and flavor of your cannabis.
Before you cure your cannabis, you need to trim your nugs from your cannabis plant. Large scale growers may send branches through a machine trimmer, but home growers depend on hand-trimming for a more effective prune.
"
There are over 300,000 jobs in the cannabis industry. CTU trained me for one of them!

– Johanna Rose
Makes $24.50 @ THC +
Now, let's consider the differences between wet and dry trimming. Wet trimming involves trimming the buds immediately after the harvest without letting any of the moisture evaporate. Dry trims happen after the bud branches have been dried for a certain amount of time.
Theres a debate between which method is best, but it ultimately depends on your preference. Some growers say dry trimming is easier compared to pruning sopping wet buds. Others say that wet trimming ensures less of the trichomes stay on its bracts. Regardless of the method you choose, you must trim before curing your cannabis.
Curing is another integral aspect of the harvesting process. Curing is a slow drying process that usually occurs in a UV-protected glass jar. Cannabis buds are placed inside the jar for a week or up to two months, depending on your preference. Some growers argue that longer cures result in better cannabis, but it's all subjective.
During the curing process, you want to store your cannabis jars in a dry and cool place that doesn't get a lot of direct light. For maximum freshness, burp your jars once or twice a day. Burping your buds allows the moisture to slowly evaporate and release from the jar. Just leave your jars open for up to 10 minutes every time.
Buds are usually cured for a week or up to 10 days. Use your senses to determine their peak freshness. Open the jar and smell your buds. Do you notice a difference over time? Practice makes perfect. Over time, you'll learn the best time to stop curing and start smoking.
Step 10: Enjoy
Once you've grown your plant to its maturity, you can reap the fruits of your labor. Growing your own cannabis allows you to control every aspect of the process. You can smoke or vape your cannabis. You can also create a range of edibles, concentrates, and topicals using your home-grown buds.
Online Cannabis Training
Want to learn how to grow your favorite strain? Enroll in CTU's online cannabis training program. Even if you're on a tight budget, cannabis gardens can be affordable. We give you cost-cutting tips to grow cannabis in any-sized space!
Topping Cannabis to Increase Yields
There are many cannabis plant training techniques, but only a handful have been used for decades and proven effective. Increasing yields, managing the canopy, and light efficiency are all reasons to practice techniques such as topping. Today we aim to demystify the most common plant training practice; how to top a cannabis plant.
Topping, low stress training, supercropping, sea of green, and scrogging are a handful of training techniques used by cannabis growers to control the overall form of the plant. Tall strains can be trained to grow out instead of up. Some growers will cut the top portion of the plant off to create a shorter and bushier plant. When growing a variety of cannabis strains in an indoor area, many times, cannabis training is required to keep the canopy as close to level as possible.
A popular technique often used in the garden is topping. Topping is the act of removing the upper portion of the plant. We realise it may be a little counterintuitive to remove the upper part of the plant; after all, that is where the big colas come from. Although it sounds crazy, your yield potential increases when you remove the top.
Plant topping is meant to maximise the quality of buds by creating multiple colas instead of one giant cola on the main meristem and increase yield. Again, it is the increased number of top bud sites that increases the yields when using cannabis training methods like topping.
Why removing the top of a plant can be beneficial
Three main reasons cannabis growers use topping as a training technique include space management, hormone distribution, and light efficiency. We will explain the "why" behind each of those statements, and how topping can lead to greater success in the garden.
When grown naturally, cannabis plants want to grow in a Christmas tree shape, with the lower branches reaching out the widest to receive unobstructed light. Removing the top portion means the lower branches are no longer shielded by the large fan leaves above. More light to more leaves equals more photosynthesis, and that means more power for the plant to grow and develop buds.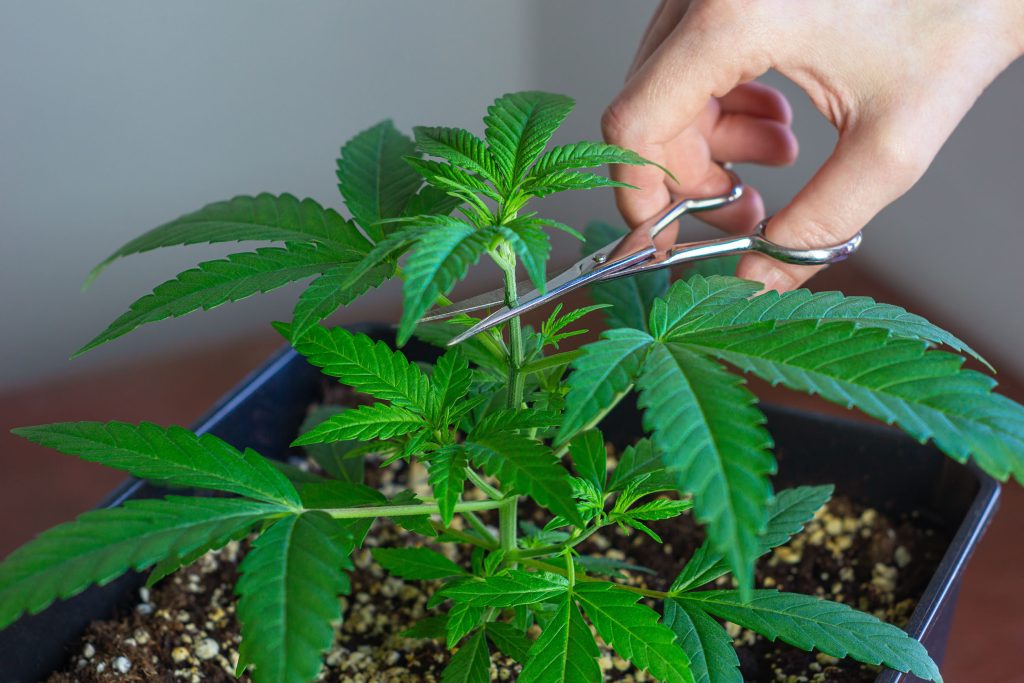 The technique of topping cannabis can also be used as a height management tool in small grow areas with low ceilings. Topping is also an effective training technique to create an even canopy. If gardeners grow a variety of cannabis strains and one of them grows much taller than the rest, topping that plant will bring it back to a level closer to the others.
Topping cannabis is an effective plant management tool if a gardener lets their plant get too tall in the vegetative stage. Most strains will nearly double in size during the transitional "stretch" phase as you begin the flowering cycle. If a plant is already close to the light source and you fear that it will grow above the light after the stretch, topping can tame that beast back into control.
There are a few physiological benefits to topping the plant. When a cannabis plant is topped, it is the lower branches that rise to create the canopy. These branches grow thicker and more robust, often requiring less support later. The primary physiological reason for topping any plant would be the redistribution of auxins and hormones when we break the apical dominance.
Instead of the auxins and growth hormones going to the tallest point, it is evenly distributed amongst the evenly level canopy. This promotes even growth across many bud sites instead of the single tallest point. By having more "top" buds instead of one large cola, yields can increase dramatically, particularly when combined with other plant training techniques.
Another reason growers want an even canopy is to maximise the amount of usable light (PPFD) delivered to the cannabis plant. A level canopy will distribute the same amount of light to as many bud sites as possible. When plants grow untrained, they can have a main stem far above the bulk of lower branches and bud sites.
To accommodate that taller top area, the grow light must be kept further from the majority of bud sites, which results in lower PAR to the bulk of the bud sites. With an even canopy, you can place the light closer to the majority of the upper bud sites.
Overall, when you top a plant (or even the many side branches), you will get two new branches in the place of the old one. Growers then have two bud sites, which is one way that topping can help increase yields. The change in distribution of growth hormones also encourages lateral branching in the plant. Combined, these two benefits result in a larger, bushier plant than one grown without topping.
When to top a cannabis plant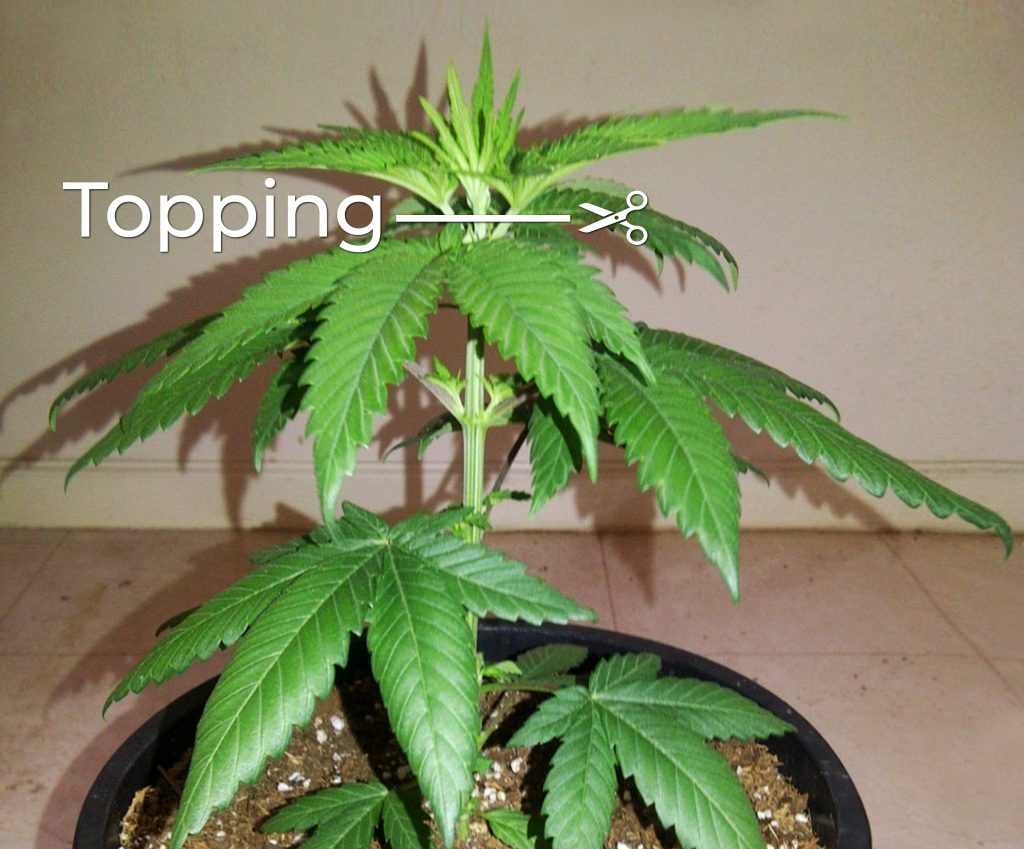 Topping a cannabis plant is almost always done in the vegetative stage. In instances of an extremely stretchy plant during flowering, topping might be the only option, but for the most part, topping cannabis is done in vegetation. Most gardeners will top a cannabis plant once or twice. This training technique can be performed several times, as long as the grower gives the plant a chance to recover in between.
Often growers will reference a node number as to when and where they top the plant. It is best practice to use your discretion. Commonly growers recommend topping between the 5th and 7th nodes. However, there can often be a difference in how tall a plant is by the 5th – 7th node, depending on an indica or sativa morphology. Know the height of the garden space, and the typical stretch of the strain, and top the plant accordingly.
Other growers will let the plant get further into the vegetative stage before topping a cannabis plant. The established root system helps the plant recover quicker compared to a seedling with a less developed root system. Growers may trim a few of the lower branches before deciding where to top. Removing some of the lowers will influence how many branches (nodal spaces) to leave before topping the plant.
In both cases, you want to only top a healthy plant, as this technique does induce some stress. Although the plant undergoes mild shock, with solid genetics, topping a plant should not trigger hermaphroditic expressions. Topping cannabis plants is the most prevalent of all plant training techniques.
How to top a cannabis plant
Growers will only need one tool to top the plant, a sharp, sterile blade. Many cannabis gardeners will use trimming scissors, and others will use a fresh razor blade. Similar to taking a clone, gardeners will want to make their cut at a 45 degree angle instead of straight across.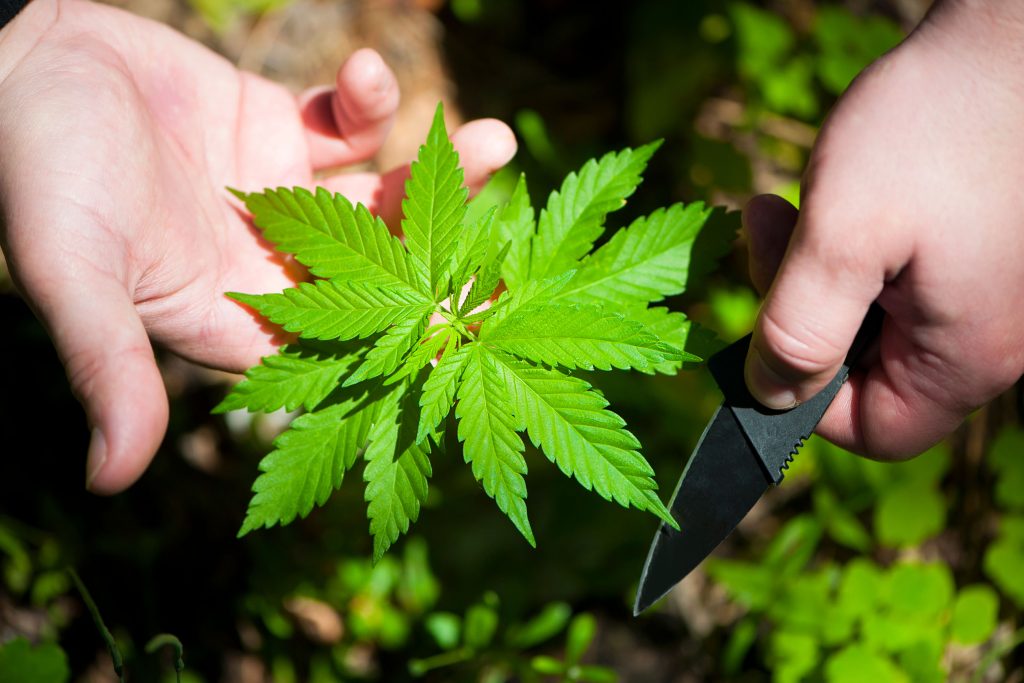 When topping a mature plant, make the cut 2-3 cm above the last node you want to branch out. The cut portion of the stem will dry and shrivel back slightly. Leaving this extra space will allow for that without compromising the strength of the branches on the uppermost node.
To count nodes, start at the first set of lower branches and go upwards. Each pair of branches above is a new node. Nodes are simply the location where a branch is attached, usually one branch on either side of it. When using this plant training technique, growers count the nodes on the main stem to make their decision of where to top.
Now that you're ready
After topping the cannabis plant, give the freshly topped plant a few days to a week to recover from the shock. Don't top a cannabis plant and then immediately put it into flowering. Keep the plant watered and fed; it is incredible what a healthy cannabis plant can handle regarding training techniques and stress.
By utilising this one easy plant training technique, you can have larger yields, grow different strains side-by-side, and maximise the efficiency of your wattage per euro.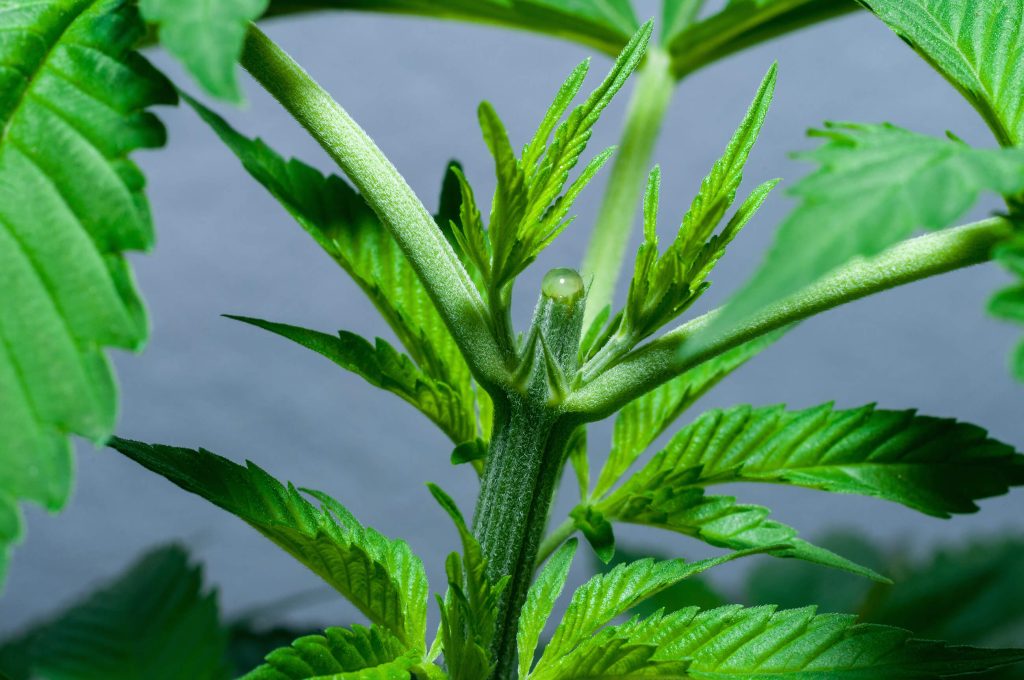 Topping as a plant training technique is often used in combination with other techniques. LST (low-stress training) techniques, like bending branches or tying them down, is another way to deal with canopy management and breaking the apical dominance of a plant. The cannabis training technique referred to as "mainlining" is a combination of topping and LST.
Our goal is to lift the mystery behind these growing techniques and make them easily relatable to any gardener enjoying the hobby. We'll be covering LST, supercropping, scrogging, and more in the upcoming plant training articles. What techniques would you like to know more about? Which plant training techniques are your favourite? Let us know down in the comments. Happy gardening!
Disclaimer:

Laws and regulations regarding cannabis cultivation differ from country to country. Sensi Seeds therefore strongly advises you to check your local laws and regulations. Do not act in conflict with the law.