The List of Countries That Will Legalize Marijuana Before the US Gets Longer and Longer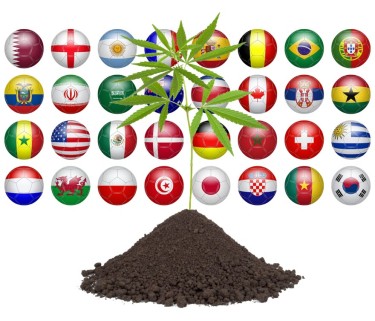 Many people would agree that the United States federal policy is far behind the American mindset and, perhaps, even the global psyche as regards cannabis acceptance and legalization. Policies that govern cannabis in the United States have been quite trendy in mainstream media. But most often than not, the lack of concrete actions on the part of the U.S. federal government on cannabis legalization is making the headlines.
Be it the Marijuana Opportunity Reinvestment and Expungement Act facing oblivion or a powerful open letter to President Joe Biden from his closest associates calling for the revision of federal cannabis laws; it is evident that the U.S. Federal policy on cannabis is not visionary.
Meanwhile, other nations and states are taking bold steps regarding cannabis legalization and have achieved significant results in the last decade. Therefore, as things stand, it won't be out of place to affirm that America's federal policy is lagging behind the global cannabis stance as the country continues to take a timid approach to cannabis.  Canada, the neighbor to the North, made cannabis legal at the Federal level years ago and has a full-fledged recreational and medicinal marijuana market.
While the U.S. government is taking a slow and timid approach regarding cannabis legalization, other countries seem to be addressing the issue head-on. Therefore it begs the question: what reasons have other nations and their individual states found to decriminalize and legalize cannabis? In contrast, the U.S.U.S. has been unable to establish a concrete rationale.  Even strong US ally, Germany, has moved to legalize recreational and medicinal cannabis in the past 12 months causing a stir of legality issues in the European block.
Mexico
Mexico, one of the closest neighbours of the United States, bordering America to the south, decriminalized and legalized cannabis at the federal level in 2021. Without diving deep into why the Mexican government legalized cannabis, the public response has been that cannabis legalization is in the hopes of reducing violent crimes.
In a wide margin vote of 8 – 3, the Supreme Court of Mexico decriminalized cannabis in 2021. As a result, cannabis is now legalized for cultivation and use only for medical purposes. According to CNN, the country decided after cannabis proponents pushed for decriminalizing cannabis to reduce violent crimes.
Even though drug-driven violence was not the primary and only reason for the decision reached by the high court, it is a reason worth considering, given justification for policy change can stem from all kinds of places.
Thailand
While the United States continues to debate cannabis, Thailand has taken the giant step in becoming the first Asian country to legalize medical use of cannabis. The Asian government has clearly stated that public use of cannabis is still very much prohibited, but it has legalized cannabis use for medical purposes.
While Thailand only legalized cannabis for medical use, the Asian country can still position itself and rightly use its present stance on cannabis to promote tourism in the country. According to National Public Radio, Thailand's primary aim is to make a dent in the industry for medical cannabis. The article also explains that even though only a few neighboring countries have legalized marijuana, Thailand has positioned itself to make the best of the present opportunities. This is especially true since Thailand already has a well-established tourism industry, and its natural tropical climate is more than ideal for cultivating cannabis.
In addition, Thailand will also be pardoning and freeing inmates currently serving non-violent cannabis-related crimes. While this seems relatively easy for Thailand to achieve, U.S. lawmakers are still pushing for the cannabis decriminalization bill.
Malta
Thailand isn't the only country that has made international headlines as regards cannabis legalization. Similar to Thailand, Malta also took the bold step to legalize marijuana in 2021, making it the first European country to do so. Even though Malta has not inaugurated any cannabis dispensaries or lounges, the country has legalized cannabis cultivation and use within its territories.
The reason for Malta's cannabis legalization is quite similar to that of Mexico. According to the New York Times, the Maltese government explained that the new statute aims to combat illegal and criminal drug trafficking while also ending criminalizing Maltese for using cannabis.
Looking at the trend in Mexico and now Malta, it seems that regulating and legalizing cannabis instead of waging war on the illegal criminal market is a driving factor in many countries that have decriminalized and legalized cannabis before the United States.
Switzerland
Switzerland is one of the countries that just recently legalized the medical use of cannabis after lifting its ban on cannabis as of August 2022. This latest development by the Swiss government also allows for the export of medical marijuana products. One of the primary reasons for the legalization of medical cannabis in Switzerland is the exponential growth in medical cannabis popularity. Another important reason is the heightened administrative ramble that developed due to the increase in medical cannabis popularity.
According to Forbes, the Federal Council duly justified the county's latest stance on medical cannabis legalization. The Federal council affirmed that there'd been an increase in the demand for authorizations in the last years. This includes a slowed-down medical treatment and a significant administrative burden. Only in 2019, the ministry of health issued roughly 3,000 special permissions.
Conclusion
Many factors are responsible for why other countries are making significant progress regarding cannabis legalization while the United States slowly follows far behind. The justifications among these countries vary from hoping to reduce drug-related crimes and violence to boost medical tourism in their countries.
While the United States presents lots of struggles to pick from to push cannabis legalization at the federal level, a single strong-enough cause has not been chosen. Without this, it will be difficult for the United States to transition into a cannabis post-prohibition era.
However, as things stand, the move for cannabis legalization has gained massive support in states like Louisiana, Florida, Texas, and North Carolina — but while the idea of cannabis legalization is popular, it seems not to be a significant priority to many voters. Notwithstanding, as the cannabis industry continues to develop, pressure is bound to mount on lawmakers to end federal cannabis prohibition. 
CANNABIS LEGALIZATION, WHO IS NEXT, READ ON..
5 UNDERRATED STRAINS TO GROW AND TASTE
Have you ever pondered the number of cannabis strains? It's practically hard to keep up with the ever-expanding selection of Indicas and Sativas. Additionally, the cannabis industry is constantly changing. It seems like a creative breeder introduces a new marijuana variety every week.
A few classic cannabis strains are well-known to almost all cannabis enthusiasts. These strains, the most popular types of cannabis, have left an effect on the cannabis world in one way or another, whether because of their distinctive qualities or good genetics. However, a few unique strains are not as well known as the rest.
While it's difficult to identify every potent strain available, we've compiled the top five underrated ones so that you have a decent place to start if you're interested in growing and tasting intense strains.
What are Cannabis Strains?
There are numerous subspecies and variations of cannabis. Farmers and cultivators have long bred several strains with precise traits to produce hybrids and particular strains. Cannabidiol (CBD), Tetrahydrocannabinol (THC), and other cannabinoids vary in every strain. Producers brand the plants following the desired appearance, flavor, and impact on the user.
Essentially, medicinal cannabinoids and terpenes are the main reasons marijuana plants are developed. We can all agree that the idea being conveyed, regardless of the terminology used, is that while most cannabis strains are more alike than different, some have been selected and kept around for their distinctive cannabinoid, terpene, and growth profiles.
Cannabis strains are commonly characterized as indica, Sativa, or hybrid. A hybrid strain was produced by crossing indica and Sativa varieties.
Indica and Sativa Strains
Indica and Sativa are two types of cannabis strains whose proportions, aromas, forms, and potencies differ. Although these strains are distinct, cannabis growers frequently mix them to produce hybrid strains.
Sativa is a cannabis strain from Eastern Europe, Central Asia, and Russia. Cannabis sativa could describe hemp variants, frequently farmed for their stalk and fiber rather than their flowers. This variety of cannabis plants grows taller and takes 10 to 14 weeks to blossom. The buds/flowers are less crowded, and the branches are widely spread.
Sativa can give you a high that makes you feel like you can take on any task and be on top of the world. They may make you think creatively stimulated or as though you could run a marathon.
Indica cannabis originates in Afghanistan and India. Cannabis indica tends to be shorter and stouter in stature and can grow well in more moderate regions because of its complex, mountainous environments. The flowering period for indica plants is also faster, lasting six to nine weeks.
The "couchlock" effect, in which you feel stuck to your seat and unable to move, is a hallmark of indica strains. Due to the greater CBD concentration, indica effects may be more bearable for some users, leaving them blissfully relaxed from head to toe.
5 Strains to Grow and Taste
Have you thought about growing cannabis strains indoors or outdoors? Maybe you want to try cultivating distinctive ones that are unrecognized.
After much effort, we have derived five of the best strains that can quickly be grown and tasted. We have listed them below.
Mac 1, also referred to as the Capulator's Cut, is a well-liked strain created by crossing Starfighter, Alien Cookies, and a Colombian landrace. To preserve the flower's quality, the breeder has carefully chosen the growers of Mac 1. This bud has virtually white buds covered with milky trichomes, giving it a stunning bag appeal.
It's been discovered that Mac 1 is quite simple to nurture. Thus, individuals were able to achieve what they aimed for and more.
You can grow Mac 1 indoors or outdoors and enjoy sparkling blooms like diamonds. Due to the uncommon Colombian Sativa it inherits and the Indica-dominant Alien Cookies and Starfighter, the Mac 1 strain produces enormous trichomes and has potent, long-lasting effects. Mac 1 is notable for its exceptionally high THC concentration of 22% and well-rounded effects.
Getting a good night's sleep may be the most common cannabis use case. If you struggle with sleeplessness or need to unwind, indica-dominant cannabis strains are your key to serenity.
Purple Urkle Feminized Cannabis Seeds are one of the market's most distinctive 80% indica-dominant strains. This purple-hued powerhouse lives up to its name; it is packed with solid cannabinoids ready to put your mind and body on autopilot.
It is the outcome of a specific Mendocino Purps phenotype being chosen. In addition to its stunning purple coloring, this strain has a 22% THC content, 8-10 weeks of flowering time, and a delicious flavor.
This delightful strain is the ideal supplement to a night of relaxation because of its tingling pleasure and drowsiness. Purple Urkle has a particular sweetness that adds to its characteristic berry, grape, and earthy aroma, making it even more enticing. Purple Urkle cannabis has developed a devoted following for users who suffer from sleeplessness, mood problems, and mild discomfort.
Exceptional Maui Wowie Feminized Cannabis Seeds are well renowned for providing a day-altering euphoria, energy, and head-clearing focus that may leave you grinning for hours. Maui Wowie will ease pain, relax tense, tight muscles, and calm a worried, disturbed mind on a puff of citrus and earth.
The origin of Maui Wowie Cannabis Seeds began after a volcanic eruption. After this incident, the island's residents began to nurture and manage it with the help of volcanic oil. This native strain quickly migrated to the mainland, gaining acceptance in Western societies. It has a THC level between 14-19% and a flowering time of 8-10 weeks.
This cannabis strain originates from Maui and has a fruity-exotic aroma befitting its tropical signature. Most individuals will need to grow this strain inside because it enjoys a climate similar to Hawaii. However, a greenhouse also can produce a comparable environment. Give the tall Sativa plenty of height to prevent pruning.
Trainwreck Feminized Cannabis Seeds are a healthy plant that produces a ton of fruit. This strain is perfect for growers with height restrictions because of its wide growth pattern. It creates a lot of lime green, strongly scented buds that are incredibly mold resistant and are known to top out at around 18% THC.
These stunning hybrid seeds are lovely additions to your home cannabis seed collection. These magnificent females produce an unexpected harvest of trichome-covered, resin-packed buds that you're sure to love, with average flowering durations of 50 to 60 days.
The sea of green yields 400–500 grams per square meter or more on average for indoor gardeners. When these buds eventually yield 700 grams or more per plant, outdoor growers adore the branches they develop.
Patients with insomnia, anxiety, stress, lack of appetite, spasms, vertigo, muscle pains, discomfort, and tension will appreciate the great potency and effectiveness of this medically highly beneficial cannabis strain. It has a 60-40 indica:sativa ratio.
Throughout their longer-than-average high, Peanut Butter Breath Feminized Cannabis Seeds are an incredibly adaptable strain that ranges from bubbly, talkative sociable Sativa to knockout indica with 20-24% THC.
When flowering is complete, Peanut Butter Breath readily develops stunning crimson to purple hues that contrast with the thick covering of white resin that coats its swollen calyxes and tiny leaves.
Its terpene profile combines tones of sweet pastry and peanut butter with notes of creaminess and petrol, creating a flavor and scent that are as pleasing as they are distinctive.
You'll be itching to experience the nutty, herbal scents that will tempt you from seed to harvest after 8–10 weeks. In the end, you'll have a significant yield to last you for an extended period with pulls of 300-400gr/m2.
It's essential to remember that cannabis strains differ in color, strength, and flavor. There are numerous outside elements to consider, even after selecting the ideal strain. Examples include when the plants flower and if they thrive indoors or outside.
You can check out United Seeds for a wide variety if you are looking for exceptional cannabis strains. We are a seed bank offering high-quality and fast-growing cannabis seeds. You can have consistent and reliable quality supply in a matter of days.
Long Island Cannabis Dispensary Zoning
Prospective cannabis businesses seeking to open dispensaries on Long Island are running into several issues and roadblocks with the proposed or adopted zoning legislation restricting operators to mainly industrial areas.
As it stands, dispensaries can open only in Long Island towns that opted in for retail cannabis sales. To date, Babylon, Brookhaven, Riverhead and Southampton have opted-in to permit recreational cannabis sales. In three of the four opt-in areas, legislation has been adopted or proposed that would keep the dispensaries out of busy downtown areas, and stick them in commercial and out-of-the-way areas.  The only municipality to vote on and approve of a zoning amendment has been Brookhaven.
To learn more about each municipality and where their regulations stand to date, see below.
Brookhaven Town officials approved a town zoning amendment that has banned cannabis sales within 500 feet of homes or 1,000 feet of schools, houses of worship, hospitals, libraries, parks, playgrounds, gyms, dance studios or at similar public or semi-public place of general congregation. Cannabis dispensaries must be at least 1 mile apart from each other. The zoning amendment bans cannabis smoking rooms and retail stores from downtown business districts.
Babylon
In Babylon, according to Newsday, officials are expected to adopt similar regulations to Brookhaven.  The legislation would allow dispensaries, consumption sites and microbusinesses only in areas zoned industrial and would prohibit them from operating within a 1,000-foot radius of a residential area.  The businesses also would not be allowed within a 200-foot radius of religious properties or within a 500-foot radius of K-12 education facilities, libraries, parks, playgrounds, child-care centers, youth organizations, dance studios, batting cages, gymnasiums or other venues "where minors congregate."
Cannabis businesses also could not operate within a 500-foot radius of another such business, whereas, in Brookhaven, said business need to be 1 mile apart.
Riverhead
Under Riverhead's proposed regulations, retail and on-site consumption establishments would be permitted only in certain sections of town.  Those districts include including Business Center, Shopping Center, Destination Retail Center, Rural Corridor, Downtown Center 1, 2 and 3, Hamlet Center, Village Center, Peconic River Community and Business F zoning use districts.
The code would require a minimum distance of 1,000 feet from schools, daycare facilities and libraries, as well as 500 feet from places of worship, beaches, parks, community centers and amusement businesses.
Cannabis businesses would also not be allowed within 1,000 feet of an existing residential use or a mixed-use development containing a residential use, or within 2,500 feet of another cannabis business.  Lastly, the proposed code outlines security requirements, mandating the business to submit both a security plan and an odor management plan to the town.
Southampton
Southampton is the only town that has not proposed zoning laws for retail cannabis. The Southampton Town Supervisor Jay Schneiderman indicated that the town is waiting for further guidance from the state.
Mr. Schneiderman indicated at the minimum, they will propose laws keeping dispensaries away from places where children congregate, such as libraries and playgrounds, but will take into account concerns from the community, including traffic and safety.
A Man Cave of Hempcrete? – Hemp-Concrete Approved for US Residential Construction
Hempcrete or hemp-line will finally 'officially' be used as a building material in the construction of homes in the United States after years of unofficial use. Lots of builders favor the material due to its fire, pest, and mold-resisting characteristics and, of course, its sturdiness. That, accompanied by its carbon sequestering properties, make hemp-lime a very useful material to engineers and builders alike. However, it won't be fully official till the 2024 implementation of appendix BA.