The Rise Of Marijuana Mixology
It seems like every time you enter a dispensary, there is a brand-new way to consume cannabis.  Whether it is an edible in homage to a favorite snack food, or a tiny discreet vaporizer, there is no lack of creativity in product development.    
One of the latest trends in recreational cannabis consumption is less inspired by exotic creativity and scientific achievement; it's derived from hundreds of years of mixing and shaking behind the dark mahogany bars of the world.  
The cannabis cocktail is quickly gaining popularity as a fun and effective way to ingest CBD or THC.  Retail beverages like THC seltzers are available in recreational dispensaries nationwide, and they are exploding in popularity.    
These retail beverages are a popular way to enjoy marijuana, but some enthusiasts are turning the concept of drinking cannabis into its highest art form — the crafted cocktail.  By savoring cannabis through a straw, a union has formed between budtender and bartender, and the result is delicious. 
RELATED: Mixing Marijuana: How Cannabis Interacts With Melatonin, Caffeine, And Alcohol
Marijuana mixology can be approached in many ways.  There are cocktails with strong spirits and alcohol-free elixirs, just as there are libations -infused with THC while others use only CBD derived without THC.  All variations will affect the way the consumer feels an hour later, but in crafting these modern classics, the flavor comes down to the same balancing techniques used in any classic cocktail.  
Successful mixology is the art of balancing a cocktail's key components, which, according to Diageo Bar Academy, are sweet, sour, bitter, saltiness, temperature, texture and alcohol (or the lack thereof).  Cannabis cocktail experimentation maintains the same balancing act, but adds the very specific flavor profile of marijuana.  Although the perfect balance for a great cocktail can be found using an array of different specific ingredients, certain flavors are already beginning to stand out as favorites.  
RELATED: Women Are Overwhelmingly The Main Buyers Of This Cannabis Product
Citrus flavors like grapefruit, lemon and lime are among the most common popular ingredients in many cannabis cocktail recipes. Grapefruit drinks, like Wunder's Grapefruit Hibiscus sparkling — its most popular and award-winning flavor, according to Popsugar — are sought-after flavors.  Its bright acidity and slight bitterness likely helps compliment the flavor of the cannabis while also balancing the flavor profile of the overall drink.   
Most cocktails play with the herbaceous flavor of cannabis rather than trying to completely mask that flavor, which is perhaps why other herbs are finding their way into these new drinks.  Basil, cilantro, rosemary and even tea extracts have all been folded into different recipes. Hollywood Mixologist Maxwell Reis summed up the importance of cannabis flavor in these drinks when he told Goop in an interview that his CBD cocktails can "impart a unique flavor to any cocktail that could use some vegetal nuance."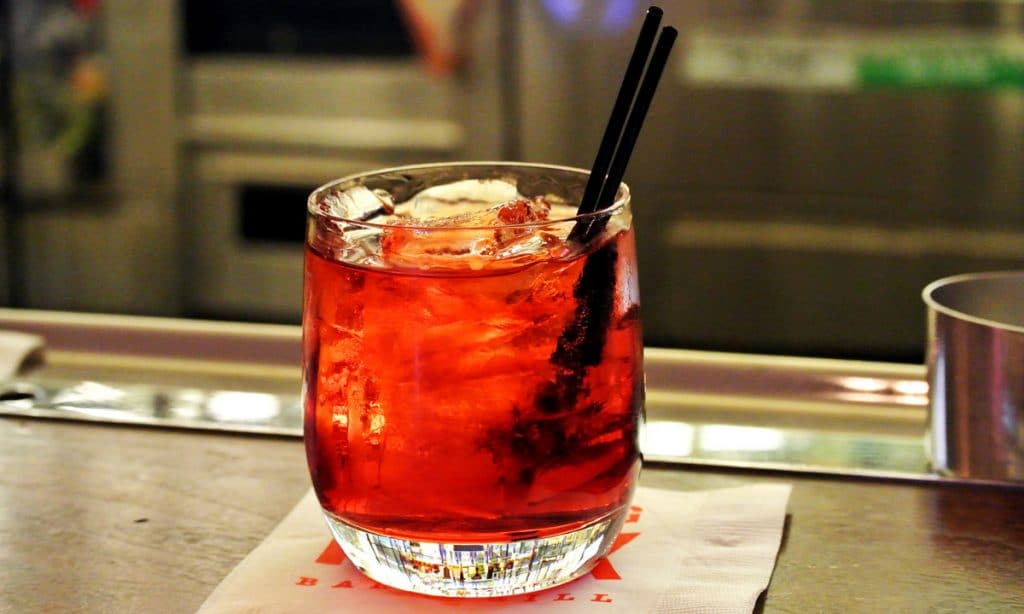 RELATED: Why Cannabis-Infused Drinks Are Hit Or Miss
For cocktails with THC but no alcohol, one trend is the use of tranquil flavors reminiscent of spa relaxation.  Notes of cucumber, aloe and even watermelon are infused to alcohol-free elixirs to bring more tranquility to the already relaxed beverage.   
"The flavor reminds the consumer of a healthy space, perhaps yoga, the spa, or vacation," Michelle Sundquist, director of innovation and product design, told Cannabis Products. 
Although it is true that great cocktails, new and old, come down to the perfect balancing of spirit, sweet, sour and bitter and salty, there is creativity and achievement to be made in this new, exciting and delicious realm of marijuana mixology.  
Does Marijuana Legalization Increase Alcohol Use? A New Study Might Surprise You
Marijuana legalization is associated with increased use of alcohol, a new study published in JAMA Health Forum revealed. The startling new evidence contradicts prior research that showed that cannabis legalization did lead to more marijuana consumption, but also decreased the use of alcohol.
Over 4.2 million US adults took part in a cross-sectional study and difference-in-differences analysis from 2010 to 2019, out of which 321,921 respondents were in states where marijuana was legal. Interestingly, both studies showed that binge or heavy drinking did not increase in those states. However, adult-use cannabis laws were related to a 0.9% increase in alcohol use among the total US population.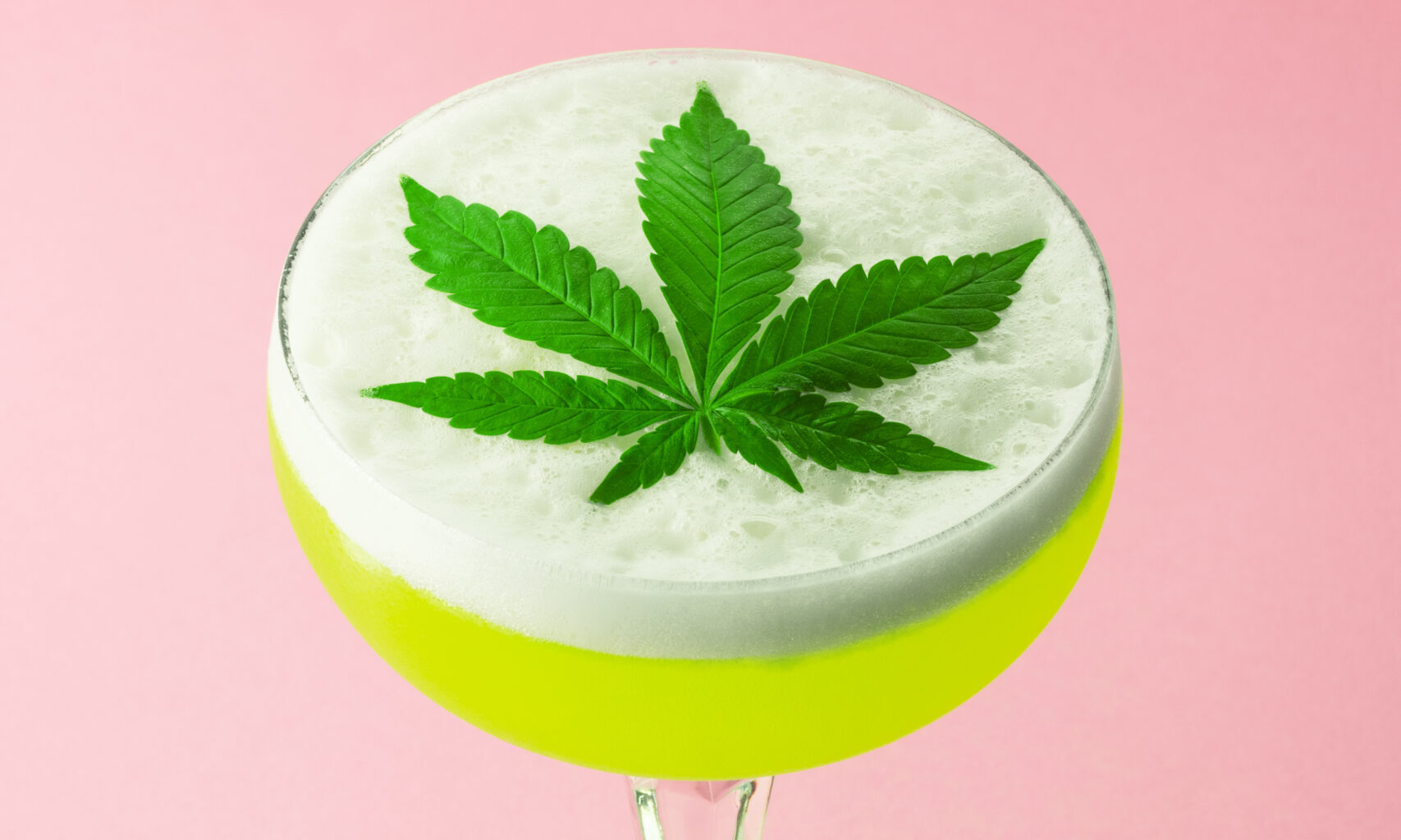 Researchers used the Behavioral Risk Factor Surveillance System survey data. The analysis was conducted by the Centers for Disease Control and Prevention (CDC).
RELATED: Americans Are Choosing Marijuana Over Alcohol
Interestingly, the new study found the most substantial increase in alcohol use was among younger adults aged 18-24 years among non-Hispanic white respondents and those without a college education. Also, a wider increase in alcohol use was evidenced among men.
RELATED: Is Cannabis A Threat To Alcohol Sales? It's Complicated But Here's What The Experts Say
Meanwhile, when choosing between the two, the majority of Americans chose cannabis over alcohol. Fifty-eight percent of respondents in another national survey from market research company SSRS showed alcohol is more harmful to one's health than marijuana.
Moreover, nearly one-third of over 10,000 Americans who took part in a YouGov survey earlier this year said they thought it would be ideal if people used more marijuana and less liquor.
This article originally appeared on Benzinga and has been reposted with permission.
Day Or Night: Which Promotes A Better High?
It will prove difficult for a true cannabis lover to find a time of day that isn't suitable for getting high. There is, of course, the morning wake and bake. Then there are the periodic afternoon sessions that are suitable for all sorts of people, from those on long hikes in the wilderness to medical users trying to manage their pain. Once the sun starts to set, those who spent the day at the office unwind with a joint, while others wait until after dinner to pop an edible before they begin their evening routine. 
Sure, weed has found a home at nearly every time of day, but which time is the best for getting high? While everyone may have a different time they prefer, is it considered better to get high in the daytime or at night?
Why Consuming Marijuana in the Day Is Better
People use cannabis for all sorts of reasons. Sometimes little thought goes into the timing of its consumption, while in other instances it is methodically planned. Regardless of which camp you fall into, there are many occurrences when consuming marijuana during the day is the best time to enjoy its benefits.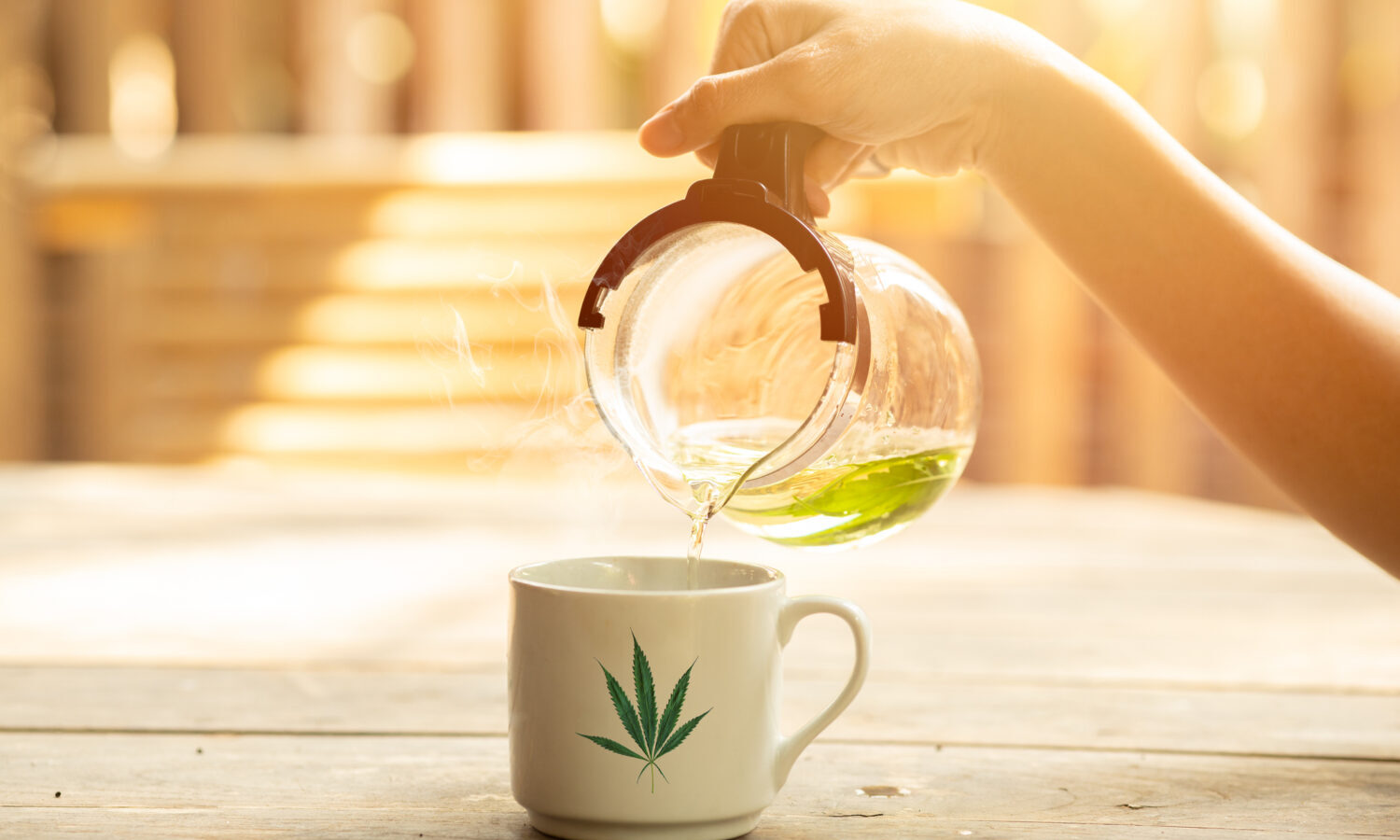 Marijuana For Pain
One of the most common (and growing) reasons medical marijuanas use cannabis is to control pain. In fact, as we have reported, there is evidence that cannabis can be more effective than opioids at managing chronic pain. When using marijuana for pain it is either used before activity as a preventative, or in response to pain. Either way, it is most common to use marijuana during the day to manage pain in order to get through the day. This ensures the day is met with as little difficulty as possible.
Marijuana as a Stimulant for Activity
The notion that weed turns you into a loafing couch potato was debunked long ago. In fact, as more people use and experiment with cannabis they find that it can even have the opposite effect. Marijuana, with certain strains in particular, can act as a stimulant of sorts, and even inspire physical activity.
RELATED: What Is The Best Time Of Day To Get High?
"When we run, our bodies actually produce endocannabinoids, a naturally occurring form of THC which, along with endorphins, are responsible for the runner's high that athletes enjoy,"according to Outside. In other words, weed helps motivate people to work out more eagerly. Sure, some people exercise in the middle of the night, but the vast majority of active individuals see most activity in the daylight hours. This makes getting high in the daytime the preferred time for those using marijuana for physical activity.
Using Marijuana to Improve Your Morning Mood 
For the individual who says they aren't a morning person, cannabis in the daytime might be just what you need to change the morning perspective. According to a study on cannabis use and the morning time, "Immediately following cannabis use, men and women reported higher positive and lower negative effects than they did that morning. These positive consequences probably reflect the immediate "good drug" feelings associated with cannabis." So for those who struggle with bad moods and thoughts in the morning, using cannabis to re-align you can be effective, but it must be done in the daytime for best results.
Why Consuming Marijuana at Night Is Better
Nighttime cannabis use also has its perks, even if they are mostly all different from those seen in the morning. Whether it's for safety reasons or sleep assistance, marijuana has  become part of the nightly routine for many who use cannabis regularly.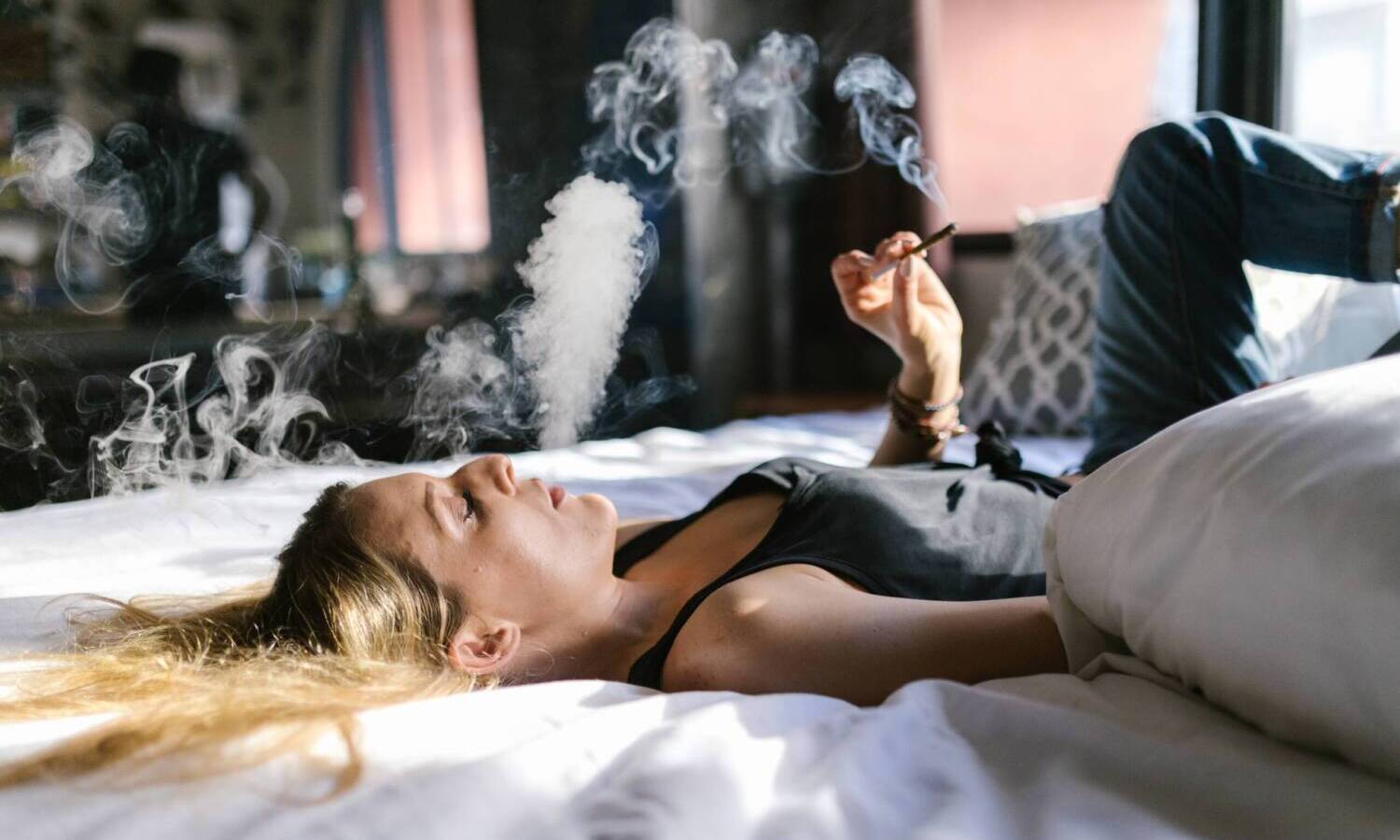 Safer Alternative to Alcohol
Happy hour, the after work "wine" down and a beer after a long day are all engraved into the social psyche when it comes to post-work relaxation. Unfortunately, alcohol dependence can lead to some major health issues, not to mention deadly accidents. Marijuana has become a popular alternative to alcohol in these situations, as we have reported. This helps mitigate negative experiences associated with habitual alcohol use.
RELATED: Cannabis Vs. Alcohol: Which One Is Safer, Healthier, And Better For Society?
Kent Hutchison, who co-authored a study examining alcohol's effects on the brain, told Medical News Today,"While marijuana may also have some negative consequences, it definitely is nowhere near the negative consequences of alcohol." Unless you work the overnight shift, this benefit is only experienced when using cannabis in the twilight and evening hours.
Minimize Risk and Adverse Side Effects
While safer than alcohol, cannabis does not come without its share of risk factors. There are all sorts of less-than ideal side effects, from perception problems to potential paranoia. For those concerned about these side effects, it is often best to use cannabis in the comfort of your own home and with the peace of mind knowing that all the day's errands are completed. "Some patients may prefer to use THC only before bed, or at other times when impairment does not impact their work, hobbies, or ability to function in daily life," according to GoodRx.
Sleep Aid Benefits 
As we have reported previously, cannabis is often used as an effective sleep aid for those struggling to get a proper night's rest. Both THC and CBD help many who struggle with rest for numerous reasons. If you use cannabis as a sleep aid, the odds are you need to take it at night.
Final Thoughts: Which is Better, Daytime Or Nighttime?
When attempting to answer this question, you need to ask yourself why you are getting high in the first place. If you are trying to correct a morning mood, manage pain or increase your activity levels, then daytime is definitely the way to go. If you use cannabis as a sleep aid or replacement for alcohol, then the nighttime is the right time.
Why Cannabis Users Have Better Orgasms & Overall Sexual Function, According To Study
By Nina Zdinjak
Young marijuana enthusiasts and alcohol consumers have better orgasms and overall sexual function than those who abstain, according to a study undertaken in Spain, reported Marijuana Moment.
Researchers from the University of Almeria were inspired to tackle the controversy swirling around numerous previous studies that looked at the impact of cannabis and alcohol on sexual functioning, which disclosed both positive and negative effects. And so, Spanish researchers created a new observational study that concluded: "Sexual function in young people who use cannabis and alcohol more frequently was shown to be better than in those who do not use either."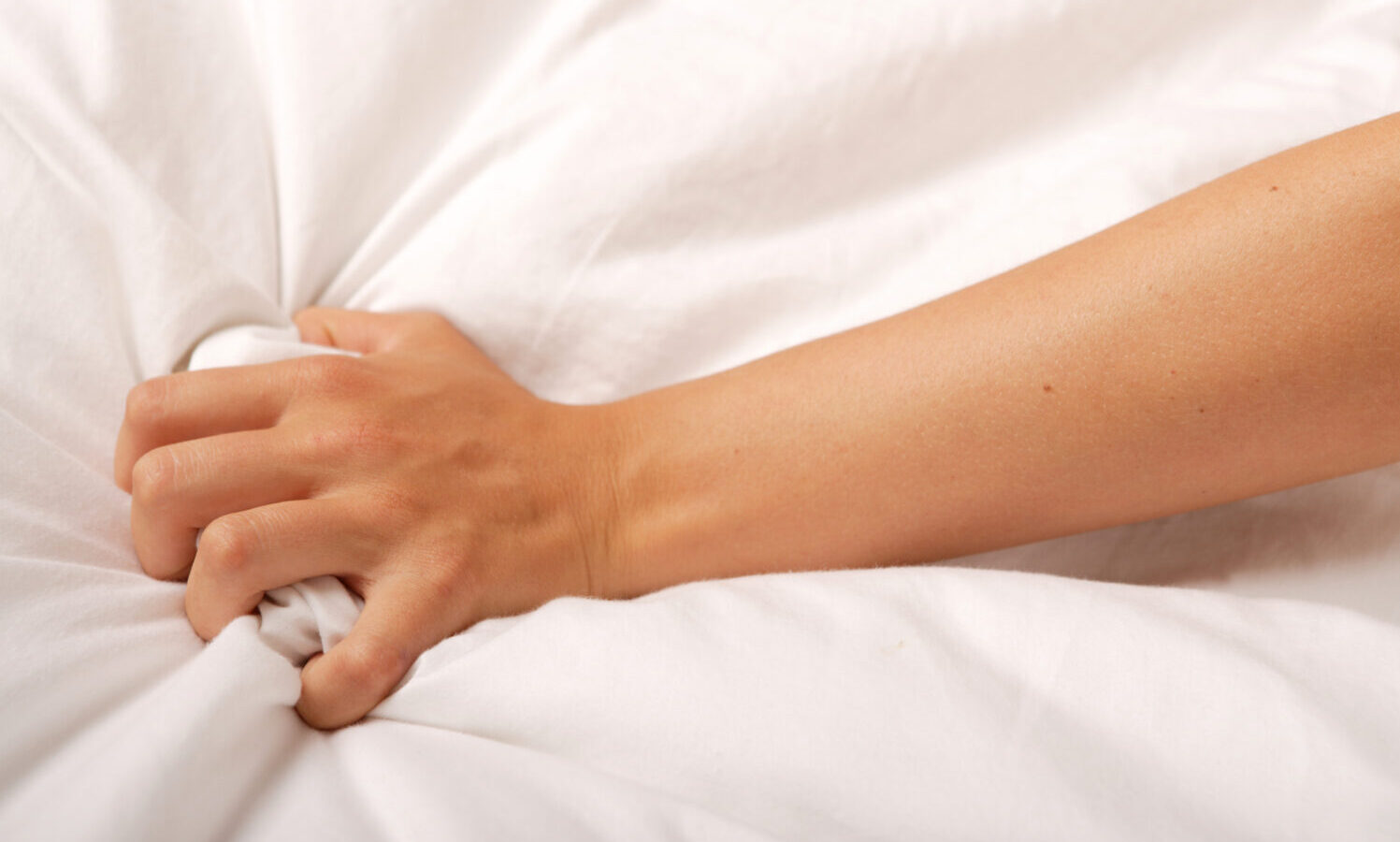 Study Details – Reduction In Anxiety And Shame 
For six months, researchers examined 185 females and 89 males between the ages of 18 to 30 who were either regular cannabis or alcohol users or non-users. The research excluded those who were using opiates or MDMA and those suffering from health conditions like depression and diabetes, as these are known to produce a negative impact on sexual performance.
"Sexual function is improved in young people who are high-risk cannabis consumers with a moderate risk of alcohol use, resulting in increased desire, arousal, and orgasm," revealed the study, which was published in late December 2021 in the journal Healthcare. "This improvement is usually associated with a reduction in anxiety and shame, which facilitates sexual relationships."
RELATED: Study: Cannabis Can Help Alleviate Insomnia In Those Suffering From Depression & Anxiety
Cannabis consumers had better scores than non-consumers when it came to both the overall sexual functioning scale and subscales of arousal and orgasm. In addition, frequent cannabis users also had better functioning and arousal scores than those who consumed weed moderately.
There was no significant difference in scores between men and women.
"Our findings indicate that young people who use cannabis frequently, regardless of gender, have better overall sexual function," according to the Spanish study.
What About Alcohol? Depends On The Amount
Surprisingly, alcohol use showed no notable differences in either overall sex function or any of the subscales examined. There were, however important differences based on levels of alcohol consumption, with heavy drinkers having higher scores on the total sexual function and arousal subscale, compared to those who did not consume booze at all.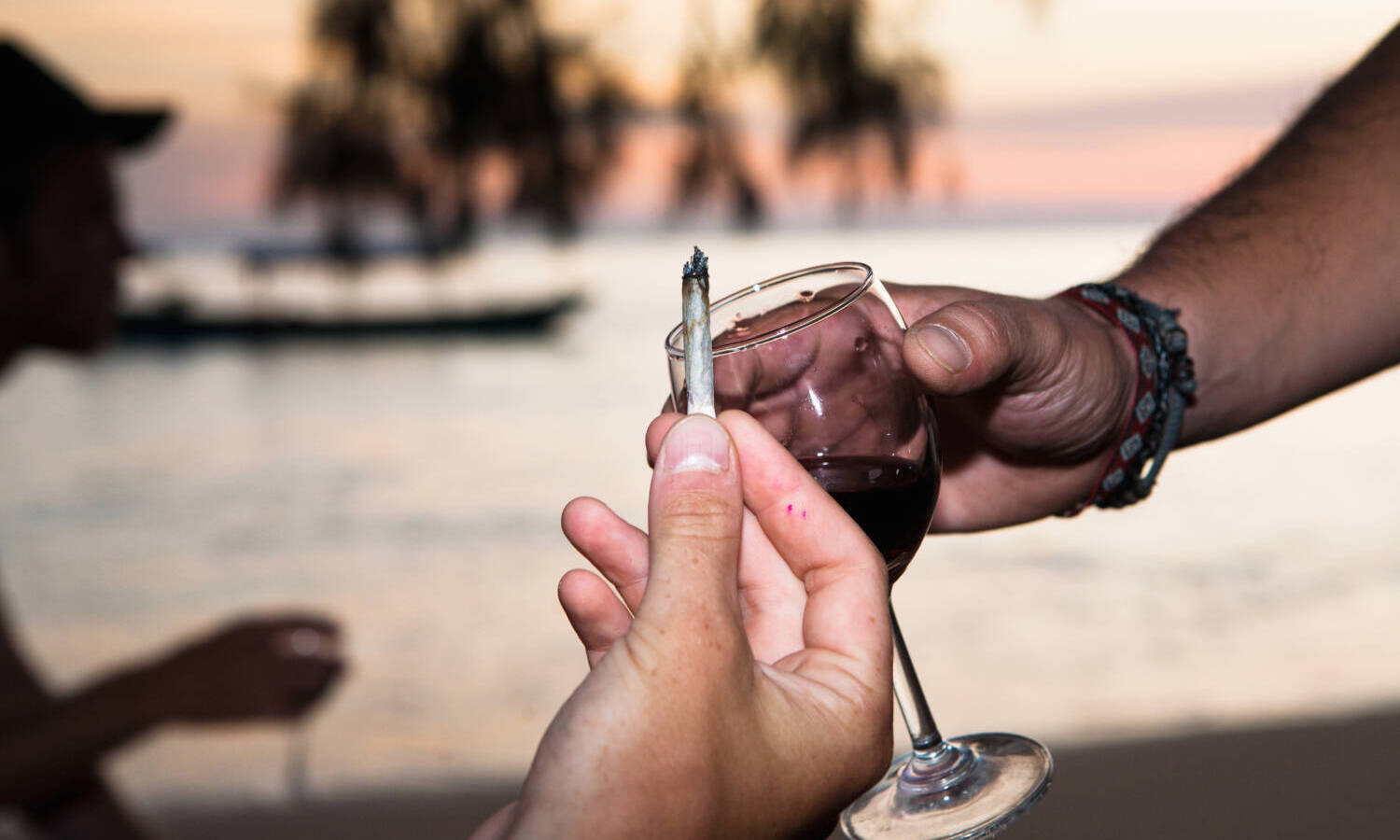 "The findings of this study revealed a higher score in sexual function, as well as arousal and orgasm, in subjects at risk of having cannabis-related problems and risk of addiction associated with alcohol consumption," noted the study.
RELATED: Most Americans Don't Think Weed Is Dangerous, But They're Split On Whether It Does This
The researchers reported that they did not focus on the detection and consequences of heavy drinking and/or marijuana use such as the tendency to engage in less safe sex due to them being under the influence of either substance.
In conclusion, considering that these and similar results are often associated with less anxiety and shame in individuals who consume marijuana or alcohol, the study suggested that future sex education methods provide strategies that help people reduce shame and anxiety without placing them at risk of developing potential marijuana and alcohol dependency.
This article originally appeared on Benzinga and has been reposted with permission.