These Doctors Want Marijuana Illegal Again, And This State Broke A Cannabis Tax Revenue Record
183
***
Thailand became the first South-East Asian country to decriminalize marijuana last month after the government removed the substance from the banned Category 5 narcotics list. This allowed Thais to grow cannabis plants at home and sell the crop legally.
Now several hundred doctors from Ramathibodi Hospital are pushing for the suspension of the newly proposed policy.
RELATED: Thailand Decriminalizes Marijuana, But Recreational Use Still Illegal
According to Bangkok Post, a total of 851 doctors, including lecturers and alumni of the faculty of medicine at Ramathibodi Hospital at Mahidol University, are seeking immediate suspension of marijuana decriminalization.
Dr. Smith Srisont, president of the Forensic Physicians Association of Thailand, posted a statement on his Facebook account.
The petitioners emphasized that cannabis has adverse effects on the bodies and brains of the young, seeking enactment of adequate measures and policies for the safe use of marijuana.
Illinois Rec Cannabis Tax Revenue Breaks Another Record In 2022
Tax reported from recreational cannabis sales in Illinois rose by 50% year-over-year to $445.3 million in the fiscal year 2022, Gov. J.B. Pritzker recently announced.
Cannabis tax disbursements to local governments totaled $146.2 million for the year, representing an increase of 77% from $146.2 million in 2021.
Meanwhile, recreational cannabis sales surged 50% year over year to $1.5 billion in 2022.
RELATED: Cannabis Sales Are Booming In Illinois
"Illinois has done more to put justice and equity at the forefront of this industry than any other state in the nation and has worked to ensure that communities hurt by the war on drugs have had the opportunity to participate," Pritzker said in a press release. "The $1.5 billion in sales of adult-use cannabis in Illinois translates into significant tax revenue with a portion of every dollar spent being reinvested in communities that have suffered for decades."
Interestingly, Illinois took in more tax dollars from cannabis receipts than alcohol in 2021. Cannabis taxes in the Prairie State exceeded liquor taxes for the first time in February 2021.
Zimbabwe OKs Hemp Use In Medicines
Zimbabwe gave the green light to the sale of hemp-based products as a part of therapy prescribed to patients.
The Medicines Control Authority of Zimbabwe is now calling on all licensed cannabis and hemp producers as well as manufacturers, importers, exporters and retail pharmacists to qualify to sell the products through an application process.
Those interested are required to submit samples of their products and undergo an inspection of their production sites.
The regulator said earlier this month that "unlicensed sellers of cannabis will be prosecuted for selling unapproved."
The applicants have already started submitting applications for approval of their hemp-based products, the regulator said.
This article originally appeared on Benzinga and has been reposted with permission.
—
Is This Guy The Most Popular Cannabis Content Creator In The World?
By Javier Hasse, Benzinga Editor
"I recently got deleted off Instagram, again. I had about 4.1 million followers. My Snapchat was number two in the country, not just for cannabis, but in general: It was Kylie Jenner, me and Cardi B. And then they deleted that also. But in terms of sheer numbers online, my watch time is roughly 70 million watch time minutes a month. So I get in a day what some of the biggest cannabis websites get in a month," explains Thomas Araujo, better known as Dope As Yola, when asked what makes him (probably) the most popular cannabis content creator in the world.
To understand how he got there, we need to go back a decade because, as they say, it takes 10 years to become an overnight celebrity.
The Real Grinder
Thomas "fell in love" with weed at a very young age, even though he recommends people wait until the legal age in their respective jurisdictions to commence their cannabis journey. He remembers first trying the herb the day before the Raiders lost the Super Bowl to the Bucks.
"My relationship with weed is a friend that never moved out," he states.
In 2012, at age 22, Thomas made his debut as Dope as Yola. He'd put out product reviews and other fun videos. "I was showing my face with weed on Instagram before anybody else, so I got a huge following." Among fan favorites were his recreations of famous movie scenes, but with cannabis buds.
Around that time, he met John Castaldi, a guy who traveled with him, joined him at cannabis cups, and would ultimately become his business partner. John was already a fan of Thomas' "Story Time" segment, which would go on to become one of the most popular "story time" segments in the internet, often garnering more than 1 million views each on YouTube alone.

"When I look back I realize the amount of stupid things I've done. And I think people can relate to it," he voices. "Right now I have the biggest cannabis audience in the world and it's taken 10 years, but it's an organic following. Every single person there follows because they feel identified… My fans are more than fans: We're like friends who haven't met yet."
Nowadays, Thomas does live streams, videos, podcasts and much more. He also started a brand of his own quite recently, The Dopest Shop.
Despite his busy schedule, he still smokes "a ton" of weed daily – albeit about half of what he used to smoke. "People always ask, 'Why do you smoke so much?' And I answer, 'For all the time I didn't have enough weed.' However, my relationship with weed is more mature nowadays, because I have too much to do, I'm too busy to be frivolous. During the day I just smoke a bit and do work; it's more like drinking water or coffee."
Contrary to popular belief, Thomas doesn't think cannabis makes you lazy at all. And he feels he's living proof of this.
In his view, it's people who are or aren't lazy. Weed will not make you lazy, but I can emphasize that trait, if it's already part of your personality: "Weed can be used as an excuse, but I will do nothing to you, it won't make you lazy… It's a stereotype I think people like to fall back on so they can have an excuse on why their life isn't going as well as it should be going… It's not about smoking, but about caring and having a purpose. Weed is just there to be a friend and just chill. That's how I see it."
The Dopest Shop
The Dopest Shop was born from a desire to make safe cannabis products available across all 50 states in the U.S. Thomas and John partnered with Claudio Hand and started selling HHC products – disposable vapes, vape cartridges, edibles, concentrates and pre-rolls.
"HHC is a naturally occurring cannabinoid found in cannabis that provides extremely similar effects as THC," Claudio explains. However, unlike THC, HHC is federally permitted, as it is derived from hemp, which was legalized by the passing of the 2018 United States Farm Bill. The brand has filled a long-time unattended niche in states and rural areas where THC is illegal."
"A lot of people in states where weed isn't legal were saying 'I wish I could smoke what you smoke.' HHC allowed us to do this legally," Thomas adds.
For the YouTube star, the partnership is like a match made in heaven. "All of us play a perfect part and it links like a well-oiled machine. John makes what I think is the best hash in the world under a company called Hash House. Claudio is so organized and professional, plus he knows the CBD business inside out. And I'm over here with the content."
Authenticity was key for this project to work and take off within just a month of its launch. "Thomas has a huge, cult following, he never sells anything, he's so careful with everything. Before this, he was strictly making money off of his clothing," John says. "And I knew he could sell massive amounts of weed. But he would never do anything illegal. So we came up with this idea of HHC."
"What I didn't expect is to go this big this fast," he continues. "Thomas' people are great supporters, man. And as long as we get out the good stuff, they're going to keep coming despite the marketing limitations we might face."
Thomas confirms this. "I got paid for my first anything for weed content in 2019. So from 2012 to 2019, I was just poor and struggling. And I think it made it better; my fans really saw that I really was not getting paid. I'm making this content for free, I'm putting in 60 hours a week because I love it so much. And I think that's what elevated us to where we are. And then the cult following of people going, 'I know your whole story from start to finish. I can watch it online.'"
According to Claudio, The Dopest Shop was getting between 7,000 to 13,000 daily sessions on Shopify four months into the business. And the number would go as high as 30,000 sessions per day when a new drop was announced. While not all of these sessions convert into sales, Claudio assures the brand's conversion rate is among the top 1% on the famed online retail platform.
The Seal Of Approval
Another important aspect for Thomas and his partners is quality. "I wanted to make everybody feel included on things that I approve of. For the past eight years, I have been doing extensively detailed product reviews for all the brands in the world, doing everything you can think of. And now it's for us, so I critique it even harder. I want people to feel exactly how I feel when I'm doing a video about the product," he says.
Dope as Yola – Barry Hackett
In fact, whenever Thomas doesn't fully love one of The Dopest Shop's new products, he has it fully remade.
This was also one of the main reasons why they created HHC products, versus the more popular Delta-8-THC, another hemp-derived cannabinoid that has become insanely popular in the last year or two. They simply don't like the feeling, the high, that Delta-8-THC products give you. And consumers seem to concur.
Thomas explicates, "When I got everything from Claudio, he gave us an extensive and overly detailed list of what was in each product, each terpene. Me and John are snobs, so we went through them one by one and picked only the ones we loved. When I tried this, and I've done 5000 milligrams of THC videos and been obliterated for two days… I ate 1400 milligrams of our Dopest edibles and I was so high I couldn't process it. When I asked Claudio how he had gotten me so high, he told me it was a proprietary blend, HHC, CBD and CBN. The reason you feel the effect is because they're blended perfectly. So when I smoke this, it's shocking to me. It's this unexpected punch in the face; you do not expect to feel like that."
For Claudio and John, the creative process is all about overwhelming Thomas. "Thomas has been reviewing top-of-the-line cannabis products for a very, very long time. So, when we give him things and he's like, 'Wow, this is amazing,' it makes us feel really good," John assures.
Some Good Old Reefer
Going back to lighter topics, Thomas reminisces about the best joint he ever smoked.
It was in Denver, Colorado. During a cannabis cup, a fan of his who'd driven all the way from San Francisco, California, just to meet him, shared a joint packed with one pound of pot. It took 32 hours to smoke it, but they did it.
"We walked downtown Denver smoking this thing and it was obnoxious, truly obnoxious," he says. "I think it was the wildest thing I ever did, but the most memorable one too."
Also quite unforgettable was the experience of smoking a 40-gram joint on camera. "I smoked all of it without moving, I didn't get up, no water breaks. I just smoked it down for two-and-a-half hours. And it was the most memorable thing because that is what started my YouTube. That's what had people going, 'I've never seen anybody do this in my life.' I was coughing up tar for weeks. But I still have that roach, I'm going to frame it in a shadow box."
Without hesitation, Yola moves on to the next question: If you could share a joint with anyone, dead or alive, who would that be?
Before the question is even fully worded, he responds: Adam Sandler and Chris Farley, two of his favorite funny guys.
Thomas already got a chance to smoke with another one of his idols, Tommy Chong.
"I've had a lot of celebrities in the podcast smoking joints. My first big break was with Tommy Chong. I rolled a joint for Tommy Chong to smoke in 2015, and I think that was the most memorable one, just sitting there unable to believe this was were weed had brought me."
– If you can stand in front of Congress and testify, explain why you think we should be legal in America, what would you say?
– I think they kick me out because it be so blunt. But it always comes down to, I never got in a fight with somebody who was smoking a joint. I've never seen a pot fight, but I've seen bar fights. I've seen people get killed and shot, drunk. I've never once met anybody smoke a bowl and go, "let's box."
I think if everybody smoked a joint and forgot about religious beliefs and political beliefs and laws, I think a lot of people would change their perspective on life. And they [lawmakers] are not going to try to hear that, that's why I would be escorted out of the building.
Looking Ahead
In the coming months, Thomas and his team will be doing a national tour to present the brand and expand it even further, reach new consumers and find the right partners.
"We want to try to include everyone, but on a more personal level. So the more we can connect the fans with Thomas and then to bring more people on to like the whole fan bases is the goal is."
The Dopest Shop will also be launching a subscription service soon. This is a big bet for them. Fans love it, they assure.
"I've worked with all the largest subscription boxes providers in America and I know, just from our retail and our numbers, that the second we step into that space, it's going to be a whole other conversation. This is just the start," Thomas concludes. "The Dopest Shop is a community and it's super engaged. They inform our decisions."
Lee todo sobre Dope as Yola en Español en ElPlanteo.com
This article was originally published on Forbes and appears here with permission from Benzinga.
Here's When New York Will Start Accepting Dispensary Applications
Marijuana regulators in New York announced Thursday that they would accept dispensary applications starting August 25. These applications will be reserved for people and families that have been directly impacted by the war on drugs.
The announcement was made through the NYS Office of Cannabis Management's social media platforms.
RELATED: New York Cannabis Sales Should Start Soon — Here's What You Should Know
Did you hear? Cannabis in NY is here and in just 2 weeks, you will have the chance to apply for your own cannabis adult-use retail dispensary license, CAURD.

Learn about our higher standards for equity and get helpful resources to apply at https://t.co/865xuy7Uuz. pic.twitter.com/lGIzjaKf4H

— NYS Office of Cannabis Management (@nys_cannabis) August 11, 2022
The office clarifies what it means to have been impacted by the war on drugs, claiming that applicants must be "justice-involved," meaning anyone that has been arrested or convicted for a marijuana offense. This initiative is called the Seeding Opportunity Initiative, with New York being the first state to implement it.
"We're writing a new playbook for what an equitable launch of a cannabis industry looks like, and hope future states follow our lead," said Cannabis Control Board (CCB) Chair Tremaine Wright in a press release.
The application portal will remain open until September 26th, a short period of time, with authorities suggesting that interested parties start compiling their documents as soon as possible. People involved with the design of the portal and the new rulings in place claim the application process is designed to be as smooth and straightforward as possible, requiring no outside help.
New York is currently in a confusing moment when it comes to cannabis. While the drug is legal to consume, carry and gift for anyone over the age of 21, the sale of it remains illegal. All through the year, dozens of cannabis shops have appeared and the marijuana market has boomed, leaving many who wish to be involved in the business confused and like they've already missed their opening. To mitigate this, the government has sent out dozens of cease and desist letters.
RELATED: New York Senate Just Approved This Critical Marijuana Bill
"Sale of untested products put lives at risk," said Wright when addressing these sales. "I implore these illegal store operators, and any other stores pretending to be legal operations, to stop selling cannabis products immediately."
The businesses that received these notices were issued a warning, with no threats of arrests or any police involvement.
Underage And Shopping For Weed? Good Luck Scoring In This State
Now that marijuana is legal in a variety of places, a lot of people are concerned about teens and access. And while this positive mentality surrounding the drug might push young people to try it out or to fear it less, legal retailers, at least those in Colorado, are doing everything in their power to prevent this from happening.
On Tuesday, Colorado regulators shared there's a 98% rate of compliance with requiring people to show IDs before entering cannabis retailers. The report shows that 190 compliance checks have been done so far this year, with only four instances failing to ask for IDs.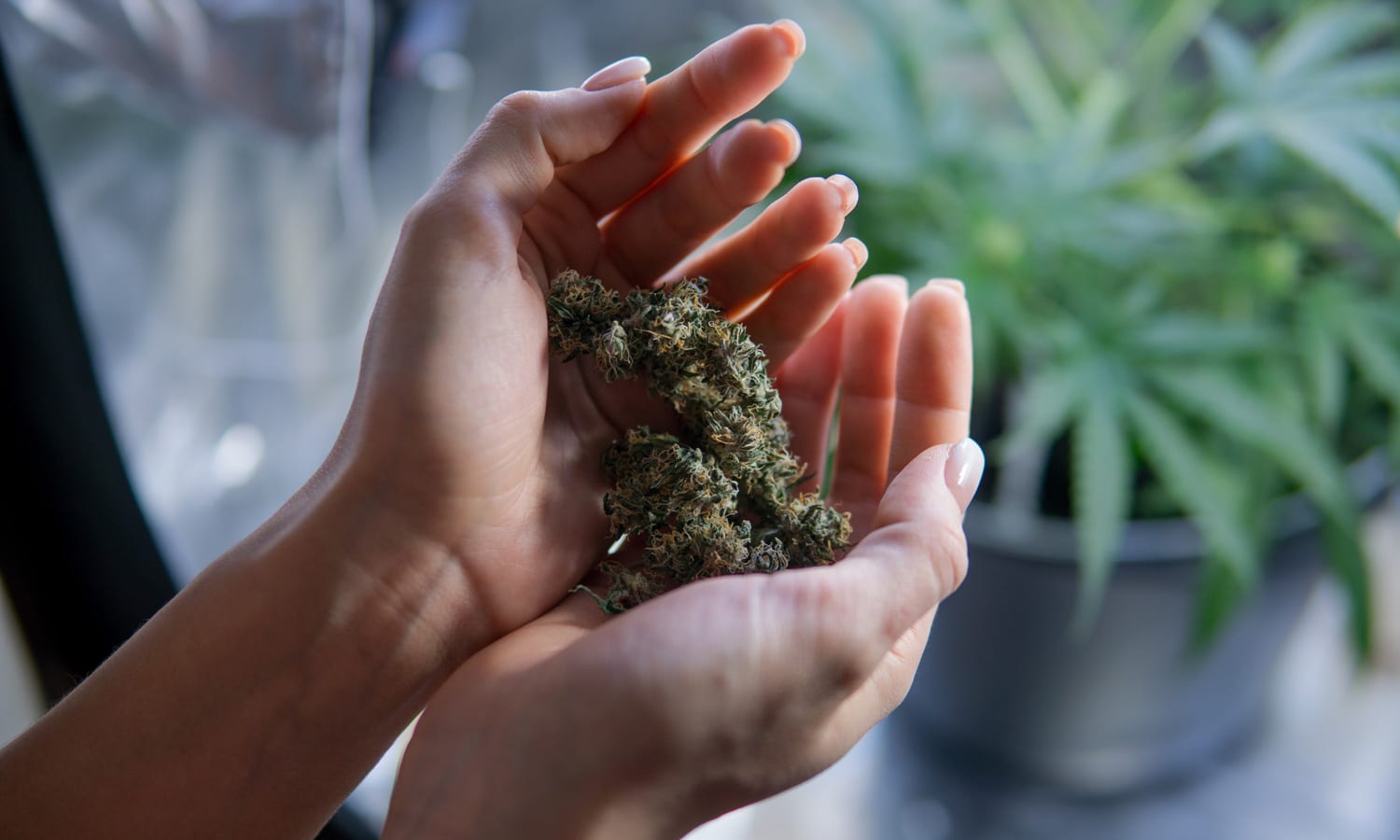 Colorado state laws make it clear that non-compliance with this law can quickly lead to a lot of trouble for these businesses, with employees caught putting their cannabis licenses at risk and facing up to a $100,000 fine.
"Unauthorized sale of Regulated Marijuana to an individual under the age of 21 is considered a license violation affecting public safety," said the Colorado Marijuana Enforcement Division (MED). "Businesses must remain vigilant in establishing internal measures to prevent underage access, and as the MED continues to monitor licensee compliance, it will evaluate business practices licensees have adopted to prevent unauthorized/underage sales."
RELATED: There Have Been Fewer Cases Of Synthetic Cannabis Poisoning In These States
Colorado asks its cannabis retailers to vet everyone that comes into the shop and actively look for people who are perusing the store and look like they're younger than 21, verifying their age with an ID check. Retailers have the power to turn people away if they think their ID is fake.
RELATED: Missouri's Marijuana Legalization Measure Officially Approved For November Ballot
While surprising in its cohesiveness, the data shared by Colorado has been backed by other studies that make it clear that legalizing cannabis doesn't increase underage drug use.
"Legalized cannabis retail sales might be followed by the increased occurrence of cannabis onsets for older adults, but not for underage persons who cannot buy cannabis products in a retail outlet," wrote the authors of a study on legalization and underage cannabis consumption published this year.