What Is A Jamaican Steam Chalice? And Should You Try Smoking Weed Out Of One?
Although smoking marijuana is widespread throughout the world, Jamaica has one of the most profoundly rooted cannabis cultures. The Rastafari, a 20th-century movement that reveres marijuana as a sacred plant, originated in Jamaica. They believe that smoking marijuana fosters calm, love, and depths of reflection and medication that can serve as a gateway to the divine.
Suppose you're looking for more conventional ways to enjoy cannabis, or you're tired of your regular routine. In that case, you should try burning with a Jamaican steam chalice. These organic devices are said to be the first and original vaporizers. The steam chalice, which originated with the Rastafari faith in Jamaica, vaporizes weed using bamboo sticks, coconuts, and hot coals instead of electricity.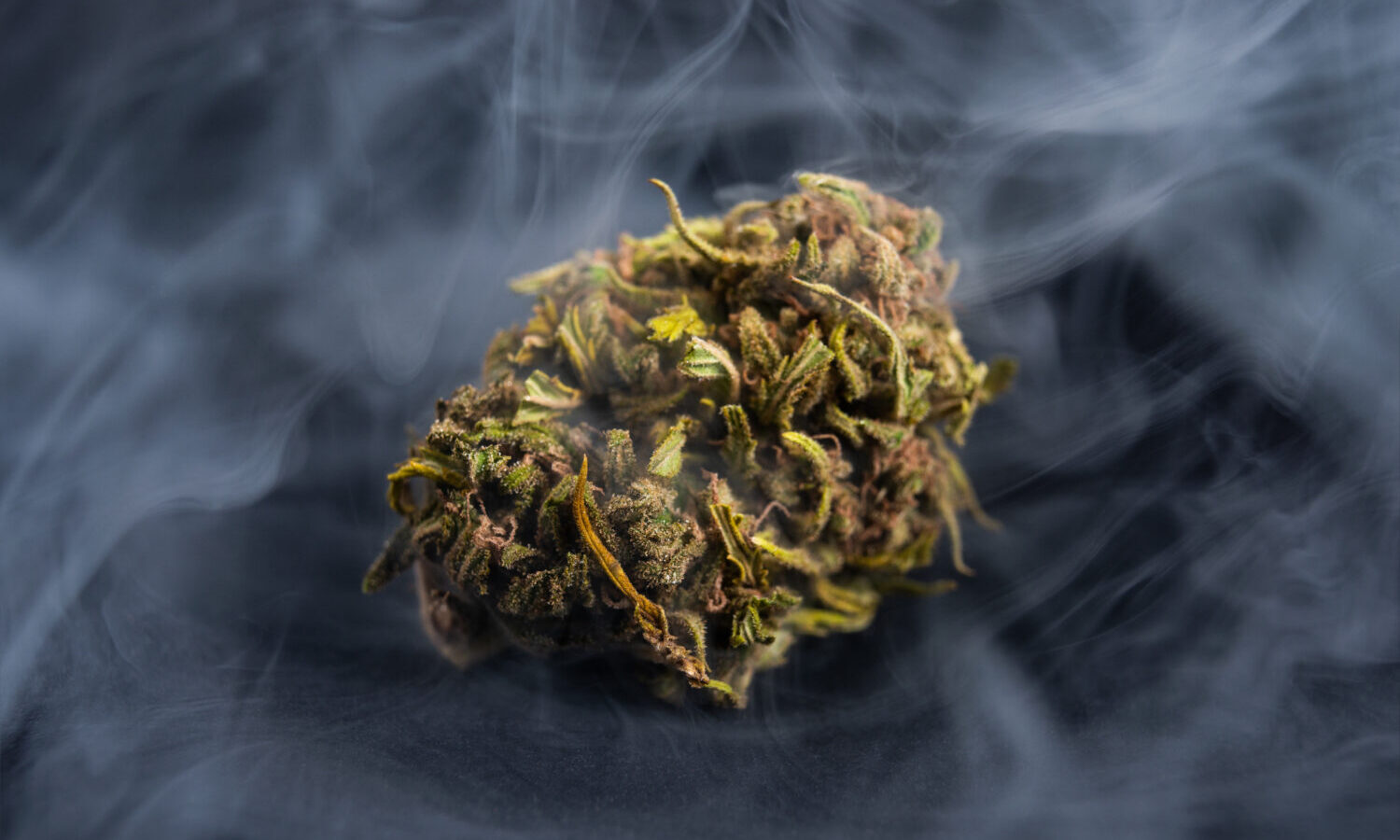 The steam chalice may be used by contemporary non-Rastafaris for various reasons. There are several methods to consume weed, but burning plant material harms the lungs. Hence, many cannabis consumers are switching to alternative forms of use, such as edibles, drinks, and—increasingly—vaporizers.
Why not choose the Jamaican steam chalice, which has the most heritage and personality, if you're going to smoke a vape? It's a one-of-a-kind, highly potent, spiritually charged way of consuming weed.
What Is a Steam Chalice?
The Jamaican steam chalice is a traditional method of inhaling cannabis, although it is distinct from other conventional methods. Why? Because it does not burn the flower but rather "steams" it. The steam chalice could be considered the earliest vaporizer. This method of inhaling weed, similar to modern vapes, frees up terpenes and cannabinoids without generating as many potentially toxic byproducts as combustion.
Surprisingly, the steam chalice combines all significant elements: fire, air, water, and earth. Looking at the components, steam chalices are made up of four essential parts:
Coconut: The steam chalice's main component is a coconut. It is comparable to the bong's chamber. Its water content aids in filtering the vapour that is produced from the bowl to produce smoother hits. When holding and smoking a steam chalice, the coconut acts as the "handle."
Cutchie: A cutchie is a clay pipe that resembles a sizable bong bowl. This part of the steam chalice supports the flower over the downstem. It keeps it out of the heated temperatures when THC and other phytonutrients are released from the charcoal.
Bamboo tubes: The downstem and the mouthpiece of a steam chalice are made of two bamboo tubes. In contrast to typical bongs, this one has a downstem and bowl positioned precisely above the chamber and a mouthpiece extending from the coconut's side.
Gritty: This essential clay grate rests above the flower and has many tiny holes. It limits direct contact and burning of the plant material while acting as a base for the burning of charcoal.
Now that you're acquainted with steam chalices and their components, it's time to learn how to handle one.
How to Use a Steam Chalice
Mastering the steam chalice can take a few tries, especially if you're a dedicated joint smoker. Even if you're used to working with massive and complex glass bongs, a Jamaican steam chalice will undoubtedly feel strange in your hands at first.
We've included some simple instructions below to help you get started with this vintage piece of equipment. Follow them carefully for an easy introduction to this innovative cannabis use.
RELATED: What Is A Chillum?
Fill the coconut with water first before doing anything else. The mouthpiece can be pulled from the coconut's side to accomplish this. After that, add water below the orifice before reinstalling the bamboo mouthpiece. Take a bare tear. The sound that comes out should closely resemble the bong's bubbling. If you don't hear that distinctive sound, the water content of the coconut is either too high or too low.
The cutchie needs to be filled with herbs next. However, traditional cutchies link to the downstem through significantly larger holes in the bottom. So, to prevent flowers from falling into the chalice, many chalice users put in the part or whole torn buds. If you'd instead grind your bud, cover the hole with a large enough sheet of metal gauze before adding the flower.
Put the gritty in the cutchie after it has been filled. Depending on your type, some cutchies have a lip where you can insert the gritty to keep it from touching the herb below.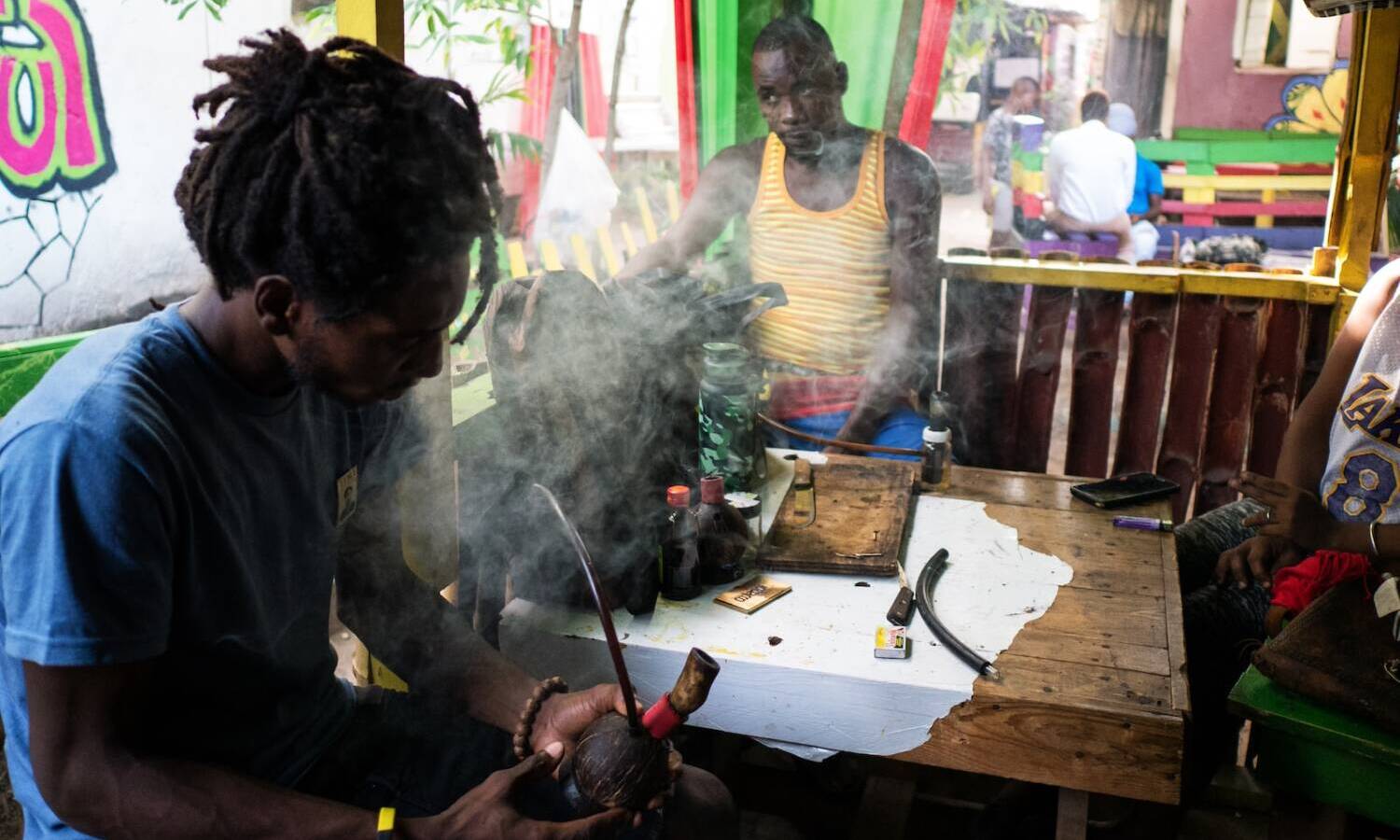 At this stage, things become even more unusual. You're undoubtedly used to flicking the lighter or vape button before inhaling. You'll find yourself grabbing into a bag of coal instead when using a cannabis chalice. Fill the top chamber of the cutchie with adequate charcoal. Then, use a blowtorch lighter to light the pieces. You're ready to go when the charcoal chunks are steadily burning.
RELATED: Kratom Vs. Cannabis: What You Should Know
Now comes the exciting part. In the same way, you would hit a pipe or bong, place your finger over the coconut's shotgun hole and hit the steam chalice. To clear the coconut, let go of your finger at the end of every hit. You'll feel a clean, terpene-rich, and slightly vegetal flavor; keep in mind you're vaping weed, not burning it.
You'll need to wash your cutchie at the end of the operation. Remove the hot charcoal pieces with care and empty the steamed cannabis. Pour the water from the coconut and save your marijuana chalice for later use. Use a couple of pipe cleaners to clean the inside of the bamboo sticks every now and then.
Conclusion
Thinking of owning a Jamaican steam chalice? An expertly designed smoking chalice will be easy to buy online. However, if you're thinking of executing a do-it-yourself project, you'll get a pretty good understanding of how to build one from scratch by watching a YouTube video or two.
This article originally appeared on Cannabis.net and has been reposted with permission.
Men Or Women? Who Benefits More From Using Weed Before Sex?
A new study adds more evidence of marijuana's positive impact on sex. Results show that cannabis increases the odds of orgasms and makes people more likely to experience pleasure. Most importantly, the study claims that the plant could be impactful for women, helping treat sexual dysfunctions and reducing the orgasm inequality gap.
The study, published in the Journal of Cannabis Research and conducted by researchers from East Carolina University, focused on survey responses from 811 adults between the ages of 18 and 85. The majority of them identified as female and all had previous experience with cannabis.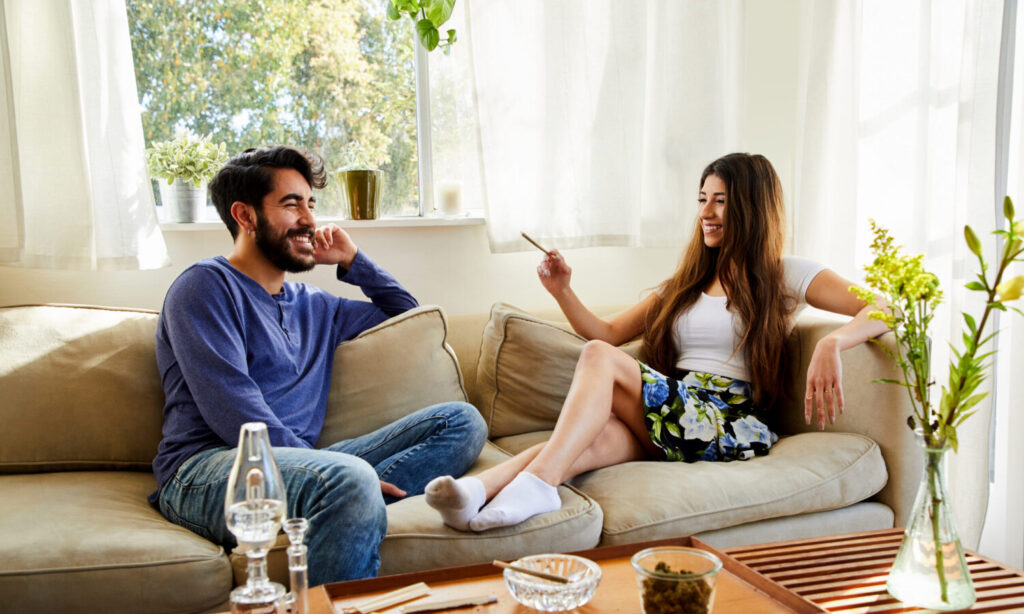 "The purpose of this study was to examine the perceived influence of cannabis on sexual functioning and satisfaction," researchers wrote.
Responses show that most participants, regardless of age and gender, reported experiencing more pleasure and satisfaction when having sex after consuming cannabis.
RELATED: Why Cannabis Users Have Better Orgasms & Overall Sexual Function, According To Study
A closer look at the results show that 70% of respondents said that using cannabis before sex made them more likely to experience an orgasm while also increasing their desire. 62% said the drug increased pleasure while masturbating.
One of the strengths of the study is the fact that it used subjects of various backgrounds. For example, researchers made sure that their subjects were involved in multiple work industries, had varying cannabis preferences, ages and sexual orientations (almost 25% of the participants were identified as LGBTQIA+). After accounting for factors that could have altered their results, they concluded that the sex life of both men and women benefitted from the addition of marijuana.
"This study updates the current literature on cannabis and sexuality and provides implications for improving sexual quality," researchers wrote. "Medical implications of this study include the possible use of cannabis for treating sexual dysfunctions, especially within women."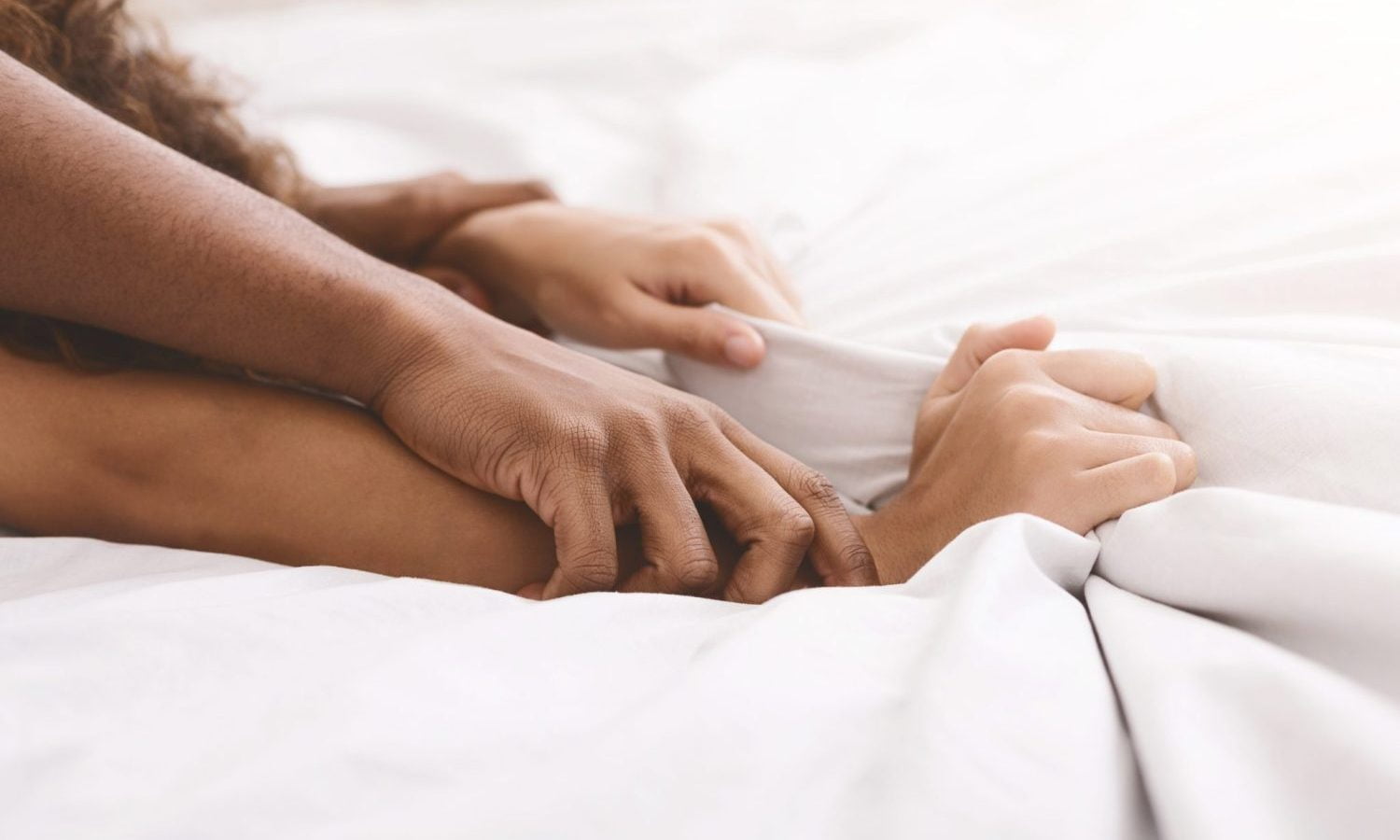 RELATED: How Cannabis Can Improve Your Sex Life
In the case of women, the study suggested marijuana could help them treat various medical dysfunctions while helping close the orgasm inequality gap, a phenomenon that refers to the disparity between heterosexual men and women when it comes to orgasms.
"Women may be more likely to orgasm when using cannabis before sexual encounters, which could contribute to equity in the amount of sexual pleasure and satisfaction experienced by both women and men. Sex therapists could incorporate use of cannabis in states where it is currently legal," argued the researchers.
More Weed, More Problems? – Cannabis | Weed | Marijuana
More weed, more problems? As in, if you smoke all day, everyday, your life is likely a hot mess with no hope of redemption? According to recent research from CU Boulder, the answer to "more weed, more problems" is no.
According to researchers, legalizing recreational cannabis at the state level does not lead to an increase in substance use disorders. Or even increased use of illicit drugs among adults. In fact, it may even decrease issues related to alcohol abuse.
A study involving over 4,000 twins from Colorado and Minnesota found no correlation between cannabis legalization and any increases in cognitive, psychological, social, relationship, or financial problems.
"We really didn't find any support for a lot of the harms people worry about with legalization," said lead author Stephanie Zellers. "From a public health perspective, these results are reassuring."
The study, published in Psychological Medicine, was conducted by researchers from the University of Minnesota, CU Boulder and the CU Anschutz Medical Campus. The study used data from two of the nation's most extensive and longest-running twin studies: one located at IBG and the other at the Minnesota Center for Twin Family Research.
What Are Twin Studies? 
Can twin studies prove that more weed doesn't equal more problems? Well, what are twin studies?
Twin studies are research designs that compare identical (monozygotic) and fraternal (dizygotic) twins. The idea is that identical twins share all their genes, while fraternal twins share only about half of their genes.
So any differences between the two types of twins can help researchers identify which traits or conditions are likely influenced by genetics and which are likely influenced by environment. Researchers can use twin studies to study a wide range of topics, including genetics, development, and health.
IBG stands for Institute of Behavioral Genetics, a research center at the University of Colorado Boulder. The Minnesota Center for Twin Family Research located at the University of Minnesota.
Both centers conduct twin studies and have been collecting data over the years. And both centers are among the nation's most prominent and longest-running twin studies. They provide researchers with a wealth of data on genetic and environmental factors related to human behaviour and development.
The Problem with Twin Studies
Of course, Twin studies are not without their critics.
Assumption of equal environments: Twin studies sometimes assume that identical and fraternal twins are raised in similar environments, but this may not always be the case. For example, identical twins may be treated more similarly than fraternal twins, which could affect the results.
Limited generalizability: Researchers often conduct twin studies on small, specific samples, such as twins from a particular country or region. This limits the generalizability of the findings to other populations.
Missing heritability: Twin studies estimate the proportion of variation in a trait or condition due to genetics. But they do not account for all the genetic variation that may influence the trait or condition.
Complexity of human behaviour: Many complex human behaviours and conditions, such as mental disorders or intelligence, likely result from multiple genes and environmental factors. Twin studies may not fully capture these interactions.
Selection bias: Twins who volunteer for studies might differ from twins who do not volunteer, which can bias the results.
Twin Studies Disprove More Weed, More Problems? 
The researchers of this "more weed, more problems" study compared the 40% of twins who reside in states where recreational cannabis is legal to those who live in states where it remains illegal to understand the overall impact of legalization.
Researchers have been tracking the participants, who are now between the ages of 24 and 49, since their adolescence. They've been gathering information on their use of alcohol, tobacco, cannabis and several other illicit drugs, as well as assessing their overall well-being.
By specifically comparing twins within 240 pairs, in which one twin lives in a state with legal cannabis and the other where it is not, the researchers aimed to identify any changes caused by cannabis legalization.
The researchers previously found that identical twins residing in states where recreational cannabis is legal tend to use it around 20% more often than their twins living in states where it remains illegal.
So does that mean more weed, more problems?
To answer this question, the team compared survey results that examined 23 indicators of "psychosocial distress." Including the use of alcohol and illicit drugs like cocaine and heroin, psychological distress, financial difficulties, cognitive issues, unemployment, and relationship issues both at home and at work.
"We included everything we had data on with the goal of getting a well-rounded look at the impacts on the whole person," said Zellers. "Big picture, there's not much there."
No, More Weed Does Not Equal More Problems
So is "more weed, more problems" debunked?
Researchers found no relationship between legal cannabis and an increased risk of "cannabis use disorder" or dependency.
For years, critics have called cannabis a "gateway" drug to harder substances like cocaine and heroin. The researchers found no changes post-legalization.
"For low-level cannabis use, which was the majority of users, in adults, legalization does not appear to increase the risk of substance use disorders," said co-author Dr. Christian Hopfer.
Not only does this study question the "more weed, more problems" narrative, but it also shows legal cannabis' benefit. People in legal states are less likely to develop alcohol dependency problems, including driving drunk.
"Our study suggests that we should not be overly concerned about everyday adult use in a legalized environment. But no drug is risk-free," said John Hewitt, professor of psychology and neuroscience at CU Boulder.
While the study found no adverse effects on the daily lives of cannabis-consuming adults, the study also found no evidence that legal cannabis benefited people's cognitive, psychological, social, relationship, or financial status.
Overall, the study seems to suggest the same thing we have before. Substances are neutral. It is the person who can choose to use or abuse them. But the drugs themselves have no innate power of control.
Health Canada: Let's Ban Potent Cannabis Extracts  – Cannabis | Weed | Marijuana
Despite a healthcare system already on the verge of collapse pre-COVID, Health Canada bureaucrats have focused on cannabis companies selling extracts.
Health Canada recently requested federally licensed cannabis companies to discontinue the sale of cannabis products the bureaucracy considers mislabeled. Health Canada is concerned adults are consuming products labelled "extracts" as "edibles."
The move is expected to cost cannabis companies millions of dollars. And it comes at a time when most publicly traded cannabis producers are still losing money.
Why target products that have been on the market for three years? Health Canada has not responded to any media on the topic, including Cannabis Life Network's request for clarification.
While Health Canada's targeting of cannabis extracts surprises many, others, like CLN, have been expecting this move for a while.
In the letter seen by MJBizDaily, Health Canada said that "upon further review of the products in question, Health Canada has assessed that this product is edible cannabis and, consequently, it contains a quantity of THC that exceeds the allowable limit of 10 mg per immediate container."
The letter goes on to define "extract," "edible," and "food."
"Health Canada has determined that (the products in question) are consumed in the same manner as food, and therefore fit the definition of edible cannabis," the Health Canada letter says.
Cannabis extracts cannot exceed 1,000 milligrams per container, one hundred times more than Health Canada permits in the edible class. Ergo, companies would instead produce extracts than edibles.
However, the line has gotten blurred, and this is likely what concerns the bureaucracy's busybodies. For example, New Brunswick-based cannabis producer Organigram has a "Jolts" product advertised as a lozenge. While each candy is 10mg, the entire pack of 100mg.
Likewise, Redecan has a cannabis extract containing 800 to 1000mg of THC per bottle. However, the oral dispensing syringe caps each "dose" at 8-10mg. 
Are these the products Health Canada wants discontinued?
Health Canada On Extracts: Useless
Why Health Canada? And why now? Why at all?
Industry sources expect to lose tens of millions if Health Canada demands extracts and lozenges get pulled from the Canadian cannabis market. They also expect the illicit and legacy markets to fill the void.
Regardless of what you think about public health and safety or an individual's freedom to consume as much THC as they want, there's significant concern about how Health Canada is going about this.
This kind of regulatory enforcement is akin to banana republics. Health Canada has already approved these products. Organigram's "Jolts" have been on the market for over a year.
Producers of these extracts followed all the rules and regulations. And now Health Canada will arbitrarily limit (or ban) these products because… what? Canadian consumers prefer potent extracts over weak-ass edibles?
The lesson here is to remove all THC limits, not bring the hammer down on companies producing legal products. This is not how you regulate an industry.
Infantilizing Adults
While Health Canada hasn't responded to a request for comment, I suspect the justification will likely be over "public health" and "increased hospitalizations from high-THC products."
Another way of saying: we're so bad at delivering health care that instead of improving it, we're going to start controlling the behaviours that may lead people to need a hospital bed.
That's the most insulting part of all of this. Health Canada treats adult cannabis consumers like children by limiting their autonomy and decision-making.
Actions speak louder than words. Health Canada bureaucrats (who live off our taxes) lack trust in cannabis-consuming adults to make their own choices and take responsibility for their actions.
When regulations are not based on evidence or are not well-reasoned, they are an infringement on personal liberty and autonomy.
Even with "conventional thinking," in which government regulations are effective and immune to corruption and politics, it's essential that regulators balance the need to protect public health and safety with the need to respect adults' autonomy and decision-making abilities.
Health Canada's crackdown on cannabis extracts clearly violates that balance. 
This situation would be like if Health Canada discovered that vodka and whiskey were stronger than beer. And so they order distilleries across the nation to arbitrarily limit their alcohol content and take the products off the shelves.
Health Canada has no business regulating cannabis. 
Footnote(s)