Why Cannabis Users Prefer Black Market Over Legal Marijuana In Uruguay
Legalizing marijuana is a slow, tedious process, with no clear recipe for success. A perfect example of this is Uruguay, the first country in the world to legalize marijuana. While legal marijuana was established in 2013, the country still has a thriving black market that has adapted and survived legalization.
Per a study conducted by a local institute that regulates cannabis, only 27% of Uruguayan consumers buy their drugs legally.
Montevideo (AFP) has quotes from several cultivators and marijuana users based in Uruguay, who explained that, despite legalization, government-regulated marijuana still has many issues that the majority of consumers would rather avoid.
There are three legal routes for consumers to purchase marijuana: at pharmacies, through home growing for personal use, and by belonging to a cannabis-producing club. While the latter method is the one that's most appealing to people, offering more variety, these clubs have long wait lines and are limited by how many members they can have.
Buyers of Uruguay's black market explain that the country's marijuana products are limited and it's easier to acquire what you want from the black market, even if the legal route results in cheaper products. Purchasing legal products require people to make appointments. Via the black market, buyers can simply contact their dealer and purchase what they want.
The legalization of marijuana has resulted in different factors. It has dealt a blow to drug trafficking, drastically reducing it, and has eliminated the danger associated with the black market. "I don't see it as the black market," said a 28-year-old black market buyer. "It has good prices for what is sold and you don't feel like you're making use of drug trafficking."
RELATED: The #1 Reason People Are Still Buying Black Market Weed, According To New Survey
She explains that there's always "a friend or an acquaintance who passes you a contact from someone who has flowers and sells them."
Another contributing factor is the fact that the legal marijuana that's available in pharmacies across Uruguay is limited to 10% THC. Most seasoned users want stronger products or are seeking other strains that are not offered legally.
RELATED: The (Possibly) Best and Worst Countries To Get Caught With Pot
To battle this, the Uruguayan has discussed increasing the THC limits in their pharmacies and providing users with a larger variety of products. Still, marijuana is in a complicated position right now. While it was introduced by a leftist government when José Mujica was president, Uruguay now has a center-right president whose administration isn't pushing for the drug's advancement.
"I don't believe in the state growing and selling marijuana," president Luis Lacalle Pou told BCC. "I believe in people, cannabis clubs, or whatever we have, that they produce their own marijuana and they can have their own circles of marijuana use."
Looks Like New York Marijuana Dispensaries Will Open Soon — Here's Why Some Industry Owners Aren't Stoked
New York State is edging closer and closer to a functioning cannabis legal market. According to new intel, dispensary applications may be approved within two weeks, fulfilling the organization's wish to have dispensaries operating by the end of the year.
Axel Bernabe, the chief of staff for the Office of Cannabis Management, says his agency has scored applications and will recommend approval for applicants who represent the "top of the class." 2/2

— Ashley $Southall (@AshleyAtTimes) November 3, 2022
The news was shared on Twitter by Ashley Southall, a reporter for The New York Times. While nothing has been confirmed as of yet, responsible parties believe New York will soon be moving forward with cannabis.
"New York's cannabis regulators may approve the state's first licenses to operate adult-use cannabis dispensaries on Nov. 21, when the state control board meets," reads Southall's tweet, followed by, "Axel Bernabe, the chief of staff for the Office of Cannabis Management, says his agency has scored applications and will recommend approval for applicants who represent the top of the class."
RELATED: What Will New York Do If Dispensaries Do Not Open In Time?
Marijuana regulators in New York have long mentioned the end of the year as the time when legal dispensaries would be up and running. This marks the first time when they provide a clear timeline and a date as to when this decision would be made.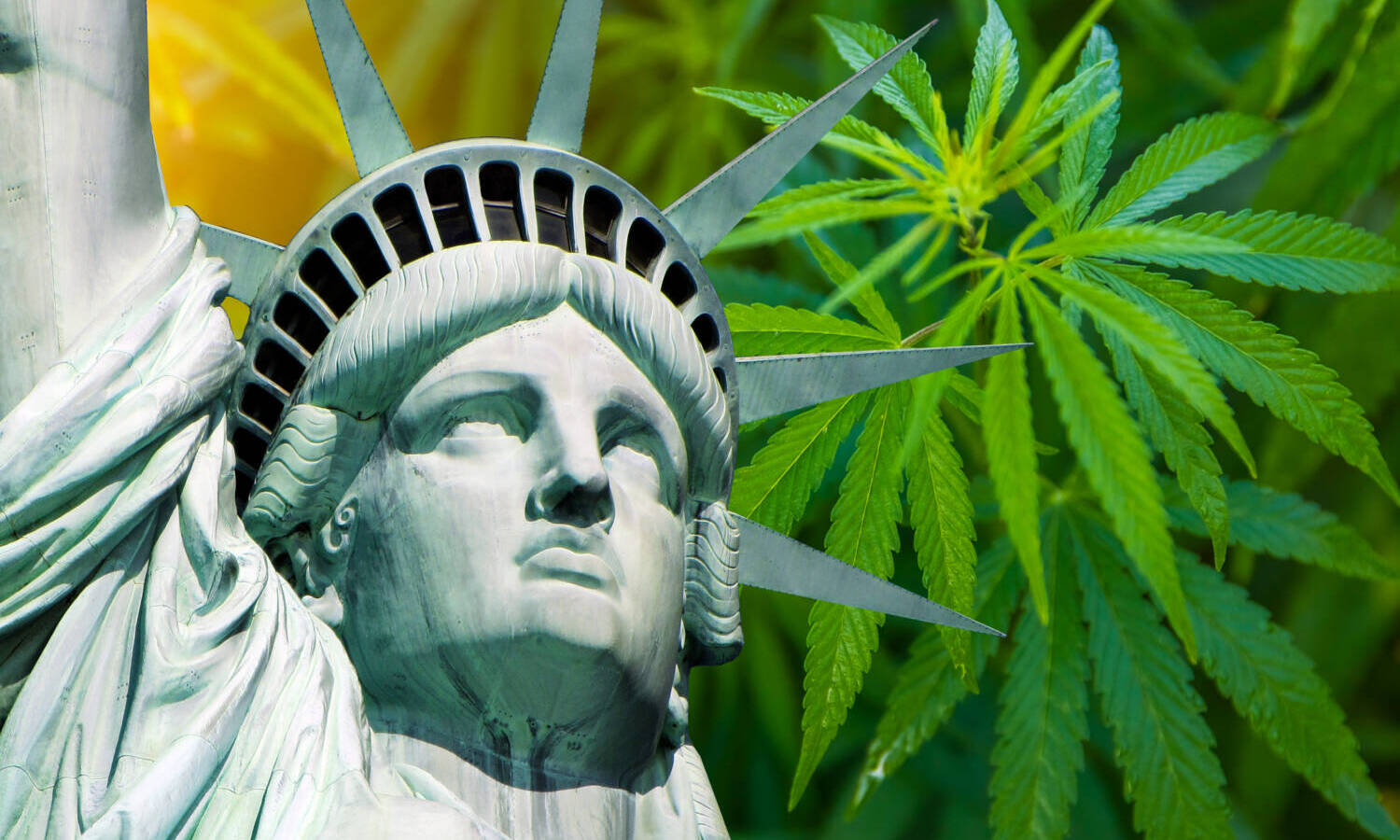 RELATED: New York Mayor Orders NYPD To Crack Down On Illegal Cannabis Vendors
Despite the positive news, cannabis businesses from other states are intimidated by the prospect of opening dispensaries in New York, known for its thriving black market (now referred to as a "grey" market by the cannabis industry). All across the state, there have been marijuana stores operating since 2021, when the drug was legalized.
And that's not great news for business owners like Nidhi Lucky Handa, the owner of California-based cannabis company Leune, which is expanding into other states. "How do you explain this to the consumer? It's not just one shady thing in an alley," Handa told Bloomberg. "It's everywhere."
RELATED: Native Lands In New York Are Selling Weed In These Surprising Locations
Bloomberg says that for Handa, "it's frustrating to see the state repeating the same mistakes as California, where even bailouts and tax breaks have failed to help the legal market avoid competition from illicit weed."
New York hoped to be one of the first states to prioritize people who'd been impacted by the war on drugs. The first licenses handed out by the state would provide these communities with the chance to be the first to get involved in the industry, allowing small businesses to have a leg up. To get all of this done, applicants had to submit the proper documents, a process that has taken months to vet and that has allowed the black market to thrive.
Inside the 'wild, wild west' of Virginia's marijuana market – Cannabis Business Executive
Swiss Pharmacies Will Price Medical Marijuana According To Black Market Prices
By Joana Scopel
Starting September 15, Basel City will begin the first Swiss project on the legal sale of cannabis in pharmacies. The project will help evaluate the effects of new regulations on the recreational use of cannabis and combat black market distribution.
The Federal Office of Public Health approved the pilot in April. As a part of the project, the University of Basel, its psychiatric clinics and health department will participate." Six cannabinoid products – four types of cannabis flowers and two types of hashish – will be sold in nine pharmacies selected by the authorities," said Lukas Engelberger, health minister.
Cannabis users over 18 can now register to participate, with the number of participants limited to 370. In addition, pharmacies will charge prices around those set on the black market for products with THC content. A gram will therefore cost CHF8-CHF12 ($8.40-$12.60).
RELATED: Switzerland Removes Medical Marijuana Access Limitations As Demand Rises
The Swiss parliament laid the legal basis for such small-scale initiatives in September 2020. After that, also other local authorities, including Zurich, Geneva and Bern, applied to roll out similar trials.
Legal Prohibition For Adult-Use Cannabis
In 2008 almost two-thirds of Swiss voters rejected an initiative to decriminalize cannabis consumption. Despite a legal ban, the health office estimates there are 220,000 regular consumers of cannabis in Switzerland.
However, since August 1, medical cannabis is legal in Switzerland. With the modification of the Swiss Narcotics Law, which changed the legal status of cannabis, patients can now obtain medical marijuana through a simple prescription from their doctor. Before medical cannabis was legalized patients had to apply to the Federal Office of Public Health.
RELATED: The (Possibly) Best and Worst Countries To Get Caught With Pot
As reported by Forbes, the new legislation enables the export of medical cannabis for commercial purposes. Companies should apply for authorization from Swissmedic, the Swiss surveillance authority for medicines and medical devices.
According to EU standards, available medical cannabis contains high levels of CBD and less than 1% THC.
This article originally appeared on Benzinga and has been reposted with permission.