Does A Medical Setting Affect Psychedelic Treatment?
As psychedelics gain acceptance quickly, laws in different states are changing to accommodate their possession and use. So far though, the only states to legalize have done so with an allowance for use in a medical/supervised setting. How useful is this medical setting to psychedelic treatment, and can it get in the way?
What is a medical setting?
When it comes to using psychedelics, there are no specific rules for what will lead to a good trip, and what will bring on a bad one. Though this can do with individual reaction to the drug, it also has to do with outside factors that can impact our individual reaction. We're often told 'set and setting' play a big role in a trip going smoothly, and this can encompass different factors.
'Set and setting' refers to the place you're having the experience, and the environment around. You could be in the woods, or on the beach, or at a dance club, or alone with your partner. The environment around might include the other people you're interacting with, how crowded it is, if other people are also having the same experience, if you're doing something organized or on your own, lighting and sound, and even the weather around you.
A medical setting is another type of setting, but until recently, it wasn't associated with taking a psychedelic drug, or hallucinogen of any kind. However, as research amps up, and legalizations roll in, that idea of a medical, or supervised setting, becomes that much more important, as it's the only setting legally available to use the compounds in question.
---
Thanks for being with us. For email updates, sign up to our Cannadelics Weekly Newsletter and also get top-notch promos for cannabis buds, vapes, edibles, smoking devices, cannabinoid compounds (like HHC), and a huge selection more. Let's all get stoned responsibly!
---
A medical setting is not one specific thing. Also referred to as a 'healthcare setting,' and expanding into 'supervised setting', this term encompasses: "acute care hospitals, urgent care centers, rehabilitation centers, nursing homes and other long-term care facilities, specialized outpatient services (e.g., hemodialysis, dentistry, podiatry, chemotherapy, endoscopy, and pain management clinics), and outpatient surgery centers. In addition, some healthcare services are provided in private offices or homes."
The last one is important, because it reminds us that our own home can be a medical setting under the right conditions; which is the medical setting most people should automatically be the most comfortable with. And when it comes to ketamine, it is offered by many clinics as an at-home treatment which both cuts costs, as well as gets away from the medical setting that not everyone is comfortable with.
In reality, both current psychedelics legalizations aren't for medical use, and the legislation uses the term 'service center' instead. Considering it's a formal setting, with a person watching over, it represents essentially the same thing. Perhaps its not so much about a 'medical setting' as a 'controlled setting', but the same idea of how it can affect a trip, applies. It seems Colorado might understand this a bit better, allowing for treatment outside of authorized service centers, but what this actually entails is not entirely clear.
Does being in a medical setting affect a psychedelic trip?
There isn't one specific answer to this, and not everyone has the same requirements. For some people, the experience won't differ greatly depending on set and setting, and for some people it will make all the difference. For everyone in between, well its hard to say. Plenty of trials for psychedelic medications have gone on at this point, and for those, we only get the results of the medical setting. Is it possible that results might have differed if the trials were run in a more familiar, or chosen, surrounding?
I came across an interesting statement when researching the Salvia divinorum plant, and the different ways that users describe the experience. Found in a Wired magazine article, and written by Daniel Oberhaus in 2020, the article details the writer's own experience as a part of a research study into how the compound salvinorin A affects the brain during use. The trial took place at Johns Hopkins University in Baltimore, a research hospital, and involved being hooked up to an fMRI machine.
Per Oberhaus, "I had just inhaled an unspecified dose of the pure crystalline substance from a hose attached to what one of the researchers characterized as an 'FDA-approved crack pipe.'" He continued, "My psychedelic experience in the fMRI machine was markedly less otherworldly. On the second round, I saw some colorful pinwheels and felt as though my body had merged with the machine. But I didn't enter another dimension or dissolve into pure being".
What are his thoughts as to why his experience in the trial differed from his experience using salvia illicitly, outside of a hospital setting? "This may have been because I received a lower dose. Or it may have been because it's harder to give in to the experience when you're inside a giant machine making a racket while it soaks your head in a powerful magnetic field."
Being in an fMRI machine is much more extreme than simply sitting in a doctor's office. But consider that most people who do ketamine illicitly, do it by snorting the drug; and one of the more common medical techniques is hooking someone up to an IV. The idea still resonates. Neither being stuck in a tube, or hooked up to an IV in a doctor's office will likely be the chosen set and setting for many people. And no matter how comfortable you try to make a doctor's office, it might still have the ability to change the experience.
Tack onto that the cost of the treatments, and this could make patients apprehensive about the outcome of their treatment, which could also affect experience. When getting a service is so expensive, you can't mess around with it, and for people scraping to make this happen, there's increased pressure to 'get it right'. A less controlled environment could pose cost reduction ability, and make users more comfortable about what they're spending.
My own experience in a medical setting for psychedelic treatment
On this particular topic, I can throw in my own opinion, as I did receive ketamine treatments in a doctor's office, as well as having previously used the drug on my own illicitly. I'll take a second to remind that ketamine is a dissociative hallucinogen, not a psychedelic. It is used for therapy in a similar way to psychedelics, and is currently the only legal way to get such treatment, as neither state thus far that legalized any form of a hallucinogen, started services yet.
I ended up in the office of a psychiatrist in Guadalajara, Mexico, which is one of the only places in Mexico that provides ketamine treatments. Most of the doctor's business is for pain. I went because of sleep issues, which falls under psychiatric. There are very few people who do this there. As such, the procedure isn't established like it is in American facilities; and from the beginning I was left to feel like not everything was being covered. I made the most of the experience, but looking back I can see how badly it went.
I was hooked up to an IV, and I sat in a comfortable enough place, but was it really? It was a kind of cold office, with no blanket offered, dim lighting, and no window. I was on a couch facing a desk, with very little around me. Sure, it was okay, but I wasn't super comfortable. Nor did I like having an IV hooked up to me, or seeing the blood squirt out when they had a hard time getting my vein (both times!) I left with blood stains on my pants the second time. I didn't enjoy the actual drug experience at all; it left me feeling queasy, shaky, and incredibly anxious. And while this could represent my own personal reaction to ketamine, there's a problem here…
I did ketamine plenty illicitly. I used to do lines with an ex-boyfriend frequently enough to have a great idea how the drug affects me. I liked it back then. Not my favorite of all drug experiences, but very interesting. I used to feel like I was floating, disconnected, like my brain was pulling in different directions. But not bad. And at no point with the anxiety and discomfort I suffered in the doctor's office. An anxiety so bad the doctor did not push me for another appointment (or even contact me again for follow-up…I would never got back to that provider).
The experiences were so wildly different, that it makes me wonder how much of my negative experience in the medical setting with the psychedelic-like drug, was related to being in that setting, rather than a place I am more comfortable with. My experience gives a huge amount of credence to the idea of at-home ketamine therapy, and the ability to do the treatment in the comfort and privacy of your chosen location. Perhaps under other circumstances, I would not have been a non-responder.
Conclusion
It's not for me to say what works for other people. But when it comes to expensive treatments, or 'services', how many people want to pay out for something that isn't what they're looking for? And how much do we damage our own understanding of the usefulness of something, when the controls for use are so extreme? It's not like these drugs are used illicitly in a medical setting; and people turn out just fine when using a psychedelic on their own, or in a less restrictive way. Maybe that's something that should be remembered.
Thanks for making your way over! Welcome everyone to Cannadelics.com; a news site specifically geared toward getting you the best in reporting for both the cannabis and psychedelics fields. Chill with us regularly to stay up-to-date, and subscribe to the Cannadelics Weekly Newsletter, so you're never late to get the news.
Related
Is The Cannabis Industry Growing Up
The last 2.5 years have been tough for the recreational marijuana industry.  Flower prices have plummeted, New York had a fiasco of a recreational rollout, and some major companies have been on the edge of collapse. But things are changing. The slow moving Biden administration has finally agreed to talk about rescheduling and SAFE Banking again goes before a Congress in turmoil. Is the cannabis industry growing up and starting to act and perform like other mainstream industries?
Despite the trouble, consumer use it up with the long term base of customers growing. While 90% believe it should be legal in some form, about 46% of adults have used marijuana at least once.  The under 40 set sees it almost like beer, sodas and fast food, just a life option.  One key positive for this information is they are more likely to try new products unlike the 65+ who are much less likely to try new things.
RELATED: California or New York, Which Has The Biggest Marijuana Mess
Signs of the industry emerging from its growing pains are clear.  The industry is adjusting reality.  As a $22+ billion industry in 2022, it wants to act like a $250+ billion industry. But market forces are right-sizing in a variety of ways.  There were over 750 conferences/trade shows/ investor conferences in 2018, now there are roughly 200.  Indoor grow companies, the most expensive way to produce, are having to adjust pricing.  Some are threatened with closing because of their assumption of always high premiums.  Commodity fluctuating pricing used in everything from oil to butter has come to weed.  But consumers are still buying in droves, even Montana boosted high sales.
"In most industries, at first everyone wants in and thinks they can make a quick fortune immediately. When that happens people are misguided by false information and the wrong people from other shady pasts thinking they know it all. The cannabis industry is no different and it will act like other successful ones. We needed this readjustment, most of the bad players are out, the misinformed are on the sidelines and the ones who put the time and proper energy into the space are still around and will thrive." says Andrew Laub, managing partner of Keneh Ventures.
Big names have also struggled recently.  Medmen, King's Garden, The Parent Company, and others all closed or are a faction of where they were. The early days with promises of easy money, private jets, crazy parties, and hot eye candy swarming around have passed and now it is spread sheets, hard work and focus. Canopy Grow has moved operations from Canada to the US and is applying all the learnings from a highly successful alcohol company to a major player in marijuana.
The industry has also slowly moved to listening to consumers.  Marley brands have fallen away to Wana Brand's products which appeal to a younger, diverse audience. As the future looks to legalization, product companies are increasingly looking at what will do well on the shelves of Walmart and Target and not something to snicker about with bro friends.
RELATED: 
"The industry is evolving at a quicker pace today due to the assumed changes to cannabis scheduling with the Controlled Substance Act and possible SAFE Banking Act passing in Congress in some form of tandem news. This is causing mainstream investing to get excited again about cannabis, but mainstream does their due diligence and only wants to invest their money in competent and honest people." shares Curt Dalton, founder of Cannabis.net.
While the industry still has work, large investors see the future where there are fewer products with large distribution, indoor grow and cheap base prices, and a giant consumer base who will look to familiar places to purchase products.
B.C. Court Dismisses Cannabis Retail Lawsuit – Cannabis | Weed | Marijuana
A British Columbia (B.C.) court dismissed a lawsuit from owners of licensed cannabis retail shops. Last year, this group of cannabis retailers sued the province for not enforcing cannabis regulations.
While licensed cannabis retailers jump through bureaucratic hoops and pay excessive taxes on the faulty premise that this contributes to "public health and safety," the B.C. Bud market of "illicit" retailers doesn't face these same hurdles.
Particularly on Indigenous Reserves, where the plaintiffs claim damages of at least $40 million in lost revenue.
Justice Basran considered whether the province owed the plaintiffs a private law duty of care in this context. The plaintiffs claimed the province committed torts of negligence and negligent misrepresentation.
But what does this mean? And was Justice Basran's dismissal of the lawsuit justified? 
Details of the Plaintiff's (Cannabis Retail) Argument
While the cannabis retailers suing the province wished to remain anonymous, CLN uncovered who they were. Their position is understandable. The government sold them a bill of goods.
When Canada legalized cannabis, the province of B.C. effectively said, "play by the rules and you'll profit." The reality has been anything but.
Obviously, licensed cannabis retailers are at a competitive disadvantage vis-a-vis the unlicensed cannabis shops. 
So why did Justice Basran dismiss the lawsuit? 
First, let's look at what the plaintiffs claimed in their suit. What do "torts of negligence" and "negligent misrepresentation" refer to in this context?
Tort Law
Negligence is a fundamental concept in tort law. It means a failure to exercise a degree of care reasonable people would exercise in similar circumstances.
To establish a claim of negligence, the plaintiff (in this case, a group of licensed cannabis retailers) needed to prove the following:
That the province of B.C. owed a duty of care to the licensed cannabis retailers. 
That the province breached that duty by failing to meet the standard of care expected under the circumstances (i.e. The province's cannabis enforcement authority should have been raiding unlicensed shops more than they were)
That the province's breach of duty directly caused harm or damages (i.e. Causation) to the licensed cannabis retailers
And that these actual harms (or losses) result from the province's breach of duty.
The plaintiffs alleged that B.C. failed to enforce cannabis regulations (specifically, the Cannabis Control and Licensing Act) on Indigenous Reserves. They claimed this negligence resulted in damages of at least $40 million.
Negligent misrepresentation is a specific type of negligence claim that arises when one party provides false or misleading information to another party, and the party receiving the information relies on it (to their detriment).
To establish negligent misrepresentation, the licensed cannabis retailers had to prove the following:
That the province made a false statement, whether intentionally or not
That the plaintiffs relied on this false statement
The plaintiffs suffered financial (or other) losses from relying on this false statement.
In this case, the plaintiffs said that B.C. promised them a viable, legal, above-the-board retail cannabis industry. One way of ensuring this would be to take enforcement action against unlicensed retailers, whether on Indigenous Reserves or not.
Did the B.C. Government Owe a Duty of Care to the Cannabis Retailers?
Justice Basran considered whether the province owed the plaintiffs a private law duty of care. The B.C. government argued that it did not owe such a duty because the parties had no direct relationship.
But what does this mean?
In tort law, a "duty of care" is a legal obligation imposed on an individual (or group, entity, etc.) to exercise reasonable care and caution to prevent harm to others affected by their actions and omissions.
Of course, not all actions or omissions give rise to a duty of care. That's where proximity comes in, which refers to the direct relationship between the parties. In this case, whether a direct connection between the province's cannabis regulators and the cannabis retailers justifies imposing a legal duty.
Justice Basran had to determine whether the province of B.C. owed a "private law duty of care" to the cannabis retailers. Of course, B.C. argued that it did not. They argued that their duty was the "public interest," not the economic interests of specific businesses.
Justice Basran agreed that no duty of care existed due to lack of proximity. 
How Did the Court Come to this Decision?
Justice Basran dismissed the B.C. cannabis retail lawsuit based on the "plain and obvious" legal standard used when deciding to strike pleadings. 
The court considered the Anns/Cooper test to determine whether a duty of care existed. This involves two stages. First, whether the harm alleged was reasonably foreseeable. And second, whether there is a close relationship between the parties (proximity).
Justice Basran found no prima facie duty of care between the province and the licensed cannabis retailers. The court argued that B.C.'s cannabis regulations do not establish a legislative intention to create such a duty.
The court also ruled that the claims made by the province (i.e. Get licensed and profit) did not create a sufficient relationship to impose a duty of care.
Suppose the court had recognized that such a duty exists. Justice Basran was concerned such a decision could result in more of these types of lawsuits where the province (and its regulators) are held liable for the economic losses of numerous businesses due to their incompetence.
Justice Basran weighed the potential negative consequences of such a decision and decided it wouldn't be in the best interests of the legal system, taxpayers, or society as a whole to impose such a duty.
B.C. Court Dismisses Cannabis Retail Lawsuit
A B.C. court has dismissed the cannabis retail lawsuit. The decisions sound as if what's convenient for the government overrules what's just and fair.
Was Justice Basran's dismissal of the lawsuit justified? Judges are, after all, only human. And there is an appeals court. So, there may be more to the case in the future.
In the meantime, to argue that judges in Canada have far too much power, that they are, in effect, legislating from the margins is considered a "far-right" viewpoint. 
But there is nothing "far-right" or even "far-left" about upholding the values that underpin our rule of law. 
Suppose governments can evade the consequences of their actions because of the potential cost to taxpayers or the legal system. In that case, there is no rule of law.
It's rule by fiat masquerading as a rule of law.
Cannabis Can Help You With Stress
Government shutdown, election nonsense, the end of summer, the news if full of all sorts of negative information. Plus, autumn is here along with cuffing season, the  time of year where many short-term relationships happen. It usually begins in the fall around October and ending in the spring around April—so there's time to get cuffed and uncuffed. And while a short-term relationship which expires with spring, swimsuits and sunbathing may sound odd, some love it. It provides a cozy atmosphere and cuddle buddy for the long dark months and the holiday season.  Cannabis can help you with stress of news, searches and just life in general.
While marijuana can be a great escape mechanism, it can also be a constructive way of grounding yourself in the present and curbing other coping mechanisms that are more harmful.
It can curb your drinking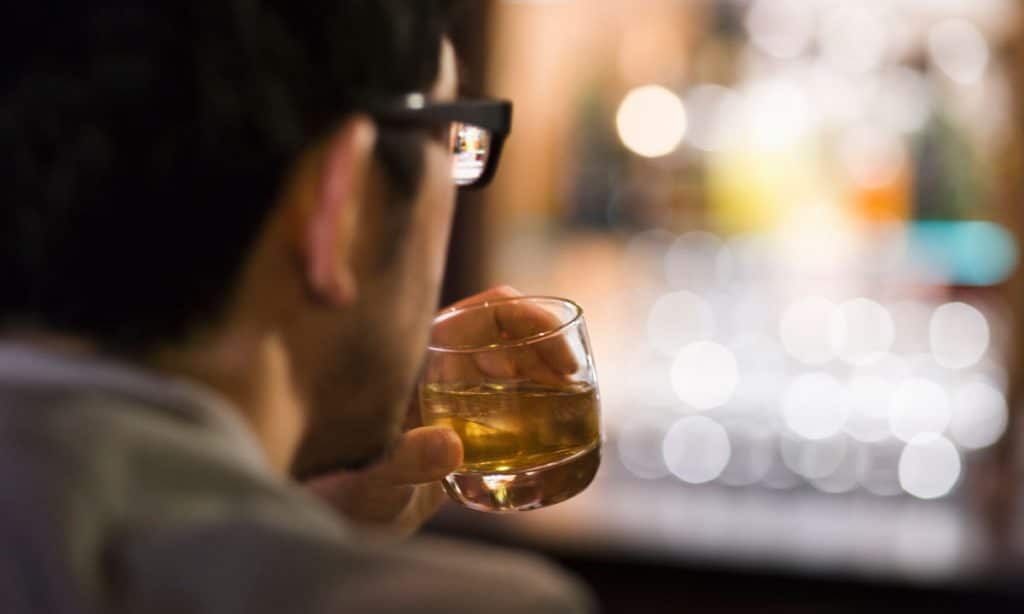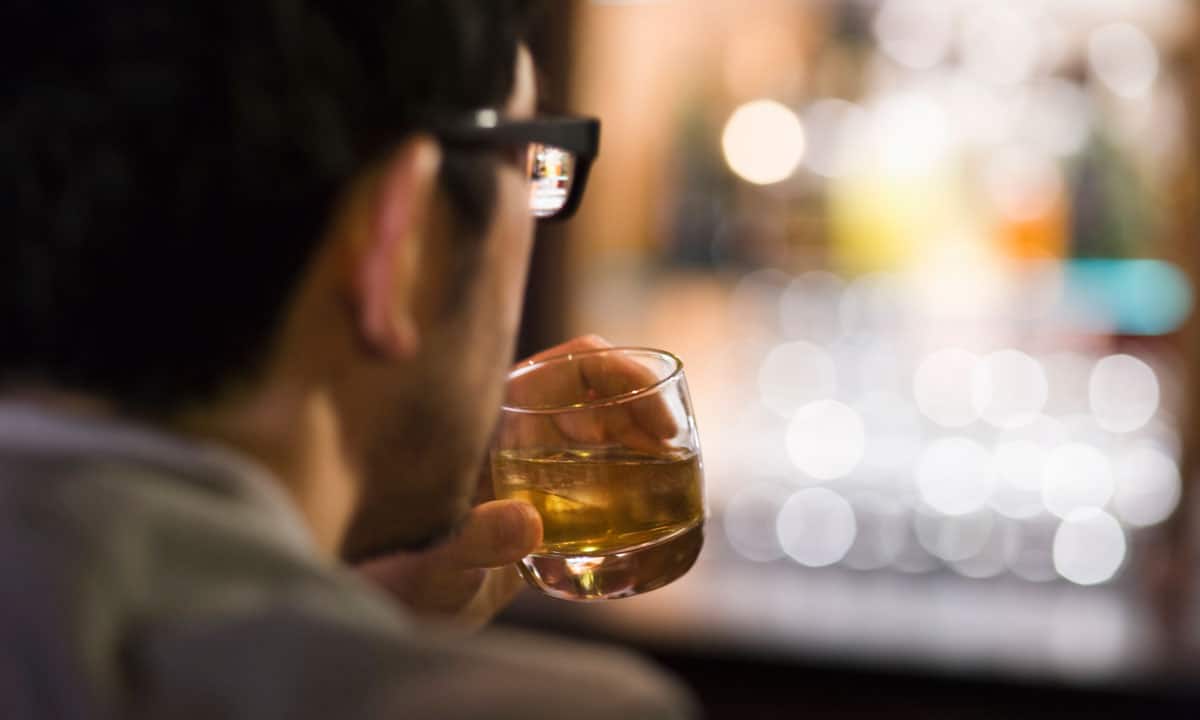 Fall starts up many social events with work and family life.  The darker evenings give us a free pass to drink earlier every day. While drinking might help you feel better in the short term, marijuana might play a more effective role in the long term, eliminating hangovers, treating your body more kindly and preventing sad drunken episodes. Next time you feel yourself itching to reach for that bottle of wine or that whisky you've been saving for a special occasion (the end of the world counts), reach for an edible instead. Your body can tell the difference.
It can help you eat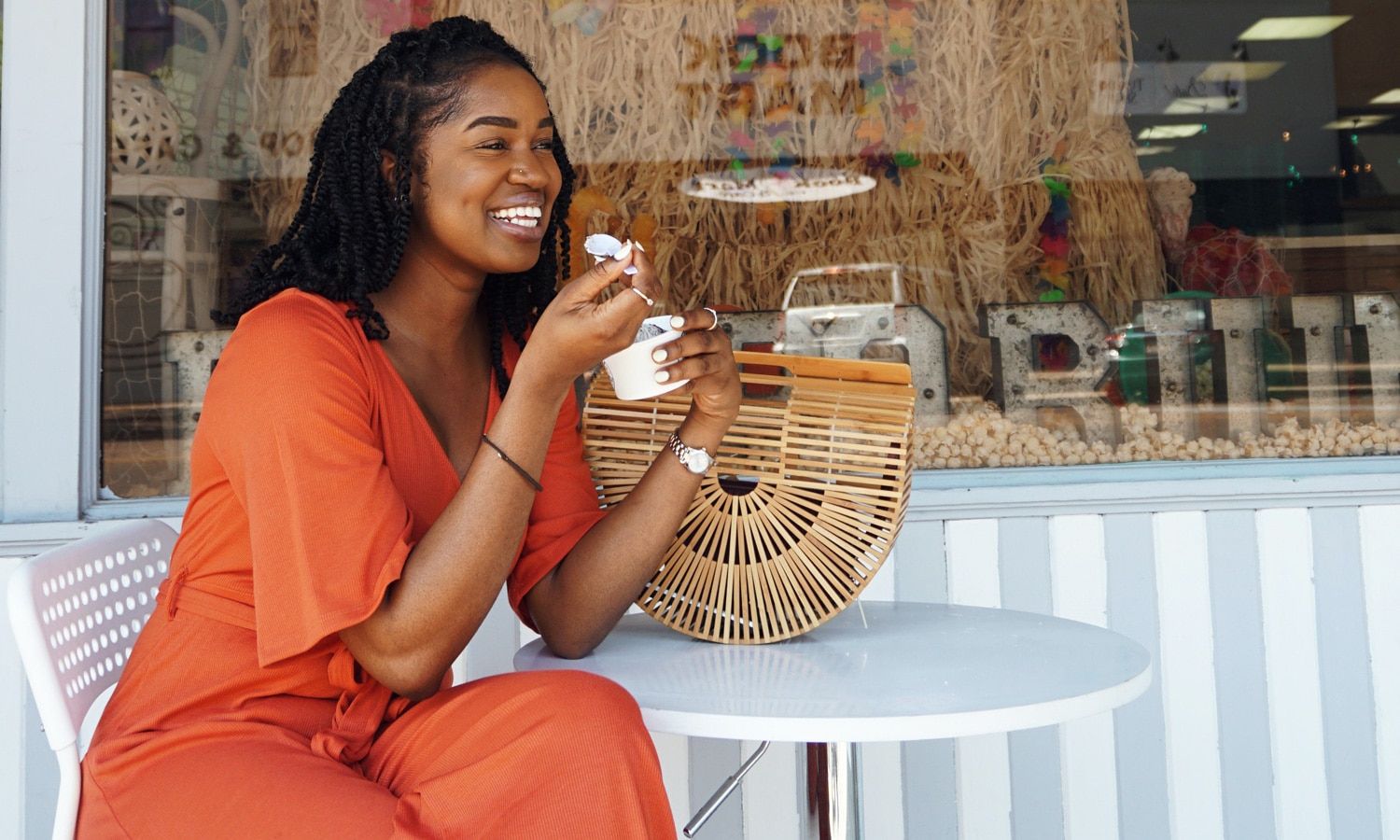 RELATED: Hacks To Prevent The Munchies
If you're someone who feels anxiety in the pit of your stomach, hindering the desire to eat, marijuana might help; THC, the psychoactive component in marijuana, has been shown to stimulate appetite.
According to a 2015 Yale study, neurons in the brain that are normally involved in suppressing appetite were being tricked by THC. Lead author Tamas Horvath of the study explains it this way:
"It's like pressing a car's brakes and accelerating instead. We were surprised to find that the neurons we thought were responsible for shutting down eating, were suddenly being activated and promoting hunger, even when you are full. It fools the brain's central feeding system."
The government agrees it is a way to help you overcome anxiety and move toward a normal eating pattern.
It can help you feel more present
Marijuana is an interesting compound; while it makes a lot of people feel good, it also makes a lot of people feel paranoid.  Manage your intake and have a talk with your budtender. As long as you keep an eye on your dosage, you're likely to avoid bad reactions. Marijuana can help you have engaging conversations with friends, enjoy the outdoors , or help you get lost in a video game, book or movie. When used correctly, it'll rein in your brain when it feels like going to the doom and gloom place.
If you've had bad experiences with marijuana, try to remember what happened that day that triggered it. Was it the strain? Was it your mood? Were you with people who triggered you? Keep in mind these variables whenever you're planning on toking up and limit your amount of stressors. Start off slow, preferably with something you've tried before and increase or experiment as you go.
Manage anxiety
RELATED: How To Relax When You Don't Know How
The right strain and dosage of marijuana can help you relax — something you might be needing after the very intense week we've all had. Consider the method of consumption: If you're having an edible, be patient and eat it during the earlier. If you're smoking, pace yourself through the night and keep yourself hydrated. The idea is to relax, not to knock yourself out. Unless that's what you want, in which case, go for it.
Much needed sleep
RELATED: Want Better Sleep? Try Doing This 1-2 Hours Before Bedtime
Perhaps the most common ailment affecting many of us is insomnia. After a week of staying up and watching the news, it might be difficult to get back to your normal sleep schedule. While marijuana can do a lot of the work for you, another thing you can use to your advantage is devising a sleep routine and avoiding screens while in bed. Difficult, but not impossible. Here are 5 more tips to help you fall asleep faster.