Illegal Synthetics, Amanita Hemp Cup: Cannadelics Sunday Edition
Welcome to our weekly newsletter, The Cannadelics Sunday Edition, emailed to our subscribers every Sunday morning 11am est, with the main items of the week. This week we look into Illegal Synthetics, new Amanita mushroom Hemp Cup products, Cannabis music and media getting banned, Cannabis tourism in Uruguay, Trainspotting, Argentina hemp laws, Amanita beginners guide and types of hangovers and more.
As always, In addition the weekly digest, the newsletter comes with few of our Deal Of The Day offers. As always, the best Cannabis and Psychedelic products are reserved for our readers, so subscribe today or use the sign-in form below:
---
 Keep yourself updated with the latest Cannabis & Psychedelic stories, such as Illegal Synthetics, Amanita hemp cup products and more: 
Subscribe to our newsletter
---
The Cannadelics Sunday Edition (2/26/2023) – Illegal Synthetics, Amanita Hemp Cup Products, Cannabis Music Banned and more
Hi,
Welcome to the Cannadelics Sunday edition, going out every Sunday with the top stories from the cannabis and psychedelics industries. This week we have a mixed bag of stories as well as a few deals from our deal-of-the-day segments.
Thanks for stopping by!
---
DEAL OF THE DAY
Be a part of history by trying out the latest Cannadelic additions to the 2023 High Times Hemp Cup – the new Amanita HHC gummies and Amanita HHC joints, both featuring psychedelic mushrooms. High Times has never before included these types of products in their hemp cup, making this a groundbreaking event. 
Of particular interest are the more potent offerings, such as the Amanita HHC Amanita gummies and the Amanita D8 joints. The HHC gummies stand out for two reasons: they feature HHC (hexahydrocannabinol), a simplified version of THC, and they're a rare combination of gummy and chocolate. 
If you're curious to try them out, CLICK HERE and use the "cannadelics" coupon code to save 20% on your order. 
(With Cannadelics coupon code)
---
THE WEEK IN REVIEW:
This week we have a pretty even mix of both cannabis and psychedelics news. Among this stories, we have one explaining the DEA's clarification on Illegal Synthetics. We're also covering a recent ban on cannabis themed music and media in the Dominican Republic, a federal judge's rule on cannabis and guns in Oklahoma, new Amanita mushroom products in hemp cup and so much more!
---
Illegal Synthetics:
This debate has been raging on for years- are synthetic "hemp-derived" cannabinoids federally legal or not? Some claim vehemently that they are, while others remain skeptical. However, a recent statement from the FDA offers us some clarity, claiming that synthetic cannabinoids are in fact, illegal, even if they are hemp-derived. 
---
The 2023 High Times Hemp Cup is introducing a new product to the competition – Amanita Hemp Cup products that contain muscimol from Amanita muscaria mushrooms, combined with popular cannabinoids. The Amanita Hemp Cup products include gummies and pre-rolled joints containing muscimol combined with HHC, Delta 8 THC, and CBD.
---
---
While most of the cannabis-related news stories these days show different regions relaxing regulations against the plant, some places, are heading steadfast in the opposite direction. Take the Dominican Republic, for instance. Not only are they not even considering any type of cannabis legislation, they actually took things a step further and banned cannabis themed music and media.
---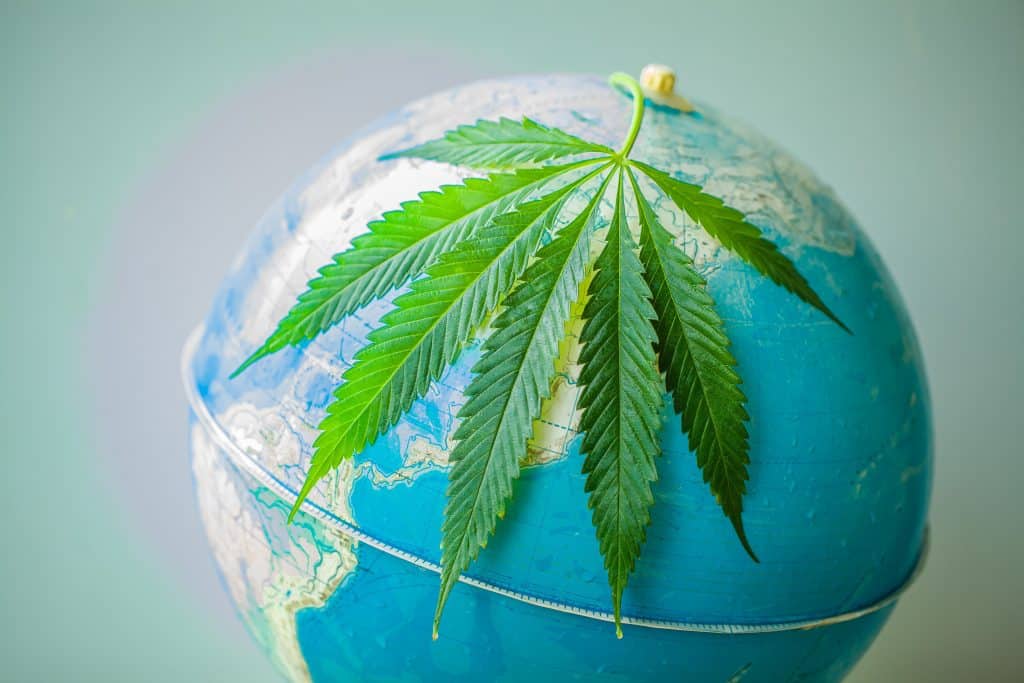 Although it often flies under the radar in many discussions on the subject, Uruguay is the world's oldest, legal recreational cannabis market. If we follow what happens there, it can give us a good indication of what may transpire in other legal markets throughout the world. Currently, Uruguay is working on bolstering the cannabis tourism industry in order to thwart the still-thriving black market. 
---
DEAL OF THE DAY
Introducing an exclusive high-THCA flower bundle – a very limited edition discounted bundle sampler featuring some of the freshest flowers you can buy online . 
This bundle includes 8 eighths of the strains listed below:
3.5g of Afghan THCa Hemp Flower
3.5g of Miracle Alien Cookies THCa Hemp Flower
3.5g of Grand Daddy Purple THCa Hemp Flower
3.5g of Death Star THCa Hemp Flower
3.5g of Hippie Crippler THCa Hemp Flower
3.5g of Gorila Glue Pheno 1 THCa Hemp Flower
3.5g of Green Crack THCa Hemp Flower
3.5g of Blueberry Pheno 1 THCa Hemp Flower
Act fast to get your hands on this exclusive bundle before it's gone!
---
Additional Reading:
A few more articles for your reading pleasure, such as the 2023 farm-bill, medical cannabis, salvia, Delta 9 vs Delta 8 etc.
When Trainspotting, written by the Irvin Welsh and directed by the equally wonderful Danny Boyle, was released in 1996, people knew that they had a nuanced and well-thought-out film about heroin addiction on their hands. Trainspotting forced its way into many viewer's 'best films of all time' list and rightfully so. But why did a movie about a group of Scottish friends dealing with drug and life issues become such a cult classic? Perhaps, simply, because told the sad truth about opioid addiction.
---
Amanita muscaria, also known as Fly Agaric, is a fascinating old world mushroom that has recently grown in popularity due to the fact that it is very loosely regulated compared to other types of psychedelic mushrooms. If you're a beginner looking to try Amanita Muscaria, it's crucial to take the necessary precautions before consuming it, as all good things comes with responsibility and any drug can be problematic when used incorrectly.
---
---
With the help of activist groups like Mama Cultiva, Argentia forced its way into the medical cannabis market. Now, Argentina making even bigger moves by opening the doors for increased hemp production for both domestic and export markets. The announcement for the implementation of the Regulatory Agency for the Hemp and Medical Cannabis Industry (ARICCAME), came out on January 25th, with its first working group to start immediately.
---
Some people swear that certain alcohols produce different types of hangovers, similar to the way the produce different drunk effects. While that may be true for certain people, it's more of a matter of personal body chemistry rather than the alcohol itself. As a matter of fact, scientific literature indicates that all alcohols actually result in the exact same hangover. 
---
DEAL OF THE DAY
At MMJ.com, you can obtain your medical marijuana card online from a state-certified medical marijuana doctor. Thousands of patients have already received their new MMJ card, renewal, or 12-month prescription – and now it's your turn! 
Rest assured that you'll receive the doctor's certification or they will give you your money back with as it is 100% money-back guarantee. 
Don't wait any longer – get started now and experience the convenience of obtaining your medical marijuana card from the comfort of your own home.
---
NEW PRODUCTS:
Get ready to experience the latest addition to the 2023 High Times Hemp Cup – the Amanita Mushroom products featuring muscimol from Amanita muscaria mushrooms, combined with popular cannabinoids. These products are sure to give you a unique and exciting experience, producing psychoactive effects that will transport you to another world. 
Among the offerings are the Amanita HHC gummies and Amanita D8 joints, both featuring rare and potent combinations. 
posables, dabs, tinctures, and edibles at prices never seen before.
---
For all the latest from Psychedelics and Cannabis, follow our Telegram Channel.
---
News from the Week:
*** Coco Puffs – What's the Deal with Mixing Cannabis and Cocaine?
*** What's The Deal with Shoddy Vape Carts Lately?
*** Worse Than Fentanyl? New Opioid Isotonitazene Deepens Opioid Crisis
*** 2023 Farm Bill Under Construction: What to Expect For Hemp
*** Does A Medical Setting Affect Psychedelic Treatment?
*** How Legal Cannabis Affects Pharmaceutical Sales
---
llegal Synthetics, Amanita Hemp Cup Products, Cannabis Music Banned – Conclusion
We hope you enjoyed this week's review. We work hard to find and verify the best products, so we may include affiliate links to support the maintenance and development of this site. 
Best, 
The Cannadelics team 
*** Disclaimer: As the legality of cannabinoids and psychedelics changes between state to state, you should always check with your local authorities first.
Related
Cannabis Can Help You With Stress
Government shutdown, election nonsense, the end of summer, the news if full of all sorts of negative information. Plus, autumn is here along with cuffing season, the  time of year where many short-term relationships happen. It usually begins in the fall around October and ending in the spring around April—so there's time to get cuffed and uncuffed. And while a short-term relationship which expires with spring, swimsuits and sunbathing may sound odd, some love it. It provides a cozy atmosphere and cuddle buddy for the long dark months and the holiday season.  Cannabis can help you with stress of news, searches and just life in general.
While marijuana can be a great escape mechanism, it can also be a constructive way of grounding yourself in the present and curbing other coping mechanisms that are more harmful.
It can curb your drinking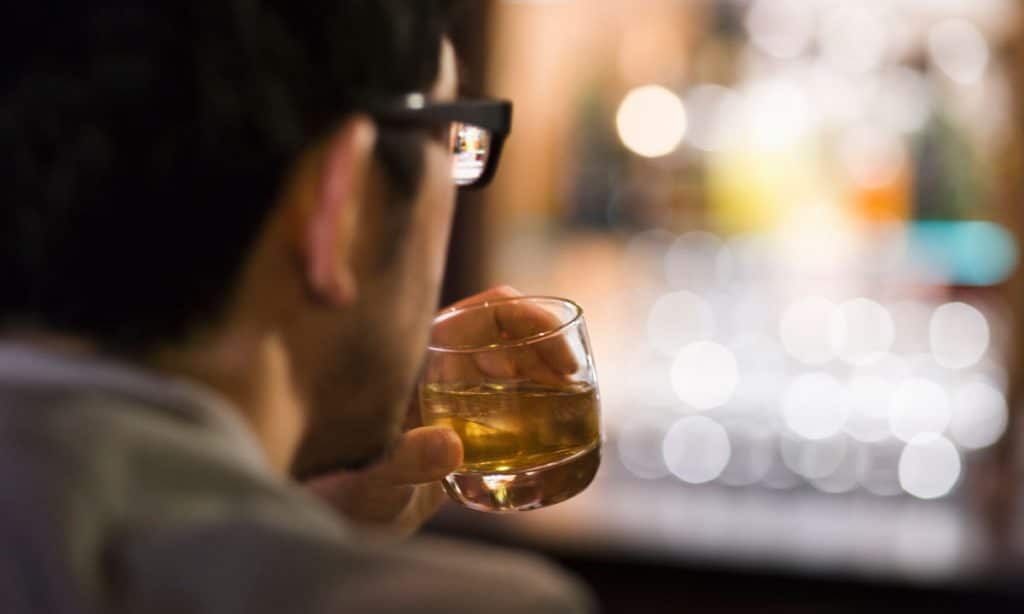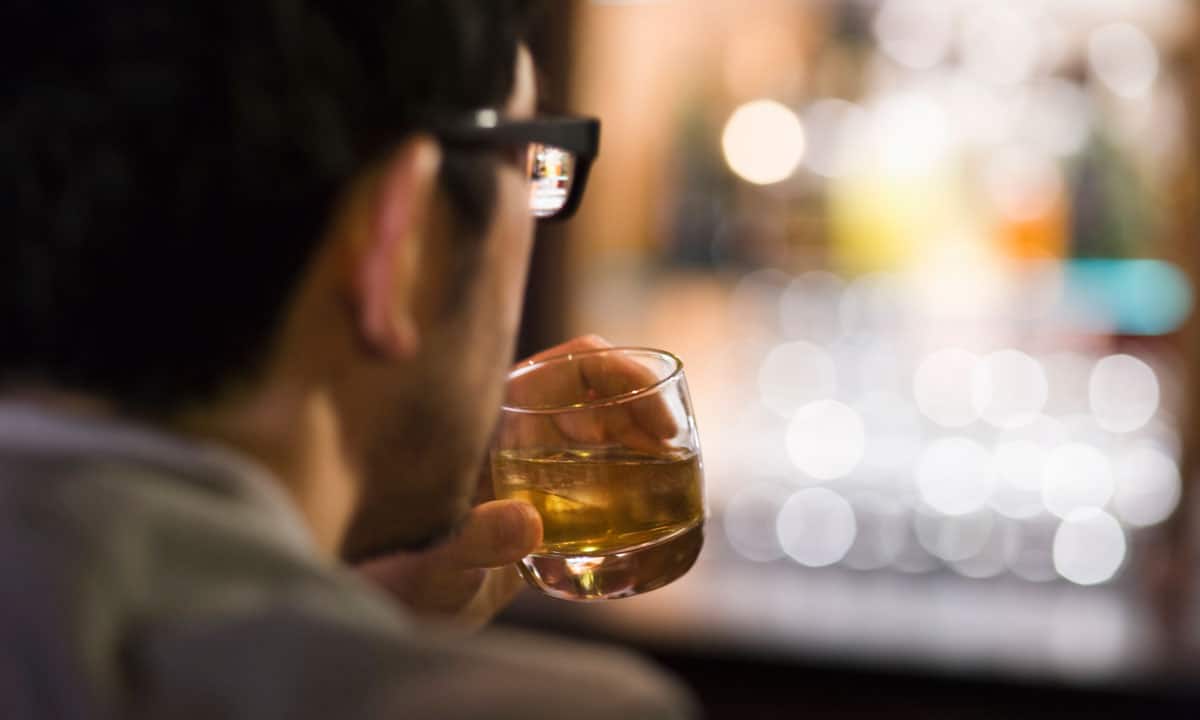 Fall starts up many social events with work and family life.  The darker evenings give us a free pass to drink earlier every day. While drinking might help you feel better in the short term, marijuana might play a more effective role in the long term, eliminating hangovers, treating your body more kindly and preventing sad drunken episodes. Next time you feel yourself itching to reach for that bottle of wine or that whisky you've been saving for a special occasion (the end of the world counts), reach for an edible instead. Your body can tell the difference.
It can help you eat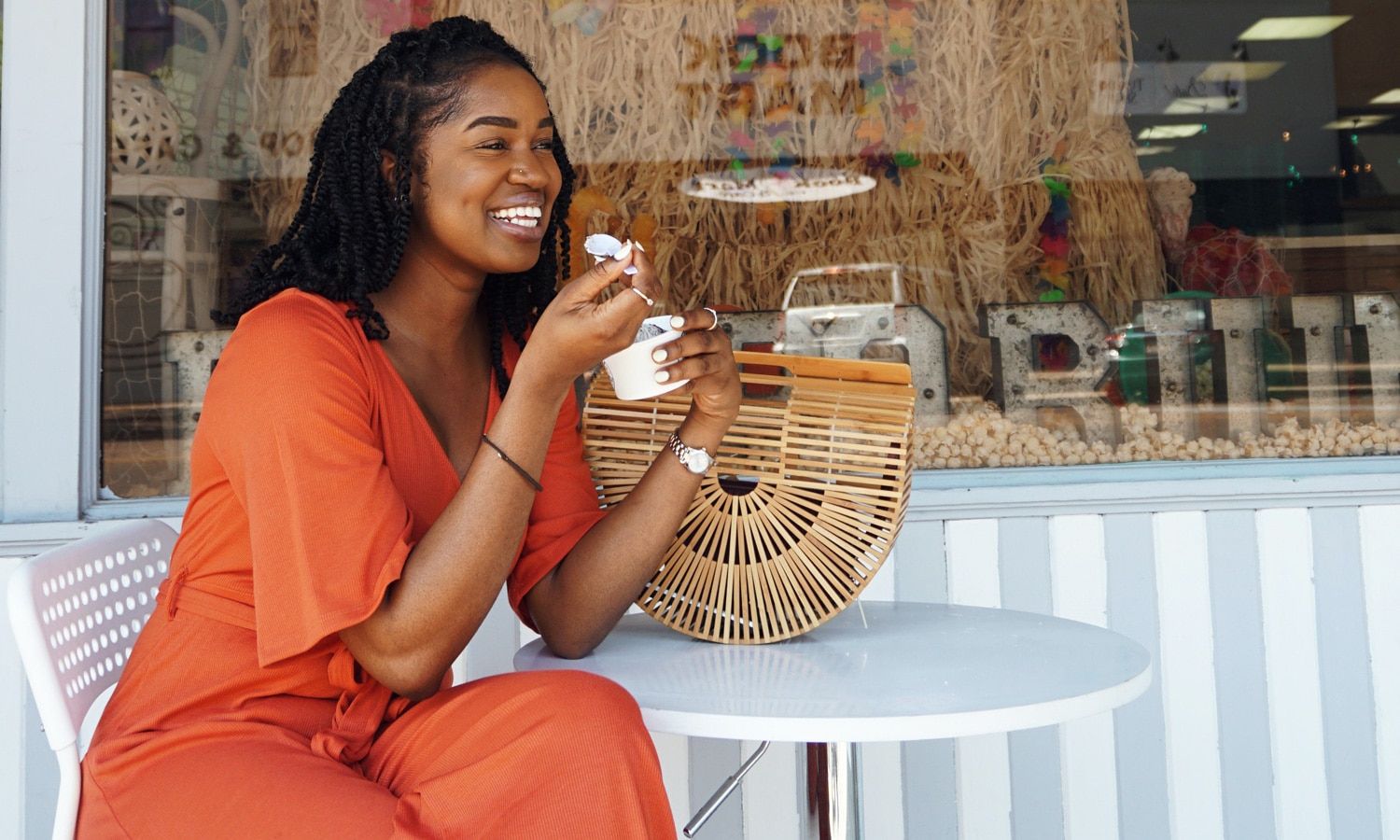 RELATED: Hacks To Prevent The Munchies
If you're someone who feels anxiety in the pit of your stomach, hindering the desire to eat, marijuana might help; THC, the psychoactive component in marijuana, has been shown to stimulate appetite.
According to a 2015 Yale study, neurons in the brain that are normally involved in suppressing appetite were being tricked by THC. Lead author Tamas Horvath of the study explains it this way:
"It's like pressing a car's brakes and accelerating instead. We were surprised to find that the neurons we thought were responsible for shutting down eating, were suddenly being activated and promoting hunger, even when you are full. It fools the brain's central feeding system."
The government agrees it is a way to help you overcome anxiety and move toward a normal eating pattern.
It can help you feel more present
Marijuana is an interesting compound; while it makes a lot of people feel good, it also makes a lot of people feel paranoid.  Manage your intake and have a talk with your budtender. As long as you keep an eye on your dosage, you're likely to avoid bad reactions. Marijuana can help you have engaging conversations with friends, enjoy the outdoors , or help you get lost in a video game, book or movie. When used correctly, it'll rein in your brain when it feels like going to the doom and gloom place.
If you've had bad experiences with marijuana, try to remember what happened that day that triggered it. Was it the strain? Was it your mood? Were you with people who triggered you? Keep in mind these variables whenever you're planning on toking up and limit your amount of stressors. Start off slow, preferably with something you've tried before and increase or experiment as you go.
Manage anxiety
RELATED: How To Relax When You Don't Know How
The right strain and dosage of marijuana can help you relax — something you might be needing after the very intense week we've all had. Consider the method of consumption: If you're having an edible, be patient and eat it during the earlier. If you're smoking, pace yourself through the night and keep yourself hydrated. The idea is to relax, not to knock yourself out. Unless that's what you want, in which case, go for it.
Much needed sleep
RELATED: Want Better Sleep? Try Doing This 1-2 Hours Before Bedtime
Perhaps the most common ailment affecting many of us is insomnia. After a week of staying up and watching the news, it might be difficult to get back to your normal sleep schedule. While marijuana can do a lot of the work for you, another thing you can use to your advantage is devising a sleep routine and avoiding screens while in bed. Difficult, but not impossible. Here are 5 more tips to help you fall asleep faster.
Where in the World is Alcohol Illegal?
Sometimes, when you're sipping on an ice cold beer or a nice glass of red wine, it's impossible to imagine a world where alcohol is illegal. Well – just like recreational substances – alcohol is not legal everywhere. Alcohol, often referred to as the 'social lubricant', has been an integral part of human culture for millennia. It has played roles in celebrations, rituals, and social interactions across diverse societies.
However, not all countries have embraced it in the same manner. In various corners of the globe, alcohol has faced restrictions and outright bans due to cultural, religious, social, or health-related reasons. In this article, we'll be delving into the fascinating world of alcohol prohibition, exploring the places where it remains illegal and the motivations behind such decisions.
What is Alcohol?
Alcohol has been an integral part of many societies for centuries. In fact, it is believed that the part of our body that metabolizes alcohol has been within mammals long before humans even existed. Some say this is anywhere from 7-21 million years ago. Our predecessors were consuming alcohol from fruits long before we were around.
Alcohol, in a chemical sense, refers to a group of organic compounds characterized by the presence of a hydroxyl (-OH) functional group attached to a carbon atom. The most common type of alcohol is ethanol, with the chemical formula C2H5OH. Ethanol is the active ingredient in alcoholic beverages and is produced through the fermentation of sugars by yeast.
During fermentation, yeast consumes sugars, releasing carbon dioxide and ethanol as byproducts. This chemical process has been harnessed by humans for millennia to create various alcoholic beverages, such as beer, wine, and spirits. Wine is made from sugar from grapes, whereas vodka is vape from the sugar in potatoes. The Penn Museum writes:
"Chemical analyses recently confirmed that the earliest alcoholic beverage in the world was a mixed fermented drink of rice, honey, and hawthorn fruit and/or grape. The residues of the beverage, dated ca. 7000–6600 BCE, were recovered from early pottery from Jiahu, a Neolithic village in the Yellow River Valley."
Alcohol, like many recreational substances, has the ability to increase euphoria and decrease social anxiety. It is no surprise that early human beings came across this substance and used it for religious and social ceremonies. In addition, its subtle pain killing properties were also very useful in the early days. Alcohol has stood the test of time as one of the most frequently used drugs ever created. In fact, according to the World Health Organization, an estimated 2.3 billion people are current alcohol drinkers. That is over a quarter of the population. 
Alcoholic Beverages
Alcoholic beverages can be broadly categorised into three main types: fermented beverages, distilled spirits, and fortified wines.
Fermented Beverages
These beverages result from the natural fermentation of sugars by yeast. Common examples include beer and wine. Beer is made from malted grains, such as barley, while wine is produced by fermenting crushed grapes.
Distilled Spirits
Also known as hard liquor, distilled spirits are created through a process of distillation, which involves heating a fermented liquid to separate the alcohol from other components. This results in higher alcohol content compared to fermented beverages. Examples of distilled spirits include vodka, whiskey, rum, and gin.
Fortified Wines
Fortified wines are created by adding additional alcohol, often in the form of brandy, to a base wine. This increases the alcohol content and contributes to the distinct flavors of these beverages. Sherry and port are popular examples of fortified wines.
Effects on the Human Body
When consumed, alcohol affects the human body in various ways, primarily targeting the central nervous system. The effects of alcohol consumption are dose-dependent, meaning that they vary based on the amount consumed.
Immediate Effects
Even a small amount of alcohol can lead to relaxation, lowered inhibitions, and a feeling of euphoria. However, higher doses can result in impaired coordination, slowed reaction times, and impaired judgement.
Long-Term Effects
Chronic alcohol consumption can have serious long-term health consequences. It can lead to liver damage (such as cirrhosis), heart problems, impaired cognitive function, and an increased risk of certain cancers.
Banning Alcohol
Banning alcohol is an extreme decision, especially when you consider how many nations in the world have maintained its legality. In the modern day, few countries have outlawed alcohol, in part or as a whole. These "dry" nations often implement such measures to uphold religious principles, combat public health concerns, or maintain social order. Some of these countries have a majority Muslim population and have governments that adhere to some form of Islamic law, known as Sharia. Eating pork and drinking alcohol are two of the big prohibitions of Islam. There are around 14 countries that have outlawed alcohol to varying points. Let's take a journey through some of the regions where alcohol is currently banned or restricted.
Saudi Arabia
One of the most well-known examples of strict alcohol prohibition can be found in Saudi Arabia. The country's Islamic laws strictly prohibit the sale, consumption, and possession of alcohol. This prohibition is rooted in Islamic teachings that emphasise sobriety and avoidance of substances that alter one's state of mind.
Afghanistan
Due to its primarily Islamic population, Afghanistan also enforces a ban on alcohol. The Taliban's rule from 1996 to 2001 intensified this prohibition, and even after its fall, alcohol remains scarce and illegal in much of the country.
Iran
In Iran, alcohol is forbidden according to Islamic law. However, there is a significant underground market for homemade alcohol, revealing the complexities of enforcing such bans.
Kuwait
Kuwait is another Middle Eastern nation where alcohol is prohibited. The ban is again rooted in Islamic beliefs and the desire to maintain a conservative social environment.
Brunei
This Southeast Asian country, with its strong Islamic traditions, has implemented a strict ban on alcohol as well. Violations of the ban can lead to severe penalties.
Libya
The unstable political situation in Libya has led to sporadic enforcement of alcohol bans. Islamic influences play a role in the prohibition, but social and cultural factors also contribute.
Yemen
Like many other Islamic nations, Yemen enforces a ban on alcohol. The country's conservative culture and adherence to Islamic teachings are significant factors in this decision.
Sudan
Alcohol has faced legal restrictions in Sudan due to Islamic influences, even though the country is ethnically and culturally diverse.
Bangladesh: While alcohol is not entirely banned in Bangladesh, its availability is limited and heavily regulated due to Islamic and cultural considerations.
Maldives
This island nation in the Indian Ocean has a predominantly Muslim population, which has led to the implementation of alcohol restrictions.
The Prohibition
Whilst most of these nations have a strong religious purpose for the ban of alcohol, this is not the first time that this has happened. In fact, in the 1920s, in the US, the same ban was attempted but it failed pretty miserably. This represented an era known as Prohibition. Prohibition, also known as the Prohibition Era, refers to the period in the United States from 1920 to 1933 when the manufacture, sale, and transportation of alcoholic beverages were prohibited by law.
This nationwide ban was established through the 18th Amendment to the U.S. Constitution and enforced by the Volstead Act. The main motivations behind the Prohibition movement were rooted in concerns about public health, morality, and social order. Advocates believed that banning alcohol would lead to reduced crime, domestic violence, and poverty, and would promote healthier lifestyles and improved productivity. Additionally, there was a strong temperance movement that aimed to curb what were seen as negative effects of alcohol on individuals and society.
However, despite the noble intentions behind Prohibition, the policy ultimately failed to achieve its intended goals, as organized crime rose, crime increased, the economy suffered, and it was simply difficult to enforce. In a nation like the USA, which had used alcohol for centuries, banning it so suddenly was simply not going to work. While prohibition might seem effective in theory, it often drives alcohol consumption underground, making it difficult to regulate and control. Some critics argue that a more balanced approach, such as implementing regulations and educating the public about responsible drinking, might yield better results in terms of public health and safety.
Final Thoughts
Often people gasp at the idea of a nation that has banned alcohol. For instance, during the Qatar World Cup, many thought it cruel to attend a football game without being able to drink a delicious pint. However, it's important to put this into perspective. Many countries ban substances that they deem unhealthy, dangerous or religiously improper. Well, alcohol – in many ways – has proven itself to be far more dangerous than cannabis. And yet, the majority of the world still decides to ban it. Whilst alcohol has a deep-rooted culture in much of the world, it doesn't take away the undoubted dangers that it brings. Perhaps it's hypocritical to legalize alcohol but not other substances. What do you think?
Welcome cannabis aficionados! Thanks for making your way to Cannadelics.com, an independent news site going deep into the worlds of cannabis, psychedelics, and well beyond. We're big on updates, so come by regularly. And get yourself signed up to the Cannadelics Weekly Newsletter, for the best in related product offerings, as well.
Related
Can You Prevent A Hangover By Eating A Big Meal
When seeking advice on how to cure a hangover, a common trope is how to avoid one in the first place (hey, thanks!) And that often includes the phrases "soak up" and "greasy food". And that can easily lead to a junk food binge of pizza, omelettes, hamburgers and anything you can get at a drive-thru, really. But can you prevent a hangover by eating a big meal?
According to an emergency medicine physician in New York, there's some merit behind that theory.
Alexis Halpern, MD says by eating a big meal, you're basically creating a buffer between your stomach and the alcohol. It may not completely prevent a hangover, but chances are, you'll feel tons better.
Now, what to eat. Halpern says a good rule is to stick with heavier foods that take longer to break down in your body. Especially ones that are nutrient dense. So instead of that slice of pepperoni pizza, try eating a burrito bowl. Water-rich foods are also a good idea, like cantaloupe, watermelon and other juicy fruits to keep you hydrated. Avocados and bananas are another good choice, because they contain important electrolytes. "If you give your body back the things that it needs and the things that it loses when you drink, you're going to feel better no matter what," she says.
RELATED: A Hangover Pill? Tests On Drunk Mice Show Promise
Of course, not everyone plans to get drunk. So if you find yourself getting tipsy (or maybe you're already a little wasted) and pizza is the only thing around, by all means, dive in. Eating while you're drinking/drunk is better than nothing at all (but no promises you won't see that pizza again by night's end).
And last but not least, water. It's essential when you're consuming alcohol. Halpern says it's important — and we've all heard this before — to drink more water than alcohol in order to prevent a hangover. Says Halpern, "Try to have a drink, then a glass of water if that's how you need to think of it. Just make sure you're aware and keeping up with yourself."
Now you have some knowledge about can you prevent a hangover by eating a big meal. Have a fun night out!