New Study Proves the Therapeutic Benefits of Terpenes for the Human Body
New Study Proves Therapeutic Benefits of Terpenes
Most people still think that the levels of either the psychoactive compound THC (tetrahydrocannabinol) or anxiety-relieving, relaxing CBD (cannabidiol) in cannabis products are the most important factors to check for.
However, there is a growing breed of educated cannabis consumers who know that THC and CBD don't need to hog the spotlight. If you are after certain effects of cannabis, it's worthwhile to check for the terpene contents in each product or strain before you spend money on it. These terpenes, which are naturally occurring compounds not just in marijuana but in other plants as well, are responsible for the unique flavor profile and aroma in certain strains.
More importantly, terpenes also have medical value and can contribute to the entourage effect, enhancing the therapeutic benefits of other cannabinoids present in the plant. Many terpenes have been found to possess valuable anti-inflammatory properties, treat pain, reduce anxiety, and even treat fungus and bacteria.
Certain cannabis products such as isolates, are processed enough that there are no longer any terpene content or any other compounds in it. But for medical cannabis patients most especially, there are significant benefits to enjoy when consuming cannabis products with a rich terpene profile.
There are more studies that prove these therapeutic benefits of terpenes.

The latest study was conducted by researchers from the University of New Mexico. They analyzed participants who consumed 633 various types of cannabis flower, and they were asked to rate the efficiency of each. The participants consumed cannabis at home then were tasked to report any changes in their symptoms through a mobile software application. Afterwards, the researchers analyzed these trends.
"Symptom relief was greatest after consumption of plant variants with slightly higher than average levels of the terpenes myrcene and terpinolene and non-detectable levels of CBD. In contrast, chemovars with any detectable levels of CBD provided the least relief, the fewest positive side effects, and the most negative and context-specific side effects. These findings are consistent with previous research showing that naturally abundant CBD in cannabis flower may act as an inhibitor of optimal treatment for certain health conditions," the researchers wrote.
"The index system described herein enables healthcare providers, patients, scientists, and cannabis retailers to easily categorize cannabis products based on measurable plant characteristics beyond THC and CBD in ways that systemically relate to differing levels of symptoms relief and side effect reporting," they concluded.
Other Studies
Another study from 2021 reveals that certain terpenes help modulate cannabinoid effects on mice subjects. The researchers, who were from the College of Medicine at the University of Arizona, analyzed the modulatory and functional activity of different terpenes both in vitro and in vivo, alone and with a cannabinoid agonist known as WIN 55,212.
According to the study's authors, when the terpenes together with the agonist were given to mice, it resulted in an significant analgesic effect compared to when each compound was administered alone. They also added that endogenous cannabinoid receptors were receptive to the terpenes.
The authors reported: "Our findings suggest that these cannabis terpenes are multifunctional cannabimimetic ligands that provide conceptual support for the entourage effect hypothesis and could be used to enhance the therapeutic properties of cannabinoids," they wrote.
Which Terpenes Should You Be Looking Out For?
Scientists know of about 20,000 different kinds of terpenes in the plant world. However, around only 150 have been found in cannabis plants. That said, there are a few important terpenes that can definitely make you feel better:
Myrcene
Myrcene is the most common terpene in cannabis plants. It's responsible for a clove-like smell, which can also be musky and earthy. Myrcene gives off sedative effects, though this compound is extremely beneficial for treating chronic pain and inflammation.

Individuals struggling with insomnia will also benefit from strains that are high in myrcene. It can also aid with muscle relaxation, anxiety, and stress.
Linalool
Linalool is a terpene that gives off a floral aroma with spicy or woody notes. Like myrcene, it also possesses strong sedative properties and it has long been used for its sleep-inducing properties.

Linalool is beneficial for treating anxiety, depression, seizures, stress, and muscle aches. Studies also show that linalool was effective in strengthening the immune system especially from damage caused by stress.
Limonene
Limonene is another abundant terpene found in most cannabis strains. It gets its name from the lemony, citrusy aroma and flavor it imparts in cannabis. All citrus fruits also possess a great deal of limonene, hence their refreshing aroma.
Limonene is an excellent terpene for improving your overall mood and reducing stress. It also has antibacterial and antifungal properties. There are also some studies suggesting it may have antioxidant and stress relieving benefits.
Pinene
Pinene is a famous terpene that is known for its refreshing pine smell. In nature, it's abundant in pine trees, though it's also found in numerous cannabis strains. When consuming cannabis strains high in pinene, it's said to increase alertness and can also leave you feeling recharged and more motivated.
Its medical benefits include increasing bronchodilation and airflow, reduced inflammation, and it may also improve your memory. Pinene may also help you combat brain fog and help you work better.
Caryophyllene
Caryophyllene is mostly found in black pepper and cloves, as well as in cannabis. It has a sharp aroma that is peppery and spicy.
Caryophyllene is known for its calming effects but it can also help fight anxiety. More importantly, it's the only terpene that is known to activate the CB2 receptor, which is why it can provide superior therapeutic benefits. Studies show that caryophyllene can fight inflammation, depression, and bacteria while improving gut health.
Conclusion
THC and CBD aren't the only cannabinoids to look out for when shopping around for cannabis products. Why not experiment with cannabis strains that have varying levels of these important terpenes to see how it can improve your health?
ARE TERPS THE NEXT BIG THING, READ ON…
Cannabis Leasing in Competitive License Jurisdictions
Cannabis leasing is incredibly complicated for both lessors and lessees. But things can get a lot more complicated in competitive license jurisdictions. I've worked with both lessors and lessee-applicants in competitive licensing jurisdictions, and today want to highlight some of the key things I've seen over the years.
#1 Why competitive licensing is different from everything else
If you're reading this and are not familiar with competitive licensing, I'm referring to localities (or in some cases, states) that only allow a small, fixed number of licenses. In competitive licensing jurisdictions, you'll often see dozens of applicants for a small handful of available licenses – for example, thirty or so applicants for four licenses.
You may point out that most cities in fact have some kind of cap on licenses, either expressly, because there is a finite application window, or because there is restrictive zoning. However, what I refer to as competitive licensing is a situation where, maybe 1-6 licenses will be available in one short application period.
This is why I refer to "competitive" licensing. And it gets truly competitive. Applicants may end up spending hundreds of thousands on legal, design, consulting, and other fees to just to submit an application. Without any guaranty of success.
So as you can imagine, this creates some pretty interesting dynamics for cannabis leasing. And that brings me to point #2.
#2 Is a cannabis lease even mandatory?
Put yourselves in the shoes of a competitive license applicant. You may be spending hundreds of thousands of dollars submitting an application with no guaranty of success. You may be up against a dozen or more highly capitalized, highly qualified companies looking for the same license. Do you want to get locked into a multi-year lease without any guaranty of being able to operate? Obviously not.
Many localities address this by requiring applicants to provide something less than a full-fledged lease. This may include a lease with an early termination right if the license doesn't come through. Or it could be as simple as an option to lease or even an LOI. Recently, the trend seems to be in favor of binding options to lease, which is generally more "binding" than a simple LOI.
In all of these cases, the lessor usually wants something to allow the lessee to apply for the license. If there's a lease with an early termination option, this may be reduced rent for some initial period – sometimes even reduced through a buildout. If it's an option, there may be a monthly option fee that would be commensurate with some kind of reduced rent. But overall, lessors are generally charging the lessee something. After all, they are keeping the property off the market while the lessee applies for a license.
#3 Location, location, location
Both competitive licensing and more "open" jurisdictions limit potential locations to specific zones and areas within their borders. There are also generally buffer requirements (e.g., you can't be next to a school). In my experience though, competitive licensing jurisdictions tend to be even more restrictive in terms of where applicants may apply. A trend I've seen is that applicants must often get a "zoning verification letter" prior to applying. A ZVL will allow the city to provide some initial sign-off on the proposed location.
In a jurisdiction with a restrictive location map, potential lessors are in for a lot of calls. I've worked with competitive licensing lessors who get numerous calls from brokers or potential lessees for leasing in restrictive map situations like this. Obviously, this means that rental value can go up – way up.
At the same time, lessors generally have zero experience with cannabis and are unfamiliar with cannabis laws. Lessors must be careful not to make promises about zoning, location compliance, buffer zone restrictions, or anything else. This should be squarely on the shoulders of the prospective lessee. Smart lessors disclaim and representations about basically anything in their agreements with the lessees.
#4 Lessors should expect some participation in the process
In any competitive cannabis licensing process I can remember, lessors are required to submit documents to the city that authorize the applied-for use. For some reason, simply signing a lease that authorizes the use just isn't enough. So many localities require lessors to sign documents acknowledging that their lessee will be authorized to engage in cannabis use once licensed. The trend now seems to be to require lessors to sign not just statements, but notarized attestations.
Some localities go above and beyond. I've seen some that require lessors to certify that they only leased the property to the lessee at issue, in an effort to prohibit lessors from entering into multiple options to have fallback options if one proposed lessee doesn't get a license (more on that below). Lessors should be aware of what they are signing so they don't end up liable for some kind of false statement or even perjury.
#5 What can lessors do to hedge their risk?
Most localities require that lessors only authorize one specific entity to apply for a license at the lessor's property. This is good for the proposed tenant, who has no competition for the specific property (after all, what would happen if two companies won at the same property?). But it's not great for lessors, who have to trust that their proposed lessee will beat out all the competition or walk away. What landlord would want to get property leased for only a few months and start that process all over again?
Some cities address this by allowing lessors to authorize multiple applicants at the same address. This is obviously better for lessors. But it's not great for lessees for the inverse reason of what I noted above. In those places, lessors should expect to see proposed lessees demanding exclusivity – and in those cases the lessors may be justified in asking for higher option payments.
Conclusion
Competitive licensing is tough, but can be made a lot more difficult if the property owner and proposed lessee aren't on the same page. Dealing with the issues raised above is critical at the outset, or an applicant can waste a lot of time and money on a situation that won't work. Stay tuned to the Canna Law Blog for more cannabis real estate issues.
Everything You Need to Know About THCA
You've almost certainly heard of THC. Roughly half of Americans say they've tried marijuana, and THC is the cannabinoid that's responsible for its psychoactive effects. Since Colorado and Washington became the first states to legalize recreational marijuana use in the U.S., the majority of the country has followed suit. It's only illegal in 12 states, and even then, it's decriminalized in some places. In the near future, it may even be moved to a Schedule 3 drug.
However, THC isn't the only compound in marijuana that's gained popularity. It's one of over 100 cannabinoids that have been identified, and each one has its own set of potential therapeutic benefits. CBD is the most well-known, followed by CBG, CBN, and delta-8 THC. However, there's another cannabinoid that's gaining traction: THCA.
What Is THCA?
THCA (short for tetrahydrocannabinolic acid) is the precursor molecule to THC. It occurs naturally in raw cannabis (whereas THC doesn't) and converts to THC when the flower is exposed to heat and light.
When cannabis is dried and cured, THCA slowly becomes THC. This is why inhaling marijuana has such a strong effect; it's full of potent THC molecules that were created from THCA. THCA isn't the only cannabinoid acid you'll find in cannabis. Others include:
CBDA (cannabidiolic acid)

CBGA (cannabigerolic acid)

CBCA (cannabinolacetic acid)

CBGVA (cannabigevarinic acid)

THCVA (tetrahydrocannabivarin acid)
Since THCA isn't psychoactive, you won't get "high" if you consume it in its natural form. However, there's growing evidence that it has its own unique set of therapeutic benefits, some of which are similar to THC.
The Science Behind THCA
THCA is the compound that eventually transforms into THC, a process encouraged by heat, time, and light through a process known as decarboxylation. This phenomenon involves the shedding of a carboxylic acid group, thus altering the compound's structure and effects.
A distinguishing feature of THCA is its instability under controlled storage conditions. While it is prevalent in fresh cannabis, it easily transitions into THC when exposed to certain elements, making it a dynamically changing compound.
Even at temperatures ranging between 4ºC and 18ºC (39ºF to 64ºF), THCA tends to decarboxylate, a quality that points to its sensitive nature and the intricate care needed in its preservation. This characteristic presents a conundrum in achieving precise laboratory results; 'THC contamination' is practically a given with all THCA testing.
What Does THCA Do Inside the Human Body?
While it might appear as a challenge in the scientific community, it is this very attribute that has piqued the curiosity of researchers and enthusiasts alike. Everything that exists in the world of cannabis compounds has a role to play in the human body through the Endocannabinoid System (ECS). This remarkable system, discovered recently thanks to the pioneering work of Raphael Mechoulam, stands as a guardian of homeostasis, ensuring a balanced internal environment for various vital systems, including the brain and immune system.
THCA's large molecular size prevents it from binding to the CB1 receptors, which are responsible for THC's psychoactive effects. It also does not bind to CB2 receptors, which are primarily responsible for anti-inflammatory responses. THCA still produces an array of therapeutic effects. According to 2023 research, it's been shown to be an effective anti-inflammatory agent. It also improves neuroproductivity, making it potentially beneficial for treating neurodegenerative diseases. Some research on rats has shown THCA to reduce nausea and vomiting as well.
THCA vs. THCV
THCV is another interesting cannabinoid found in cannabis. It's similar to THCA in that it doesn't bind to the CB1 receptor, but it has different effects on the body. Unlike THCA, THCV binds to CB1 and CB2 receptors. It can act as an appetite suppressant, making it a potential treatment for obesity-related conditions, including diabetes.
THCV is technically a psychoactive compound, but its effects are quite different from those of THC. Only very high dosages result in a feeling of euphoria, and its effects wear off sooner than the effects of THC. THCV is typically present in low concentrations, but certain strains can have higher levels of THCV compared to others. Most of the time, these strains also have higher THC content than the average strain.
THCA vs. THC
Since THCA decarboxylates even at low temperatures, smoking or vaping cannabis with a "high THCA content" won't necessarily mean you're getting more THCA (that is, if you decide to smoke or vape it). The process of burning or heating the marijuana will cause all of it to turn into THC.
To isolate the THCA and experience its effects, users need to use alternative methods of consuming cannabis. They have to take the flower and extract the cannabinoids to preserve the THCA's properties. By consuming high-THCA cannabis, you're able to reap its potential benefits without any of the psychoactivity associated with THC.
Here's a look at some of the key differences between THCA and THC:
Potency
THCA isn't seen as a potent compound at all. Its psychoactive effects are practically nonexistent, like many cannabinoids. THC is the only one that produces a noticeable high. THCA becomes potent once it's heated, burned, or cured. Crystalline THCA can be packaged and sold in high concentrates, so cooking, vaping, or smoking it could have extremely potent effects
In fact, that's usually the main reason people buy high-THCA flower (like that from Bud Brothers THCA Raleigh). Due to the much higher concentration of THC this process produces, it sometimes yields a more potent high than regular marijuana of the same caliber.
Benefits
THCA has been studied for its potential anti-inflammatory and neuroprotective benefits, so it may be beneficial for treating certain chronic conditions (neurodegenerative diseases). It's also been studied for its ability to reduce nausea and improve appetite. It's also worth noting that THCA can be enjoyed without being intoxicated, which is a huge benefit for those who don't want to experience the effects of THC. As the main psychoactive compound in cannabis, THC is a lot more heavily researched. According to an extensive body of research spanning decades, benefits include:
A mind-altering effect users describe as "energizing," "elevating," "relaxing," "pleasurable," or "psychedelic."

Pain relief from chronic pain syndromes like Fibromyalgia, Arthritis, and Multiple Sclerosis

Appetite stimulation for chemotherapy patients undergoing cancer treatment

Neuroprotective qualities to protect nerve cells from damage and degeneration

Improved sleep quality and duration

Chronic pain relief

Relief from stress, anxiety, PTSD, depression, and other mood disorders

Overall improved mood and outlook on life
In general, THC serves most of the "benefits" of all the other cannabinoids. However, it's also mind-altering, which is a turn-off for cannabis users who only want the therapeutic benefits. THCA is among the several cannabinoids that helps fill this gap.
Consumption
It's easy to use THC. There are seemingly countless options for consuming cannabis and cannabis extracts, each with a different level of potency and control. Marijuana users can choose to smoke or vape however they like. They also have countless options for edibles, including cannabis butter, which they can use to cook THC into just about anything at home. Really, the only big decision they have to make is, "How much THC do I want to consume?"
However, THCA is more complicated. It isn't enough for THCA users to find a way to ingest it without cooking, burning, or vaping it. It can turn into THC even under slight warmth or sunlight. If it's forgotten in the car for too long, it's ruined. The only two options for THCA users are:
Most often, THCA users blend it into a juice or smoothie, as its bitter flavor is, according to some, nearly unbearable on its own. It can also be mixed into other food items and consumed that way (as long as they are cold foods). For anyone willing to put up with the taste, it's also possible to consume the cannabis flower as-is.
Legality
At the federal level, THCA isn't illegal, but it can quickly turn into THC (often without the user's awareness). And, THC is generally the reason people use cannabis. It could be considered an analog of THC and still be subject to federal law. under the Analogue Act.
If you're purchasing a THC product (such as cannabis flower) with THCA content, it will still be subject to cannabis laws in your state, even if you don't intend to use the substance for its psychoactive effects.
It's important to research the local laws and regulations before using THCA products. In a legal state, you might be able to purchase it with relative ease. However, it's always better to err on the side of caution and double-check first.
Final Thoughts
Compared to other cannabinoids, THCA is rare (and tough to come by). Since it can't be heated even a little bit, it's certainly less convenient than many other cannabinoids with similar benefits. It's a promising compound many enjoy using for its therapeutic, non-psychoactive properties.
When you're shopping for THCA products, it's more important than ever to look for ones from reputable growers. Since you'll likely be consuming the product outright, you don't want nasty chemicals or metals inadvertently entering your body, and you don't want to risk consuming THC when you don't intend to.
MORE ON THCA, READ ON…
SHOULD YOU SMOKE OR EAT THCA, IS THERE A BEST WAY TO INGEST IT?
Dispensary Delivery Near Me? – Finding and Understanding Marijuana Dispensary Delivery Rules
With the legalization of cannabis in many parts of the world, the demand for convenient and reliable dispensary delivery services has skyrocketed. Whether you're a medical marijuana patient or a recreational user, finding a reputable dispensary that offers delivery near you can be a game-changer. In this blog post, we will explore the various methods to locate dispensary delivery services, how to evaluate them, and the steps involved in placing an order. Additionally, we will discuss important legal considerations and safety precautions to ensure a smooth and responsible cannabis purchasing experience. So, let's dive in and discover how you can find and understand dispensary delivery near you!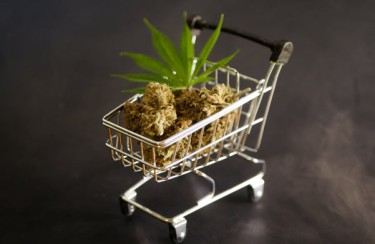 Understanding Dispensaries and Their Services
Dispensaries are establishments where individuals can legally purchase cannabis products. They are regulated by local laws and regulations and provide a safe and controlled environment for consumers to access cannabis. Understanding the services offered by dispensaries is crucial in finding the right one for your needs.
Medical vs Recreational: Dispensaries can cater to both medical marijuana patients and recreational users. It's important to know whether the dispensary you're considering serves both categories or specializes in one.

Product Selection: Dispensaries offer a wide range of cannabis products, including flower (bud), concentrates, edibles, topicals, and more. Familiarize yourself with the different types of products available and determine which ones align with your preferences and needs.

Product Quality: One key aspect to consider is the quality of the products offered by a dispensary. Look for dispensaries that prioritize sourcing from reputable growers and ensure that their products undergo rigorous testing for potency and purity.

Knowledgeable Staff: A reputable dispensary will have knowledgeable staff members who can guide you through the various products, their effects, and recommended dosages. They can provide valuable insights and help you make informed decisions.

Additional Services: Some dispensaries offer additional services such as educational resources, consultations with cannabis experts, and events. These services can enhance your overall experience and provide valuable information about cannabis.
By understanding the services provided by dispensaries, you can make an informed choice when selecting a dispensary delivery service that meets your specific needs and preferences.
How to Locate Dispensary Delivery Near Me
In today's digital age, finding dispensary delivery services near me has become easier than ever. There are various methods you can utilize to locate dispensaries that offer delivery services in your area. Let's explore some of the most effective ways to find dispensary delivery near you:
Using Online Search Engines
Google Search: Conduct a simple search on Google by typing in keywords like "dispensary delivery near me" or "cannabis delivery [your location]." Google will provide a list of local dispensaries that offer delivery services, along with their contact information and customer reviews.

Bing Search: Similar to Google, you can use Bing to search for dispensary delivery services near you. Enter relevant keywords and browse through the results to find the most suitable options.

Online Directories: Utilize online directories like Weedmaps, Leafly, or AllBud. These platforms specialize in listing dispensaries and delivery services in various locations. You can search by location, read reviews, and compare different options.
Yellow Pages: Traditional directories like Yellow Pages can still be useful in finding local dispensaries that offer delivery services. Look for the "Cannabis Dispensaries" or "Medical Marijuana" sections and check if they mention delivery options.

Local Business Directories: Explore local business directories specific to your area. These directories often include detailed information about dispensaries, including whether they provide delivery services.
Dispensary Finder Apps: Download mobile applications like Weedmaps, Leafly, or Eaze. These apps provide a user-friendly interface where you can search for dispensaries near you, filter results based on delivery services, and read reviews from other users.

Delivery-Specific Apps: Some dispensaries have their own dedicated delivery apps. Check if the dispensaries in your area offer their own delivery apps, as these can provide a seamless and convenient ordering experience.
By utilizing the power of online search engines, local directories, and mobile applications, you can easily locate dispensaries that offer delivery services near you. Take the time to explore different options, read reviews, and compare services to find the most reliable and convenient dispensary delivery service in your area.
How to Evaluate a Dispensary Delivery Service
When it comes to evaluating a dispensary delivery service, there are several important factors to consider. By thoroughly assessing these aspects, you can ensure that you are choosing a reliable and reputable service that meets your needs. Let's delve into the key criteria for evaluating a dispensary delivery service:
Checking for License and Reputation
Legal Compliance: Verify that the dispensary delivery service operates within the legal framework of your jurisdiction. Look for proper licensing and regulatory compliance to ensure that you are dealing with a legitimate and trustworthy service.

Customer Reviews: Read reviews and testimonials from other customers who have used the delivery service. Check popular review platforms like Weedmaps or Leafly, as well as social media platforms, to get a sense of the service's reputation and reliability.

Online Presence: Assess the dispensary's online presence. A well-established and reputable delivery service will have a professional website, active social media accounts, and positive online interactions with customers.
Product Selection: Evaluate the range of products offered by the dispensary delivery service. Are they offering a diverse selection of cannabis strains, concentrates, edibles, topicals, and other products? A wider variety indicates a more comprehensive and customer-oriented service.

Quality Assurance: Look for information on the dispensary's quality control measures. Do they source their products from reputable growers? Are their products tested for potency and safety? Ensuring product quality is crucial for a satisfying and reliable cannabis experience.

Specialty Products: Consider whether the delivery service offers any specialty products or unique offerings. This can include organic or sustainably grown cannabis, CBD-specific products, or products tailored to specific medical conditions.
Delivery Timeframe: Check the estimated delivery time provided by the dispensary. A prompt and efficient delivery service is essential to ensure you receive your products in a timely manner.

Service Area: Determine if the delivery service covers your specific location. Some services may have limited service areas, so ensure that they deliver to your address before placing an order.

Delivery Fees and Minimum Order: Take note of any delivery fees or minimum order requirements. Some services may offer free delivery above a certain order value, while others may charge a flat fee. Consider these factors when evaluating the overall cost and convenience of the service.
By thoroughly evaluating a dispensary delivery service's license and reputation, product quality and variety, as well as delivery time and service area, you can make an informed decision and choose a reliable service that meets your specific requirements.
Ensuring Privacy and Safety
Secure Connection: When placing an order online, ensure that you are using a secure and encrypted connection to protect your personal and financial information.

Discreet Packaging: Reputable delivery services prioritize discreet packaging to maintain customer privacy. This can include plain packaging without any branding or labeling that indicates the contents.

Identification Verification: Be prepared to show valid identification upon delivery to confirm your age and identity. Delivery drivers are required to verify that they are delivering to a legal and responsible consumer.
Start with Low Dosage: If you are new to cannabis or trying a new product, start with a low dosage. This allows you to gauge your tolerance and minimize any potential adverse effects.

Safe Storage: Ensure that you store your cannabis products in a secure and inaccessible location, especially if there are children or pets in your household.

Responsible Consumption: Consume cannabis responsibly and in moderation. Understand the effects of different products and strains, and be mindful of your own limits and boundaries.
By understanding and adhering to the local laws and regulations, as well as taking necessary safety precautions, you can enjoy a responsible and safe cannabis experience. Always prioritize your well-being and the well-being of others when engaging with a dispensary delivery service.
CONFESSIONS OF A MARIJUANA DELIVERY DRIVER, READ ON…